TRADE DISRUPTION
INSURANCE
Unique coverage addresses the diverse needs of the global marketers
By Phil Zinkewicz
---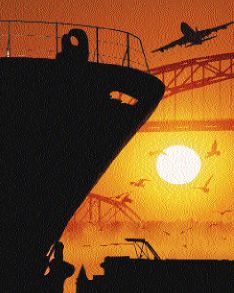 The globalization of the insurance industry has followed, not led, other industries seeking to find new prospects on foreign shores. Ten years ago only a handful of U.S. insurance companies was considered to be truly international in scope--American International Group and Chubb among the most notable of the group. On the brokers' side, there were the alphabets, the giants of the broking community which had established themselves in overseas markets, Johnson & Higgins (now merged into J&H Marsh McLennan), Alexander & Alexander, etc. Domestic nationals, smaller insurers and smaller brokers were content to enrich their coffers in the U.S.
But today, one can probably find the word "global" in most insurance companies' and brokers' brochures in one context or another. There are many reasons for this--the growth of the self-insurance movement and the resulting dwindling premium dollars on the U.S. side, and the recognition of growth potential in foreign markets, to mention a couple. The one that stands out, however, is that the industry's clients, the buyers of insurance, began branching out to foreign shores; and insurers rightly felt that they had to follow suit.
As businesses began to traverse oceanic waters or to conduct more business here with overseas markets, they faced new exposures such as foreign currency exchange and political risk. In the last decade, there has been a plethora of new products to address these exposures. But there are still holes that need to be plugged.
Enter Sunrock Risk Services Corp., headquartered in Shrewsbury, New Jersey, a managing general agency that provides "financing and risk transfer solutions to revenue risk exposures." Formed in June 1998, Sunrock says it has introduced into the United States a product called trade disruption insurance (TDI). Trade disruption insurance provides coverage for "a loss of earnings or extra expenses" resulting from disruption of trade flow, according to Ken Shimomura, secretary-treasurer of Sunrock.
"TDI, strictly speaking, is not a new product," says Shimomura. "It has been around for about ten years, but in the London market, not in the U.S. It has not reached popularity because it is hard to pinpoint in the insurance company bureaucratic scheme of things. It's not marine insurance, it's not property insurance, it's not political risk insurance, and yet it contains all of those elements. Consequently, there have been turf wars as to who will underwrite the product."
Shimomura says that trade disruption insurance has its greatest potential with business enterprises for which the "global integration" of the manufacturing and supply process are a critical element of their business strategy. In other words, if a manufacturer needs a specific product that must be imported from overseas for the manufacturers' ultimate product, and that overseas product is "derailed" in some way, it could cost the U.S. manufacturer serious money. "Even if that overseas part is worth a nickel, not receiving it on time can cost the U.S. manufacturer thousands and, in some cases, hundreds of thousands of dollars," says Shimomura.
And it's not only manufacturers, but retailers as well.
"For example," says the Sunrock executive, "a clothing retailer in the U.S. has its goods manufactured in Asia. A major earthquake closes the port through which the goods normally are shipped. In order to get the goods to its stores in time for the sales season, the retailer incurs additional expense in rerouting the goods through other ports and via airfreight. TDI responds to the extra shipping expense and any loss of revenue resulting from any delay in the receipt of goods due to the consequences of the earthquake."
And Shimomura offered the following case histories from the files of Sunrock:
* As a result of a major hurricane in Honduras in the fall of 1998, bananas that had been purchased by a major fruit company could not be shipped
out to market. The resulting loss to the fruit company was in excess of
$50 million. The client, however, had purchased $25 million of TDI coverage. There was no loss to the bananas per se, so contingent business interruption insurance, where damage to property is usually involved, would not have applied. But TDI coverage was triggered when the inability to "deliver the product" due to damage to the infrastructure (roads, ports, bridges, etc.) prevented the products from being there when needed.
* Due to a devastating earthquake in Colombia in January 1999, coffee contracts could not be delivered in January and February. There was no damage to the coffee beans or the conveyance, but the goods couldn't be delivered on a timely basis. TDI coverage kicked in here. (Losses have yet to be calculated.)
* When a typhoon prevented a cruise ship from making its port of call on time, the cruise ship company had to re-book passengers who would have boarded at that port on a competing cruise line. Also, while the would-be passengers waited a few days for the replacement vessel to arrive, the cruise ship company had to cover meal expenses and pay to put the customers up in hotels. Additionally, in order to improve public relations, the cruise ship company offered many "freebies" to try to ease its customers' dissatisfaction.
* A Sunrock client had its goods delivered to a port to be picked up by an arriving vessel. The government confiscated the pickup vessel because it was carrying contraband. The client had to try to find and charter a replacement vessel to deliver the goods. The delay resulted in extra expenses in finding a vessel to charter, plus additional warehousing expenses while the goods were awaiting shipment, and a loss of earnings because the goods were not delivered on time.
"In today's environment, there is a definite need for this type of coverage," says Shimomura. "It is an integrated contingent business interruption policy, not triggered by any direct property damage to the insured, but by 'indirect' damage to the insured arising from delays in transit due to a variety of perils." Such perils may include, but are not limited to the following: marine transit; fire; lightning; explosion; storm; flood; snow; ice; earthquake; volcanic eruption; aircraft impact; overturning; derailment; collision or emergency closure of any road, bridge, railway line, airport, port or navigable waterway; and political risk exposures.
Potential clients for Sunrock are those that generate $50,000 in premiums or more, but Shimomura says that this doesn't mean the company won't entertain smaller accounts.
He also says that, thus far, the response from producers is that more companies will probably begin offering TDI, given the current global environment. And, he says, he has no doubt of that. *

©COPYRIGHT: The Rough Notes Magazine, 1999
---