GENERATION X
Changing the landscape in
the insurance industry
By Judi E. Loomis
---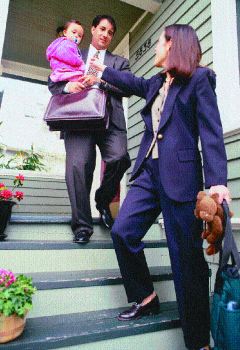 As each generation passes, it receives a label that speaks to the significance of that period's youth. Today's society recognizes two very distinct and different generations, the Baby Boomers and Generation X. Born between 1946 and 1964, Baby Boomers grew up in an industrial era, where a career meant staying with one company for many years. Gen Xers, the twenty- and early thirty-something's born between 1965 and 1979, have arrived in the boardrooms and are becoming a significant force in revolutionizing the culture and management practices in their organizations.
However, Gen Xers have an entirely different outlook on life, work and their careers. The crossover between Baby Boomers and Gen Xers in the work place occurs every day. While many Baby Boomers are still at the helm of corporate America, Gen Xers are moving in, and what they expect from management and how they manage is very different from what most companies are accustomed to. How will the two distinctly different generations blend, especially in the insurance industry? Some insurance company representatives say it's been a real challenge, while others in smaller agencies report a nice marriage--albeit with a learning curve.
Identifying Generation X's needs
Through the years, Gen Xers have been stereotyped as lazy, unmotivated know-it-alls who resolve not to form a long-term allegiance with any one company or agency. These impressions and opinions were apparently formed based on a misunderstanding of what the Gen Xers are seeking as their niche in life. Gen Xers have had the opportunity to observe big businesses collapse and promises broken. They've had an opportunity to observe large corporate lay-offs and disintegrating stock returns during the '80s. In many cases, their own parents experienced the betrayal of allegiances to companies when, after years of commitment, they too found themselves unemployed and without the benefits they were promised. "I think that my generation was more committed to the corporate vision and the belief in the company," says Rick Morgan, managing director for AllianceOne, and executive editor of the TAARReport. "The Gen Xers saw what happened during the '70s and '80s when lifers with companies such as IBM and Aetna experienced huge cutbacks. They thought they had a cradle-to-grave relationship and suddenly they found themselves unemployed. It raised all kinds of havoc, and I think those kids saw that, took note and said that's not going to happen to me!"
Morgan's daughter, Andrea, is a freelance writer for The Automated Agency Report (TAAR) and a Gen Xer. She concurs that the standard of commitment to one company in the past created a poor model for Gen Xers who make up a significant portion of our workforce. "We have an aversion to long-term employment commitments because of what we saw our parents go through," she says. "If we get into a work environment that we don't like, we are not afraid to move. That doesn't mean that we are not committed while we are working there; we just see it as spending a lot of time in a work environment that isn't enjoyable. We want to enjoy being at work now, and not wait ten or twenty years, or until we retire!"
In reality, Gen Xers are extremely motivated to succeed because it drives their lifestyles. Consider what some believe to be the motto reflecting on both generations: Baby Boomers live to work, Gen Xers work to live. While Boomers have long been regarded as a generation that finds a comfort level with long-term employment with one company, (which may have provided them with a false sense of stability), Gen Xers are considered risk takers who welcome change and utilize technology to achieve results more quickly. "We look for an employer who can offer worklife flexibility and is able to bring some fun aspects into the environment," says Andrea. "Gen Xers also look for an employer who is technologically advanced because we grew up with computers and that's very important to us."
"Generation Xers are ... relationship-oriented while [Baby Boomers are] results-oriented."
--Rick Morgan, Managing Director, AllianceOn
"Our priorities are very different," says Lisa Marciano, sales representative for Appleby & Wyman Insurance Agency and Financial Services in Beverly, Massachusetts. "I think that Gen Xers are equally--if not more--concerned about family enrichment as the Baby Boomers are. They want to provide themselves and their families with all the things that will make their lives full. This includes nice vacations, club memberships and good schools for their kids."
Lazy, unmotivated--hardly! Marciano, who is 30 years old and has worked in both the agency world and for an insurance company, trains Gen Xers on the job. "There most definitely is a strong work ethic, and they have a lot of pride in what they are doing," says Marciano. "When somebody calls in for a quote, they want to be able to write that business. At the fast pace the insurance industry demands today, they just wouldn't make it here if they weren't motivated to learn."
Generation X's management views
Studies over the past several years indicate that the Generation X crowd will not stay at the same place of employment for longer than five years. In most cases they move on before they hit the three-year mark. Attracting and retaining Gen Xers for long-term employment appears to be an intense global problem. According to a 1998 survey conducted by Sibson & Company, 55% of employees plan to quit or think often of quitting before even hitting the three-year mark. Gen Xers aren't hopping from company to company because of the pay. It's related to job dissatisfaction. Typically Gen Xers view money as a necessity, but not a sufficient reason for staying with one company. It's the quality of work itself and the relationships that they build within the workplace. "Gen Xers are much more relationship-oriented while my age group was more results-oriented," says Rick Morgan. "I believe that relationship building is more important to them in their work environment and in their sales processes. And if they can't build on those relationships at a company or an agency, they will find a place where they can do that."
Andrea Morgan believes the Gen Xers are totally committed to open work environments where relationship building is part of the atmosphere. "We are relationship builders so it is really important to incorporate into the work environment," she says. "Relationship building is most important in the insurance industry, and we work hard to maintain those relationships. We are the generation that started up some of these amazing dot-com companies and that doesn't come from people who are not committed and don't work hard."
In order to retain the talents of Gen Xers, managers are looking for "perks" that will provide a work atmosphere that appeals to them. They are looking for flex hours, and companies that take their personal lives into consideration. "We want the company we work for to respect the fact that we may have families, or need time to finish or obtain our degrees," says Marciano. "When you consider that we will be working at our careers for a very long time, we deserve a positive experience from our employer, and that includes flexible hours, telecommuting and family time."
If the blend between managers and Gen Xers is going to be successful, management has to understand an entirely different attitude toward efficiency. While Baby Boomers work in an atmosphere that required an eight to five routine, Gen Xers will work through a project until it's completed and then leave for the day.
"As a manager you have to measure their value and their success by the results rather than some external rule that you must sit at your desk from eight until five," says Rick Morgan. "We grew up with the attitude that if you just showed up for work and were at your desk and looked busy then that was a good thing! These Gen Xers have the work ethic that if they don't have anything more to do, then they're finished and can leave. On the other hand, there are many instances when they will work through the night or through the weekend just to get a quote or a project done."
"I work with two other Gen Xers in our agency," says Marciano. "We recently had a situation where we had to work through a weekend, and I never heard anyone complain. If we need to get a proposal out or need to get a submission into the carrier, we will work until late in the evening. If it needs to get finished, we are open to working any hours."
Basically, Gen Xers are looking for career opportunities that offer a collaborative work environment; they want to be challenged with opportunity but also be given flexibility and immediate recognition through title, praise and promotion.
"There's a unique set of rules out there when it comes to hiring and managing Gen Xers," says Rick Morgan. "They don't respond to the old set of rules. It just doesn't make sense to them. So if we want to interact with them and help them attain their goals, our generation will have to learn to understand them and come up with different methods of evaluation and reevaluate the working environment."
Gen Xers have very specific ideas for where they want to work and how they intend to apportion their time between their work life and their personal life. "I see people of the Baby Boomer generation with a whole different mindset," says Andrea Morgan. "I believe that we are equally as committed, have good management skills, get all of our projects done on time, but we also place a high priority on spending time with our families and doing the things that we enjoy. As a result, a Gen Xer is a better employee."
Editor's note: Andrea Morgan facilitated a session at the AMS Users' Group Conference titled, "The New Consumer--Generation X." *
The author
Judi Loomis is a freelance writer and president of Creative Writing Concepts, based in Fort Wayne, Indiana. She writes for numerous national magazines on business-to-business needs.