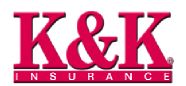 CELEBRATES 50 YEARS OF SUCCESS
Company's history rooted in founder's love of racing
By Debra Tadevich
---

One of the most famous of all NASCAR Dodges was the No. 71 K&K Insurance Daytona that Bobby Isaac drove to the 1970 Championship.
K&K Insurance of Fort Wayne, Indiana, celebrates its 50th anniversary in 2002. Perseverance, dedicated employees and hard-working independent agents, along with successful "partnerings" have built K&K Insurance into one of the largest managing underwriters in the United States, with over $365 million in written premiums. Today K&K is part of the Aon Corporation, a world leader in risk management, insurance brokerage, reinsurance, and human capital consulting services.
K&K's 50-year growth story actually begins a little more than 50 years ago ... The year is 1948 and many Americans enjoy stock car racing. It is a dangerous sport, one that could leave you disabled for life. Imagine that you are racing around a dirt track and your car crashes, leaving you severely injured. You have a family--and that family depends on you. Whom do you turn to?
Nord Krauskopf, a Fort Wayne businessman with vision, founded a special risk insurance brokerage company to meet those pressing needs.
K&K--the beginning
Krauskopf was an ordinary man, a roofer by profession and a stock car racer on the weekends. He and his wife, Theodora (Teddy), often could be seen racing on the local tracks. There was no insurance to protect the racers, nor did they really think in terms of risk. Their sole goal was to win the race and have a good time. To protect those who did crash, the racing participants would all contribute equal sums of money to a benevolent fund, which covered medical bills and family needs. However, the benevolent funds could easily be depleted by a series of serious accidents.
Krauskopf recognized the need for insurance and seized the opportunity to fill it. In 1952, he put his love of car racing aside and set out to find insurance for racecar drivers. He located Charles Lenz, a broker from Lloyd's of London, and presented him with a bold idea--to build a sound and powerful business protecting racecar drivers and tracks. In the early 1950s, racecar driving was seen as a dangerous sport--a hobby for thrill-seekers--and not many insurance companies were willing to take on that risk. But the plan that Krauskopf presented to Lloyd's was simple: He would travel around the Midwest marketing coverage to many tracks, thus creating a premium pool adequate enough to cover the risks associated with the sport.
In order for tracks to carry the K&K Insurance policy, they had to adopt safety rules such as installing a blockhouse for the starter, wire mesh in front of the stands, guard rails around the outside and inside of the tracks; and allowing the track to be inspected yearly. Lloyd's agreed to write the risks; the partnership was sealed with a handshake, and K&K Insurance was founded. Today K&K provides motorsports insurance to more than 60% of the country's short-track facilities and about 85% of the major speedways. It also insures roughly 65% of the teams racing in the major series.
1970s-1980s K&K expands into new markets
With K&K salespeople dotting the nation, Krauskopf allied himself with other strong insurance men such as Greg Mosher. In 1973, Mosher became a partner, lending his expertise in sales and public relations.
His addition to the K&K team proved to be profitable, as K&K began to expand into new markets in the sports, leisure and entertainment industries. Professional associations became one of K&K's most lucrative markets--with high-volume sales.
Late 1970s-early 1980s K&K and Yamaha enter into personal lines
Deciding that the time was ripe to develop personal lines, K&K once again launched into an arena that no other company would risk: offering personal insurance to buyers of Yamaha motorcycles. Dealers had direct phone lines into K&K so that customers could immediately purchase insurance at the point of sale. The lines were so busy that K&K had to have state-of-the-art wiring installed in its offices to receive the volume of business. This business venture into personal lines was extremely profitable; however, keeping up with individual state requirements eventually became too time-consuming to continue the personal lines business. It was time to refocus on their core business strategy of special risk commercial insurance.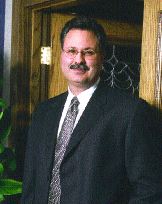 In September of 2001, Tony L. Wittwer was named president and CEO of K&K Insurance Group, Inc., with responsibility for more than 400 insurance and risk management professionals in Fort Wayne, Indiana and Toronto, Ontario. Tony began his career at K&K in 1988, as an account executive for its Fairs & Festivals Program.
End of an era
Nord Krauskopf retired in 1980 as chairman and owner of K&K Insurance Group. Krauskopf had built the company into a $10 million corporation with approximately 200 employees. K&K moved from the Krauskopf house to another Ft. Wayne location, before building its current home at 1712 Magnavox Way.
New ownership
In 1984, Lincoln National Corporation purchased K&K and provided the capital needed for continued expansion. That capital, combined with the hard marketplace of the 1980s, allowed K&K to grow its sports, leisure and entertainment business. K&K's expansion began in the fair and festival industry and from there grew into para mutual racing and on to professional and amateur sports. The focus was to provide a dedicated, long-term, stable insurance source for those industries. In 1986, K&K wrote $50 million in written premiums; after just three years, premium volume leaped to $100 million. K&K continued to add programs including ski resorts, amusement parks and various franchised dealership programs. Lincoln National Corporation eventually made the decision to divest itself of product lines not related to their core life insurance business and, in 1993, sold K&K Insurance to Aon Corporation.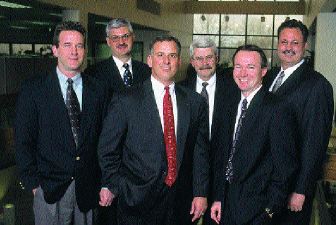 K&K Insurance Group executives are (left to right) P. Douglas Hamm, CPCU, senior vice president, claims division; Tim McCoy, CPCU, AAI, senior vice president and chief marketing officer; Louis J. Valentic, senior vice president, executive accounts; Eric J. Taylor, CPCU, senior vice president and chief underwriting officer; Todd W. Bixler, executive vice president and chief operating officer; and Tony L. Wittwer, president and CEO.
Aon Corporation's purchase of K&K from Lincoln National Corporation marked the beginning of another aggressive growth period that took the company from approximately $160 million in premium volume to approximately $360 million in 2001. Aon's extensive resources and worldwide reach provided the support K&K needed to continue to reach for its goal of becoming the largest provider of sports, leisure and entertainment insurance in the world. Aon's global expertise also helped establish several offices outside the United States.
Under the direction of Chief Executive Officer Steve Lunsford, an Aon veteran and former president of Aon Reinsurance Corp., K&K continued to expand its market share in virtually every specialty program segment in which it operated and today offers over 100 specialty sports, leisure, and entertainment programs.
In 1994, K&K established a holding company, SLE Worldwide, Inc., to set up offices in Canada, Australia, London and Mexico City. Although adverse economic conditions at the time eventually led to the closing of its Mexico City operation, the SLE offices in Sydney, Australia, and London, as well as the office in Toronto, Canada, grew steadily through the application of the same entrepreneurial principles and operating philosophy that K&K used in the United States. The offices were initially run by K&K employees to ensure that the K&K program business philosophy and exclusive focus on sports, leisure and entertainment risks would be carried out. Since that time, Aon's European operation has assumed management of the SLE offices, allowing K&K to focus on the United States and Canada.
K&K itself operates as part of Aon Services Group (ASG), which represents the specialty wholesale brokerage, underwriting, and specialty services arm of Aon Corporation. Each of ASG's 30-plus provider companies represents premier industry segment leaders, offering some of the best experience and talent available.
To guide K&K's future operations, K&K veteran Tony Wittwer assumed the role of president and CEO in September of 2001. Although the current marketplace is characterized by volatility of carriers, coverage, and pricing, K&K remains committed to serving the sports, leisure and entertainment industry.
"As today's clients assess their changing insurance needs, K&K's five decades of professional experience, personal service and industry expertise have never been of more value," explains Wittwer. "Although, by any measure, the first 50 years of K&K's history have been an incredible success story, they have only been the beginning. Our people, our dedication, and our abilities have never been stronger. In the next 50 years, K&K will again raise the bar higher than it has ever before been set."
By 1987, K&K had launched an innovative, new, state-of-the-art computer system. The company was producing roughly $100 million in written premiums at that time, and getting the new policy to the client took weeks and sometimes months to produce. K&K added specialized programs to the industry Beta Test Insurance System to custom fit K&K clients. The system had the ability to rate and print out the insurance document and then send out the policy. K&K was able to give clients their policy within four to five days. This gave the company a competitive edge with excellent customer service. Aon now uses this system for all of its MGAs like K&K; the Aon Service Center is staffed with 60 people to provide support for $750 million worth of written premium. *
The author
Debra Tadevich has been writing company history for more than 20 years, and has received the Clarion award for popular history writing. She can be reached at debrat@roughnotes.com or (800) 428-4384, ext. 1032.
---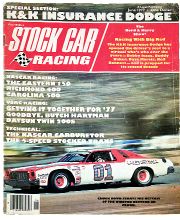 Nord Krauskopf continued to give back to the industry that had provided so many levels of success for K&K. He thought having one of the top cars in NASCAR, with the K&K Insurance name on its side, would be the best way to advertise the agency. Krauskopf hired Harry Hyde as the chief mechanic and, in turn, Hyde introduced Krauskopf to a young driver named Bobby Isaac. By 1966, K&K Insurance was sponsoring a formidable racing team that competed in the NASCAR Grand National Division. That same year, Krauskopf set a five-year goal to win the top NASCAR title--and put the number 71 on the car to serve as a constant reminder to Hyde and the rest of the team.
Isaac achieved a NASCAR record lap of 199.658 mph in the car at the Alabama 500 run at the Talladega Superspeedway. He went on to take the 1970 Grand National Championship with 11 wins and 38 top-ten finishes in 47 races. As an encore, Isaac brought the Dodge Daytona back to Talladega and set a closed-course speed record of 201.104 mph.
The No. 71 Daytona was inducted into the International Motorsports Hall of Fame, and the names of those who helped make it a winner are painted on its flanks. K&K still owns the Dodge Charger that was so successful on short tracks and which is also displayed at the museum. Bobby Isaac was inducted into the Hall of Fame in 1996; Harry Hyde in 1999.
---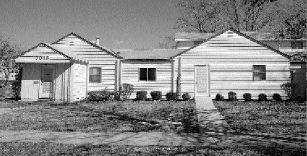 By the late 1950s, Krauskopf had turned his home into a bona fide office by converting the lower level to accommodate the new employees and salespeople. As the company grew, Krauskopf built additional rooms and eventually started buying surrounding homes to use as office space. Long hours and dedication to excellence were expected of employees. They also were encouraged to provide assistance to elderly neighbors in the area. (Teddy promoted good will in the neighborhood by taking cookies and cakes to the neighbors, or by taking elderly or disabled neighbors to the doctor or to run their errands.) The Krauskopfs were generous in rewarding the dedication and loyalty of those early employees --many of whom still work for K&K Insurance today. That early spirit of hard work and community service is still a part of the value system at K&K.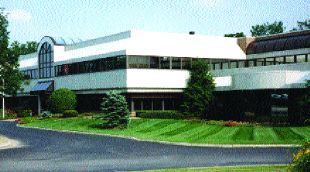 By 1968, three salespeople were on the road from January through May. At this time, only a handful of insurance companies was willing to underwrite this kind of risk. Because this was a new concept, salespeople would have to drive around looking for new or uninsured race tracks, often stopping in diners to ask the locals for directions. To assure that the K&K salespeople were the first to be seen, Krauskopf would send out mailings with little gifts twice a month. He gave all members of the sales force the title "vice president," thus improving their chances of securing an entrance to the decision-maker's office. Often these salespeople were greeted with warmth and familiarity.
Mid-1950s
K&K sponsors a Dodge with driver Charlie Glotzback in NASCAR.

1952
Nord Krauskopf begins marketing motorsports insurance.

1966
Krauskopf hires Harry Hyde as chief mechanic.

Krauskopf sets a five-year plan to win the top NASCAR title and picks No. 71 for the car. Hires Gordon Johncock and Earl Balmer to race the car on the super-speedways.

1967
Krauskopf hires Bobby Isaac to drive No.71 based on his reputation in the short track race circuit.

1968
Isaac wins his third race at the Beltsville Speedway in Maryland driving the K&K Insurance Dodge.

1971
Bobby Isaac sets 28 new speed records in the winged K&K Insurance Dodge Daytona at the Bonneville Salt Flats in Utah.

1977
Premiums reach $5 million.

1980
Nord Krauskopf retires. Business moves from original house/office on Bowser Avenue to new location on Vance Avenue, Fort Wayne, Indiana.

1982
Premiums reach $10 million.

1984
Lincoln National buys K&K Insurance.

1989
Premiums reach $100 million.

1993
Aon Corporation buys K&K from Lincoln National Corporation.

1994
K&K forms SLE Worldwide, Inc., a holding company to establish international offices in Mexico, Australia, England and Canada.

1995
K&K moves from Vance Ave. to its new facility and current building at 1712 Magnavox Way.

2001
Premiums reach $365 million.
For more information:
Web site: www.kandkinsurance.com