TODAY'S INSURANCE FRAUD HAS
'BONNIE AND CLYDE' OVERTONES
Innocent bystanders are pulled into a criminal act to defraud
By Phil Zinkewicz
---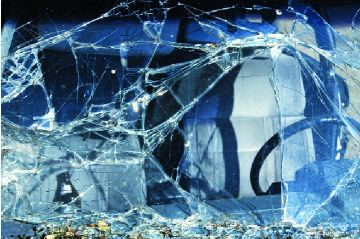 Automobiles are being used by organized fraud rings to stage car accidents and bilk insurers out of billions of dollars.
In the 1940s, James Cagney and Humphrey Bogart teamed up in a film called "Roaring Twenties," with both tough guys playing prohibition-era underworld czars. Cagney was the nice czar and Bogey was the sinister czar. The film shows clearly how malevolent miscreants are able to seize onto an unpopular law and use it to their own advantage. There is plenty of bathtub gin being swilled as well as the expected murder and mayhem.
The film is a particularly significant one because it shows not only how the "cement shoes" underworld of the Roaring Twenties operated, but also because it shows how average people are drawn into the horror of it all--tommy guns spraying bullets in restaurants where innocent patrons have come for an evening meal, shots fired from automobiles as they drive through streets filled with passersby. At first, the public looked upon these gangsters as heroes of a sort, fighting with bravado what they perceived as an unjust law. But when innocent people began dying because of the gangsters' internal rivalry, a public uproar resulted and hoodlums such as those characterized by Cagney and Bogart were finally put away.
Although the decade of the '20s is long past, the streets of our cities are still "roaring" today, albeit not with tommy guns. The roar is coming from automobile engines--automobiles that are being used by organized fraud rings to stage car accidents and bilk insurers out of billions of dollars. Of course, consumers pay a good portion of the price for these staged accidents but, more important, some are paying with their lives.
It works this way. A car, packed with passengers who are in on the scheme, darts in front of an unwitting motorist, suddenly stops and forces the motorist into a rear-end collision at low speed. Faking painful back and neck injuries, the passengers team with crooked doctors, lawyers and chiropractors to submit large and bogus bodily injury claims against auto insurers.
This is not something new. These fraud rings have existed for years, but recently these events have brought with them some violent outcomes. At least two people, both grandmothers, died in recent months as the result of botched staged accidents. One of these women was Alice Ross, who lived most of her 71 years in the Queens area of New York City. She doted on her four children and four grandchildren and loved gardening, television game shows and books.
Holidays and birthdays were special events for Alice, when she gathered with her family and enjoyed their warm feelings for each other. This fateful March saw a slew of birthdays--her 71st, the 49th for her twin sons, Mike and Steve, and the 4th for grandson Brian--a perfect reason for getting together.
No one knew this celebration would be her final one. Five days later, her Buick Regal was struck, sending it careening into a tree and killing Alice almost instantly. She had been maneuvered into a staged accident to scam insurance money, Queens District Attorney Richard Brown said. The "hit" car was driven by the alleged ringleader, 22-year-old Waurd Demolaire. He is now charged with murder (2nd degree) and a host of other offenses.
Jim Quiggle, a spokesman for the Coalition Against Insurance Fraud (CAIF) says that "Ross' death adds a tragically human face to the epidemic of staged accidents that are growing increasingly violent and have helped make auto premiums in New York among the nation's highest."
He points out that investigators recently busted more than 600 people involved with one staged accident ring in Suffolk County--possibly the largest such bust ever. "Russian gangsters and other ethnic groups are playing a growing role in staged accidents, a perverse route to the American Dream," says Quiggle. "Ring members are shooting each other in turf wars. Staged accidents increasingly are the domain of highly organized rings, not just mom and pop operators anymore. In fact, one NYC ring was so profitable and well-organized that a woman even sent in a resume seeking work as a fake passenger."
Though deaths are rare in staged accidents, says Quiggle, Ross' death shows the schemes still have a constant potential for sudden and unplanned killing of innocents. It is also likely that many undetected staged auto accidents have injured innocent people, perhaps some seriously. Had Alice walked away from that accident, says Quiggle, chances are there would have been no fraud uncovered and no charges filed.
A great many of these staged accident fraud rings operate in New York. In fact, unofficially, New York is becoming tagged the "unofficial capital" of the nation's staged accident rings. And, in New York alone the problem is spreading. According to the National Insurance Crime Bureau (NICB), insurance fraud rings, long established in New York City, are now targeting the suburbs for their scams, as evidenced by the recent busting of the fraud ring in Suffolk County.
The NICB launched its initial investigation acting on information from one of its member insurance companies, which alerted the insurance industry's crime-fighting organization to a series of suspicious auto accident injury claims in Suffolk County--all of which involved drivers from Brooklyn, according to Robert M. Bryant, president and CEO of the NICB.
Using new computer technologies and databases to review the medical bills submitted by the Suffolk County accident claimants, the NICB identified numerous Brooklyn-based medical facilities, physicians, therapists, acupuncturists, transport companies and equipment. "Each of the medical providers was under suspicion for fraudulent practices by the NICB's New York Medical Fraud Task Force," according to Bryant. "The NICB alerted the Suffolk County Task Force to its findings, uncovering evidence of a scheme to defraud insurance companies by submitting fraudulent bills for treatment of bogus injuries."
Bryant says that the recent indictments handed down in Suffolk County are only the beginning. "Organized insurance crime is no longer simply a New York City phenomenon," he says. "Insurance criminals are seeking to loot New York's auto insurance system wherever they can."
But New York is not the only victim of these staged accidents, according to the CAIF. Florida and Colorado have also become targets, as have other states. One thing that these states have in common is no-fault auto insurance. States have been adopting no-fault since the early 1970s. It was supposed to simplify claims, speed up medical payments and reduce litigation costs by requiring auto insurers to pay their policyholders' injury claims up to a specific amount--no matter who caused the car crash. But, instead, fake and inflated injury claims have helped drive auto premiums to crisis levels in many no-fault states, according to the NICB.
But despite a growing public outcry, passing get-tough laws to help stamp out no-fault scams has proven elusive.
Consider three of the hardest-hit states: New York, Florida and Colorado: In New York, urgently needed reform bills have stayed gridlocked for at least two years and it is uncertain whether they'll pass this year despite intense public pressure to control runaway auto premiums, according to the CAIF.
"The heads of the state Senate and Assembly are feuding, accusing each other of blocking reforms. A small armada of strong-willed interest groups including trial lawyers, doctors, insurers, agents and consumer advocates also are maneuvering to leave their imprint on reform measures," says the CAIF.
"Albany must show leadership, not one-upmanship, and pass fraud reforms even if they can't agree on anything else," says Howard Goldblatt, director of government affairs for the CAIF.
Goldblatt says that in Florida, the governor, Senate leader and the state's top insurance regulator openly question whether the state should retain no-fault if the system can't be cleaned up soon. "Fix it or flush it," Senate President Jim King says.
Gangs stage hundreds of auto accidents a year, mostly in populous South Florida. Lead bills have emerged in the House and Senate in what some think is a last-ditch effort to save no-fault. Among their collective fraud provisions, the bills would criminalize running a medical clinic without a license and recruiting people into staged-accident gangs, keep gangs from contacting crash victims, and restrict gang access to police accident reports.
"The no-fault system can probably survive without serious reforms this legislative session, depending on your definition of 'survive,' but not without increased cost to consumers," says Tom Gallagher, Florida's lead insurance regulator.
Meanwhile, what can be done on the home front? In addition to their participation in the NICB and the CAIF, can insurers do anything on their own to combat fraud rings? Well, one insurer--State Farm--has been working with its agents, company employees and policyholders to try to address the problem. A spokesperson for State Farm says that the company works with agents to explain the "red flags" that agents should be aware of, even when writing an insurance policy.
In addition, State Farm has taken the fight right to the policyholders. In the spring of last year, 77,000 State Farm policyholders received disposable cameras from their local State Farm agents as part of a test program. Policyholders were asked to leave the camera in the glove compartment of their cars and use it to document vehicle damage in the event of an accident. Space is available on the back of the camera cover to record pertinent information from the other driver.
Once a camera is used at the accident scene, the policyholder can drop it off at the State Farm agent's office for developing. The photos and driver information assist State Farm claim representatives in the investigation and fair settlement of the claim--or the discovery of fraud. *