When weather's a factor or an event
is special, WKF&C has answers
By Elisabeth Boone, CPCU
---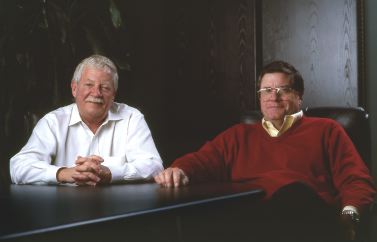 WKF&C Agency, Inc., President Tom Wilson (left) and Chairman/CEO Thomas J. Kennedy.
It's that time of year again, when cheerful sunshine and balmy breezes lure us outdoors for everything from weddings to golf tournaments, from flea markets to rock concerts. For these activities and a host of others, bad weather can mean not only disappointment and inconvenience, but also significant financial loss. Two programs from excess-surplus managing general agency WKF&C address those risks and help retail agents and brokers provide a high-value service to their clients.
Established in 1994 with headquarters in Melville on New York's Long Island, WKF&C has expanded from one location and seven employees to more than 50 employees in five offices throughout the United States. Using only carriers rated A or A+ by Best's, the agency distributes its products primarily through wholesale brokers and makes its weather and special events programs available directly to retailers. In addition to its headquarters, WKF&C has offices in New Jersey, Connecticut, Illinois, and Kansas.
The preponderance of WKF&C's $180 million written premium is property risks, which represent approximately $130 million of the total. The agency's second largest business segment is general liability, followed by windstorm deductible buyback, inland marine (written through an admitted market), a recently launched miscellaneous professional liability practice, and weather and special events programs.
WKF&C stands for Wilson, Kennedy, FitzGerald, and Curran, the last names of the agency's founders. "When we started in 1994, I never dreamed WKF&C would grow to become a $160 million-plus MGA operating on a nationwide basis," says Thomas J. Kennedy, chairman and chief executive officer. "Back in the mid-1990s, we recognized that there were a lot of very bright young people working in insurance companies who had mastered the art of underwriting and developed an industry following, but for myriad reasons found themselves spending way too much time dealing with management issues and little if any time underwriting, where their talents really lay," Kennedy says. "They weren't always successful as managers, and they certainly weren't doing what they had been trained to do. Seeing that as an opportunity, we built an operating infrastructure that would encourage bright underwriters to join us and refocus their skills on underwriting, and we support them with a first-class back office designed and managed so that our underwriters spend most of their time underwriting and devote little if any time to management."
A niche and a system
Notes Thomas Wilson, president and chief operating officer, "When we started the agency in 1994, we were in one of the softest markets in the history of the insurance industry. To survive and compete with other similar organizations, we had to find a niche. We saw what our competitors were doing with respect to minimum premiums, and we decided that our niche would be small accounts with average premiums in the $10,000 to $12,000 range. Additionally, we realized that if we were going to survive the soft market, in particular as an MGA, we had to have a system in place to write this business profitably."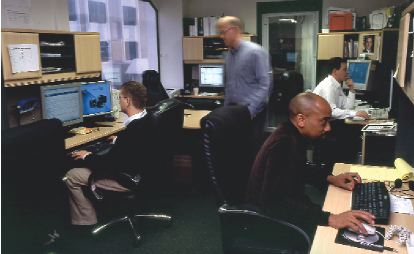 We're right next door to our own IT company, MGA Systems, Inc., and its staff of dedicated programmers and developers."-- CFO Michael Sillat

The system WKF&C created, Kennedy explains, "seamlessly allows our underwriters to underwrite their business in a relatively frictionless environment that minimizes processing redundancies. Once the underwriter has underwritten an account and input the requisite data, the system automatically generates a quote. Upon binding, it automatically issues the policy, orders the inspection, either generates an account current entry or e-mails an invoice to the producer, establishes the receivable and payable, and prepares bordereaux data for transmission to our insurance company partners. The underwriter never has to take his or her eye off the ball."

With this system firmly in place, "we believe we can operate much more efficiently than most insurance companies," Kennedy asserts. "Our market niche is writing business that is under the radar screen of most companies because of the administrative costs associated with writing and handling small premium accounts. Our average policy is in the $10,000 to $12,000 range, a premium level that most insurers cannot write profitably. We can. So when we look for issuing carriers, we look for companies that don't have the infrastructure to write smaller accounts but have the desire to make a commitment to that business sector." Internally, Kennedy adds, "We structured our operating priorities so that when the market is soft in a particular line of business, we can direct our underwriters to refocus their efforts on reunderwriting their portfolios or, if necessary, virtually shut down until the market hardens again."

That capability, comments Michael Sillat, chief financial officer, is key to the success of a market-sensitive excess-surplus lines underwriter like WKF&C. "One of the things that really gives us a competitive edge in the IT arena is that when there's a change in the market or the underwriting requirements--the legal terms for cancellation, for example--we have the unique ability to change that in our system within a matter of minutes. We're right next door to our own IT company, MGA Systems, Inc., and its staff of dedicated programmers and developers."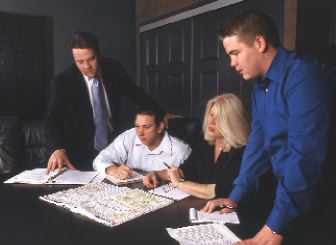 From left, Stephen J. Roeder, Assistant Vice President of Professional Liability/Weather Insurance, conducts a weather team meeting with CSRs Frank Albanese, Chris Boehme, and John Collins.
A great example of the system's responsiveness and flexibility, Sillat remarks, "is when terrorism unfortunately became part of our world. It took some companies months to get into their systems and make adjustments to rating, coverage, and disclosure of policy terms. We were able to accomplish those tasks within about two days."
Customized platform
Most agencies, whether wholesale or retail, approach automation by either purchasing a vendor system directly or retaining a consultant to help them select or build a system. WKF&C chose another route, Kennedy says. "In 1994, when we started the agency, we went to the AAMGA (American Association of Managing General Agents) convention and met with several vendors. We found that for a significant amount of money up front and additional development fees spread over several years, the best we could hope for was 50% of what we wanted," he says. "Rather than spend the money to develop a system that would not meet all of our needs, we decided to develop our own system from the ground up, one step at a time, and it has been enormously successful for us. Our goal is to market the system to others who have a similar need."
WKF&C's automation system was developed by agency subsidiary MGA Systems, Inc., and currently processes well over 5,000 transactions per month. Now being phased in is an enterprise system, Insurance Management System, which will be capable of supporting multiple local and remote real-time users--a key ingredient in WKF&C's plans to expand geographically.
A feature of the system that has become invaluable to WKF&C as it expands throughout the country, Kennedy observes, is that "we are literally in an environment of plug and play. We recently set up an office in the Hartford, Connecticut, area, and from the time our employees walked into their new office until they were online and fully functional was something like two days. We plugged the computer into a high-speed Internet connection and our employees were into the system, quoting, binding, billing, issuing policies, and performing other functions as if they were at our headquarters in Melville. This technology will be the platform for our future geographic expansion."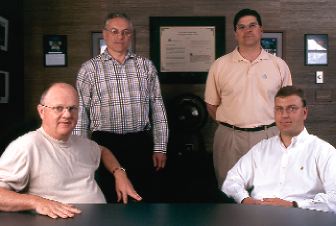 WKF&C's management team: (from left) Rick Callahan, Executive Vice President; Robert S. Klipera, CPCU, Vice President of Claims; James P. Kennedy, Vice President of Operations; and Michael P. Sillat, Chief Financial Officer.
Although it's on the cutting edge of information technology, WKF&C still encourages its employees to master all aspects of their jobs, right down to the last detail. "I recall a conversation I had a few years ago with a key underwriter shortly after he joined us," Kennedy says. "As soon as we had a handshake agreement with an issuing company, one of his first questions was, 'When do I get somebody to help me?' My answer was, 'When you've learned the system from the bottom up, then we'll talk about adding staff.' WKF&C's philosophy is to foster an entrepreneurial spirit so that our employees view themselves as running their own little companies within the agency. To do that, they have to master every procedure," Kennedy explains. "When we started WKF&C, Tom Wilson and I did everything from data entry to putting stamps on envelopes, and it was one of the most valuable experiences we've ever had. We try to instill the same mentality in our employees while encouraging them to make maximum use of our automation system."
Strategic partners
To a market-sensitive excess-surplus lines MGA, relationships with producers and carriers are its lifeblood. In the wholesale market, WKF&C functions via a network of exclusive producer relationships rather than as an open market facility. The agency is represented by 150 experienced producers, of whom about 55 are active sources for property and casualty business; the remainder are production sources for weather, special events, and professional liability. Producers are carefully screened, and agency-producer relationships are based on an understanding of WKF&C's established guidelines, industry reputation, knowledge of personnel, and commitment to program guidelines, underwriting philosophies, and profit goals.
To ensure adherence to its standards of excellence, WKF&C developed a comprehensive annual producer review in which each producer is placed in one of four categories. Producer evaluation criteria are: quote to bind ratios, written premium, hit ratios, notice of cancellation ratios, reinstatement ratios, and, most important, loss ratios. WKF&C also reviews the financials of its brokers to verify their financial standing.
Equally important are WKF&C's relationships with carriers. As noted earlier, the agency works only with insurers that have an A+ or A Best's rating. "In terms of carriers, we are very particular about whom we trade with," Kennedy says. "We opt to bring in only the most financially secure and dedicated markets, and we try to avoid market turnover. One of the biggest expenses for an MGA is a 'treadmill' process of starting over every year or two with a new carrier. We look for long-term relationships with our issuing carriers and the reinsurers that support our approach to the business we underwrite," he asserts. "We ally ourselves only with companies that are rock solid. Michael [Sillat] spends a lot of time looking at carriers' financial statements to make sure we won't encounter problems down the road. Many MGAs are no longer around because of the financial problems of their issuing companies, and we don't want to be in that situation."
Programs for retailers
Although some 90% of WKF&C's business is written on a wholesale basis, it has two key programs that are available to retailers: one for weather exposures and another for special events. Last year WKF&C boosted its strength in the weather insurance market by acquiring the assets of Good Weather Agency in Salem, Massachusetts, and adding a key employee, Christine Ingraham, to the WKF&C team.
Weather insurance covers weather-related business income losses. The product can be used in two ways, the agency notes: as a new offering to augment the coverages of existing clients or as a stand-alone "entrée" policy for clients whose business the retailer is pursuing. Weather insurance is designed to protect a business, promoter, or sponsor who has a financial interest in an event that could be affected by specific weather conditions. Coverage can be arranged for various weather perils, including rainfall, snowfall, temperature, wind, and lightning. Both indoor and outdoor venues are eligible.
In addition to sponsors and promoters of special events, prospects for weather insurance include amusement parks, restaurants and bars, civic associations, advertising agencies, event planners, and retail store (jewelers, car dealers, furniture retailers) snow promotions. Among the events that can be insured are fairs and festivals, concerts, sporting events, parades, air shows, rodeos, trade shows, corporate events, commercial video shoots, fundraisers, and marketing and promotional events.
How does weather coverage work? WKF&C offers an example using snowfall coverage. Suppose a merchant has a sale from Thanksgiving through New Year's Day. If it snows a predetermined number of inches on a specified day during the period, all purchases made during the promotion are free. Under rainfall coverage, the insurer will pay the policy limit per day if rainfall accumulation is one tenth of an inch or more between the hours of the event (say, 9 a.m. to 5 p.m.) on the date(s) of the event. The minimum premium for weather insurance is $500; limits are up to $2 million.
Closely related to weather insurance is special events coverage. The WKF&C program is written through a Best's rated A+ XV carrier and covers prize indemnification for hole-in-one prizes, half-court basketball shots, and winning coupons in food containers; half-time contests, pay-per-view TV transmission interruption, and event cancellation (concerts, prizefights, celebrity appearances and even weddings). "With the cost of weddings these days, if a wedding is cancelled as the result of an event like the death of an immediate family member, a hurricane, or a fire at the reception site, the expense can be huge," Wilson says. "Wedding insurance will reimburse the insureds if the event was beyond their control."
Many retailers aren't familiar with weather and special events coverage, Sillat observes. "Almost any retailer on the property and casualty side could make use of such insurance policies at one time or another," he says. "It's really a matter of becoming familiar with the coverages and identifying your clients' needs."
Whether you're a retailer or a wholesaler, understanding coverages and knowing your clients' needs really is what it's all about. Solidly dedicated to the wholesale distribution system yet welcoming retailers for its weather and special events programs, WKF&C Agency exemplifies the stability, expertise, and commitment that spell success in any marketplace. *
For more information:
WKF&C Agency, Inc.
Web site: www.wkfc.com
For weather insurance: www.goodweather.net or (800) FAIRSKY
For IT/systems inquiries: www.mgasystems.com