The Markel Style
The specialty powerhouse marks 75 years of know-how and teamwork
By Elisabeth Boone, CPCU
---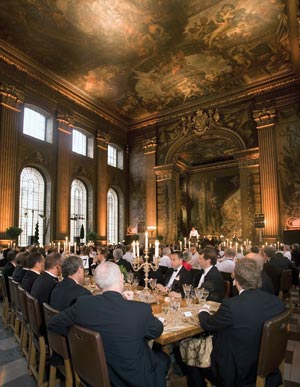 The Royal Naval College in Greenwich, England, (below) was the site of one of Markel Corporation's 75th anniversary celebrations-a dinner inside The Painted Hall (above) at the college.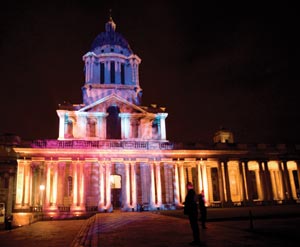 By the time you're ready to blow out 75 candles on your birthday cake, chances are you've accumulated a fair amount of wisdom and experience. As you move into your fourth quarter century, you bring those valuable assets and, ideally, both energy and enthusiasm for the challenges ahead.
That's definitely true for Markel Corporation and its group of specialty underwriting units. Now in its third generation of family management, Markel today is a global property and casualty insurance holding company with assets of some $9 billion. On September 6, 2005, the company celebrated its 75th anniversary with appropriate flourish and fanfare, paying tribute to its origins and rededicating itself to its highly succes.sful strategy of niche underwriting.
Markel's origins date to 1930, when Sam Markel started an agency to provide insurance to the motorized transportation industry, which was still in its infancy. Markel's two sets of twin sons were followed by another generation of the Markel family: Tony, who is now president and chief executive officer, and Steve, who is vice chairman. In 1986 Markel became a publicly traded company.
After some 50 years of operating as a brokerage, Markel embarked on a strategic evolution from broker to risk bearer when it formed Essex Insurance Company in 1980. Today Markel insures and underwrites almost 90 separate specialty lines through its eight operating units. Markel focuses on three segments of the specialty marketplace: excess and surplus lines, specialty admitted risks, and the London market. Each unit operates independently, although some information technology, human resources, and investment functions are centralized.
Markel carefully selects the lines and classes of business that experience demonstrates the company can underwrite profitably. "Our organization understands that there is no long-term benefit in cash flow underwriting, and our future depends on our ability to operate profitably independent of our return on investments," says Tony Markel. "In fact, those two areas are purposely kept independent of each other. No single one of our products generates more than 5% or 6% of our total profitability," he continues. "This allows us to offer a broad spectrum of programs to our customers while not having to be a slave to volume in any one product line."
What's their style?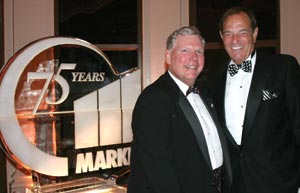 Paul Springman (left), is Executive Vice President of Markel Corporation. Tony Markel (right) is President and CEO.
Throughout the Markel companies, performance and rewards are driven by an ethos known as The Markel Style. A flat organizational structure encourages communication between employees and management so that the two groups are aligned in their commitment to success.
"We believe in hard work and a zealous pursuit of excellence while keeping a sense of humor," says Tony Markel. "Our employees are encouraged to look for a better way to do things … to challenge management. We have the ability to make decisions or alter course quickly. The Markel approach is one of spontaneity and flexibility," he continues.
"Above all," he declares, "we enjoy what we are doing. There is excitement at Markel, and it comes from innovating, creating, striving for a better way, sharing success with others…winning."
Staying the course
In a market that by its nature has been buffeted by the winds of change, a specialty underwriter that has reached the 75-year mark clearly is doing plenty of things right. What factors account for Markel's longevity?
"I believe a big factor is the culture that's been established within Markel, particularly over the last 25 years or so, which focuses on strengthening employees' self-determination and accountability," says Letha Heaton, senior vice president-marketing for Shand Morahan, a Markel unit since 1990.
"Markel really is about what we affirm in our Markel Style," Heaton continues. "There truly is a disdain for bureaucracy. It's a very plain-spoken culture; people say what they think, and they act as a group to do what's best for the entire organization. It's a unique culture, and part of what drives that is that employees are facilitated in developing ownership in the company." Markel lends employees money to buy stock in the company.
Markel's impressive growth over the years, Heaton says—from sales revenue of under $500 million in 1997 to a projected $3 billion for 2005—"is a testament to our strong central executive committee. Every time Markel makes an acquisition, these individuals go to the new company and try to instill the value of our culture in the employees."
Finding a niche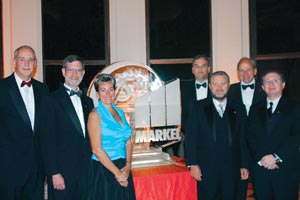 Executives of Markel's specialty underwriting units gather in San Francisco to celebrate. At left are Britt Glisson, President and COO of Markel Insurance Company; Brad Dickler, President and COO of Essex Insurance Company; and Timberlee Grove, President and COO of Markel American Insurance Company. At right in back row (left to right) are Glen Curley, President and COO of Investors Underwriting Managers and Gerry Albanese, President and COO of Markel International. In right foreground are (left to right) Tom Stamm, President and COO of Markel Southwest Underwriters and Mike Rozenberg, President and COO of Shand/Evanston Group.
Markel's eight specialty underwriting units tackle some tough classes of business, and their success in these market segments owes much to a high level of skill plus a strong commitment to underwriting profitability.
Essex Insurance Company was established in 1980. Based in Richmond, Virginia, where Markel's headquarters also is located, Essex is an excess-surplus lines insurer that markets its products through some 140 general agents and brokers nationwide. Focusing on light to medium exposures in a wide variety of classes, Essex writes primary and excess casualty and product liability; primary property; specialty property; transportation; inland marine, and ocean marine.
"The Essex underwriting philosophy has been basically unchanged in the 25 years of the company's existence," says Joe Hucker, senior vice president and co-manager of casualty underwriting and a 14-year Essex veteran. "Our first and foremost goal is always underwriting profitability. We are not driven by the top line; we are always driven by the bottom line."
Andrea Nash, vice president of marketing, joined Essex 11 years ago. "We distribute our products through a dedicated, contracted group of MGAs with binding authority, and we also have a dedicated group of wholesale brokers for our other lines," she explains
Jill Goldfine, senior vice president, has been with Essex for 22 years and is responsible for managing back-office operations. She says a key challenge for Essex is the consolidation that is taking place among major wholesalers, which can reduce the number of distribution points for Essex products. "Another challenge is the consolidation in the reinsurance market, because there are so many fewer reinsurers out there that are strong. Obviously, in order to stay competitive, we need the capacity," Goldfine says.
Investors Underwriting Managers, Inc., based in Red Bank, New Jersey, offers admitted and nonadmitted products in seven core areas: primary casualty, focusing on heavy contracting liability and products liability; excess and umbrella for manufacturing, contracting, municipalities, school districts, energy risks, OLT, and miscellaneous services; environmental liability; property, targeting mercantile and habitational risks; taxicab liability; special programs; and surety.
Glen Curley is president and chief operating officer of Investors. "Our underwriting philosophy, in essence, is 'one risk at a time,'" he says. "At Investors, and throughout Markel, we place a high value on our relationships with producers, and we do everything we can to make those partnerships work."
Serving as chief underwriting officer is Jeff Lamb, who affirms Curley's view. "We look at each account on its own merits to determine if it's the right selection, the right attachment point, and the right price. Every account needs to be able to make an underwriting profit, and each underwriter is responsible for delivering that result."
Mark Brown joined Investors in 1999 to start an environmental underwriting unit. His career encompasses 26 years in the environmental field, of which 16 have been in the insurance business. A key competitive advantage for Investors, he says, is the extent to which senior management supports each Markel unit. "Recently I got a call from Tony Markel asking me to contact an agent he had just had lunch with to discuss opportunities because they had just opened up an environmental brokerage operation here in New Jersey," Brown says. "I made the phone call and was able to set up some business. When Tony's having lunch with somebody, he's thinking about everybody; and when anything comes up, he directs it back to us. He's running the company, and he's still out in the trenches, marketing," Brown says.
Sarah Gavlick is director of marketing for Investors. "A big challenge for us is communication—getting our message out," she says. "We want to be sure that everyone at Investors is giving a consistent message to our producer base about our risk appetite so our producers know where we're headed. Another way to differentiate ourselves is to make sure that we're the market that's the easiest to deal with."
Markel American Insurance Company, based in Pewaukee, Wisconsin, was established in 1987. It is an admitted carrier licensed in 49 states and the District of Columbia. Markel American has products in four niche market segments: power sports (motorcycle, ATV, personal watercraft); specialty marine (nonstandard watercraft, high-performance watercraft, commercial watercraft rentals, charter boats, commercial fishermen, excursion boats); preferred marine (yacht and small boat); and specialty property (mobile home, low-value dwelling, nonstandard homeowners, motorhome, and motorhome rentals).
The president and chief operating officer of Markel American is Timberlee Grove, who has been with the company for 23 years—eight years before it was acquired by Markel Corporation, at which time it was known as American Underwriting Managers Agency. "When Markel acquired us, we became the underwriter in addition to the underwriting manager," Grove explains.
The need to "reach our target combined ratio of 90%," Grove says, "drives our pricing strategies and our operating strategies, because it means we are almost never going to be the lowest-priced market." This means the company has to provide excellence in both products and service, Grove says. "We sell by saying, 'Look, you're with Markel.' We're going to be here for the long term; we have the financial stability; we have the longevity of program; we're committed to what we do."
Holding the line on price isn't easy, Grove observes. "It's a huge challenge, but we're all stockholders, so we do whatever it takes to achieve that goal."
Marine underwriter Tom Conroy joined Markel American in 1991 as property claims supervisor and then moved to the underwriting side. The trend that currently is having the greatest impact on the marine business, he says, is the high price of gasoline. "Recently the price at the marina has been $4 a gallon, and if you have a 200-gallon tank, it can be pretty pricey." In addition, the continuing escalation in the prices of coastal properties has driven up the slip fees paid by the owners of pleasurecraft. As a result, Conroy says, the market for mid-sized craft is depressed.
"I think Markel is a very empowering company," says Sue Cisz, a 22-year veteran of the organization. Cisz heads Markel American's business analyst department, which acts as the liaison between the company and the information technology unit. "Each of us is encouraged to make a difference," she says. "It's the kind of company where you can get involved even if it's outside your area."
Markel Insurance Company in Richmond, Virginia, underwrites commercial lines on an admitted basis in all states except Hawaii, working through select retail agency partners. The insurer has property and casualty specialty programs for child care centers, children's camps, and other youth organizations; health and fitness facilities; sports camps and amateur sports leagues; and social service organizations. Markel Insurance also offers accident and health specialty programs for college and K-12 students; student life and student property; tuition refund; sports camps and amateur sports leagues; and other special risk accident and health. The company's third market segment is equine-related commercial and personal lines coverages.
With 23 years of underwriting experience, Christi Hatcher is associate vice president and underwriting manager for Markel Insurance. She also serves as product line manager for the company's private school program. "Our focus is moderate, profitable growth," Hatcher says. "We look for accounts that are interested in a long-term relationship, and the biggest challenge is to find those accounts where the fundamentals are in place: financial strength, experienced management, well-trained staff, strong risk management and safety programs."
Mark Nichols brings 22 years of specialty sales and marketing experience to his position as business unit manager for specialty accident and health and sports liability business. He says Markel enjoys a competitive advantage because it is "an A rated, stable, and responsive market with a long history in youth and adult recreation" that can weather any challenges, including "the potential for irrational competition, regulation (including the potential role of the federal government), health care reform legislation, and the threat of natural catastrophes and terrorism."
Markel International Limited, based in London, is the holding company for Markel International Insurance Company Limited (MIIC) in the United Kingdom; Markel Capital Limited, a corporate capital provider at Lloyd's; and Markel Syndicate Management Limited, which manages the composite Markel Syndicate 3000. The syndicate consists of five divisions: professional liability, marine and energy, non-marine property, specialty, and Markel (UK) Limited, the UK provincial operation.
Markel Re, Richmond, Virginia, is an open market unit that provides casualty facultative reinsurance support for qualified primary insurers. A unit of Markel Re writes direct excess and umbrella business through appointed wholesalers. Another unit of Markel Re, Specialized Market Alternative Risk Transfer (SMART), produces and underwrites alternative market business on both admitted and nonadmitted Markel paper.
Markel Southwest Underwriters, Inc. (MSU), based in Scottsdale, Arizona, is an underwriting manager for Evanston Insurance Company, an excess-surplus lines carrier that is licensed in 48 states and the District of Columbia. Markel Southwest works with a group of contracted MGAs. On the casualty side, classes written include apartments; clubs and halls; contractors; distributors; entertainment and special events; health and exercise clubs; homeowner associations; hotels and motels; lessor's risk; mobile home parks; owners and contractors protective (OCP); and vacant buildings. Brokerage casualty is available for risks that are outside a contracted producer's normal binding authority.
On the property side, MSU covers a range of commercial property exposures through contract, brokerage, and inland marine units. Classes include apartments; builders risk; churches and synagogues; civic and social clubs; condominiums and townhomes; day cares and preschools; light manufacturing; mercantile/retail establishments; mobile home parks; motels, hotels, inns, and bed and breakfasts; nursing and convalescent homes; offices and banks; recreational facilities; strip malls; and vacant buildings and renovations.
Serving as MSU's executive vice president of underwriting administration is Greg Rubel, a 17-year veteran of Markel who until 2000 worked for Shand Morahan. "We tend to be a niche player, focusing on classes of business where we can add value and make money in the process," he says. "We work with wholesalers who prefer to have binding authority, and we are a nonadmitted market for the property and general liability exposures of Main Street, mom and pop-type operations." Through brokerage facilities, he adds, "We also can handle larger, more difficult risks."
Tom Stamm, president and chief operating officer of MSU, has a background of almost 35 years in specialty wholesale underwriting. He was involved in establishing Acceptance Insurance Company in 1992 and joined Markel when it acquired Acceptance in 2000. "Officially, we were acquired by Markel," Stamm says, but, he adds with a chuckle, "I like to say we were saved by Markel."
Stamm is a loyal adherent of The Markel Style, key elements of which are embracing change and being highly results oriented. "We have an attitude that we're never satisfied with what we do, and we're always asking how we can change our procedures and improve our performance," Stamm says.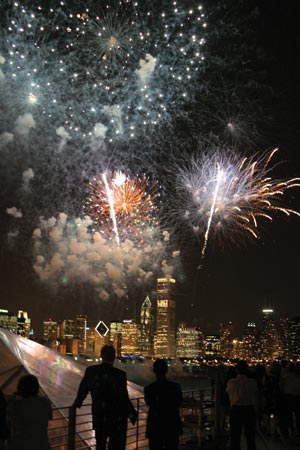 Markel's multi-city celebration of its 75th anniversary included a fireworks display on the lakefront in Chicago.
Shand Morahan & Company, Inc., Deerfield, Illinois, which became a wholly owned unit of Markel in 1990, is a specialty provider of professional liability and product liability coverages. Products include medical malpractice for physicians and allied health care providers; and professional liability for lawyers, architects and engineers, insurance companies, agents and brokers, and management consultants. Miscellaneous errors and omissions coverage is targeted to startups, small businesses, and emerging enterprises. Product liability coverage is available for new businesses' new products and new technology, with a focus on medical-related companies. Also offered are for-profit and not-for-profit directors and officers liability and employment practices liability coverages. Shand Morahan writes business through some 350 wholesale brokers.
On the medical liability side, "I think we're very fortunate in having a group of thoughtful, analytical, well-educated underwriters," says Fran O'Connell, vice president of medical underwriting. "They have an intellectual curiosity about how things work and are interested in not only understanding current exposures but also thinking about what is coming down the line."
Chuck North is vice president of underwriting and product manager for product liability and general liability coverage on product-driven accounts. "We are a niche claims-made market for difficult and hard-to-place risks," he explains. A 29-year veteran of Shand, North points to the new direction the company took after becoming wholly owned by Markel in 1997. "Before Markel's involvement, what we called marketing was largely listening to what our brokers wanted at that moment," he says, "including the broker that happened to own us, Alexander & Alexander." After Markel took 100% ownership, North says, "We went back toward sticking to our knitting. The question became: 'What do we do best? What do we have to offer? Let's promote and market those skills and products to the wholesale broker community.'"
The Shand Morahan employee with the greatest longevity is Anita Shlemon, whose career encompasses both depth and breadth of experience in all phases of professional liability underwriting. Currently serving as senior underwriter for all product lines in Shand's central region, Shlemon joined the company in 1973.
"One of the most significant changes I've seen over my career with Shand Morahan took place in 1997, when we reorganized our underwriting operation to assign a dedicated underwriter to a designated group of wholesalers," Shlemon says. This structure, called Source One, "allows us to build a relationship with brokers so we can meet their needs and so we can grow together. Our objective is to provide superior service to our wholesalers so they will think of us as their first choice as a surplus lines market."
Style and substance
Praise for and commitment to The Markel Style are voiced by people throughout the organization. Once they join Markel, employees tend to stay. It's clear that across the range of specialty markets the Markel organization serves—and the 75 years of its existence—there's unwavering commitment to both the vision and the substance of The Markel Style. *
For more information:
Markel Corporation
Web site: www.markelcorp.com