High-tech investigators
Cutting-edge science makes EFI Global "the CSI of the insurance industry"
By Elisabeth Boone, CPCU
---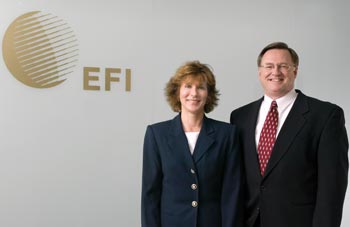 Cynthia Randall is the Branch Manager of EFI Global in Indianapolis, Indiana, and Ron Holt is President and CEO of the Kingwood, Texas-based firm.
The American public has cast aside its addiction to reality TV and replaced it with a similar addiction to watching people solve complex crimes. Although a number of shows have captured the imagination, CSI (Crime Scene Investigation), has achieved hegemony in the current ratings war.
Although they don't appear on TV, the highly trained specialists at Kingwood, Texas-based EFI Global use many of the same techniques as their fictional counterparts to link cause and effect. Whether it's a natural catastrophe like a hurricane or tornado … an environmental disaster like an oil spill or toxic chemical leak … a fire, explosion, or building collapse … EFI Global reports promptly to the scene and begins the painstaking process of assembling clues and analyzing evidence to find out exactly what happened and why. Because many of the investigations EFI Global conducts focus on insurance-related losses, the firm is popularly known as "the CSI of the insurance industry."
EFI Global provides engineering, fire investigation, environmental, and specialty and consulting services to commercial, industrial, institutional, insurance, government, and public and private entities. Formerly known as Engineering and Fire Investigations, the company changed its name to EFI Global, Inc., in January 2005 to reflect its expanded operations and ability to provide services worldwide.
For more than 30 years, the team at EFI Global has provided practical solutions to complex problems for clients in a variety of industries. The company's staff of more than 300 persons includes trained and professional certified engineers, scientists, and fire investi-gators who operate from 26 service centers around the country.
"The driving force behind our company's growth and success is our people," says Ron Holt, president and CEO of EFI Global. "Our experts incorporate the highest integrity, character, and quality in the business into everything we do. Our commitment remains strong to work as a team and to continually meet and exceed our clients' expectations."
EFI Global provides services in five key areas:
Engineering services. The firm's engineering professionals handle projects in mechanical, electrical, civil, structural, automotive, chemical, metallurgical, and geological engineering and other disciplines. Engineers' work encompasses scene examination, documenting and collecting evidence, working with government agencies, coordinating internal/external resources, and making accurate and defendable appraisals of what has occurred.
Environmental services. The environmental division handles projects associated with real property, such as site assessments, investigations, and remediation; brownfield and site redevelopment; regulatory compliance; petroleum management; industrial hygiene; indoor air quality and mold consulting; asbestos and lead management; and wetlands and biological services.
Fire investigation services. The company investigates several thousand fire and explosion incidents annually. If the evidence remains, documentation and analysis allow for recognition of potential liabilities, subrogation, risk exposures, and incendiary causes. Investigators are qualified in origin and cause investigations, and they receive mandatory ongoing training related to fire investigation, insurance, and legal issues.
Accident reconstruction and animation. The company offers a variety of engineering services in the field of transportation crash reconstruction and forensic analysis. Team members conduct field investigations, consult, and provide expert testimony in biomechanical analysis, crash reconstruction, and failure analysis.
Laboratory services. Technical laboratories staffed by experienced microbiologists test for recognized species of mold, fungi, and bacteria. Chemists offer a range of chemical testing services, specializing in forensic analysis such as fire debris analysis and analytical chemistry. Services also include a metallurgical laboratory and field chemistry.
Of particular value to the insurance community is EFI Global's work in evaluating damage caused by natural catastrophes, investigating fire and accident scenes, and conducting
failure analysis.
Support for insurers
Of particular value to the insurance community is EFI Global's work in evaluating damage caused by natural catastrophes, investigating fire and accident scenes, and conducting failure analysis. During the record hurricane season of 2004, the firm's structural engineering team and indoor air quality and mold scientists supported catastrophe adjusters in Florida, Alabama, Georgia, and the Caribbean. Assignments included evaluating wind and flood damage, assessing the structural integrity of buildings, providing repair details, monitoring reconstruction work, laboratory analysis, and on-site monitoring.
EFI Global engineers also uncover and present evidence to help insurers subrogate successfully against manufacturers and maintenance facilities. One case concerned a vehicle with more than 167,000 miles on the odometer that was involved in a fire that damaged a surrounding structure. EFI Global's mechanical failure analysis identified the specific aftermarket vehicle component that caused the fire. The engineers also identified the specific design deficiency that resulted in a favorable verdict on behalf of an insurer that was subrogating against the vehicle's manufacturer.
In another case, EFI Global mechanical engineers investigated a hay baler in connection with a personal injury case. Their analysis resulted in a large judgment against a repair facility for improper adjustment of a power takeoff control.
At a paper mill, an electrical failure of a 5,000-volt circuit breaker damaged a metal-clad switchgear assembly. Comparison to exemplar circuit breakers in the same switchgear assembly revealed contact misalignment performed by a repair technician. EFI Global electrical engineers uncovered evidence that allowed the client to pursue subrogation against the technician.
A series of fires occurred in a petrochemical refinery during startup after a maintenance shutdown. EFI Global fire investi-gators, engineers, and chemists discovered that the problem was in new gaskets used in the transfer piping. Testing of the gasket material showed the gaskets were degraded well below the manufacturer's specifications and the plant's operating temperatures. The findings were used for successful subrogation against the gasket manufacturer.
Based at EFI Global's Indianapolis service center is Cynthia Randall, who serves as branch manager of the office. Randall, who joined the firm in 2002, brings to her position a combination of rigorous scientific training and experience as an agency supervisor and licensed agent. She has an under-graduate degree in chemistry and a graduate degree in environmental management. In her position with EFI Global, she plays a business develop-ment role, in which she performs technical sales and service functions on both a local and national basis.
In insurance-related situations, Randall says, EFI Global services may be sought by either insurers or policyholders. "Insurance companies engage us for services on the loss control side, for underwriting and establishment of an appropriate premium, and post loss when there's a claim," she explains. "We also may be engaged directly by an insured to provide loss control in an industrial setting or to consult on a cleanup after an event like an environmental spill or a natural gas explosion. We also may be asked to consult on remediation of a violation."
On the preventive side, Randall notes, EFI Global conducts life safety assessments on insureds' premises. "This includes fire safety, fire suppression, health and safety, air quality, OSHA compliance and training," she says. "After a loss, we provide all the same kinds of services."
Sometimes insureds engage EFI Global to help them achieve premium reductions, Randall says. "Recently we worked with a major pipeline company that was trying to secure better rates for its workers comp policies. We conducted a health and safety assessment, including OSHA compliance, and prepared a report identifying the deficiencies we found and the actions we recommended, such as developing a loss control program."
On the claims side, Randall describes a situation where EFI Global was called in to investigate a fuel leak. "We discovered that the fire had been caused by the release of hydrocarbons that had been leaking into the facility over a period of 20 years," she says. Although the visible damage was relatively minor, she says, "the hydrocarbon cleanup cost is consider-able and potentially will reach $1 million. In this case, had a little bit of work been done on the loss control side, the leak would have been found before it caused such a large claim."
High-tech investigators
It's hard to believe that anyone who watches CSI on TV could be clueless enough to pour gasoline on the floor of a building, toss in a match, and skulk away indulging in fantasies of instant riches gleaned from a big insurance settlement. But they do. EFI Global experts function as high-tech investigators, using an array of sophisticated techniques to determine the origins of incidents from small fires to huge explosions.
"I often tell our clients that we really are the CSI of the insurance industry," Randall says with a chuckle. "Unfortunately there are situations where there is arson, and our fire investigators have to put the whole scenario together."
EFI Global team members often appear in court to give expert testimony on various aspects of a fire, explosion, building collapse, or environmental incident. Another specialty is accident reconstruction to determine the causes of and fault in vehicle crashes. In fact, its expertise in this area propelled the company to TV stardom. In a Discovery Channel episode titled "Crash Detectives," EFI Global presented a case involving a police investigation that incorrectly identified the drivers in a violent two-fatality collision. After inspecting the vehicles and reviewing the autopsy results, the company's experts reconstructed the crash and identified the responsible drivers. The police subsequently revised their report to reflect EFI Global's findings.
At EFI Global, investigators and engineers not only must keep abreast of new technologies and equipment in their demanding fields; they also must be alert to the influences on their work exerted by economic, legislative and legal, technological, and even social trends. Depressed economic conditions may lead some employers to cut corners in their safety and loss prevention programs; in extreme cases, financial hardship may drive a business owner to commit arson. Also affecting businesses are changes in the laws governing workplace health and safety (OSHA), manufacturing, distribution and transportation processes, and environmental hazards, among others. New technologies adopted by businesses create not only opportunities but also risks for employees, third parties, and property. When societal attitudes change, so may worksite behavior with respect, for example, to the use of alcohol and drugs and to the care with which equipment and vehicles are operated. Workplace attitudes and behavior also may be affected by disputes between management and labor.
Almost immeasurable is the influence of the terrorist attacks of September 11, 2001, Randall comments. "Since then, we've experienced increasing demand for vulnerability assessments and emergency management preparation. Insurers are asking, 'In the event of another terrorist attack, what would EFI Global do to mobilize a catastrophe team to the affected area, and how quickly could it assess the health and safety and environmental aspects of such an attack? What plans are in place to monitor the air quality and water quality?' One company is even considering placing us on retainer so that in the event of an attack, it would be one of the first companies we would respond to."
Many of the same issues, Randall points out, apply to natural disasters as well as planned attacks. Catastrophe response and damage assessment are equally as important in the wake of a hurricane, earthquake, tornado, or flood. "Those events can create just as much havoc as a terrorist attack," she says.
Challenges abound
For an organization like EFI Global, charged with preventing and managing catastrophic loss, the major challenges are twofold: keeping abreast of the latest developments in science and technology, and staying informed about the myriad trends and developments that may influence potential loss scenarios.
"The insurance industry continues to demand better research, documenta-tion, and investigative services," Ron Holt says. "With our team of professionals, tools, and processes, we're well positioned to respond."
It's a tall order—but it's all in a day's work for "the CSI of the insurance industry." *