Getting personal
PIA's new campaign aims to help agents receapture personal lines business from direct writers
By Phil Zinkewicz
---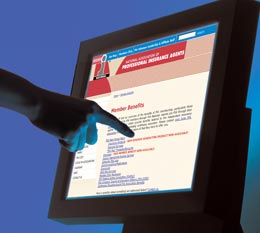 "By adopting an effective and efficient method of employee marketing, agencies can dramatically increase their personal lines book of business in a relatively short period of time."
— Asa Pike, President
Agency Revenue Tools
We've all seen the television commercials. Two wrestlers are in a ring, furiously yelling at each other, when one announces he has good news. "GEICO has helped me save money on my car insurance." There are similar non-sequitur-type advertisements for GEICO that fill the air waves every day. A senator is holding hearings regarding white collar crime; an exercise expert is telling someone how to trim down; two lovers are breaking up and she's distraught—but they all have one thing in common—they saved money on car insurance by going to GEICO.
In the fierce contest between independent insurance agents and direct writer/captive insurers for personal lines business, the direct writer/captives seem to be scoring all the points, boasting the lion's share (about two-thirds) of the personal lines market. However, in June, the National Association of Professional Insurance Agents (PIA National) announced that it is ready to take up the battle by sponsoring a special program—the PIA Quickstart Program—to help its members take back market share from direct writers. In cooperation with Agency Revenue Tools (ART) LLC, a software vendor offering workplace and affinity marketing products, PIA has initiated its "Take Back Personal Lines" campaign to enable agents to "effectively and efficiently" counteract the mass marketing/mass advertising approach to personal lines being taken by the direct writing carriers.
"One of the most significant challenges property and casualty agents face in writing new personal lines business is having a steady stream of new prospects come to their door," said PIA National Executive Vice President & CEO Len Brevik. "With this program, agents meet their new customers in the workplace. The ART method, along with its accompanying technology, has a proven track record of success with hundreds of agencies of all sizes, across the country. We've worked with ART to develop a program to make this approach available to the thousands of agencies who are PIA members."
Added Asa Pike, president of ART: "Quoting and placing new personal lines business is nothing new for agents. Writing as much of this business as they'd like is the challenge. By adopting an effective and efficient method of employee marketing, agencies can dramatically increase their personal lines book of business in a relatively short period of time. They simply need to have a solid plan, the necessary tools, and focus on achieving their results."
At first glance, the PIA-ART approach appears to be just another form of mass marketing, something at which most independent insurance agents have not really been successful. But Dan Henery of the Gibsonburg, Ohio-based Securance Service, Inc., and chairman of the PIA Products Committee, says this is not so. "Most mass marketing programs are run by one carrier, giving all the control to the insurer. Under our program, called Employee Marketing, agents retain the one thing that sets them apart from the rest of the market—their representation of multiple companies. Once the agency has established a relationship with one or more employers, that agency has created a pipeline of employee prospects, to which the agency can offer competitive insurance pricing, its own professional level of client service and, because of the payroll deduction feature, freedom from non-pay cancellation worries."
Henery says that most people are at work when agents try to reach them. This program offers agents the opportunity for the workplace to deliver the prospects to them. Once the employees recognize the benefit of having an independent agent shop around for them, instead of representing only one company, those employees will be eager to take advantage of that and of the payroll deduction plan being offered.
The first thing that's needed, according to Henery, is for an agency to sell an employer on the idea that they can, at no cost to their company, remove substantial financial worries from employees who elect to participate in this voluntary program. Periodic visits to the worksite by the agency representative are important to let the employees know what's available, he says. That will translate into new business and new agency revenues, says Henery.
Agents who have been using the ART program for some time have responded positively, according to Henery. Eric Pkatauskas of the Alexander Insurance Agency in Maitland, Florida, has this to say: "Our agency is very small. My father and I are the principals. There are five of us—including two CSRs and a producer. We have been running the ART program for a little over a year and have been quite successful. It has essentially doubled our personal lines auto book of business. I agree when the people at ART make the statement that this is one of the only ways we can strongly compete as independent agents in personal lines against the direct writers."
Jeff Teufel of the Joyce Insurance Group in Nanticoke, Pennsylvania, says that his agency has been working with the ART program for about two years. "Right now, we're in eight employers with three of them new to the program. We have approximately $500,000 in premium in payroll deduction and we're growing. Our goal is to reach about $80,000 a month in new business. We market to the employees with a flyer that goes in their paychecks. It says to call us at renewal or, if they're curious, right away. The important thing in this program is to get going right away. Don't try to set up complicated accounting procedures first. That can be worked out later. The important thing is to get the business on the books first. In terms of bringing new personal lines business into an agency, it's tough. There's so much noise in the marketplace with advertising and the Internet. This is a way for an independent agent to get big growth fairly quickly."
ART suggests that agents follow eight steps to success under its program.
1. Analysis: Is employee marketing for our agency? Are we satisfied with our personal lines position, as it now stands, in terms of profitability, stability, current growth, and growth potential?
2. Develop a list of employers that might be prospects for your employee marketing program. Look for employers that are not seasonal, without significant turnover.
3. Visit the ART Web site at www.agencyrevenuetools.com. There, you can become acquainted with ART and learn something about its primary employee marketing tool, Worksite Marketing Manager 2.0, with your agency.
4. Call ART for a demonstration of Worksite Marketing Manager 2.0.
5. Sign licensing and support contract with ART that will include special pricing for PIA member agencies.
6. Arrange for ART trainers to visit your agency, who will work with your staff.
7. Your agency "goes live" and installs its first employee marketing groups.
8. Call ART as your program progresses to address any further service and support issues.
Concludes Brevik: "The PIA Quickstart Program makes ART's offerings much more accessible to agencies, cutting the initial cost in half when the system is used by PIA members who fall under a certain category in size. The PIA Quickstart Program is a fully supported approach to enable agencies to quickly and easily enter the employee marketing arena and meet new customers where they work, making their personal insurance experience easier for everyone through payroll deduction billing." *
For more information:
PIA Quickstart Program
Web site: http://www.pianet.org/PIAMainStreetStore/insuranceproducts/ART.htm