LOOK OUT, GLASS CEILING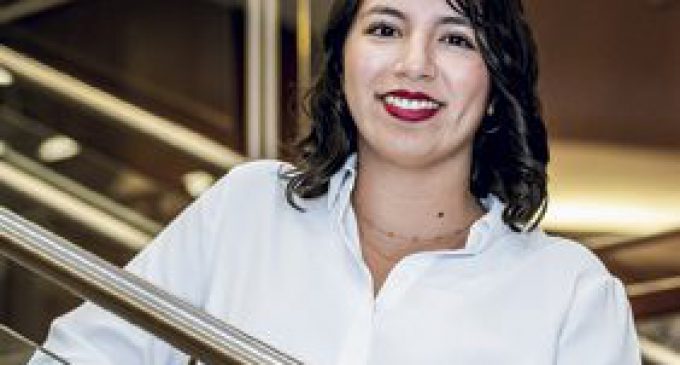 LOOK OUT, GLASS CEILING
Texas young pro named National Alliance Outstanding CSR of the Year
By Alice Ashby Roettger
---
As each generation ages, it tends to opine that the next generation—maybe two—is "going to the dogs" (except for its own offspring, of course). But the story of the National Alliance's 2021 Outstanding CSR of the Year certainly belies that assumption.
Despite life barriers that might stifle ambition in many, Darnella Rodriguez, CIC, CRM, CISR, account manager at Higginbotham Insurance Group's office in Austin, Texas, has sailed on, achieving multiple successes in a startling short amount of time—all before celebrating her 28th birthday.
The essay prompt to which Nella responded as part of the qualification for the award indirectly reflects her personal and professional approach to life. That prompt read:
"2020 presented major challenges to the insurance industry and every insurance buyer in the country. As clients re-evaluated their insurance coverages and carriers, agents quickly realized that they couldn't rely on brand loyalty alone. Agents must also provide near perfect client experiences in order to protect them and keep businesses thriving. Describe the biggest challenges your agency or company and clients faced this past year and what three service strategies you employed to overcome them and continue delivering incredible experiences to your clients."
Major change
Nella first talked about the unique challenge Higginbotham faced when the pandemic hit, pointing out that flexibility and a sense of challenge allowed the firm to overcome that obstacle in relatively short order.
Along with most businesses, "we were all scrambling to move our offices into our homes, and making sure we were as functional, effective, and available as we used to be—but we were not," she wrote.
"My company had scheduled July 1, 2020, as the date for switching agency management systems …," she added. "We had producers that were overwhelmed with questions that couldn't get answered quickly enough because we weren't at our desks. And, we had clients who had valid questions about the uncertainty of the times, and about the coverages their policies would provide.
"Meanwhile," she added, "my [personal] computer would decide that [switch day] was a good morning to conduct its Windows update."
Driving success
On handling challenges, Nella wrote that "the three strategies that made me successful in keeping a 99% retention rate, growing my book 65% and learning a new agency management system by myself [are] prioritizing knowledge, communication, and availability."
How was Nella able to achieve that amidst all of the chaos? Well, let's look back at her life story and how she acquired those qualities, first at the proverbial parental knee.
Among the earliest life barriers that Nella had to overcome, along with her parents and younger sister, was the immigration experience. Her father was a successful entrepreneur, leading multiple endeavors in their native Peru. Unfortunately, his last venture—the internet café he owned—was broken into, and all of the equipment was stolen.
"[T]he three strategies
that made me successful … [are] prioritizing knowledge, communication, and availability."
—Darnella Rodriguez, CIC, CRM, CISR
Account Manager
Higginbotham Insurance Group
"It's the only time I saw my dad cry," recalls Nella, her own voice breaking. "He had poured his entire self into his own business."
Having once visited Houston, which he liked, Nella's father moved the family to the States. Nella was seven years old at the time, her little sister three years younger. Dad became a busboy in Houston in order to provide for the family.
"We didn't speak English and didn't have family or friends in Houston when we first arrived, but this experience brought us together," Nella remembers. "Family meant the world to us," and family wise, the little girls learned about hard work, organization, and discipline through parental example.
"My mom was awesome," she adds, "cooking for us every day, picking me up from crazy dance classes, and making everything work."
This is where the aforementioned strategy around knowledge first came into the picture. "My dad always told me knowledge is power, and education is the key to success," Nella explains.
When she was in the second grade, Nella's father made her memorize multiplication tables from laminated cards. He bought books and had her read 10 pages every day, go to the dictionary, write new words in English and Spanish, and leave the paper on the dining room
table for him to check. "I read a lot when I was little," she says with a rueful laugh. The result? Nella graduated in the top 5% of her high school class, and a semester early from Texas A&M in 2015 with a Bachelor of Business Administration in Management degree.
Moving on and up
It was time to take her "education" challenge into the real world. As is often the case with others in our industry, Nella answered a job posting that took her into the insurance business in Houston. At the Carroll Insurance Agency, a smaller company, Nella absorbed the basic elements of the industry, profiting from the kindly mentorship of Jason Knecht. "He was always available and was really a good [educational] resource. He would point to where I needed to get information and was kind and patient and gave positive feedback.
"I still have a note on my desk that he wrote when I left," she adds. "I look to that note to bring [me] up when I'm having doubts about myself and my work."
Although Nella loved her job, "I needed a change of scenery." Austin beckoned with its younger vibe, varieties of activities, water, and lots of greenery. Moving from the mom-and-pop milieu, in January 2019 Nella joined the Austin branch of Higginbotham, one of the largest independent agencies in the nation and the Rough Notes magazine April 2011 Agency of the Month, where she began to move ahead with her characteristic enthusiasm and speed.
According to CSR of the Year Nominator Curtis Page, the managing director at Higginbotham, Nella "obtained her CISR in six months, the CIC in 1.5 years, and the CRM in 2.5 years—an almost unheard-of feat for a 'novice' in the insurance industry."
Page continued in his letter of recommendation: "Darnella is always receptive to taking on more responsibility. … Also, she is a delight to work with." He followed with a page-long list of her accomplishments.
He then summarized: "It is a joke between us, but every time I ask her about an account or issue, she had already dealt with it weeks ago (i.e., she handled it before I even thought of it)."
A case in point is the transition from one agency management system to another—which, as mentioned earlier, began just as the pandemic hit and people were beginning to work at home.
According to Nella, having to learn a new management system is always challenging, but the challenge was greater since employees were working remotely and were not together in the office. So, she decided to digest the information herself (education), share it with her co-workers (communication), and stand ready to answer any questions (availability).
"I started reaching out to [my team]
more frequently and through channels
I hadn't used before (due to the pandemic). I took
note of which channels of communication different
people were more responsive in."
—Darnella Rodriguez, CIC, CRM, CISR
"I would wake up at 5:00, roll out of bed, grab the manual and use it to figure out how to do the software from 5:00 to 8:00, then do my daily work." Always one step ahead, she was then available to help others.
In her essay, Nella expanded on her personal solution to the difficulties that her firm experienced during the pandemic. "When the quarantine began, and citywide restrictions were put in effect, it was key to be knowledgeable about who was being affected, how they were being affected, and how insurance carriers were responding to the different scenarios.
"To provide excellent service, you had to have answers, data, and information that would satisfy the clients' questions or point them to a source that would."
She continued: "Shifting to working from home was one of the most challenging aspects during the peak of the pandemic. Our daily interaction with our co-workers (and people in general) were completely removed.
"I started reaching out to [my team] more frequently and through channels I hadn't used before. I took note of which channels of communication different people were more responsive in. Producers were better at texting, account managers and service representatives were better at instant messaging or email, and then there were a few that I could only get answers if I called them."
Reflecting on the changes in work environments that have grown out of the pandemic, Nella observes: "We've proved that we can work from home. Looking to the future, the hybrid schedule is doable."
She also agrees that there have been few problems with productivity; in fact, in many cases it seems to have improved.
Nella continues: "I would recommend friends to go into the industry. It's solid, stable, and underrated. People will always need insurance. It's a great way to help people, which I enjoy and thrive on. I can meet amazing people."
Beyond the office
And then there's Nella's outside-the-office life. No time? Well, she seems to find it. Her private passion is Salsa dancing. "I started dancing in middle school, got into Latin dancing in college and joined a Salsa group.
"That is my other world," she adds. "If there is another parallel Nella in another world, she would be a Salsa dancer—a good Salsa dancer. It keeps me sane, healthy and happy.
"I can lose myself in music and forget everything else," Nella notes.
Curtis Page's long list of her community activities shows that Nella's outside interests are varied—the Alzheimer's Association, the Heart Association, professional development book club leader. When asked to help, her answer always seems to be, "Sure. Why not?"
Two areas seem to stand out, however: diversity and women's interests. To expand her knowledge and gain broader perspectives on important and timely issues, she has attended Dive In, The Festival for Diversity & Inclusion in Insurance; the Women, Diversity & Change Virtual Summit; the Women in Insurance Virtual Summit; and the Texas Conference for Women. Just this year, Nella was nominated for the 2021 Austin Woman of Impact award through the American Heart Association's Go Red for Women campaign.
The glass ceiling is cracking a bit, and it probably would not surprise Nella's family, friends and co-workers if she were to break it some day—in the industry that she has come to love. n
 OUTSTANDING CSR OF THE YEAR AWARD
For 30 years, the National Alliance has honored outstanding customer service representatives for their contributions to the insurance industry and to their community.
After receiving nominations, the winner must submit an essay that responds to a specific prompt from the Alliance.
Selected from a group of state winners, that person receives a $3,000 cash award and a gold and diamond lapel pin. In addition, his or her name is inscribed on a sculpture at the National Alliance headquarters. The winner's company receives a scholarship that can be used in any National Alliance program.
Four other finalists receive a $500 cash award, a gold and garnet pin, and publicity in Rough Notes magazine.
This year's four national finalists were:
Marcella R. Beasley, MA, CIC, CISR, CRIS, MLIS, CCIP, CIIP, CLP
CIG Insurance
Fresno, California
Susan M. Bintz, CIC, CISR
Kysar Millennium Leavitt
Insurance Agency
Farmington, New Mexico
Nachole Gillis, CISR Elite, CCIP, CLP
Marsh & McLennan Agency
Sioux Falls, South Dakota
Nicholas Oleniczak, CISR
M3 Insurance
Wauwatosa, Wisconsin