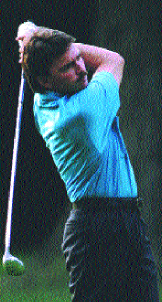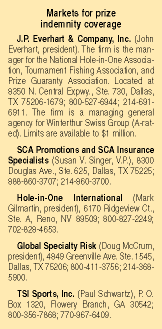 ---
Agents can score with
prize indemnification coverages
HOLE-IN-ONE CONTESTS ARE ONLY ONE OF
MANY PRIZE INDEMNIFICATION OPPORTUNITIES
By Wallace L. Clapp, Jr., CPCU
---
Many insurance agents have occasionally written hole-in-one risks, but few have noticed the opportunities that exist in the broader areas of prize indemnity. Agents writing commercial coverages would find many of their existing business clients are running contests, games and sweepstakes and could benefit from learning about prize coverage availability. Having an area of insurance customers actually enjoy discussing is a great door opener and the opportunity to ask for the customer's regular business.
Prize indemnity, the guaranteed payment for contingent prizes, was once available for only a few sports-related contests like golf hole-in-one, a tagged fish contest or a basketball shooting contest. As insurers have gained experience with and historical data on prize coverage, they have broadened the scope of coverage.
Thousands of companies and promotion agencies regularly secure prize indemnity coverage on a wide range of promotional campaigns. Contests range from local car dealerships' direct mail and golf hole-in-one contests to consumer product companies' national sweepstakes. Lotteries, race tracks and casinos cover new games and jumbo jackpots. Sports teams and corporate sponsors offer spectator participation contests at games and performance incentive bonuses to enhance player contracts. Coupon, rebate and phone card programs are insured against over-redemption or excess usage of telephone time. Television and radio stations offer insured on-air contingent contests.
Promotion sponsors benefit by having a defined budget and the ability to offer prizes that normally the budget would not allow. The agent is rewarded by having a new product that most businesses need and enjoy hearing about, and the extra commissions help the agent's bottom line.
The outstanding growth of prize promotions is easily understood when one considers the primary objective of sponsors of promotional prizes: to increase sales by making purchases convenient for participants. The promotion itself is the inducement to the buyer to visit the promoter's place of business to obtain entries or lotto tickets.
Hole-in-one tournaments
Hole-in-one insurance is the oldest and most common of all prize indemnification coverages. For many years the insurance was only available in the Lloyd's market and through some surplus line companies. Today, availability is not a problem and the coverage is best obtained through one of several special risk underwriters that have specialized in prize indemnity coverages.
This insurance made its debut in major U.S. insurance markets in the early 1980s. It was the first prize indemnification coverage widely promoted. The insurance is purchased by promoters of golf tournaments who want to create an exciting atmosphere and attract both expert golfers and the public to witness golfers try to win cash and expensive prizes at designated target holes. Auto dealers often put up new cars for the winner of a hole-in-one, and if its value is insured, the dealer's expense is limited only to the cost of the insurance.
The National Hole-in-One Association, which pioneered the concept of providing hole-in-one insured prizes at golf tournaments in 1981, continues to be the leading market throughout the world. It insures approximately 20,000 golf events annually and maintains better than a 50% market share in the U. S. and Canada. The firm also has an office in London, which insures the European market.
An application for coverage initiates the hole-in-one insurance. The insured sponsor gives particulars about the tournament, including number of players, data on the target holes, prize values and descriptions. The premium is based on the number of target holes, yardage and value of the prizes, as well as the number of players.
Prizes for a golf hole-in-one can be insured for as much as $1 million. The National Hole-in-One Association has paid out more than $25 million in claims ranging from automobiles to $1 million cash prizes. Some unusual prizes have been crop duster airplanes, an oil well, and even a casket at a funeral director's tournament.
According to John P. Everhart, president, National's first $1 million payout came on April Fools Day in 1991. A golfer made a 151 yard ace before an estimated crowd of 500 persons at the Club Cimarron, Mission, Texas.
Hole-in-One International, Reno, Nevada, offers a limited budget policy which is called the $100 Hawaii Special. For as little as $100, a sponsor can give away a trip to Hawaii for two for a hole-in-one at a golf tournament. The insurer also offers free auxiliary prizes for any player acing a non-target hole. Hole-in-One International also provides the tournament director with a tee sign introducing the hole-in-one sponsors at each target hole.
Fishing contests
Another popular contest using prize indemnification coverage to insure cash prizes offered by sponsors is the tagged fish tournament. In this event a selected number of fish are tagged, with one representing the winning number preselected by the insurer or sponsor. If a contestant catches a tagged fish the number is verified by officials at the end of the event. Cash prizes, boats or fishing gear are awarded to all fishermen catching tagged fish with the jackpot going to the person reeling in the selected number. Another promotion is to award a prize for a lake, state or world record fish. In still another contest the fisherman must match a predetermined weight of a single fish or aggregate weight of a string of fish.
The Tournament Fishing Association of Dallas requires an application giving tournament data including its title, site, dates and species of fish to be covered. Specifics on the prize value and specified weight on Specified Weight events and number of tagged fish and the number of the tag identifying the jackpot winner and area of lake or stream are statistics needed to rate and underwrite the coverage.
Prize Guaranty Association, a new subsidiary of J.P. Everhart & Co., Dallas, insures a wide variety of sports prize risks other than golf and fishing. This entity also provides a market for other contingent risks such as weather, performance and appearance contracts.
Due to the diverse nature of prize programs other than golf and fishing, applications of each contest and event are customized in a narrative description, and coverage terms are negotiated individually for each specific risk under surplus lines contracts.
Sports promotions
Sports promotions are attractive contest events for auto dealers, nonprofit organizations, special event directors, radio and TV stations, insurance agents, sports franchises, marketing agencies and universities and colleges.
Most insiders wish to sponsor sizable prize contests as marketing promotions. The risk of loss is transferred under an insurance concept to the underwriter, making the marketing promotion expense more predictable and affordable. The extremely high prize values insured at reasonable premiums draws both contestants and media attention which leads to an attractive sponsorship activity.
Football--An event popular at half-time of college and professional games, a selected contest, a selected spectator must kick a series of field goals from 10, 20 or 30 yards. Small prizes are awarded for the shorter goals and the jackpot is reserved for the longest.
Other versions are punting into the bed of a pickup truck at 35 yards, or tossing a football at a target from 20 or 25 yards away.
Basketball--Contestants are required to make a lay-up, free throw, three-point shot and half court shot all within 25 seconds. Another contest gives the jackpot and auxiliary prizes for five three-point shots within 25 seconds. Half court, 3/4 court and full court shot contests can be inexpensive to insure and are sure crowd pleasers.
Baseball--Promotions in major and minor league baseball games vary from grand slam homers, target tosses, triple plays, hitting for the cycle, no hitters and other contests. Each serves to maintain enthusiastic fan support throughout the season or keep fans at the game.
Bowling--Big prizes are awarded for perfect 300 games, bowling series over 800, or attempting 7-10 splits. Cars, cash and vacation trips, as well as bowling accessories may make successful promotion incentives.
Contests and games
Promotional contests serve to entice people to enter a sweepstakes or game. Organizations wanting to start such a contest must either pay for expensive awards out of the budget, or the promotion must be designed in such a way to make the prize contingent on an unlikely event. Limited budgets preclude the first option and the public soon loses interest once it perceives that the prize is likely unattainable. Prize coverage is the best option for the company wanting to offer substantial prizes in an affordable campaign. If the contingencies are statistically predictable and conditions to be met by potential winners are properly designed, it is likely that the risk of a big payout can be guaranteed at an affordable premium.
Premiums are based on:
* the prize amount;
* the relative probability of the event occurring; and
* the number of attempts to win.
SCA Insurance Specialists, and its sister company, SCA Promotions, Dallas, are specialists in insuring prize and over redemption coverage for promotional contests, games and sweepstakes.
Promotional contests include the following types:
* Scratch off games, where a player scratches off and matches a series of numbers printed on the card;
* Trade-in sweepstakes, a suitable promotion for car dealers. Visitors receive an entry form which entitles the buyer to a $10,000 trade-in if they have an odometer reader on their car matching a predetermined number;
* Jackpot sweepstakes, customers get a free pull for a grand prize valued at $10,000 or more every time they visit the store.
Television and radio stations have similar promotions. A popular one is "money madness," a program designed to promote a specific show. Viewers or listeners call to the station. One caller is chosen to draw from an envelope from a prize board. There can be one grand prize and several auxiliary smaller prizes.
Sales incentive programs are also ideal prospects for prize indemnification insurance. Sample programs run by companies to motivate staff to increase productivity are: scratch cards; money bag bonuses; and computer number match/lucky key games. Each bonus prize can be insured for a $10,000 prize or higher.
Since 1989 SCA Promotions has provided contingent prize coverage for lawful gaming programs in the U.S. This is becoming more popular as the number of gambling sites are increasing, and with the advent of riverboat gambling boats in several states the competition is increasing for the gambler's attention.
Games that can be insured are:
* Bingo/keno--for jumbo jackpots of up to $1 million. It is available for bingo for both continuous play and special events;
* Slot wagering--Jumbo prize offerings result in increased wagering revenue. The prize adds excitement and fun for all players;
* Video poker--Jumbo jackpots can be awarded for a royal flush. Other combinations of flush hands can receive ancillary prizes. These games can be insured with predictable statistics on cost per play, volume, prize value and hold percentage.
* Sports book coverage--insurance programs offer casinos coverage for exotic wagers on horse and dog races; sports score predictions on football and basketball parlay cards; and event-keyed and player performance records.
One contingency coverage developed by SCA is coverage for over-redemption of prize claims on sweepstakes and sales promotion campaigns.
The sponsor determines a budget for promotion including provision for prize funding calculated on past experience and expected public interest. If the company receives an over-expected number of prize claims, the budget can be exceeded. Over redemption indemnity provides coverage under which excessive response to an offer can be insured on the basis of up to a predetermined number of redemptions in excess of a deductible. The coverage is available for concepts such as collect and win games, collect proofs of purchase and receive a free gift or money-off coupon.
______
The author
Wallace L. Clapp, Jr., CPCU, is a consultant to the insurance industry. He is editor of Specialty Coverage Market Reports and The Insurance Marketplace, both published by Rough Notes.