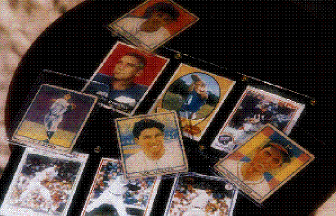 Author's note: The three DiMaggios and Ted Williams cards belong to me. If anyone knows their value, please let me know. My kids want to know if I'm worth more dead than alive.--R.L.S.
---
The fine art of insuring fine arts,
valuables and collectibles
WHETHER THEY'RE TUCKED AWAY IN THE ATTIC OR DISPLAYED
ON THE MANTEL, HEIRLOOMS NEED SPECIAL COVERAGE
By Robert L. Stewart with Susan Barros
How often have you heard it said by your customers that the only time they ever appreciated insurance was when they had a loss? Most often, they are speaking about property and casualty, rather than life, accident and health. While nobody wants to go through the agonizing claims process following a fire, windstorm or other catastrophe, it is far worse to have to collect in the wake of a wake, so to speak.
However, nearly as upsetting, or more so as you can appreciate, is the process of listening to a customer who thought (s)he was properly--if not totally--insured, and who suddenly discovered that the check (s)he is going to receive is for a lot less than the actual replacement value of household belongings following a "total" on his/her home, for example.
Suffice it to say that no matter how hard you work in trying to get your customers "completely" covered, there is usually certain resistance, as well as a disinclination to perform a thorough room-to-room search for replacement cost.
While some agents have been successful in making the inventory exercise a "game" played with a video camera (which almost forces their customers to get to the right numbers), most have discovered that their personal lines insureds generally are inclined to underestimate the value of their belongings. Often they also are unwilling to "up the coverage" for safety's sake, even when the additional premium is quite modest, which is usually the case.
Outside opinions
We spoke with several experts to get their views on how to make certain that their personal lines insureds are, indeed, properly insured. One of them is my own independent agent--John Pullara, personal lines manager of Herbert L. Jamison, Inc., L.L.C., headquartered in West Orange, New Jersey.
What better place to start? John is extremely knowledgeable, as I have discovered the entire Jamison organization to be--whether they are retailing personal lines or wholesaling Lawyers and Accountants Professional Liability, which is one of The Jamison Insurance Group specialties.
John said, "Policies vary, for sure, depending upon the company. But let's take an upscale type of policy--it is usually limited to $10,000 for combined jewelry and fur, with a single item limit of $2,500." Worthy of mention at this point is that in spite of the decline in the fur market, and the availability of wholesale jewelry in New York, it is not unusual to eclipse that $2,500 number with a single item, or go beyond twice that much in the aggregate, without even trying. A full-length black mink--or a couple of fur stoles emanating from nearly any "upscale" fur-bearing animal--can put your customer "over the top."
(We might add that if the purchase were made in one of the fashion salons of Fifth Avenue in the heart of New York City--or, for that matter in one of the more chic emporiums of nearly any major city--your client might have a sales receipt that resembles a respectable portion of the national debt.)
"Normally you want to schedule "fine metalware" if it exceeds $5,000," John told us. And stamps and coins also should be scheduled if they exceed $5,000 in value. Pullara warned also that since the homeowners policy payoff is subject to appropriate deductibles, it's a good idea not to allow the coverage you provide to be even marginally limiting.
"By scheduling these items, you specifically list each one of them. This provides more coverage, effectively takes away the deductible and actually may broaden coverage. Scheduling," Pullara continues, "may even include breakage for items such as fine china and antiques. Breakage would not be included under Homeowners and even though you may be able to increase certain coverages with some policies, they are still subject to limitation."
Chubb Group calls it "Masterpiece"
Chubb is the country's largest insurer of personal jewelry and a leading insurer of personal art work and other valuables. They call their coverage "Masterpiece Valuable Articles Coverage: The Added Protection." And it is certainly an interesting option.
Unlike traditional homeowners coverage which provides limited protection of truly valuable possessions, the Chubb policy permits your customer to select "itemized coverage" or "blanket coverage"--or a combination. But the theory holds also for insurance provided by other carriers. Essentially, it is the agent's job to be certain his/her client is properly protected.
In the Chubb policy, itemized coverage is really "scheduled" items, in that each article is listed separately and insured for an agreed-upon amount. On the other hand, Chubb's "blanket" is well suited for insuring many items of less substantial value. You can help your insured to select a total amount of coverage for each category of articles, such as fine arts, jewelry or furs, so there is no need for listing--or scheduling--each item separately.
The important thing, however, is that whether there is blanket coverage, or there is an itemization, your client's valuables are protected with the Chubb policy against "all risk of physical loss anywhere in the world," assuming no specific exclusion. Accidental breakage of fine arts objects also is included for covered items. And probably most important is John Pullara's earlier observation that there is no deductible involved--so what you get is the worth of the object.
You can educate your insureds
Earlier on, we touched upon the need to convince customers that they should have an accurate estimate of the replacement value of their belongings. If you read the sidebar on "Granny's Attic," you'll appreciate the need for "thoroughness" in that appraisal; but sometimes you don't have to go to the attic to discover hidden treasures, or extremely valuable items that simply must be properly insured, lest they become damaged, or lost in a fire or storm.
On PBS television, there is a program called "The Antiques Road Show" which is a 13-stop tour, from coast to coast. Watching just a single segment alerts us to what can be extremely valuable--simple items that are under our noses, items picked up at tag sales, garage sales or yard sales, for example.
The one we watched recently from Denver was a real eye-opener. According to the Sotheby organization (renowned auctioneers from New York), there are hundreds of items of amazing value which, if marred or charred for example, become next to worthless. Take the lamp that Uncle Joe bought and that has been hanging around the house for 80 years or so. It is a New Bedford turn-of-the-century "reverse painted" Pairpoint lamp which, if perfect, would be worth more than $5,000. But the slightest crack in the glass shade renders it worth less than $500. Unless it is "scheduled," the damage is not insured.
Of course, Sotheby gets to auction some of the real gems--and not always antiques, per se. Take the John F. Kennedy rocking chair auctioned from the estate of Jackie Kennedy. It went for $400,000 and change. Chances are your customers don't have something like that in the den; but they might have something like another item, owned by a married couple, which was shown on the PBS program. It was a Spring Seat Rocker, with a plaque identifying it as a gift from President Harrison. It was from the late 1800s and probably is worth more than $5,000 at auction.
Or a watch that's "been in the family for years." A "Captain's watch" with three dials--one for days, one for hours, one for seconds. One, identified as an enamel-dial Phillipe Terrot, was "in the sock drawer" of a Fairfax County, Virginia couple. On the reverse side was a portrait of George Washington and, with it, documentation that it was owned by the Washington family. The Sotheby people said that the watch itself might be worth $8,000; but with the authentication of ownership, bidding might begin between $30,000 and $50,000 and could go as high as $200,000. (Sounds like something one of your insureds would not want to keep in the sock drawer, uninsured.)
Doll furniture? Some of it can be very valuable, such as a miniature chest of drawers crafted in mahogany with satinwood and white pine as the secondary wood. A woman in New England bought it at a tag sale for about $100. Sotheby guessed the early 19th century piece would be worth upwards of $2,000.
Oriental rugs? One made by Nomadic folks out West--circa 1880, thick wool, not finely knotted--was valued between $8,000 and $12,000. A photograph which had been in a Seattle family's possession since the 1860s and which featured a "bat wing" frame, and was a "glass plate image," would be worth $5,000 to $7,000 at auction, but would be worth nothing if destroyed without being "scheduled."
And the list goes on--guns, a sword with a lion's snout handle, silver blade and leather sheath could command $10,000-$12,000. A Carl Van Loo Victorian portrait (who, did you say?) is worth thousands, as is a particular type of innocuous looking Teddy Bear which would go for about $7,500. And on and on. Arts and crafts, a painting, Disney cartoons on celluloid, a Bartow Matteson illustration appearing in a 1927 Saturday Evening Post, an Edward Dyer Rookwood Vase with a high fire clay body that would go for $5,000-$8,000 at auction, and so on.
The bottom line is that some of the items that just "hang around" a household might be very valuable treasures. As an independent agent whose job it is to provide proper protection, you certainly might suggest that your customers make that "household inventory" effort; and if they discover an item that might be valuable, it's worth checking it out.
You might suggest they start with the Internet--http://www.PBS.org.--and then click onto Antiques Road Show. Even if they find they have nothing of value, it's fun. Of course, if they discover a genuine antique with value in their midst, you'll be a hero.
______
---
Don't forget "Granny's attic"
Often standard "Household Inventory" folders or brochures, distributed by many insurance companies, fail to remind the home owners to check out the attic very carefully when they are in the process of evaluating their property and possessions. And that can be a mistake for several reasons, not the least of which is that there may be a number of forgotten items that have become antiques while gathering dust for a couple of generations.
I knew a sly agent several years ago who would challenge his homeowner insureds to come within $5,000 of the accurate replacement value of their household belongings, before taking a formal inventory. Most often the gap between their estimate and the actual replacement value well exceeded the $5,000--particularly in an upscale community.
People often overlook obvious possessions such as carpeting, drapes, curtains, bedding and clothing, while others didn't factor in some obvious items such as furnaces, dishwashers and central air conditioning! Rarely did my agent friend (who was often taken up on his challenge) lose his "bet." More to the point, as often as not, he would write a valuable articles floater because certain quite valuable items would be discovered--"unscheduled" and therefore effectively underinsured or uninsured under Homeowners. (See main article for certain "standard" homeowners limits.)
Without a doubt, however, a trip to "Granny's attic" makes a lot of sense, particularly if the family has lived in a home for several decades. There's often the "forgotten stuff," the unknown "special treasures" which great grandma stashed away when she moved in, or some other everyday pre-war dolls, toys or crystalware which might have become valuable as collectibles.
And, finally, we are told that an inordinate number of set-aside, and long-forgotten coin and stamp collections are uncovered in the attic only when a family is packing to leave, the old homestead is going on the block, or its contents are being disposed of by way of a "tag sale." If they get by unscathed over the years of non-discovery, great. But heaven forbid if one of those really valuable collections is not discovered until the bulk of it has disintegrated into ashes and soot.