MARKETING AGENCY OF THE MONTH
---
"KAIZEN" CONTINUAL IMPROVEMENT DRIVES THE PITCHER AGENCY TO THE TOP
By Dennis H. Pillsbury
---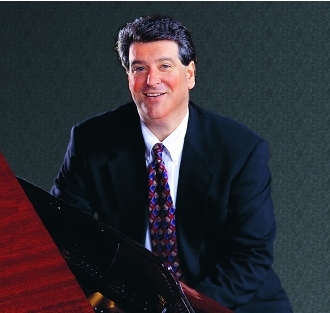 Before starting his own firm, Ron Pitcher worked for four different agencies.
Ten years ago, anyone willing to bet that Ron Pitcher would be in charge of an agency that was recognized as the Rough Notes Marketing Agency of the Month and be recognized as a Best Practices Agency by the IIAA could have gotten pretty long odds. Up to that point, Ron's experience in the agency business would best be described as frustrating. In fact, someone less committed to insurance and with less tenacity might well have decided on another career entirely.
Fortunately for his clients and our business, Ron didn't do that.
Even before his graduation in 1979, from Greenville College, a small Christian Liberal Arts school in southern Illinois, Ron had been working in insurance during the summers at the agency owned by his father, Atwood Pitcher, and uncle. After graduating with a business degree, he went to work full-time in that agency. Ron worked with his dad and uncle for five years but felt constrained and decided he needed to step out on his own. He went to work for another agency, then another, and then another agency. Yes, that's right, he went through three agencies in rather short order, as a result of sudden acquisitions and other bizarre twists, leaving Ron frustrated and jobless.
Was it time to return to Dad and uncle? Not yet. Ron decided to set up shop on his own, found an agency in walking distance that had desk space. He rented a small corner of the office and started making cold calls. And then fate gave him one more right upside the head. That office was closed due to centralization and Ron was officeless, broke and in debt. And, needless to say, somewhere beyond frustration.
At this point, the betting line had to be long indeed. Fate seemed to be saying something to Ron, but he refused to listen. He was determined to succeed in the insurance business. As he notes, "My dad got me into this business and I knew it was a great business to be in. I also knew there was no easy road to success."
It was 1988 and, although he didn't know it, fate was about to ease up on Ron. He found an "HQ" type office space in Palatine, Illinois, where he began sharing a staff that answered his phones and did his secretarial jobs for a fee. He still occupies office space in this building.
Ron still had one more major frustration with which to deal--no company was willing to give him an appointment. So he had to broker the business. He went to his dad and uncle and arranged for a 60/40 split. It wasn't exactly a get-rich-quick scheme. In the first two years, he barely managed to feed himself and pay his rent on the little he actually got to keep, but he was building relationships with some attractive commercial accounts. In late 1989, The Hartford met with him and agreed to give him an appointment. In a meeting with about 10 managers, Ron was able to impress them with his idea to focus on writing insurance for certain types of businesses and providing excellent service to those businesses. As Ron explains, "I'd read a book on focused marketing and had decided to concentrate on building a book of business in several key areas where I could become an expert at understanding their business and their insurance needs." Hartford liked that focus. Pitcher Insurance was on its way.
One of his first customers was the Walker Brothers Original Pancake Houses. Once they were on board, he stayed in the hospitality industry and began his first niche market to hotels. It started out as one hotel and then others followed. After that, Pitcher Insurance Agency branched out into manufacturing. Today, the focus is on five niche areas--metal workers, manufacturers, service industry (including artisan contractors), the hospitality industry and wholesalers/distributors.
From the start, Ron's idea was to build and maintain a "partnership" type relationship with medium-sized business clients. The typical account runs anywhere from $20,000 to $150,000 in premium. Businesses in this premium range were not used to getting the kind of attention and service that Pitcher Insurance offered.
"Dee Albrecht, my account manager, and I know every client on a first-name basis, even their receptionists," Ron explains. "When a problem occurs, they call Dee or me, and it is handled immediately. With Dee's experience of more than 25 years, there is not much she cannot handle. Because of the care that we give them, each client becomes part of our extended family. We've even had clients tell other agents that they're with a relative. And they don't say that just to get rid of them. It's because we really work on developing a partnership with our clients. Because of that we rarely lose a client."
The key to this success is the narrow focus on certain industries. "Our clients count on us to be experts. We do much more than provide them with insurance. We serve as adviser and confidante on insurance and insurance-related topics and provide our clients with a formal safety program. We've worked with clients to design coverages that fit their own unique circumstances and risk tolerances."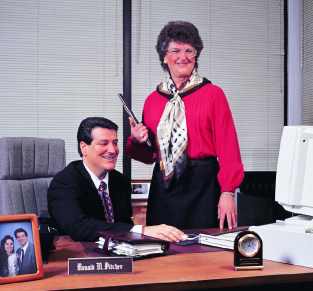 As part of its commitment to continual improvement, the Pitcher Insurance Agency has moved from a 286 IBM clone to a scanner and digital camera, and has initiated the use of telemarketing to reach prospects.
The Pitcher Insurance Agency is built around what the Japanese call "Kaizen" or continual improvement. As Ron explains, "we constantly have to reinvent ourselves, to learn more and bring new ideas to our clients. The job is never over. We always want to know what we can do better and how we can do it faster."
This emphasis on being the best starts with the first meeting with the prospect. "Once we've qualified them we set up a meeting where we survey their risk management and insurance needs. At this meeting we want to find out their current insurance frustrations. Besides price, the prospect must have some need we can try to fix. Once we have received a competitive quote from one of our insurance markets we are ready to present our insurance solutions to their specific situation.
"We don't do canned presentations," Ron notes. "Each one is customized to the client or prospect in as much detail as we can. We don't get many opportunities because of our narrow focus, so when we do we have to make the most of it. This is one of those defining moments. We have a scanner and digital camera and use them to include copies of their brochures and pictures of the client's or prospect's people, buildings and exposures to emphasize how what is in the presentation materials is personalized to their unique situation. We've gotten clients because we show them right from the start that we care about their business and do offer a difference. The package and presentation are extremely important in bringing this message home."
Automation is a key part of Pitcher Insurance. "I knew even back in 1988 that I could not survive without a computer," Ron says. "As soon as I could afford a computer I bought a 286 IBM clone and started entering agency accounting, prospecting and proposal information."
Pitcher Insurance uses Information from Insurance Marketing and Management Services on the AMS' Silver Plume CD as a resource for developing safety reports and OSHA handbooks for clients and prospects. "In addition to safety information from IMMS on the CD we have found a source for formal safety programs which are industry specific. These are all public domain materials and we let them know that," Ron says. "We format the material in Word for Windows and print the safety manuals with the client's name on them. We ask each client to review the manual. Then we delete anything they want out and let them add their own additional safety rules if they want to. We're their partner and resource, but we are not safety engineers. We're just trying to pass on needed safety information."
Risk surveys and applications are completed on AMS' PS4 system. The system "makes us experts," Ron maintains. "It gives us the right questions so we can find out what coverages our clients need. And once we have written a new client, the information transfers into our AMS Pioneer Plus agency management system with a few key strokes so we can have coverage detail without re-entering all that information from the applications."
In addition to building the business through referrals, Pitcher Insurance also uses telemarketing to reach prospects in its niche markets. The telemarketing is outsourced, which saves the agency overhead and management time. The agency uses MarTech's Marketing AutoPilot Sales System (MAPS) to keep track of the results of this effort.
Even with a strong utilization of technology for data based prospecting, preparing surveys, presentations and agency management, an insurance agency must have excellent markets to be a viable agency. Pitcher Insurance Agency has no weak links here. With the same tenacity for building partnerships with clients they have built partnerships with a few of the biggest and most respected insurance companies in our industry. Hartford, Travelers, Zurich and Fremont are among their national partners.
"Obviously our relationship with Hartford is a very strong partnership since we have been target marketing with them from the first days of our agency. We also represent other national carriers which have done well in our agency, but it has been only those with a commitment to writing specific types of business that we target market. We have not been able to write much business with the traditional 'generalist' kind of insurance companies; they don't seem to do as well on a metal stamping manufacturer, for example, because they don't write a lot of them." Ron explained. "One regional company that we have done well with is Pekin Insurance out of Pekin Illinois. Pekin has been a great market for us because they write the local service type accounts that are one of the agency's niche markets and are so prevalent in our area. My field rep., Jim Tram, has been an advocate for our agency and helped us get some tougher accounts written," Ron said.
Pitcher Insurance Agency recently was recognized as one of the best agencies in the nation by IIAA and Reagan & Associates. Pitcher was one of six agencies recognized for having the best overall performance out of 180 agencies whose operating results are contained in the "1997 Best Practices Study." Pitcher was the best in its size category of an agency with revenues under $250,000.
Although the Pitcher Insurance Agency basically is a two-person agency, Ron's wife, Sharon, helps him out four hours a month with the accounting in addition to raising three young children--Michael (3), David (19 months) and Emily (3 months). Ron also has been active in industry groups. Two years ago, he was the communications chairman for the PIIAI and he currently serves on The Hartford's Regional (Chicago area) Advisory Board. For several years Ron served on the PS4 advisory board.
"I believe that being a small agency can be a strong competitive advantage, as long as that agency is innovative, provides fast, competent service and offers the value its clients want," Ron concludes. "Tom Peters has said that it no longer is the large eating the small, it's the fast eating the slow. If I am going to be around another 19 years in this industry I realize I must continually improve and be innovative in the way my business serves its clients' needs." *
What The Clients Are Saying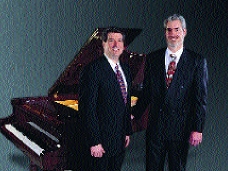 Scott Brill (right) of Geneva International Corp., a client of Pitcher Insurance, imports pianos from Europe.
The Pitcher Insurance Agency's focus on becoming a partner with its clients has produced some incredible loyalty and a very high retention rate. Here are some samples of what the clients have said about the agency.
Scott J. Brill, controller of Geneva International Corp., writes: "We are an importer and distributor of musical instruments and fine wines from Europe. Because our business relies so heavily on the products we import, we needed a specially tailored insurance program capable of covering all of our risk exposures.
"Along with standard ... coverage, The Pitcher Insurance Agency worked with our lawyers to create a customer manuscript liquor liability policy specifically for our organization. They also presented a policy for unique and expensive cargo, which covers all products from when they leave our manufacturer's facility in Europe to their arrival at our warehouses in America ...
"The Pitcher Insurance Agency has demonstrated a commitment to service, support, and representing our firm's best interest. They have given our firm the security in knowing that we made the correct decision in selecting our insurance agency."
Kenneth & Susan Burnett, owners of Midwest Tropical, Inc., write: "We are a Chicago-based manufacturing firm, as well as an import-export company. Many of our customers are Fortune 500 firms which requires us to have higher limits and more unusual coverages than other companies of our size. Pitcher Insurance Agency has served us well in obtaining our multi-faceted and sophisticated coverages. The product selection available through Pitcher Insurance Agency at rates which are affordable are the key factors to us. Ron Pitcher's dedication and quick response to our insurance needs and questions gives us the feeling that he's one of our group."
Ray E. Walker of the Walker Bros. Original Pancake House, Inc., writes: "Several years ago, when I considered a change in my insurance program and our overall needs for multi-unit coverage, I looked for an agency that could counsel me best on my insurance coverage and provide top-notch personalized service. I chose the Pitcher Agency, and happily found both."
Debbie A. Landreth, controller of Admo, Inc., writes: "'Partner in business' is the phrase that best describes Ron Pitcher and his agency. He has provided Admo with extremely competitive rates while at the same time providing the highest level of customer service, through the year. Ron has been insightful in addressing our needs."
©COPYRIGHT: The Rough Notes Magazine, 1998
---