THE LANGUAGE OF SAFETY
Accident and injury rates drop when
non-English speaking workers "learn by doing"
By Elisabeth Boone, CPCU
---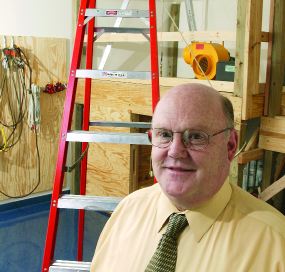 Joseph E. Halcarz, Sr., CHMM, CSE, president of BEST Institute, Inc., in the "Excellence Center" training room at the Institute's facility near Dallas.
Habla ingles? If your client hires Hispanic workers who speak little or no English, how can they learn to do their jobs competently and safely?
That was the question confronting Dallas/Fort Worth International Airport when it embarked on a $2.6 billion, five-year capital improvement project last year. Of the almost 10,000 workers expected to be involved in the project throughout its duration, approximately half will be Spanish speaking. Although accident and injury rates for Hispanic workers historically are higher than those for English-speaking workers, the project's rate of recordable injuries is significantly better than the industry average. What's more, workers compensation claims for the period thus far are less than 25% of the amount insurers had estimated.
What's making the difference is a safety training program designed by BEST Institute, a vocational training facility based in the Dallas suburb of Garland, Texas. Its president, Joe Halcarz, has almost 30 years of experience in industrial education and believes strongly that training for non-English speaking workers doesn't necessarily lead to learning unless it incorporates cultural and literacy elements.
Because of its proximity to the border, Texas is home to a large number of immigrants from Mexico, few of whom are fluent in English. "We discovered that the high job-related injury and fatality rates in the Hispanic community here were occurring because no one was available to train non-English speaking workers," Halcarz explains. "That's what motivated us to establish BEST Institute." Originally BEST was a division of a business consulting practice, and in 1999 it was incorporated into a separate entity. BEST is an acronym for Bilingual Employee Skills Training.
Beyond the language barrier
"A contractor who wanted a custom training program agreed to a training needs assessment," Halcarz says. "I interviewed between 100 and 200 Hispanic employees at all levels, from laborer through trade craftsman, foreman, all the way up to project manager and superintendent. I came up with a solid profile of these workers and found out that the barriers to training them went far beyond the language issue." Two key factors Halcarz identified were cultural differences and literacy levels. "Many of the workers I interviewed couldn't read or write Spanish, let alone English," he comments.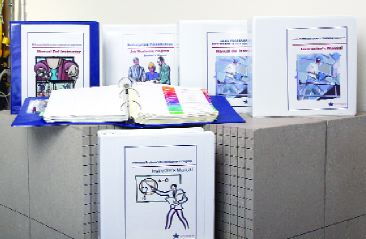 A few samples of BEST Institute's training materials, published both in English and Spanish. The manuals are displayed on a training tool which is used to show the difference between a cubic yard, cubic foot and cubic inch.
Using what they had learned, Halcarz and his staff designed several training programs in English and Spanish. "It basically was a Montessori-type approach to adult education," he says. "We followed the adage that says, 'Tell me and I might forget; show me and I might remember; let me do it and I'll understand.' We used exclusively hands-on training so workers could learn by doing, repeating a task until they mastered it."
In the Hispanic culture, Halcarz observes, "Workers do not challenge authority. When they're told to do something they do it, whether or not they believe it's right. In training, they won't tell the instructor they don't understand something. They'll nod their heads, and at break time they'll see if a friend can tell them whatever it was they didn't understand." The bottom line, Halcarz says, is: "You can deliver the training, but that doesn't mean learning has occurred. Instead of cross-cultural training, we use a culturally based approach, so if the trainees are Hispanic, the instructor also is Hispanic. The shared culture creates a safe learning environment where trainees feel comfortable asking questions."
The point, Halcarz emphasizes, is that the instructor not only speaks Spanish but is Hispanic. "I've done experiments where I placed a non-Hispanic instructor who speaks Spanish in front of a Hispanic group, and there was very little participation," he says. "I've also put a Hispanic instructor who is bilingual in front of an English-speaking class and seen very little participation." Some training programs for Hispanic workers, Halcarz remarks, consist of little more than an English videotape dubbed into Spanish.
"We've found that using an instructor of the same culture as the students is the most effective way to provide training. The program we developed is based on language, literacy, and culture. Those three things are inseparable. You have to address all three or you've addressed none of them."
DFW airport expansion
As noted earlier, BEST Institute is putting its safety training initiative to work on the multi-year, multi-billion dollar Dallas/Fort Worth airport expansion. Along with their English-speaking counterparts, thousands of Hispanic workers are helping build a new terminal and "people mover" tram at DFW. "They chose us because of our methodology and the programs we have developed in Spanish," Halcarz says.
In customizing its program for the Hispanic airport workers, BEST Institute focused on helping workers learn by doing instead of watching videos or using printed materials. "To the greatest extent possible, we 'take out the words,' so trainees can learn by doing," Halcarz explains. "We realized it would be too dangerous to let trainees use faulty power tools, so we pass the tool around and have trainees identify what's wrong with it. If a piece of equipment is too big or too expensive to use in training, we show trainees diagrams and pictures." The BEST program uses PowerPoint presentations only when explaining the OSHA regulations. "Students are never called on to read; instead the instructor reads to the students and discusses the material with them to make sure they understand it," Halcarz adds.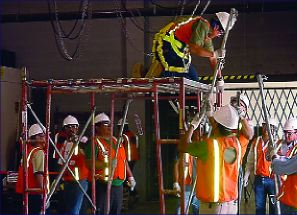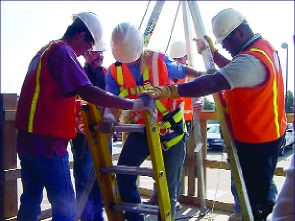 BEST Institute conducts on-site training at the Dallas/Fort Worth Airport. The Institute's culturally-based approach to training--the instructor being from the same culture and speaking the same language as students--creates a more effective learning environment. (Photos provided by BEST Institute.)


Thus far, BEST Institute has used its 40-hour program to train more than 8,000 workers at the Dallas/Fort Worth airport project, with impressive results. "The number of lost-time injuries per 200,000 man-hours for a job like this normally would be about 3.9; the DFW project has 0.3," Halcarz says. "When setting aside workers comp loss reserves, insurers had estimated that claims through mid-2002 would be about $2.6 million. The actual claims, including reserves for pending claims, were less than $500,000. For workers who have gone through our training, the average claim is $1,500, compared with an average of $10,000 for someone who did not go through our training."

The success of BEST Institute's airport safety training program not only garnered praise from airport authorities, insurers, and workers, but also attracted attention from the Occupational Safety and Health Administration. Last August, OSHA selected BEST's hands-on training methodology as a national best practice. BEST Institute was invited to join OSHA at the National Safety Council's 90th Annual Congress & Expo last October to present its approach to training and provide examples of its effectiveness. At that event, BEST representatives explained to attendees how its programs have maximized safety and productivity for both English and non-English speakers.

Workforce development

Inherent in BEST Institute's safety training programs is a strong commitment to risk management and loss control. "When you look at unskilled and semi-skilled laborers and their high turnover rates, there are a lot of things that employers are not taking into consideration," Halcarz says. "We help an employer deal with the whole process of workforce development. In the construction industry, most unskilled or semi-skilled laborers are considered throwaways: when the job is over, the employer lays them off and hires new people. There's a price to pay for that. As the labor pool is steadily shrinking, many employers are beginning to realize the costs associated with the throwaway approach. High turnover means less than maximum productivity: two or three people are doing the job of one because workers lack experience with the company or the industry or trade. A lot of materials are wasted and equipment damaged because of inexperience or lack of training, especially among non-English speaking workers." It follows, Halcarz points out, that premiums for workers compensation and general liability insurance are higher when workers are inexperienced or untrained.

At BEST Institute, he says, "We work with the employer to build a career path so a new employee can be hired, assess his or her skills and experience, and understand how to advance within the company. If he believes he has a future with that company, an offer of 25 cents an hour more is not going to pull him away. When the employer invests in training, the employee feels the company is living up to its part of the bargain: 'If I do these things I'll become an apprentice; if I do these things I'll become a foreman; if I do these things I can become a superintendent.'"

A career path, Halcarz emphasizes, must be identifiable and measurable, with incentives to reward and motivate employees. "Over time, the employer can build a team that works together cooperatively and productively because they've all learned together as a team. Turnover goes down, injuries and accidents go down, insurance costs go down, and productivity and profits go up," he explains. "Training is one piece of that, but what we do is outcome based, not process based like conventional training. There are different styles of learning, and what works in an academic environment often fails in a vocational setting. We gear our training to what's called kinesthetic learning, or learning by doing, because that's the way people who work with their hands seem to learn most effectively."

Risk management tools

Because its focus goes beyond training to encompass all aspects of workforce development, BEST Institute is well positioned to provide an array of risk management and loss control services to employers of virtually any size. Its consultants conduct on-site audits and assessments for customers to identify areas of risk. Using this information, consultants design a comprehensive, customized action plan and a curriculum that addresses each area of risk and compliance with the appropriate training. Additional services are insurance verification, substance abuse program verification, and field audits.

BEST Institute conducts two kinds of risk assessment: General Compliance and Focused Compliance. The General Compliance Assessment looks at the entire enterprise, pinpointing areas where compliance standards should be met, identifying current compliance levels, and providing recommendations for improving compliance. The Focused Compliance Assessment looks at specific areas for improvement, such as falls, waste prevention/minimization/disposal, hand injuries, or lifting, to measure the extent of the risk exposure and recommend remedies.

Among the ways customers benefits from its assessments, BEST says, are:

* Differentiating the company from competitors as being the safest in its market segment

* Increased profitability as the result of fewer accidents, injuries, and claims and subsequent lower insurance costs

* Recognition as being proactive and gaining "vendor of choice" status with clients

* Better community goodwill

* Ability to attract employees who want to work for a recognized leader in workplace safety.

BEST Institute also offers environmental compliance and training services in such areas as soil water, hazardous waste, special handling of materials, first response in the event of an accidental spill, and training as needed to ensure ongoing compliance. Consultants first conduct on-site assessments to identify areas of risk and compliance concerns as defined by local, state, and federal regulation, then document resolution of those issues for the client. BEST's training team supplements each plan with a customized program that is designed to keep employees and their location safe. Workers learn proper hazardous materials handling, waste handling, disposal, emergency response, and environmental compliance techniques.

Current course listings are Adult CPR and First Aid, Confined Space Environment, Construction Basic Skills, Crane Rigging and Flagging, First Responder, Focus Four (taught by OSHA Outreach Instructors, focusing on the four primary areas in which construction workers are killed or injured: Electrical, Falls, Struck By, and Caught Between); Hazardous Waste Operations; Highway Flagman; OSHA 10- and 30-Hour Training; Respirator Protection; Supervisor Professional Development; Train the Trainer (fundamentals of training for non-teachers); and Working with Dimensions. All courses are available in English and Spanish.

Wrapping it up

Whether the economy is booming or dragging, whether a company is a small local entity or a vast international operation, there's always a need for effective, hands-on training that builds skills and loyalty, promotes safety, and improves productivity and profits. For agents and brokers whose clients confront these issues in their businesses, BEST Institute offers a menu of solutions that get results. *

For more information:

BEST Institute Inc.
Phone: (972) 926-9390
Web site: www.bestinst.com