CRITICAL ISSUE REPORT
By Michael J. Moody, MBA, ARM
DÉJÀ VU--ALL OVER AGAIN
Doctor-owned insurers need to stick to their knitting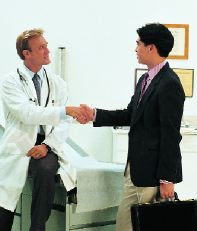 While some doctors are curtailing high-risk procedures, moving to other states or retiring, others have been flocking to the alternative market to solve their availability and affordability problems.
Despite better results from some lines of property and casualty insurance during 2003, some segments still remain in major difficulty, and medical malpractice insurance is one of them. In fact, sharp increases in med mal rates have created a real strain on the health care community over the last three years. And, despite the continuing rate increases, relatively few new players have entered the med mal marketplace. In fact, 2003 was generally characterized by numerous carrier withdrawals, and further liquidations and downgrades.
Depending on geographic location, physicians and surgeons in varying degrees are having to make tough decisions. Most have a limited number of options available to them. Some doctors have stopped performing the most risky procedures. Others have chosen to move to a lower premium state to practice medicine. Still others are simply retiring from practice. Obviously, none of these options are particularly favorable to the public.
Reasons for the current situation
Med mal is an extremely complex line of insurance coverage. As a result, when one searches for reasons for the current "crisis" in the medical malpractice arena, the answers depend greatly on whom you ask. Over time, we have found that med mal's underwriting results tend to be highly volatile and cyclical in nature. Over the past few years, falling investment income and intense competition have contributed to the poor results. However, the leading driver has been the upward trend in claims severity.
The increase in claims severity in large part is due to the increasing number of claims that wind up in litigation as people play what has become known as the "lawsuit lottery." More than 70% of all med mal claims filed are resolved without a single cent being paid to plaintiffs. It provides windfalls for a select few, but nothing for the vast majority of patients injured by improper medical care. From the industry standpoint, it is this single fact that is primarily responsible for the current "crisis." In its report, "Medical Malpractice--Anatomy of a Crisis," Conning & Company agrees that the increasing severity is at the heart of the current financial problems.
The Association of Trial Lawyers of America (ATLA) has a significantly different take on the current financial problems experienced by the med mal underwriters. They believe that imprudent business decisions made by insurers is one of the main problems. Additionally, as a past president of ATLA alleges, the medical profession's current problems are caused by "a conspiracy of silence," which allows the medical establishment to protect negligent doctors.
Finally, a study completed by the United States General Accounting Office (GAO) in 2003 indicated that the major contributors to the "crisis" were falling investment income and rising reinsurance costs. The GAO's analysis also showed that the size of the losses on medical malpractice claims, which make up the largest part of insurers' costs, appears to be the primary driver of rate increases in the long run. In short, the GAO believes that the severity of claims is a key to the rapid rise in premiums.
Another solution?
While some doctors are curtailing high-risk procedures, moving to other states or retiring, others have been flocking to the alternative market to solve their availability and affordability problems. The most common forms of alternative risk financing being used are captive insurance companies or risk retention groups. Movement to the alternative risk financing approach has been occurring more and more over the past few years, as doctors begin to see the advantages of self-insuring their medical malpractice exposure. They are realizing that they can better control this process and gain some element of proactive risk management over the med mal risks via the alternative market.
Traditional offshore captive domiciles such as the Cayman Islands and Bermuda have been experiencing tremendous growth in health care-related captives. The same is true for many U.S. captive domiciles. Many domiciles are reporting that med mal captives are making up the majority of start-ups over the past few years. Groups of health care providers, both doctors and hospitals, are moving to insure themselves, in the belief that they can do a better job, at cheaper costs than the commercial insurance market.
Been there, done that
If the captive insurance company approach sounds familiar to you, you are right on the money. Over the past 40 years, med mal has been through three "crisis" cycles, and in each instance health care providers have headed to the alternative market. The first "crisis" occurred in the mid 1970s when actuaries began projecting huge increases in claims and claims expenses. The commercial market responded with astronomical rate increases and selective withdrawals from some markets. State doctor and hospital associations began making plans to start their own insurance companies. Dubbed "bedpan mutuals" by the commercial insurance market, they began forming in California, Maryland, Michigan, New York, North Carolina, and Ohio. The following year saw similar doctor and/or hospital-owned insurers in Arizona, New Mexico, Tennessee and two more in California.
For the most part, these health care-owned insurance companies fared quite well during their early years, thanks in large part to the industry's movement to the "claims-made" form, which greatly limited their claims exposure in early policy periods. For a short time, stability returned to the med mal market. But it was short-lived when another "crisis" began in the mid-1980s. Again the medical community headed to the alternative market in search of solutions to its problems.
A perfect example
At this point, you may be wondering, "If the alterative market holds such promise, why have we gone through three crises?" That is an excellent question that can be best answered by looking at a specific case to see what happened. For this case study, we will review one of my favorite med mal companies, PHICO. PHICO was one of the "bedpan mutual" companies that grew out of the first med mal "crisis" in the mid-1970s. It was a company that was created by the Pennsylvania state hospital association in 1976. For many years, PHICO coexisted with several other medical malpractice writers in Pennsylvania, content to be a long-term solution for the state's health care institutions.
Over the next 15 years, PHICO was quite successful, and gaining in reputation and stature within the health care and insurance communities. It made money and had a nice war chest of reserves to handle adverse claims development. And, above everything else, it was providing a stable market for the hospitals in Pennsylvania. However, PHICO did have several nagging issues that it could not resolve. One of the most pressing was the perception by the rating agencies. The rating agencies were uncomfortable awarding their highest ratings to monoline insurers that operated in only a single state.
So in the mid to late 1990s, PHICO decided to embark on an expansion strategy as part of an effort to improve its rating. The company realized that it could grow quickly by offering low premiums in highly competitive markets. By 1996, the company was in all 50 states. In addition, it also expanded its focus from insuring hospitals to doctors, and expanded its product line to include general liability and workers compensation. Ultimately, the expansion strategy ended in PHICO's court-ordered liquidation on February 1, 2002. In court, PHICO's officers indicated that regulators and insurance rating agencies alike encouraged their growth strategy.
Lessons learned
Historically, the alternative market has provided the medical community with a viable option for its med mal coverage. Today, over 60% of the med mal market is insured by doctor- and hospital-owned insurers. Further, many doctor-owned carriers have proven that they can offer more cost effective coverage. According to A.M. Best, physician-owned and operated insurance companies have fared better than commercial companies. For example, in 2001, physician-owned companies had combined ratios of 141 while other med mal underwriters had a combined ratio of 153.
Most of the physician- and hospital-owned and operated insurers formed in the 1970s and early 1980s have succeeded. However, some of these companies have abandoned their original mission and have opted for expansion. History has shown that this is a shortsighted strategy that has devastating results. In addition to PHICO, companies like MIIX, PIE Mutual, and Reciprocal Group of America got into trouble due to their expansion efforts. Conning & Company's latest report says it all: Successful medical malpractice companies should concentrate on a single line of coverage, operate in one state, and be physician owned.
However, many feel that it is necessary to establish meaningful tort reform before med mal shows long-term improvement. There may be some validity to this notion. While the vast majority of recently passed state tort reform legislation is running into trouble, there is one state effort that should serve as a model for other states. The legislation is almost 40 years old and, of all places, it comes from California. In 1975, California legislators had seen enough doctor strikes, picketing and protesting, so they passed a comprehensive tort reform package known as the Medical Injury Compensation Reform Act.
The act has provided California with one of the most progressive tort reform efforts to date. It has helped by giving health care providers a stable legal environment with which underwriters are comfortable. The rate of increase in California medical malpractice from 1976 to 1999 was 168%. The rate of increase for the remainder of the country for that same period averaged 420%. States that are struggling to find a way to hold the line on med mal should review the California legislation effort and the results it has produced. For that matter, it may be helpful for the federal government to examine the California approach.
Conclusion
The past 40 years and three "crisis" conditions have taught us a number of things and have reinforced several basic truths. One of the key concepts that has emerged from the past three cycles is that doctor-owned insurers can save health care providers money. However, doctor-owned insurers must continue to promote their programs as long-term risk financing solutions. Regardless of how strong the performance, doctor-owned companies should not succumb to the competitive pressures of the commercial marketplace.
Doctors, on the other hand, must remember what we all learned as small children: If something appears to be too good to be true, it usually is. Put another way, there are more important things than cheap insurance. What is needed is a stable insurance market that avoids the availability and affordability issues that have plagued the medical malpractice marketplace for the past 40 years. If structured properly, doctor-owned insurance companies can provide a viable solution. After all, no one wins if doctors are forced to scale back their practices, leave their home states, or retire early. This country's health care is burdened enough without the problem of skyrocketing med mal rates. *
The author
Michael J. Moody, MBA, ARM, is the managing director of Strategic Risk Financing, Inc. (SuRF). SuRF is an independent consulting firm that has been established to advance the practice of enterprise risk management. The primary goal of SuRF is to actively promote the concept of enterprise risk management by providing current, objective information about the concept, the structures being used, and the players involved.