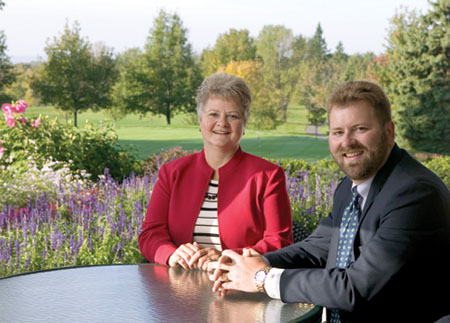 Patricia Farber, TAPP Coordinator, and Brady Polansky, Agency Operations Director, on the grounds of Westfield Insurance, in Westfield Center, Ohio.
AGENCIES 'TAPP'
WESTFIELD EDUCATIONAL OPPORTUNITIES
Insurer hosts new producers
for four weeks of training
By Sandra Carcione
---
The company motto at Westfield Insurance is "Sharing Knowledge. Building Trust." This branding statement exemplifies the regional insurer's relationship with the 1,200 independent agencies that sell its products. Headquartered in Westfield Center, Ohio, the property/casualty and surety insurer operates in 26 states and has assets of $2.7 billion.
At a time when many insurers have dramatically trimmed back their communications with and programs for independent agents, Westfield continues to expand and refine its educational, informational and cooperative marketing programs. "We take substantial pride in our efforts to maintain and improve our relationship with independent agents," says Brady Polansky, agency operations director at Westfield. "We're 156 years old; we realize that our longevity and success have depended on building long-term, productive relationships with our agents."
Looking at TAPP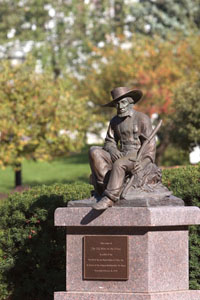 "The Old Man on the Fence" was adopted in 1879 as the identifying symbol for Ohio Farmers Insurance Company (formed in 1848) which later became part of the Westfield Group.
As testimony to this statement, the company runs several educational programs for agents each year. In particular, Westfield's TAPP (The Association Perpetuation Plan) school helps its agencies by teaching new producers the basics of the insurance business. The four-week program is held each spring and fall with a break between the third and fourth week of each session, and has between 15-20 participants.
The curriculum is comprehensive, and includes Dale Carnegie sales training to hone sales skills. It also focuses on technical insurance skills by demystifying insurance products and the coverage requirements of policyholders.
"New producers learn the importance of exposure identification," says Patricia Farber, TAPP Coordinator, who helps run TAPP and is a training instructor. For example, TAPP uses The Rough Notes Company's Agency OnLine, an account evaluation tool which provides risk surveys that identify specific coverage needs by SEC codes. As a perk, TAPP participants get access to the online tool for 12 months.
"This tool looks at specific kinds of businesses—flower shops, for example," she says. "It goes beyond the need to insure the building and its contents, looking at refrigeration equipment and other specifics. The program makes recommendations and even offers a checklist producers can use."
Who attends TAPP? "When the program started in 1992, it was a marathon school of 13 weeks in duration and was designed strictly for family members of agency owners who were heirs apparent. "We have since trimmed back the duration and opened up registration to producers of key agencies with leadership potential," Farber says.
The overall success of this program shows up in the number of producers who stay in the industry. Of all those who have attended TAPP, 57% are still in the business. The industry retention average is 30%-35%, according to Farber.
Westfield promotes the TAPP program through its agent newsletter and at its Web site. The company's relationship managers are also made aware of the upcoming school schedule and are encouraged to spread the word.
"Agencies often approach us," says Farber. "When new producers come on board, agencies are looking for classes for them to attend. One agency has sent several people and is planning to send another to our fall session."
Using ex-students as speakers
Jeff Lightner, a producer at Brower Insurance Agency in Dayton, Ohio, attended TAPP in 1996. Three years later, he came back as a speaker on the topic of networking. "When I attended, I got a primer on forms and coverages. Where else would I have looked at the CGL-0001 Commercial Liability form—a 16-page document—and had the opportunity to ask questions about how to interpret this form," he says. "Since I attended, TAPP has added sales coaching and other producer-related topics. Overall, Westfield runs one of the best schools in this area today."
One of the biggest advantages of TAPP beyond the curriculum, Lightner says, is that it teaches new producers how to be independent agents. "The program doesn't just focus on Westfield products. It helps new agents understand how to best utilize all companies' products," he says. "The program turns out successful agents."
Farber adds that the TAPP program also builds relationships among the agents who participate. "We have agents who were in the 1992 class who are still friends. These agents live and work together for three weeks and friendships are built. Some are talking about getting together for reunions."
The Westfield Inn, left, on the grounds of Westfield Insurance, offers comfort and convenience to TAPP participants and presenters, as well as other visitors to the company. Right, part of Westfield's beautiful grounds.

Involving agents in curriculum creation
Westfield's Agency Operations unit doesn't do the whole job of creating TAPP programs. The Westfield Agents Association (WAA), which was founded in 1892, helped develop the initial school and continues to help craft the insurer's educational curriculum. The WAA also advises the insurer on a variety of strategic management issues, including contract and commission issues.
"This is another demonstration on how we do business," says Polansky. "We involve agents wherever and whenever we can in the activities of our company. If we want to be on the 'short list' of the insurers they do business with, we need to keep them involved and share knowledge with them."
David Morrow, principal of Morrow Insurance Agency in Plymouth, Indiana, heads the Education Committee for the WAA. "In addition to annually reviewing the TAPP curriculum, we are involved in recommending speakers. We also help provide funds to help defer the costs for participating agents," he says. The tuition for the TAPP program is $4,500, with Westfield Insurance and the Westfield Agents Association contributing $2,500.
The producers' school doesn't accept all who apply. Morrow says, "The candidates must have high probability to attain agency ownership; and their agencies must, obviously, have a relationship with Westfield Insurance."
Providing other educational opportunities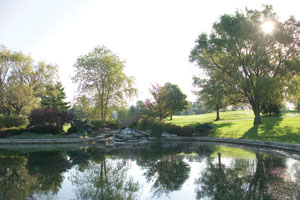 One of the two 18-hole golf courses on the property, which is the site for the Westfield Junior PGA Championship.
In addition to TAPP, Westfield runs several other educational programs each year for agents.
One such program is a traveling seminar, called Insight, for top agencies, which the insurer conducts several times a year—twice at its headquarters and "on the road." This program is designed for agency principals and addresses such topics as mergers and acquisitions, perpetuation and other agency management issues.
"For this program, we bring in top national consultants and hold discussion groups with agents," says Polansky. "We offer the Insight program to our Platinum agencies, which have a certain level of volume commitments and new business generation with us. We think that's very important to help them with these issues."
Polansky participates in the educational programs. He notes that he is able to bring a "been-there, done-that" flavor to TAPP, because the majority of his background is with independent agencies—eight years as a principal and salesperson in a family-run agency, which was then sold to a large regional agency. He then worked another seven years managing technology at the regional firm. "I bring a little different perspective to the business. I tell agents that I can relate to the issues they're concerned about—I've sat in their chair," he says.
"At Insight, I participate in discussions about M&A. I can talk about being involved in 17 acquisitions and that no two were alike," says Polansky. "I can talk about the challenges first hand."
In addition to TAPP and Insight, Westfield Insurance also runs continuing education programs on a regular basis. "We help agents get their CE credits and learn more about the insurance industry," Polansky says.
In another area, Westfield is helping to educate its agents to the company's evolving technology. A new Agency Training Team (six people) spends half of its time at agencies out in the field on technology-related issues. "They spend their time in agent offices one-on-one and also run classroom sessions and hands-on training," says Polansky. "Many companies are just telling agents: 'The information is online.'"
Helping the next generation of agents is also important to Westfield Insurance. The company is a board member and supporter of the INVEST program, which takes insurance training into high schools; and Westfield sponsors "Academic Challenge," which is a Jeopardy-style television show for Ohio high school students. An annual scholarship, sponsored by Westfield, also demonstrates the insurer's commitment to education.
In conclusion, Polansky says, "We have agencies that have been with us since 1848 when we were the Ohio Farmers Insurance Company, so clearly we are all in this for the long haul," he says. "We care. We listen. And, we want to help our agents become more knowledgeable and more profitable." *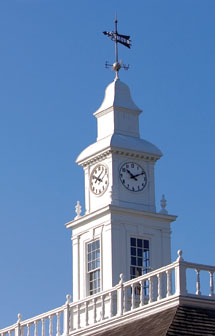 Westfield agents are partners in marketing
Relationships with independent agents are the linchpin of Westfield Insurance's marketing strategy.

"Our marketing strategy is simple and focused. We write commercial, personal and surety business through independent agents." says Patricia Schiesswohl, senior executive of marketing research and communications at Westfield Insurance.

"We developed a new brand in 2000 that emphasizes our relationship orientation," she says. "The logo is a trilogy that is composed of three swirls that represent the company, the agent and the client." Combined with our tag line of 'Sharing Knowledge. Building Trust,' we focus very strongly on a relationship-based marketing plan."

Westfield Insurance features Ohio independent agents in its advertising spots for the Westfield Junior PGA Championship which it sponsors, and for the Academic Challenge television show.

In addition, the insurer does cooperative advertising with the agents as well as producing newsletters, renewal and cross-sell pieces, and providing business leads for its agents. According to Schiesswohl, the level of marketing support is based on the agency's volume and profitability.

As part of its partnership with agents, Westfield Insurance also provides agents with a Web-based turnkey direct mail program, called "Consumer Connect," which is aimed at business, homeowners and auto clients. The program includes a magazine called "In the Know" which provides safety and insurance tips.