Customer Service Focus
The "art" of explaining coverage
By Mary I. Husk, CIC, CRM, CPCU
---
Is the task of explaining coverage an "art"? Most dictionaries define an "art" as a specific skill that is attained by study, practice or observation. In addition to having technical insurance knowledge and expertise, it is important for insurance professionals to be able to effectively explain insurance coverages to the consumer. Whether these individuals are selling insurance products, providing customer service or handling claims, they spend a considerable amount of time explaining insurance coverages to clients and prospects. This activity is considered an "art" because in order to succeed, insurance professionals need to acquire and develop specific skills, techniques and approaches.
One of the problems for insurance professionals is that coverages are complex concepts—difficult to understand and difficult to explain. Even "easy-to-read" insurance policies are difficult to comprehend. To further complicate matters, considerable coverage lies hidden in exclusions in the form of exceptions. For example, the ISO Commercial General Liability Policy (2004 edition) excludes coverage for those "in the business of making, selling, serving, or providing alcoholic beverages." However, host liquor liability coverage is provided because a host is not "in the business" and the serving of alcohol is therefore covered.
When it's time to start explaining coverages, use simple, non-technical terms. Like other industries, the insurance industry is awash in technical jargon. Almost every insurance coverage can be described by an acronym (e.g., PIP, UM, ACV, CGL, etc.) Using simple, non-technical terms with clients will serve two purposes. First, it will help the client remain interested. Second, it shows the client that the agent or CSR truly wants the client to understand the available coverages and see how they meet his or her needs. Also, when the client understands the coverage, the chance for errors and omissions claims is reduced.
Probing
To appropriately explain coverage to a client, the agent or CSR should determine what the client already knows about basic insurance concepts and the particular coverage in question. The best way to accomplish this is to ask questions. We call this "probing." Probing will reveal the areas that will require more detailed explanations. In addition, probing will elicit important details about the client and his or her individual needs. Explanations of coverage can then be tailored to the client's level of understanding. From time to time, explanations of certain coverages must be revisited.
Storytelling
Now it's time to tell stories. One of the best ways to explain insurance coverages is to use examples in the form of claims scenarios. This process can best be described as "storytelling." Educators, from elementary school teachers to college professors, use storytelling in their instruction. In essence, in talking to customers, agents and CSRs are educators of insurance coverages and concepts. Here is an example of using this process in working with a personal auto prospect:
"Mr. Jones, let me tell you a story about how uninsured motorist coverage works. A few months ago, a young man came into our office for an auto quote. He was looking for bare bones coverage and was very much inclined to reject the uninsured motorist coverage to save money. After we carefully discussed the coverage, he decided to purchase it. A few days later, while driving home from the lake, his vehicle was struck by a hit and run driver (considered an 'uninsured motorist'), causing him to lose control of his vehicle and hit a tree. He suffered a broken jaw when his face hit the steering wheel and his passenger suffered whiplash and a broken vertebra. Medical expenses for his injuries totaled $50,000, and expenses for his passenger's injuries totaled $100,000. The good news is that his uninsured motorist single limit of $300,000 adequately covered all medical expenses for his and his passenger's injuries. After all was said and done, he was glad he had purchased uninsured motorist coverage.
"Now that you see how uninsured motorist coverage provided protection for this young man from a hit and run accident, let me show you how this coverage pays for damages and injuries resulting from an accident in which the driver causing the accident does not have enough insurance…"
Another effective tool in storytelling is to use "what ifs." This allows the storyteller to personalize the story with situations that could arise for that specific client. For example, in discussing optional spoilage coverage for a flower shop, the producer might say:
"Ms. Sanchez, what if your refrigeration equipment malfunctioned and your entire $20,000 flower stock spoiled because the coolers did not operate over a 72-hour period? Would your business be able to absorb such a loss? Let me tell you about spoilage coverage, which provides coverage not only for mechanical breakdown of your equipment, but also for contamination of your stock caused by leakage of refrigerants. Also, what if there is a power outage?"
By using examples in explaining coverages, the producer or CSR is actually "counseling" the client—presenting coverage options, offering suggestions and making recommendations. In explaining limits of liability, limitations in coverage, exclusions and other policy provisions, clear and accurate information is provided to ensure that the coverage matches the client's needs. Because claims specialists frequently have to explain why a particular loss is not covered by the policy, coverage knowledge is essential to appropriately provide technical coverage information.
Scripts
In both commercial and personal lines, some coverages are the most difficult to explain. An example is coinsurance. Wouldn't producers or CSRs find it easier to explain this concept by having a scripted example of this important clause? After identifying those coverages that most commonly have to be explained, a producer or CSR can create an inventory of scripts. The scripts can be practiced so that when the need arises, they can readily be used in a natural and comfortable manner. Each scripted explanation is basically a strategy to help clients grasp the coverage or concept. Scripts can also be tailored for specific types of clients and their needs. The idea that "practice makes perfect" supports the use of pre-planned, scripted explanations.
Coverage explanations are often accompanied by explanations of other policy features. For example, projected premium calculations can be presented to prevent misunderstandings of the application of rates (e.g., rates per $100 of value, rates per unit, flat rates, etc.) Many commercial liability policies are subject to audit. Providing an example of the audit process with additional premium and return premium scenarios will help the client recognize the importance of estimating payrolls as accurately as possible. Clients would rather not have unexpected charges via an audit at expiration shortly after paying renewal premiums. Also, when reporting form procedures for property policies are not properly explained to and understood by the policyholder, coverage may be jeopardized.
Summary
Specific skills and techniques can be developed and practiced to effectively explain coverages to clients and prospects. Insurance professionals can develop approaches that are personalized with their unique examples, storytelling, probing and the use of scripts. When these skills are practiced and put to use, the "art" of explaining coverage is mastered. This will lead to positive results for the agency and the client. *
The author
Mary I. Husk is an academic director with The National Alliance for Insurance Education and Research. She has 20 years of experience as an independent agency principal and producer. Before becoming an agent, Mary held the positions of large commercial accounts underwriter, production underwriter, and personal lines underwriter with major insurance carriers in Texas. She currently serves as a CISR instructor for The National Alliance. For more information on The National Alliance, call (800) 633-2165 or go to www.TheNationalAlliance.com.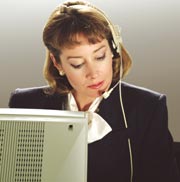 One of the best ways to explain insurance coverages is to use examples in the form of claims scenarios.