Marketing
Big wheels keep on turnin'
Northland's specialized programs keep trucking firms in gear
By Phil Zinkewicz
---
In a 1940 black and white melodrama titled "They Drive By Night," actors George Raft and Humphrey Bogart play tough (what else?) truck-driving brothers battling the dangers of the open road, grabbing a bite in grungy diners and driving for long hours on little sleep to keep their one-truck business in operation. The film captures some of the romance usually associated with drivers in the trucking industry—the "I'm my own boss" bravado of Raft and Bogart, the camaraderie of the truckers, the flirtations with roadside diner waitresses (in this case, one played by Ann Sheridan). But it also shows the travails that truckers face as they ride the dark roadways as well as the imminent dangers.
In a 1962 television movie titled "The Price of Tomatoes," Peter Falk, of "Colombo" fame, is also a truck driver "highballing" a truckload of fresh, new-crop tomatoes into New York City. En route, he meets a very pregnant Inger Stevens who is hitchhiking along a rainy road, escaping from some bad-deed doers. Falk's tender side takes over and he rescues his damsel in distress from her pursuers. And in the end, he gets his tomatoes to market.
"Real life" truckers face many of the difficulties that Raft, Bogart and Falk only had to depict.
The people at the Minnesota-based Northland Insurance Company understand those difficulties because their business has been to provide insurance coverages for the trucking industry for almost 60 years. "We are the oldest continuous purveyor of insurance for truckers in the country," according to Dale Schueffner and Jerry Parker, vice president of agency services and claims director for Northland Insurance, respectively.
"Our claims representatives and risk control personnel are dedicated to the trucking industry, and are from the trucking industry," says Parker. "They know the trucker's business from the inside out. Northland Insurance provides direct, personal customer service in the event of a claim, helping the customer and the agent. Our claims people know the importance of getting truckers back on the road as quickly as possible."
"In addition," says Schueffner, "Northland is the only company in the industry that has introduced a Web site (www.truckinsurance.com) that makes important safety programs available to all truckers, whether they are Northland customers or not. An example of the helpful information it contains is the 'How Do You Rate' feature, that permits the trucker to learn what factors impact insurance rates and how to assess his or her own rating."
Schueffner and Parker say that Northland Insurance amasses information regarding truckers' concerns and then addresses those concerns. "One method we use to learn what concerns truckers is our regular participation in a nationally aired radio program, 'Midnight Trucking' that reaches more than two million listeners," says Schueffner. "For the last nine years, on the first Friday of every month, Northland staff (including Schueffner and Parker) participate in 'Northland Nite,' a question and answer show for truckers to discuss their ongoing issues. We listen to their concerns, and provide appropriate direction, where we can. We serve as a resource for the individual trucker."
Adds Parker: "Through our general agents, Northland has the added advantage of regional and local market knowledge in the delivery of our products. These general agents select and work with retailers who are trucking specialists. Through this distribution system, Northland provides localized underwriting, binding and policy issuance, saving the retailer time and money."
One of Northland's general agents is the Bloomington, Illinois-based Clemens & Associates. Richard Percy, co-owner of the agency, says his firm has had good experiences working with Northland. "We are a wholesale and retail broker," says Percy. "Our agency started in 1948, coincidently the same year that Northland began operations. We have specialized in the trucking industry since 1971. Northland is very progressive in terms of keeping its name out there. Their radio show offers trucking consumers the opportunity to provide input into the insurance marketplace. That kind of communication between the company, the agent and the consumer is extremely important. One of the great things about Northland is that they have their own, highly trained staff to resolve truckers' claims problems, so that the truckers can get back onto the road quickly."
Northland was founded in 1948 by the Hamm family, owners of the Hamm Brewery, a privately owned family brewery in Minnesota that was founded in the 1860s. By the late 1940s, the Hamm's brewery operators recognized there would be a need for insurance and financing of homes and vehicles for returning armed service veterans. So, Northland was set up to provide that needed coverage, with trucking industry insurance included as part of the operation. Later, Northland began to focus on trucking insurance and moved beyond Minnesota into Iowa and North Dakota and then throughout the Midwest and the West. Now the company writes truck insurance nationwide. And today, through a series of mergers and acquisitions, Northland has become a unit of Travelers.
The coverages that Northland Insurance offers to truckers include liability, physical damage and cargo loss. The company will also write hazardous material coverage under specific situations, according to Schueffner and Parker. Recently, Northland began offering non-fleet coverage enhancements for truckers, which is basically a family emergency travel coverage and the deluxe coverage endorsements that include a diminishing/disappearing deductible that rewards the loss-free trucker.
"The new coverages are designed to help the owner/operator trucker stay in business," says Schueffner. "The less complicated the trucker's life is, the better for both of us."
Parker says that efficient and effective claims handling are of paramount importance to the trucking industry. "We provide 24/7 claims service. Recently, we received a call from one of our insureds, a trucker who had been involved in an accident," says Parker. "His truck had been towed away with a full load of merchandise. It was about 4:00 p.m. and the tow company was closing at six. We had a man down there at 5:45 who dealt with the repairs and the tow company, and the trucker was back on the road. In another incident, a trucker was involved in an accident while carrying a load of bees that escaped. He called us and we found a bee keeper who was able to round up the bees, salvaging the cargo."
Says Schueffner: "Our people look at trucking insurance from the trucker's perspective. Many of our field reps have dealt with body shops for over 20 years, and some have even managed truck repair shops. Our people know the value of trucks and the dynamics of the trucking industry."
Schueffner and Parker say that the trucking industry has changed considerably in the last 50 years, due to improvements in transnational highways and interstates as well as deregulation, which helped stir competition in the trucking industry. Today, because of technology, which has made trucks easier to handle, there are more women truckers and even husband and wife teams.
"There is no age limit for driving a truck," says Schueffner. "All one has to do is pass the CDL test and a physical exam. We have drivers who are 50 years old and older and we have found that they have fewer accidents."
Kevin Smith, president of Northland Group, and Frank Netcoh, senior vice president/chief operating officer in transportation, say that one thing that makes Northland stand out is its focus on the specific needs of truckers. "We are not generalists as are some of our competitors," says Smith. "We design products to meet the needs of truckers as those needs are communicated to us via our participation in radio shows and through our Web site. Our new non-fleet coverage enhancements, for example, were designed because we recognized that truckers were concerned about how their families would fare if they had to be hospitalized in the event of an accident. Our coverage provides monetary assistance for the spouse to take care of the children and money for travel expenses so that the spouse can travel to be with the injured trucker. In addition, the fact that we employ former truckers gives us a leg up on product design."
Netcoh points out that the trucking industry has undergone significant changes in the past 10 years. "Today's trucker has become much more sophisticated on how to run his or her business. They've had to deal with the pressures of rising fuel prices, insurance costs and industry consolidation."
Moreover, Smith and Netcoh say that demographics have had an effect on trucker profiles. "Truckers often spend a good deal of time away from home, away from the spouse and kids," says Smith. "Today, we're seeing trucking 'teams' where husband and wife drive the roads together. In some cases, these teams are parents whose children have grown up and are on their own, and the husband and wife travel together to see the countryside and catch up on lost time."
Netcoh adds that new technology has allowed these demographic changes to happen. "Although the profession is still physically demanding, the advent of automatic transmissions, power steering and power brakes has lessened the importance of physical strength as a key criterion for driving a vehicle safely."
Commenting on insurance market conditions for the trucking industry, Smith says, "In general, it's a competitive market, but I wouldn't characterize it as 'soft.' There has been some price erosion on some of the larger accounts, but it has been responsible competition—competition coming from the trucking insurance specialists. If new, inexperienced players start coming into the business, however, that would change things considerably."
"We are looking to broaden our underwriting appetite," says Smith. "Northland is already quite strong in the owner operator segment, and we can become a much more attractive market to small and mid-sized fleet accounts as well. Several initiatives are currently underway to broaden our competitive market position while adding value throughout the spectrum of truck operations. In addition, we're seeking to expand our presence in the specialty auto arena, such as luxury sedans, limousines and contractor classes, and to expand the presence of, and classes written by, our Northfield excess and surplus lines subsidiary."
Netcoh again turns to demographics as a driving force in possible new product offerings. "With baby boomers reaching retirement years, we see the growing need for new industries focused on transporting the elderly. This is a market we are looking at very closely." *
Click on image for enlargement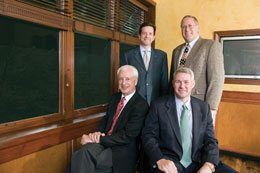 Seated, left to right, are Dale W. Schueffner, Northland Insurance Vice President of Agency Services; and Frank T. Netcoh, Northland Insurance Senior Vice President and COO of Transportation. Standing from left are: Kevin C. Smith, Northland Insurance President; and Richard Percy of Clemens & Associates, Inc., in Bloomington, Illinois, one of Northland's general agents.
"Through our general agents, Northland has the added advantage of regional and local market knowledge in the delivery of our products."
—Jerry Parker
Claims Director
Northland Insurance