Marketing Agency of the Month
Advocates for their clients
Most Insurance constantly looks at things from the client's point of view
By Dennis H. Pillsbury
---
"No one is useless in this world who lightens the burdens of another."
—Charles Dickens
And doesn't that truly say what a good insurance agent is all about—lightening the burdens of his or her clients? And that's certainly what Most Insurance, Tampa, Florida, represents.
"We're constantly thinking about the customer experience," Agency Principal Eric Most, CPIA, comments, harkening back to an experience he had on his birthday when he traveled to the San Diego Zoo. "I was given a badge with my name on it, saying it was my birthday. Everybody greeted me with a smile and said 'happy birthday.' It felt great. We want our customers to have that same kind of experience when they deal with us."
Focus on caring
Of course, the people at Most Insurance recognize that the agency is not a vacation spot where people come to enjoy themselves; it is a place of business that provides protection from loss. The question that they faced was "how could they do that in a unique way that turned clients into fans?"
"We wanted people to be glad that they chose to do business with Most Insurance," Eric says.
Eric's brother, Craig Most, CIC, CPIA, also an agency principal, continues, "We realized that what we needed to focus on was not service. Everybody says they provide great service—and we do. But that isn't enough. Sometimes we're curtailed by regulation from providing what we believe would be the best service. But what we can do is care and show our clients and prospects that we are constantly striving to live up to our theme of 'Most Insurance Cares.'
"To us, that means that we have to reach out and touch them in the way they want to be reached—by telephone, e-mail, in person, whatever. And, most important, we have to be in touch with them when the worst happens—when there's a claim."
Eric adds, "Too many agencies refer the claimant to the adjuster when they get that phone call reporting a claim and then hope the person never calls back. We didn't want to be one of those agencies. That's when our clients need us the most and we were determined to be there for them all the way from the reporting of the claim to its final adjudication."
The claims advocate is born
"About a year ago, we were discussing what makes us special in the eyes of our customers, and claims handling was certainly one area that stood out," Craig says. "We always tried to be there for our clients whenever a claim occurred. But that really wasn't a systematic approach. We decided that what we needed was a full-time person in the agency who was responsible for working with our clients whenever they had a claim, as well as educate each of our clients about what to expect if they ever had a claim.
"We weren't looking for an adjuster. We wanted a person who would hold the claimant's hand as he or she went through the process and make certain that everything went as smoothly as possible and also made certain that the claimant understood that Most Insurance was there with them and that Most Insurance Cares."
The result was that the position of claims advocate was created. That person not only is there to empathize with claimants when the claim happens, but lets them know what to expect all the way through the process. And they're also working with the adjuster and the insurance company to make certain the claim is handled quickly.
"The claims advocate actually grades the adjuster and sends a report to his or her manager," Craig points out. "When a claim is handled quickly and efficiently, a letter of praise goes to the manager, and you can bet that the next time the adjuster has to work with one of our customers, he's going to remember that. Our claims invariably wind up on top of the pile. The new position was such a success that we now have a second advocate on staff."
Not the happiest New Year
It was January 1 of this year when a test of the system hit. The agency received a call from a man whose family had just returned from a trip to Peru, only to find that their home had been damaged by a fire that started in the garage. The call came in early that morning and Eric received an e-mail on his phone to that effect. He went to the scene and found the husband and wife asleep in their car while their children had been put up in a nearby hotel. The husband and wife hadn't wanted to leave the home site because they were afraid people might take advantage of the fact that it was open for possible looting.
Eric immediately started the ball rolling by bringing a claims advocate to the scene. The advocate explained what would happen and worked with the family to find the best way to put their lives back together as quickly as possible. The first step was to get them a hotel room and then search for a house where they could live for the four months it would take to repair their home.
Because both parents worked and the children needed to take the bus to school, they needed to find a place that was close to their home. Most Insurance found a home for them only three blocks away. The advocate also found a restoration company that could remove the soot from items that were valuable to the claimants. So, instead of simply replacing a teddy bear or a coat that was a gift, the advocate made certain that those items were restored.
"That really meant a lot to the family," Eric says. "And it really meant a lot to us. It's pretty amazing that we were able to restore this family's life in as painless a way as possible."
Becoming independent
Most Insurance started life as an exclusive Nationwide agency. It was founded by Craig and Eric's dad, Robert Most, in January 1973. Robert was a focused business agent specializing in commercial lines. He enjoyed a lot of success, as he was adept at feeding Nationwide's appetite. And in the early '90s, that meant a switch from commercial lines to personal lines. Auto was king and the agency was writing about 2,500 new auto policies a year.
In 2003, Craig and Eric joined the agency. Craig joined in the summer and focused on a growing commercial lines department. Eric joined in the fall and focused on personal lines. Both were also heavily into technology.
"Fortunately, our dad saw early on what an important tool technology was for the insurance industry," Craig points out. "He signed up with Applied Systems and was one of the first to have download with Nationwide. Our agency sat on Nationwide's technology boards and both Eric and I spoke at producers' technology events."
In 2006, Craig purchased his own Nationwide agency, which became Craig Most Insurance. "That lasted all of 18 months," he notes, somewhat ruefully, "because in 2007, Nationwide decided it didn't like Florida all that much and cancelled all the exclusive contracts in the state. We decided to become an independent agency and on January 1, 2008, I merged my agency with Dad's to become Most Insurance, LLC.
"We're still living with the legacy from the '90s, where personal lines became dominant, but are working to change that," Craig continues. "We have 16 employees producing more than $1.5 million in revenue, of which about 75% is personal lines and 25% is commercial. We'd like that to be closer to 50/50.
"Even though we're no longer tied to one company and enjoy the freedom to place our clients with the best company for their needs, we still find that carrier appetites change often in similar ways so that you really do need to have a balance between commercial and personal to ride out cycles in one area or the other."
Extending the caring
"Most Insurance Cares" is not just the motto for the agency's customers. The agency also focuses on caring about its community and the insurance industry. "We're all Eagle Scouts—Craig, Eric and Robert—and live by the Boy Scout principles. That means we look out for our carriers, our community and our customers," Eric says.
The agency gives people time off to volunteer and spend time in the community.
"For me," Eric says, admitting that he never intended to stay in insurance for very long, "this industry has been surprising and wonderful. I wouldn't think about leaving. It has afforded me the time to work on the problem of human trafficking, the second biggest illegal industry in the world." Through his church, Eric has traveled internationally and is working to create a 100-acre facility for children who have been trafficked.
And, as mentioned above, both Eric and Craig are heavily involved in giving back to the insurance industry. "There are a lot of smart, talented people in this business and we hope that by telling them about what we have learned, like our work to pilot electronic signatures, we can reduce paperwork for us and our customers. I like to think that we are making a difference.
"Talking to other people in the industry is enjoyable and is another way of showing that Most Insurance Cares."
We at Rough Notes are pleased to recognize Most Insurance as our Marketing Agency of the Month. Its commitment to service and caring about all its constituents exemplifies what is best about the independent agency system.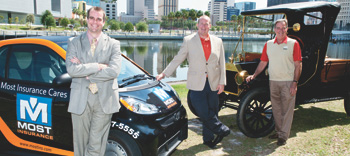 Principals of Most Insurance in Tampa, Florida, are (left to right) Craig Most, Chief Financial Officer; Eric Most, Chief Marketing Officer; and Robert Most, Founder.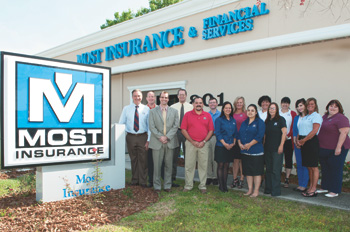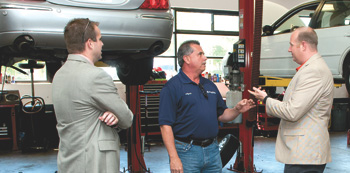 Craig and Eric meet with Angelo Cordano, Service Director for Signature Tire & Auto Care, an agency client.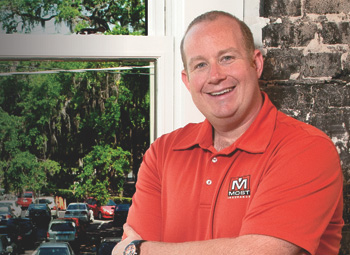 "We're all Eagle Scouts—Craig, Eric and Robert—and live by the Boy Scout principles. That means we look out for our carriers, our community and our customers."
—Eric Most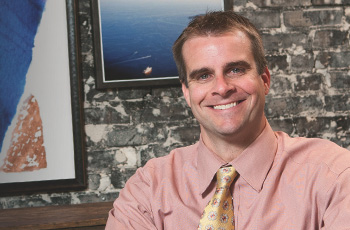 "About 75% of our revenue is personal lines, and 25% commercial. We'd like that to be a little closer to 50/50."
—Craig Most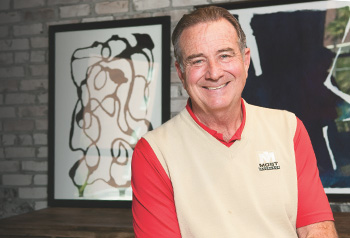 Robert Most founded Most Insurance in 1973.
---