The 2016 LAAIA Insurance Man of the Year shares benefits of volunteering
In the last issue, we started a short series on the benefits of giving back to organizations and the community. In our second installment, we take you down to the Sunshine State, where Alex Dopazo, CIC, partner, vice president, and commercial account manager at Miami-based Dopazo & Associates, bypassed a college education and joined his father's agency in 1997, a year after it opened. Dopazo quickly realized the benefits of networking through volunteering and learned to rub elbows with knowledgeable veterans whenever the chance presented itself.
"Putting myself out there and helping others has given me the opportunity to share time with folks who are much smarter than I am, and they were willing to share their wisdom with me; that's the best thing to come out of volunteering," Dopazo says. "I've had the opportunity to sit down with billionaires and have conversations, not necessarily about insurance, at first, but it created an environment where we could talk about everything. Just being able to learn from where their heads are at and to understand their perspectives and what their goals are really helps me when I'm sitting at my desk."
While at his desk, Dopazo wears several hats, claiming "sometimes I'm the IT guy, sometimes I'm the janitor, but as they like to say in the CIC classes, I'm the dreaded SOO—son of owner," he says with a chuckle. "We did not have an insurance background. My family is from Cuba originally, and they were all clothing manufacturers in both Cuba and the United States. An Allstate agent who was a friend of my father's said he'd be great at selling insurance. My dad opened the agency and realized shortly after that he needed some help. There's no easier way to get free help than to have your son jump on board." Dopazo earned his insurance license and quickly fell in love with the industry.
"Our agency's specialty is small business," he explains. "We do a lot of mom and pop businesses, mostly because, when we opened, we didn't quite connect with the personal lines customer. We write a lot of new startup companies; we've seen some grow, we've seen some fail. Our agency's growth originally was based on referrals and direct mailings; now it's the Internet and referrals. That's Dopazo & Associates in a nutshell."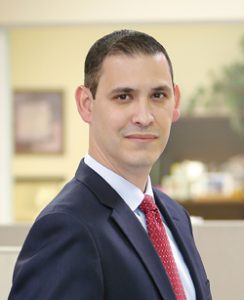 LAAIA and the Big "I"
With a Cuban heritage, Dopazo soon found himself volunteering with the Latin American Association of Insurance Agencies (LAAIA), even winning its Insurance Man of the Year award in 2016. LAAIA is a Florida-based organization, but is in the process of expanding and plans to open a chapter in the Washington, D.C. area.
"The LAAIA is a very grassroots organization," Dopazo explains. "It's all volunteer led. They have one staff employee, who's basically the ringleader of the circus, as I like to say. I served on their board for eight years, and served in probably every position during those eight years, including president in 2013-2014.
"My duties ranged from speaking engagements to creating and collecting for fundraisers, in which the organization's charity is Holtz Children's Hospital in Miami-Dade County. I'd attend meet-and-greets at networking events to generate interest in our industry and I'd do the grilling at picnics and cookout days.
"Every organization, whether it's for-profit or nonprofit, is a business," he says. "I work on the day-to-day operations, budgeting, event contracts, finding sponsorship for our annual convention, and talking to the fire marshal about it. I also work with students in the area to generate interest."
Dopazo also worked a phone bank for a local television station in Spanish—he's bilingual—to help provide insurance information to consumers.
He also serves as the chair of the Big "I" Diversity Task Force, an organization that "collaborates with other multicultural industry groups, state associations and other Big 'I' committees to create an awareness of the opportunities and benefits available by embracing diversity and encouraging change necessary for the independent agency system to survive and flourish," according to the group's website.
"I don't think there's any other industry where you can come from any background and succeed with little or no formal education, but mostly with just willingness and hard work," Dopazo says. "When you get into leadership and volunteering, it's all about helping to find ways to inspire folks. When we get involved, we're so much stronger."
He adds, "We have a big branding problem in our industry right now. The only way independent agents and agencies are going to move forward is if we find commonality and create strong branding. We're not used car salesmen, shysters, or thieves. We're folks who want to help people understand an extremely complicated product, get it to do what they want it to do when there's a loss, and help them understand what their options are."
Being a part of a small agency—Dopazo & Associates has six to eight employees, depending on the market—Dopazo turns to the associations for most of his volunteer opportunities. He also volunteers at his church and local schools.
"Volunteering is at the heart of everything I do personally," he says. "I embed that environment into the office and encourage others to do the same in their personal lives."
Peace of mind
Dopazo says, "I'm a person who believes that you get a sense of peace of mind (a saying on the company's homepage) and happiness when you deliver something for someone else. No other substance or situation can touch it. It's being able to smile without necessarily needing something. When volunteering on a personal basis, whether it's reading to kids or assisting people to find parking at my church, I find peace from being able to help people with the smallest things."
For agents who want to dip their toes in the volunteer pool, don't be afraid to leap into the deep end.
"The cliché that you get back what you put in is absolutely true," Dopazo says. "Get involved, especially with something you love. You have no idea how many opportunities present themselves when you get your hands dirty.
"When you get involved and start to meet people, sometimes it's your competitors. I'm often asked why I would get involved with an organization that's full of my competitors. The reality is that there are 320 million Americans, and chances are they aren't your competitors. They may be in a different niche than you are, and they might have some ideas you haven't thought of. They may know of a product that you were unaware of that could increase your efficiency.
"At the end of the day, we're all looking for new possibilities. By spending a little time volunteering, you end up learning so much from the people around you. I can't compare it to going to school, because I didn't. But I've gotten an amazing education from doing it, and I'm a better man and agency owner for it."
The educational opportunities gained through networking while volunteering, Dopazo observes, have enhanced his understanding of the industry.
"Volunteering gives you an intimate understanding of the process, because our industry is a lot of people doing a lot of different things all at the same time," he explains. "You have claims adjusters, salespeople, underwriters, executives, and marketing representatives, and you would swear that some of the time none of those people talk to each other. Volunteering has given me the opportunity to create unity among all those positions and better understand them, and has helped me build relationships that have pushed my agency forward.
"I'm thankful to say that some of the company appointments we've obtained over the years came from others' respect for the work I've done, not necessarily what my agency looks like on paper. Carriers tend to look for agencies that fit what they believe are logical criteria. We don't always fit that paradigm, so volunteering has given me the opportunity to showcase another side of who our agency is and who I am, who my father is, and where we want to go."
By Christopher W. Cook