A student of the industry brings other students into his agency
From day one at the agency, I have been a student of the insurance business," says Ben Patterson, CIC, CRM, who joined Patterson & Associates Insurance Agency, Inc., Richardson, Texas, as its fifth employee in 1996. "I joined the agency straight out of college. It was started in 1983 by my father, Ron, and was still a relatively small agency, primarily writing personal lines coverages for the people in our community and surrounding areas."
Today Patterson & Associates has annual revenue of more than $5 million and 35 employees. And it has branched out from being primarily a personal lines agency to one with significant commercial lines business. Its revenue mix is 65% commercial, 30% personal and 5% benefits. The second generation of owners is firmly entrenched with a perpetuation plan that offers new producers an opportunity to become future owners.
"We have the expectation that, when we hire someone, he or she will become a partner by building a book of business and meeting other criteria that include involvement with industry associations and giving back to the community," Ben says.
That model has already worked once, as Ben and four other partners now are owners, having bought out the two original partners. One of the two is fully retired and "my dad is working toward that," Ben says. Ron stepped down as president in 2011, and Ben took over that position. The purchase of Ron's shares began in 2012.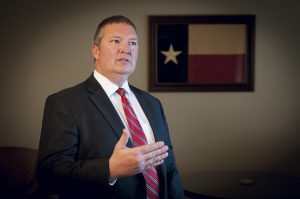 Creating interest in insurance
"Project InVEST has been very helpful in developing the talent and interest in insurance among young people in our area," Ben comments. "I am unbelievably proud that one of the Dallas area teachers was recognized as teacher of the year by InVEST (a school-to-work insurance program) in 2015 and our local Big 'I' executive director was volunteer of the year this past year."
"The program has been most successful at a high school in Dallas, and we are building out a program in a high school north of Dallas where a number of independent agencies are located," Ben adds.
"This has played a critical part in countering the activities of the banks, accounting firms and other financial institutions that have been actively recruiting in our area of the country and promoting their businesses to young people. Meanwhile the insurance industry has taken its eye off the ball over the last 20 years," Ben continues. "There is a tremendous pool of talent that will never consider insurance because we, as an industry, haven't told our story.
"Our success in the Dallas schools is changing that and has resulted in our agency being able to recruit some talented people at college recruitment events. However," he continues, "the industry still is lagging behind its competitors. At the last college recruitment event we attended, with close to 100 employers represented, we were one of only two agencies present and only one insurer was there."
The importance of insurance
"Something that really brought home the importance of insurance to me," Ben says, "was the recession in 2008. Fortunately our area of the country was not hit as badly as some, but there were still problems for certain industries, particularly residential contractors. Because personal discretionary spending was so severely affected, residential contractors were scrambling and suddenly faced insurance requirements that were difficult to meet in a down economy. One residential contractor came to us looking for a performance bond, because the only work it could find to bid on was bonded commercial construction. Sadly, we were not active in the contractors surety market and were unable to help him, and he went out of business. The only people in the contracting market who were able to get any business at the time were bonded commercial contractors.
"That was a dramatic eye opener for me. I hadn't really considered just how essential insurance was for our economy to keep moving forward. We actually help businesses stay viable. That has been a message that I bring to young insurance students and new recruits," Ben says excitedly. "They really respond to the idea of working in a critical industry that helps fuel the economic engine. That's always been the case, but it hasn't been a message that we've been good about broadcasting."
Lessons learned
One obvious lesson was that Patterson & Associates needed to develop expertise in contract surety, so it could help contractors who were struggling to survive during the economic downturn. "We've developed several relationships with surety  underwriters that have helped us understand that challenging field. Surety is unique, more like a banking product than insurance; it's absolutely vital and has remained so since the downturn, as we've helped several clients expand their business by  arranging bond programs that let them pursue bonded jobs as a segment of their overall work portfolio. Being able to help contractors grow their business has been very gratifying."
Another lesson learned was the importance of remaining a strong, stable firm that would "continue to be relevant," Ben points out. "As I noted earlier, I was a student of the business from the moment I joined the agency, and I quickly noticed that, as a small agency, we were vulnerable. We were not able to develop relationships with carriers that we needed as we began to move into the commercial lines market, and that limited our capabilities. The solution was simple to articulate—we needed to grow—but more difficult to realize.
"My early days with the agency were spent growing our personal lines business, where we had a good track record and significant relationships with the five carriers we represented at that time," he continues. "At the same time, my father and I recognized that we needed to develop our commercial lines market in order to diversify our product offerings."
There were several reasons for diversification, according to Ben. The agency needed to write more lines and kinds of business so it wouldn't be hurt by downturns that affected specific niche markets or lines of business. Most important from Ben's perspective was the fact that the agency would be better able to serve all the people and businesses in its community and environs.
A final lesson was the importance of working with businesses that were having difficulty finding needed coverages, because of either insurance market conditions or a poor risk profile. "Working with those less-strong segments of the economy gives us an opportunity to show what we can do. They need our help. This is where we can really shine, by helping these businesses improve their risk profile and become more attractive to the insurance market. And they show their gratitude by being intensely loyal to us. We are rewarded with a long-term relationship that continues after the business has turned itself around. We never have to worry about clients going to our competition. They view us as long-term partners."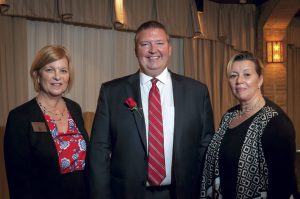 Attracting new company partners
The agency led with its strength—personal lines—by cross-selling to its current customers who owned businesses or had contacts in the business community. Soon, other companies became interested in working with the agency, as the commercial lines business grew to a significant size.
"Referrals were our preferred way to reach new prospects," Ben notes, "and still are. We have a closing ratio in excess of 80% with referrals. But that doesn't mean that we don't use other methods. You have to be disciplined and consistent in developing the pipeline. Association marketing also has been very effective, where we spend time building our reputation in different niche markets. And we still do a lot of straight-up cold calling that is enhanced by our reputation in the community and business groups in the area. It usually amounts to warm calling. We also have a consistent and systematic advertising program that is designed to reach markets in which we have strong expertise.
"We must be doing something right," Ben continues. "We've been recognized by the Big 'I' as a Best Practices agency since 2013. We're extremely proud that we've stayed on that list each year since then. We also were recognized as one of the best places to work by the Dallas Business Journal. That is a reflection of the fact that, every day, we make it clear to every one of our people that they are the key contributors to our being the best.
"We've had an unbelievable run and have built a sustainable model that should let that run continue. Our growth in each of the last five years has been between 15% and 20%. In that period our commercial lines volume tripled.
"I know that our companies appreciate our efforts, because they tell us they do. Many of them come to us toward the end of the year, asking what we plan to do with them in the coming year. That means we are significant to them. In fact, when I asked one underwriter about it, he told me that the company's success in achieving the annual goals it set for the DFW market hinged on the production we would deliver!
"I'm living the American dream, and when I put on my recruiting hat and try to bring some more students of the business into the fold, I emphasize that they can, too. With the right focus and discipline, the rewards in this business are unmatched by any other industry. And those are not just financial rewards. Every day we get to help people and businesses protect what is most important to them, and we get paid to do it. What could be better?
"As you can tell," Ben concludes, "I'm extremely grateful for the blessings I've been given, and that sense of gratitude is a key principle at our agency. Our tremendous success should be enjoyed with a sense of gratitude, and we should say 'thank you' every day. I've often pointed out to my staff that the Israelites had to wander for an additional 40 years because they forgot to say "thank you", and then I thank them for their contribution to our success."
Rough Notes would like to add its own "thank you" to Patterson & Associates for its devotion to bringing talented new people into the industry by recognizing the agency as our Agency of the Month.
By Dennis H. Pillsbury