ESOP brings teammates together at this Mississippi agency
Now that's a big family—116 people and counting!
"Our leadership puts others before themselves," says Ross & Yerger Vice President and Personal Lines Group Leader Jordan Bryan, API. "They're willing to do anything to help out any of our people, and that's contagious. It contributes to the family-like atmosphere that pervades our agency.
"And it is our agency," she emphasizes. "I come to work as a business owner. It feels different. When I walk in the door, it feels like home."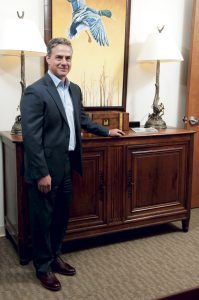 Ross & Yerger has a long history of being a family business, tracing its roots back to 1860, when Colonel D. N. Barrows opened Mississippi's first insurance agency in Jackson. In 1880, James Ross and Edward Yerger purchased insurance from that agency for their wholesale ceramic willowware business. In 1892, impressed by the quick response to a fire loss, they purchased the agency and renamed it Ross & Yerger. In 1908, James Ross sold his interest to Edward Yerger, making Edward the sole owner of the agency and beginning a history that saw four generations of Yergers leading the agency and promoting an atmosphere that included all employees as part of their extended family.
"When I joined in 1995," says Dudley Wooley, CPCU, CRM, CIC, AAI, chief executive officer and chief operating officer, "Ross & Yerger was a well-established agency led by Wirt Yerger Jr., who had grown the agency into a strong independent agency and one of the largest in Mississippi. Like his predecessor, he imbued the agency with a spirit of independence and professionalism.
"But he faced a decision around 2000, as he looked to perpetuate," Dudley adds. "He had several offers from major brokers, but he wanted the agency to remain independent if he could work out a way to do so. That presented us with an opportunity to become owners and, in February of 2002, a group of us purchased the agency from the Yerger family."
"One of the things that made this possible," adds Chief Financial Officer Vivian Farris, CPCU, CPA, "was that Wirt wasn't greedy. He was more interested in keeping the legacy going, so the agency could continue to make a difference in Mississippi."
In fact, his commitment to having the agency make a difference was one of the principal reasons Vivian joined the firm in 1991. "I was a public accountant, and the agency was one of my clients," she recalls. "I really liked the way they did business. So, when their CFO retired, it was a great opportunity. I had just had a child and wanted a position that didn't require so much traveling.
"I knew how much emphasis Wirt placed on giving back to the community," Vivian adds. "He was so generous; he even had his own foundation that provided great support to benefit charitable efforts that were close to his heart. I really wanted to work for somebody like that."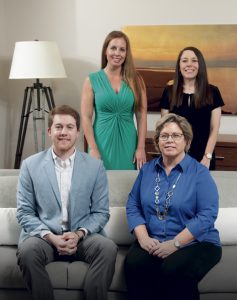 A refocusing on risk management
After the purchase, the new owners recognized the need for growth; they had to pay off the debt they had accumulated to purchase the agency. "There was a noticeable shift taking place in our industry," Dudley says. "Agencies were expected to provide risk management advice rather than just sell insurance, and that fit in perfectly with our goal to become closer to our clients and establish long-term relationships that saw us at the client's table along with other professionals."
Amy Smith, CPCU, CIC, AU, executive vice president and commercial lines manager, says: "We decided that we needed to find a way to become true partners with our clients. Focusing on clients that were committed to risk management became our goal after the purchase of the agency.
"That also meant we had to be willing to walk away from clients who were just shopping for insurance based solely on price," adds Amy, who was a member of the original buying group.
"We put our money into that endeavor, certain that it would pay off, by hiring non-revenue-producing employees who were passionate about risk management. We needed to have experts who could sit down with our clients as well as our insurance carriers and explain what we were doing and why," she recalls.
"This gave us the ability to implement our 'Lighthouse' program, where we review coverages and risk management programs for clients and prospects, and prepare a report recommending strategies that would help to mitigate risks and reduce their insurance costs, where appropriate, as well as recommending coverages wherever we discover gaps," Amy explains.
"The reports delineate a timeline that is unique for each client as to when each of the strategic initiatives would be completed," she continues. "The result is that our sales process is wholly consultative, starting with a look into a prospect's current situation and ending with a plan and stewardship reports once they become a client. Each of these is updated regularly to reflect new opportunities for risk mitigation and cost reduction. And we took a really deep dive on this as we had each of our producers focus on a particular niche industry.
"Our expertise in those niches can't be equaled by any of our competitors, including the big brokers, and when you couple that with our commitment to improving our clients' bottom lines, it is easy to see why we have enjoyed excellent growth. When we purchased the agency, revenues were around $7 million." Today, the agency is expected to close the year at $23 million or so in revenue, with commercial lines accounting for a little over 50% of that. "And all of that has been accomplished organically," Amy concludes proudly.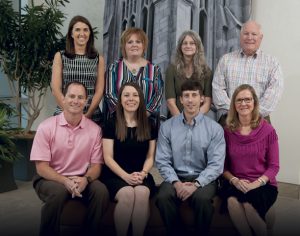 Employee benefits
The second largest contributor to revenue is employee benefits, representing around 40% of the total. To assist clients with their employee benefits needs, the agency assembles multidisciplinary teams to counsel in all areas from group health to 401(k) plans and key person coverage. Among the resources available to clients are human resources professionals and employment attorneys, as well as in-house resource specialists who can provide consultations and training to clients.
"We have a broad selection of clients," says Executive Vice President and Employee Benefits Manager Scott Bingham, CEBS, RHU, "and this allows us to see and solve a plethora of employee benefits problems, helping to safeguard our clients against lawsuits, penalties, and fines, while keeping costs down.
"One of the benefits of having a large team and a large client base is that, in many cases, when we are faced with a problem, we have already seen something similar and already have a solution," he adds. "Our team members are constantly sharing their experiences so that we don't have to constantly reinvent the wheel. That's one of the distinct advantages of working for an agency where people are focused on helping others succeed."
Jordan Bryan, whose personal lines area represents the smallest contributor to revenue, with about $1 million, points out how true this is. "At a lot of agencies, the commercial producers don't want someone 'interfering' with their account, but here they look at what I do as adding value and they really support my efforts."
She adds, "We used to write personal lines just as an accommodation, but I represent the first person assigned to actively grow this area of our business. We've since added another personal lines producer in our New Orleans office as well.
"In addition to cross-selling our commercial accounts," Jordan explains, "we focus on three niches within this market: high-net-worth individuals; up-and-comers, like new doctors; and large families, which often have large exposures. And, just like our other areas, we focus on helping individuals manage their risks, rather than just selling insurance."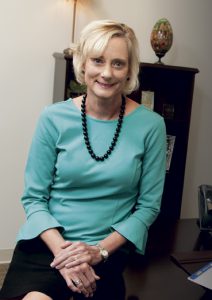 The next generation
Just like any "family" business, Ross & Yerger is looking to its next generation for perpetuation. And Scott Moak, RHU, executive vice president and head of the agency's Future Partner Group (FPG) program, is responsible for finding and developing the next generation of owners. In addition, he has his own book of business that he is working to grow.
As the leader of the FPG program, "I oversee the hiring, mentoring, and launching of new producers on the path to success, so they can become shareholders of the firm," Scott says, adding that he went through the program when he joined the agency in 2006. "That's really the lifeblood of our organization. We need future leaders if we want to perpetuate and remain independent."
Finding the right candidates is relatively easy for the Jackson and Tupelo offices, where the agency's reputation is so good that referrals come from clients and from other employees. For the Baton Rouge and New Orleans offices, "we use recruiters," Scott says. "They know that we are looking for people who have roots in the community and an entrepreneurial spirit where they want to become owners of a successful firm. I interview a lot of people and then they meet other owners, going through an extensive interview process. Once we have identified a candidate we believe will be successful, they go through what amounts to a three-and-a-half-year validation process.
"It starts with a six-month orientation," he explains, "after which they become immersed in the FPG program, which requires them to create a $300,000 book of sustainable business; achieve a three-part industry designation; be involved in community and industry organizations; and receive a better-than-average peer review. If they work hard, have passion, and treat other internal people well, they are well on the way to success. They need to be active, present, and involved. Along the way, candidates who hit certain benchmarks are well rewarded.
"The FPG program enjoys a 70% success rate, which is due in large part to the agency's emphasis on culture and getting to know the people who help them succeed, by providing the necessary risk management expertise needed for consultative selling to work," Scott concludes.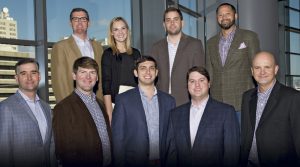 Keeping it a family
When a "family" agency has 116 family members in four offices, it requires an effort to maintain the family atmosphere and a culture where people are always willing to help others succeed. And there are a lot of events that help to maintain that culture. "We're very conscientious about that," Dudley says proudly.
"We have quarterly meetings with employees, and we include those who are not at the home office via video or teleconference," he adds. "We also have a quarterly compliment club where I ask people to send me compliments that employees have received and then I share them with all employees. Normally, about one-third of the people or more have received compliments each quarter."
Vivian adds that the agency supports employee wellness through a variety of efforts, including a gym and time off to exercise. Also, she says, "Our community outreach gives us opportunities for people to work together to help others. A group of 20 or so employees does landscaping for a local school, several people volunteer for Meals on Wheels, and a number of our people serve meals to the needy at Stewpot."
She adds, "We give everyone paid time off to be involved in charitable work. In addition, we have outings and an annual meeting where we bring in our people from the other offices. The annual meeting is preceded by an informal reception and meal the night before, where everyone can mingle."
Rough Notes is proud to recognize Ross & Yerger as our Agency of the Month. Its efforts to maintain its independence and reward all its employees for their efforts make it a great example of what is best about the independent agency system.
By Dennis H. Pillsbury