AWARDS, IDEAS MARK SPRING ROUGH NOTES EVENT
Agency leaders recognize the best of the best, share thoughts on emerging industry issues
This spring, principals and other independent agency leaders from throughout North America took part in the annual Rough Notes Agency of the Year dinner, Community Service Award presentation, and Rough Notes Agent Editorial Advisory Board meeting. More than three dozen professionals participated in the event, which was held in downtown Indianapolis.
The dinner kicked off with an engaging overview of The Rough Notes Company's storied 141-year history, including successes, some miscues, and company leader responses to those. The Rough Notes Company President and CEO Walt Gdowski led that presentation.
After dinner, The Rough Notes Company Community Service Award Executive Director Robert Kretzmer, CIC, presented the 21st annual Community Service Award to The Accel Group of Cedar Rapids, Iowa. Mike Byl, partner and president; Lynne DeVore, partner and chief operating officer, and Tim Gassmann, partner and chief executive officer, received the award on behalf of the agency for its work in support of Feed Iowa First—a grassroots community of businesses, faith organizations, schools, farmers and volunteers that help Iowans combat food insecurity (see the full story in the May issue of Rough Notes).
Agency of the Year
Next, Rough Notes magazine Editor-in-Chief Dave Willis, CPIA, presented the magazine's 2018 Agency of the Year Award to INSURICA of Oklahoma City, Oklahoma. Willis pointed out that INSURICA was selected by past Agency of the Month honorees from among the 11 agencies that were recognized by the magazine on its cover during 2018. "The agency impressed past winners, and that's why they're here with us tonight," he said, noting the strong competition for the honor: "I believe last year's lineup was among our strongest and most diverse ever, and every agency received votes from past honorees."
In the end, past cover agents selected INSURICA, one of the largest privately held agencies in the country. Willis talked about the agency's mission, which "encompasses three things: managing risks for its clients; building a rewarding environment for its colleagues, and producing an acceptable return for its shareholders." He also pointed out the agency's core values: integrity, attitude, and purpose.
"Our goal … has been to retain a true sense of community as we've grown. It's what connects and keeps our colleagues, carriers and clients together."

-Mike Ross
President and Chief Executive Officer
INSURICA
Comments from agents voting for INSURICA as Agency of the Year included: "The … selection for me is a slam dunk. These guys designed a creative agency structure and have held true to their concept"; "I am very impressed with the culture they have created and the growth they have achieved"; and "very large, but with 'down-home' values."
The award was accepted by Mike Ross, INSURICA president and CEO; Kevin Wellfare, vice president of marketing, and Ed Young, chief financial officer. Ross shared briefly about his experience in—and optimism about—the industry. He harkened back to when he entered the business: "Travelers was the only company that offered me a job out of college," he recalled. One thing led to another, and then another, and today Ross leads a top-25 agency that places nearly a billion dollars in annual premiums for its clients and employs more than 570 professionals in 30 offices located in Oklahoma, Texas, Arkansas, Colorado, Arizona, and California.
He talked about the approach the agency has taken as it expanded from a handful of employees in one office to what it is today. "Our goal—and I believe we've been able to accomplish it—has been to retain a true sense of community as we've grown," he said. "It's what connects and keeps our colleagues, carriers and clients together."
Ross is enthusiastic about the independent agency system and its prospects going forward. "Our industry is phenomenal," he said. "The opportunities it presents are remarkable. As professionals in this industry, we should be honored and humbled to serve as advisors to our clients and deliver true value."
He also talked about his firm's future. "We are committed to remaining private," he said. "To do that—and to do anything well in today's marketplace—requires us to deal with change. We could be frightened about that and what it might entail. We could run scared of what's coming at us. Or we can be excited about the tremendous opportunities that change brings. Me? I am excited."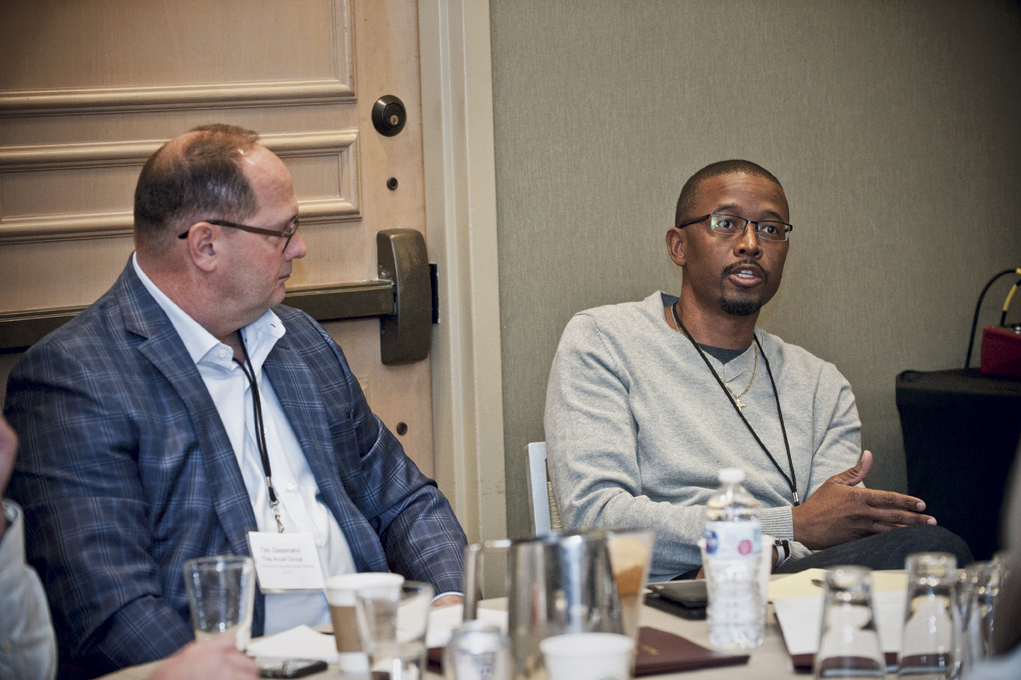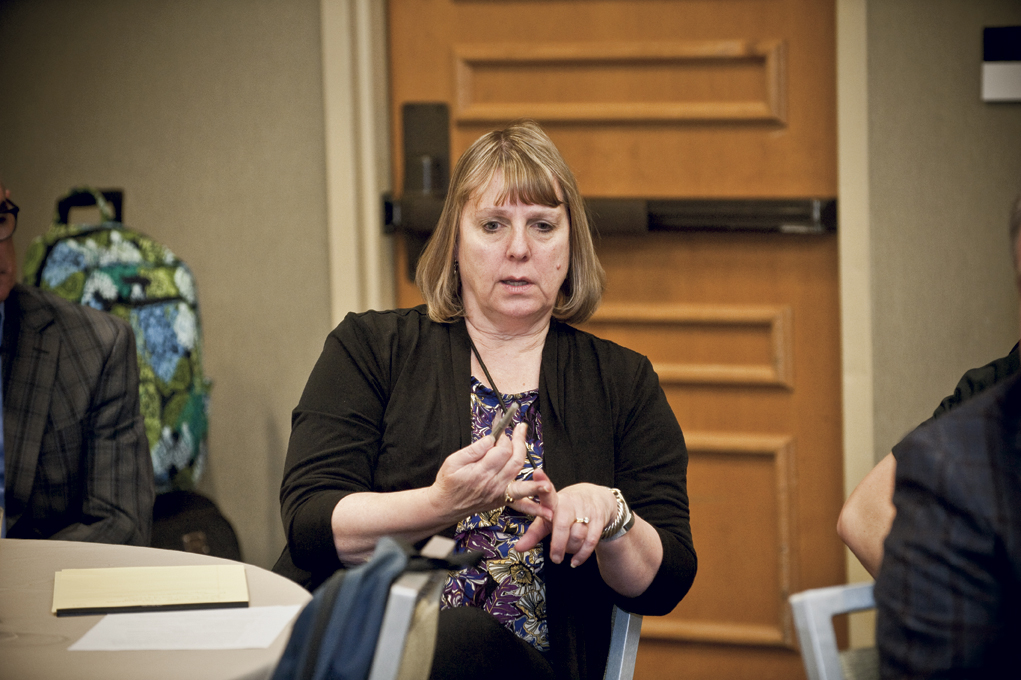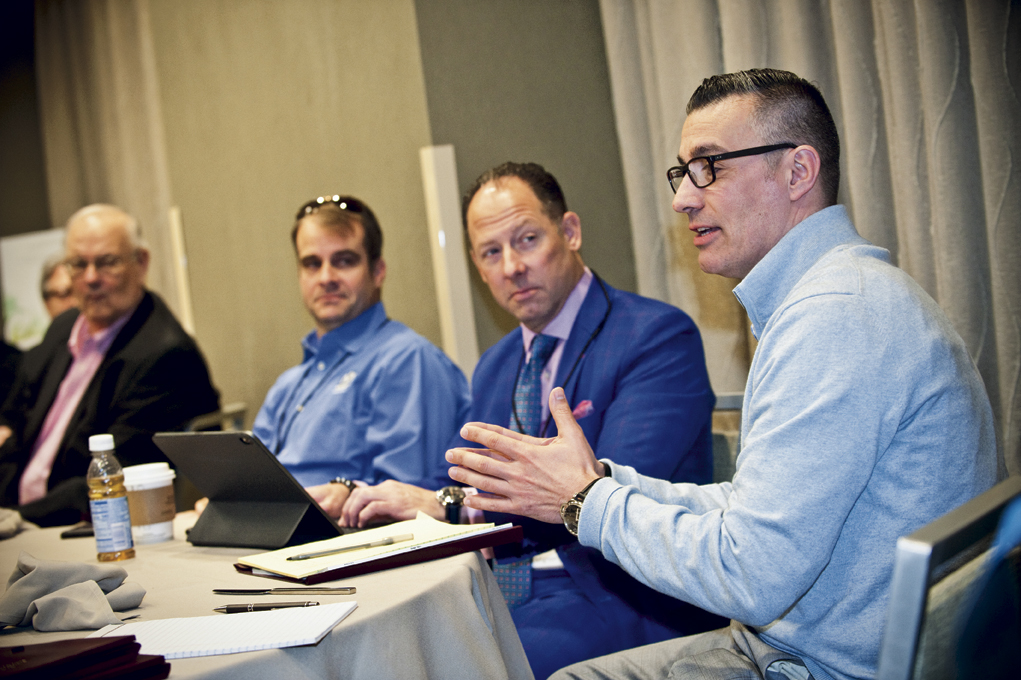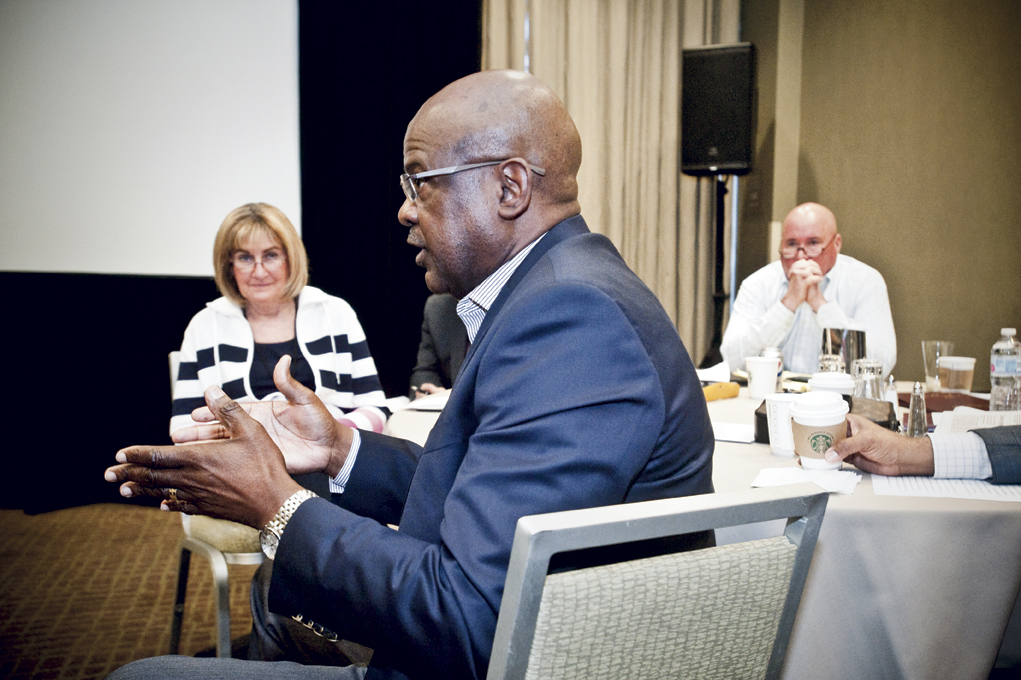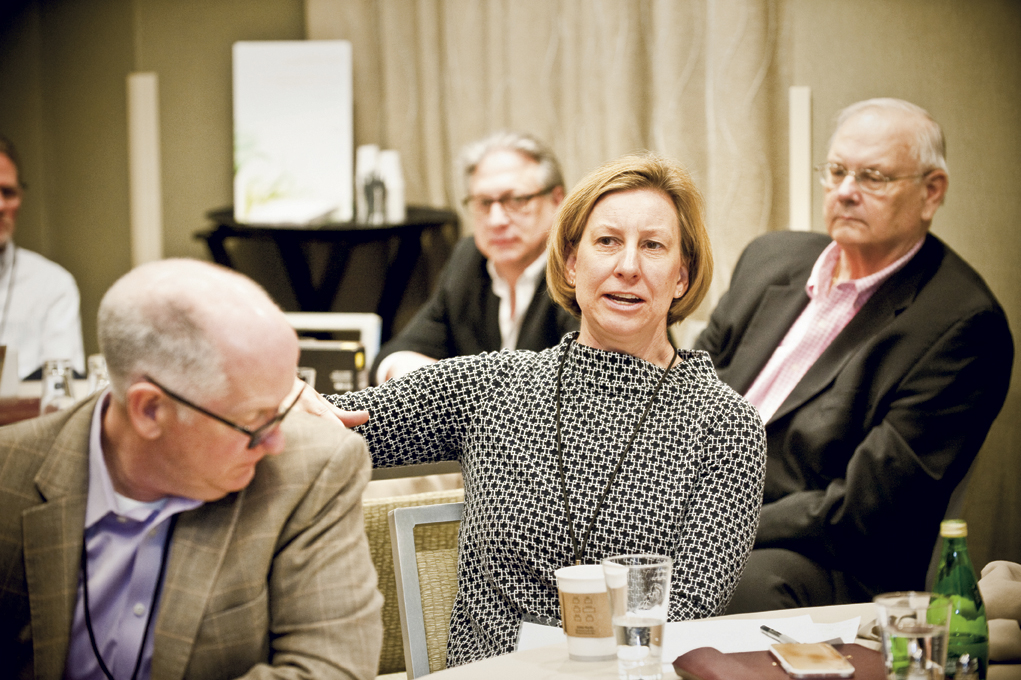 Editorial board meeting
The following morning, members of the Rough Notes Agent Editorial Advisory Board took part in a content-rich discussion of industry trends and outlook. "It's great to be able to host a number of high-achieving industry thought leaders—members of our editorial board—to discuss what's working in our business and where we could use some more focus," Willis noted.
"Our editorial team engages with the agents who serve on the board throughout the year, but getting these great minds in a room for a time and getting them to share with each other and with our editorial team what things look like on the front line, makes such a difference," he added.
Board members are willing to share new ideas, leading-edge technologies, agency approaches to challenges, and successes they've accomplished. "The magazine isn't the only beneficiary of the meeting," Willis noted. "Agency leaders who take part refer to the value they receive from fellow professionals and the ideas they come away with to build a stronger agency in their own locale."
Cover Picture: From left: INSURICA's Ed Young, Mike Ross and Kevin Wellfare