BURNING DOWN THE HOUSE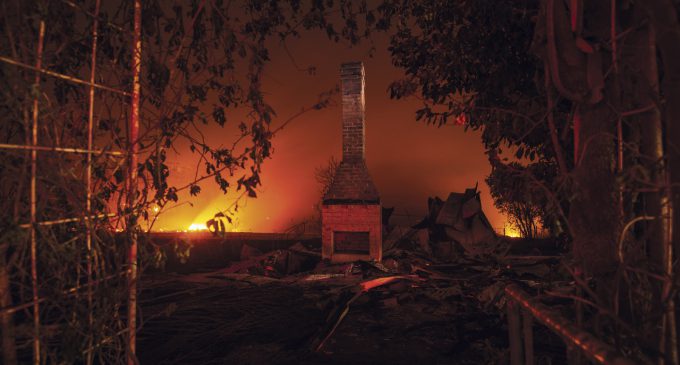 Personal Lines Focus
BURNING DOWN THE HOUSE
The recent California wildfires are contributing to a hard market, but risk management strategies can help your clients prepare for future events
By Christopher W. Cook
Samuel Taylor Coleridge wrote in The Rime of the Ancient Mariner "water, water everywhere, nor any drop to drink." That may have been relevant in our previous Personal Lines Focus piece on floods, but now we're discussing wildfires. Do I dare quote Smokey Bear in this scenario? You all remember it. Or I could break into the Talking Heads song referenced in the title. Let's move on.
Two years ago, California suffered its worst-ever wildfire season, seeing more than 7,000 wildfires burn over a million acres of land and destroy more than 24,000 structures. And don't forget about the ongoing brush fires in Australia, which as of mid-February 2020 (they started in June 2019) had burned more than 46 million acres.
Alexandra Syphard, chief fire scientist with Sage Insurance Holdings, LLC, which specializes in arranging coverage for wildfire-exposed homes, experienced the Australia fires firsthand.
"As in California, the most destructive fires in Australia are wind-driven, and fires get large when winds are coupled with dry vegetation that ignites readily when firebrands land," she says. "The fires in Australia largely resulted from a long-antecedent drought coupled with winds and record-breaking summer temperatures.
"As I was driving around looking at all the dead trees in the dense eucalyptus forests, I felt the same sense of foreboding that many of my fellow fire scientists were feeling. In fact, I saw and smelled smoke in the air as I was heading to the airport."
While the number of wildfires in the United States declined in 2019, the devastating events took a toll on the insurance market.
"Wildfires have affected the insurance market in three key areas: increased pricing, restricted eligibility and reduction in capacity," says Bill Gatewood, corporate senior vice president, personal insurance, at Burns & Wilcox. "We have seen significant increases in property rates over the past two years—the prices go up based on a home's exposure to brush.
"The insurance industry has lost billions of dollars due to recent fires and as a result must increase rates to get an adequate amount for the exposure. Many carriers have analyzed their California business and have made changes to their underwriting guidelines to eliminate some of the most exposed homes and manage the accumulation of properties in a single area. It is difficult for many home owners to find insurance at any price if they are in extremely remote areas of brush-exposed territories.
"Finally," he continues, "many insurance providers have decided to stop taking on additional California business or have removed themselves from the state's property market altogether. These moves are creating a shortage of willing insurers for brush-exposed properties. As a result, many consumers are forced to purchase insurance from the California FAIR(Fair Access to Insurance Requirements)Plan, which can be limited in the amount of coverage available for a home."
"The FAIR Plan is very limited," agrees Jerri Gallatin, area vice president of personal lines at Risk Placement Services (RPS). "Right now, it's $1.5 million total insured value. So if you have a $5 million home, the most coverage you're going to get is $1.5 million. The high-valued homes are having to self-insure.
"Carriers are looking to write a wrap policy to give back some of the coverages that the FAIR Plan doesn't offer, but I don't foresee anyone in the marketplace rushing back in to take back some of that exposure."
Gallatin echoes Gatewood's observation about how carriers are removing themselves from the market, making it more difficult for home owners to obtain coverage.
"One of the companies we work with just put a moratorium on new business in Los Angeles County, which affects the Hollywood Hills and Beverly Hills areas; it's very hard to write there," she says.
Several carriers put similar moratoriums into effect after the 2017 Thomas Fire that affected Ventura and Santa Barbara counties. After the wildfires, torrential rains came down in early 2018, which resulted in a number of homes being destroyed in mudslides.
"After the Thomas Fire, the California Department of Insurance mandated that insurance companies pay for the mudslide losses because the proximate cause of the loss was the fire," Gallatin says. "Typically, a homeowners policy doesn't cover landslides. The Thomas Fire and the Paradise Fire facilitated a real turning point in insurance coverage in California and in how insurance companies were viewing their exposures."
Gallatin notes that these changes are starting to spread outside of California, as companies serving other western states like Colorado, Idaho, Montana and parts of eastern Washington—areas with high potentials for fire loss—also are looking at changes in underwriting for wildfire exposures.
Managing wildfire risks
When it comes to helping clients prepare for wildfire events, some insurance organizations are taking proactive approaches with scientific methods and strategic partnerships. Sage Insurance Holdings, LLC, developed the SageScore, a scientific-ally based algorithm that uses unique risk factors to rank homes in areas exposed to elevated wildfire risks.
"We saw that the right science wasn't being applied to pricing risk, and that home owners were unfairly miscategorized, priced out or unable to get coverage," says Will Dolan, founder and chief executive officer. "Sage's empirical modeling approach provides expert insight into risk selection, and our pricing reflects the likelihood of fire destruction.
"We recognized that insurers were miscategorizing homes and denying coverage based on an inaccurate view of wildfire exposure, so we began reading scientific material to look for a better way. We were excited to discover papers written by leading fire science researcher Alexandra Syphard, which could prove with data what we were seeing empirically.
"Using big data and decades of Alex's research, we've developed individualized models for the diverse landscapes across California, with variable weightings that change based on the characteristics specific to the geography in question. This proven model is a game changer for accurate underwriting of insurance specifically engineered for wildfire-exposed areas," Dolan concludes.
Maprisk, a specialty data aggregator, is enhancing the underwriting process by using analytics and algorithms to study embers and map ember zones in wildfire-prone areas.
"Embers can fly two to three miles and start fires in other areas," says Gallatin. "Some companies won't even write properties if they are within two miles of an ember zone. Maprisk is looking at embers and how far they can fly. It's not just small embers but larger objects flying through the air."
In 2019, Burns & Wilcox began a partnership with Wildfire Defense Systems, Inc. (WDS), for its clients in 10 states with a high risk for wildfires.
"Our partnership with WDS provides constant monitoring of all active wildfires in the United States," explains Gatewood. "If one of our homes is determined to be potentially threatened by the fire, a team of WDS professionals is dispatched to the location. The WDS team also will determine the best method of action to help defend the home against the approaching wildfire.
"WDS seals off all vents and openings into the home to prevent burning embers from entering the home and clears brush and other flammable items away from the property and other structures. They also can apply fire-retardant spray on the ground around the property, and in some cases they apply a fire-retardant gel on the home itself.
"The team will continue to check on the home after the fire has passed until the residents are allowed back into the area," he continues. "Along the way, WDS provides real-time photos and updates on the condition of the home to keep a record of the process for proper documentation."
How agents can help their clients
Risk management for wildfires has three components—before, during and after an event—and as agents and brokers, you can help your clients make sure they are as prepared as possible by providing information on tasks they can do themselves. This begins with the formulation of a safety plan.
"Safety plans need to be comprehensive, realistic, and reviewed and updated regularly," says Lisa Lindsay, executive director of the Private Risk Management Association (PRMA). "This takes thought and careful planning. Often we find that when people spend all their time thinking about what happens before or just what happens during their evacuation plan, without thinking of all three components, something important is going to be missed. Unless they write it out and practice it, it's truly not a vetted plan."
Home owners should identify two realistic ways to evacuate their property in case one route is impassable. A communication plan also should be established.
"We recommend that people have a single out-of-state contact who can coordinate and track everyone's safety," says Lindsay. "All family members may not be together in one place when an evacuation takes place."
When helping your clients create evacuation plans, don't forget about pets and livestock. Who is responsible for them, and will they be able to leave with the family? Another consideration is what the family will take with them. Emergency go-bags—including food, water, flashlights, medication, and important documents—should be assembled, and additional personal items should be selected ahead of time.
"From an evacuation perspective, people don't spend enough time thinking about what they are going to take with them outside of that go-bag," says Lindsay. "Are they going to take family photos or a unique piece of artwork? Is it going to fit in the car? We hear stories where families have a well-thought-out plan, where different family members are assigned different tasks; one might be responsible for documents, another for the pets, and they have a specific piece of artwork they want to take and know it will fit in the car.
"Where chaos tends to happen is when people don't have those details figured out and they're scrambling around the house grabbing things and wasting time trying to put things in the car that won't fit. The evacuation plan isn't just about where you're going to go and how you're going to get there, but it's who's coming with you, what do you need and what things are you bringing."
Lindsay recommends encouraging clients to use online resources to find checklists that will point them in the right direction and then adapt the list for their personal needs.
"People start to think, 'My eye-glasses are not just a luxury item I use to read. I can't function without them, so I'm going to make sure there's an extra pair in my go-bag,'" she says. "Some people might have medication and need to take it with certain food. Advise your clients to look at the lists they find online and then sit back and say, 'Outside of that, how do I run my life on a regular basis and what else might I need?'"
When the time comes to evacuate the property, make sure your clients don't forget "simple things like shutting off the gas supply so there's not fuel to feed the fire, and make sure that all windows and doors are closed to prevent embers from entering," says Lindsay. "They should turn off the air conditioning to prevent outside smoke from entering the home. In the moment, people often aren't thinking about doing those things, but if it's part of the preparedness plan and somebody's in charge, they may find that through those actions, if they had to evacuate, they come back to a better scenario with less damage."
Although it may be difficult to know when a wildfire event will take place, the time for your clients to double-check their policies is before it happens.
"Your clients should have a comprehensive homeowners policy that provides the broadest protection available on the dwelling and its contents, and they should understand the replacement cost clause," says Lindsay. "Is it up to a dollar limit, or is it up to the home replacement cost plus twenty-five percent?
"Make sure they have an up-to-date inventory list. They may need separate fine art or other coverage if they have an art collection or additional valuables that they want to make sure are covered."
Another precautionary step your clients can take is to protect their property by removing fuel sources from around the home and clearing brush from the grounds. Even the choice of vegetation on the property can make a difference.
"Encourage your clients to not have those Italian cypress trees that look beautiful but go up in flames like matchsticks," says Lindsay.
"A carrier's recent webinar showed one of those big cypress trees, which are popular in California, where a family had been setting off fireworks in the driveway," adds Gallatin. "These trees are green on the outside but dry and brittle on the inside. One of the fireworks got into a tree that lined the driveway and ended up burning down the whole house.
"Agents need to stress the importance of mitigation efforts. The carrier's webinar had pictures of homes during the last Malibu wildfire, and you could tell who worked around their houses because those houses were still there and others were gone."
After a wildfire occurs and the home owners are cleared to return and review the property, "make sure they put in a timely claim with their insurance provider and that they're working on getting their inventory list together," Lindsay says. "Always go back and review their coverage."
If your clients need additional information about any of these steps, point them toward the numerous resources available online.
"We like the IAFC's (International Association of Fire Chiefs') 'Ready, Set, Go!' guidelines," says Dolan. "They advise that home owners get 'Ready' before an event by doing what they can at the property level to harden against risk. Agents should emphasize securing adequate coverage that reflects the current actual replacement cost of the home.
"At the 'Set' stage, home owners should have a go-bag packed and be ready to 'Go' well before a threat approaches. Agents can reinforce the importance of this preparation, from reminders to pack prescription meds and important documents to sharing local resources. And after a wildfire occurs, agents should be in close contact to advise clients and guide them through the claims process," he concludes.
Final thoughts
The California wildfires in 2017 and 2018 took a heavy toll on the insurance market for wildfire-exposed homes.
"We're experiencing a hard market; people are having difficulty getting homeowners insurance in wildfire areas," Lindsay says. "We need to be talking to our clients about how to make sure that their homes are the best risk possible that an underwriter is going to entertain."
"We're trying to have a positive outlook for 2020," adds Gallatin. "Last year was one of the better years; there were some fires, but it wasn't as devastating as 2018. We're keeping our fingers crossed right now."
For more information:
Burns & Wilcox
www.burnsandwilcox.com
Maprisk
www.maprisk.com
Private Risk Management Association
www.privateriskmanagement.org
Risk Placement Services
www.rpsins.com
Sage Insurance Holdings, LLC
www.sageunderwriters.com
Wildfire Defense Systems, Inc.
www.wildfire-defense.com