This agency executive believes in herself and is committed to mentoring others
This month we present the second article in our new series, Broken Glass, in which we talk with a woman in the independent agency business about the challenges and rewards she has experienced throughout her career. This month we visit with Maura Derstein,
chief operating officer of Lacher & Associates, located north of Philadelphia, and an advisor with InCite Performance Group.
Most women whose insurance careers span several decades can share less-than-treasured memories of various forms of gender-based discrimination that range from subtle to outrageous. Younger women in the industry, who benefit from the hard-won gains of the women's liberation movement, have a different story to tell.
So it is with Maura Derstein, the subject of this month's Broken Glass profile, who graduated from college in 1994 with a business degree and embarked on her first career with solid confidence in herself and her abilities.
"From the time I was very young, I always held some position in sales," Derstein says. "When I was a senior in college, my freshman-year mentor was in a management training program for Zale Corporation, the retail fine jewelry chain. She told me she thought this program would be a great fit for me and asked if I'd be interested. I decided to apply for the program, because I liked the security of knowing I'd have my first job out of college, figuring I'd take the training and then move on to the kind of job I really wanted.
"I started working for Zales before I graduated and was there until 1997," Derstein continues. "To my surprise, I discovered that I loved working there. I loved leading a team in a retail environment; I loved the fast pace of the job; and I loved being able to help customers celebrate special occasions and memories. Selling jewelry is always fun, except when it's the 'doghouse' gift a customer buys as a token of atonement for something he or she has done to hurt or offend someone close. Even in that situation, I liked knowing I was helping the customer get out of that doghouse.
"As a store manager, my average work week was 60 hours, and during the holiday season I had to open and close the store for extended hours every day," Derstein says. "In all, I worked at six Zales stores, and I really enjoyed the challenge of helping to turn around a store where results needed to improve. I feel fortunate that I was able to do so many different things
at a very young age."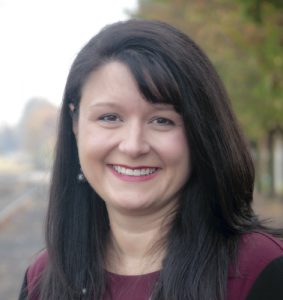 Change and challenge
In 1997, Derstein was managing a Zales store outside of Philadelphia and decided to explore other career opportunities. She wanted to achieve a better work/life balance, and only one regional manager position with Zales was available in the Philadelphia area. "The day I gave my notice, I was offered the opportunity to interview for a new regional manager position in the area," she recalls. "I was grateful for the opportunity, but declined; I was ready for a change in my career." She heard about her current employer, Lacher & Associates, from her mother-in-law, who was talking with Greg Lacher, the founder of the firm, at a basketball game, and she encouraged Derstein to contact him.
"I met with Greg and learned about the agency's culture and purpose, and how establishing and working at Lacher turned into his perfect insurance career. When I left his office, I said to myself, 'I can see myself working here.' At Zales I was able to help people celebrate important and usually happy events in their lives, and I wanted to find another job where I would have that same sense of purpose. I realized that insurance is a high calling, where I'd have the opportunity to work with families and businesses at important points in their lives. With business clients, I could help to protect employees and ensure that they could enjoy their lives without having to worry about their security," Derstein says.
"I was excited about working at Lacher & Associates and began my career there in 1997; I'm now in my twentieth year with the agency. I was hired as a commercial insurance producer. At that time, I was the firm's only female producer. I had held that position for about a year when Greg asked if I'd be interested in moving to the personal insurance side. I agreed, and was gratified that I was able to produce a high volume of business. I continued to produce small commercial business.
"I had been in the personal space for about eleven years when the manager decided to leave the agency," Derstein says. "I was eager for the opportunity to play a leadership role. By that time, Mark and Chad Lacher, Greg's sons, were working in the agency. Mark worked with me in the personal insurance department, and it was decided that he and I would make a great team to lead the department.
"A couple of years later, Mark decided to take over the employee benefits team to build that division, so I started to manage the personal insurance department on my own. Then I was offered the opportunity to lead the agency's entire sales team. After several years as director of sales, I became chief operating officer."
The agency's leadership team, consisting of Derstein, the Lacher brothers, and two other directors, each year identifies a specific area on which each of them will focus. "This year my focus is on new business development and leading our advisor team," Derstein says.
As a woman in a leadership position with a large agency, Derstein certainly is in the minority, but she's faced none of the blatant discrimination and marginalization that were experienced by women in business in an earlier era.
"When I went to carrier meetings, I was usually one of just a few women in the room," she says. "I never felt that was a negative. I've never been confronted with the attitude 'You're just a girl, so you can't do this.' I'm quite confident in myself, and I think that comes across in business meetings. Projecting confidence inspires others to see me as a strong person with leadership abilities.
"As one of just a few women in a room, I believe I need to be sharp, confident, and prepared—maybe even more prepared than the other individuals in the room," Derstein continues. "When I have an opportunity to speak, I really need to shine. The insurance business continues to be dominated by men; and although many women work in the industry, relatively few hold executive positions."
Recalling her time at Zales, Derstein comments that she was inspired by the fact that both the CEO and the executive vice president were women. "They modeled behavior and attitudes that I've found valuable over the years of my career. From that experience, I learned that what matters is ability rather than gender. I always felt that I needed to bring my best game to the table, and I still feel that way today."
Even since the 1990s, when Derstein began her insurance career, she remarks, attitudes toward women in the business—and women's perceptions of themselves—have undergone significant change.
"When I was managing the personal insurance department, a female account manager asked me, 'Can you come out and look at this vehicle to see if it will meet the carrier's requirement for covering physical damage on older vehicles?' This woman was quite a bit older than me, and I said, 'Can you help me understand why I need to do this instead of you?' She replied, 'Well, that's the writing agent's job. We're not allowed to make that decision.'"
When Derstein became manager of the personal insurance department, she remarks, "I obliterated that practice and worked hard to help the account managers understand that they have a professional position; they're credentialed just like the producers, and in some ways they're more knowledgeable than the producers. We need each other. The producer-account manager relationship is interdependent, and they need to rely on each other to achieve the agency's goals and provide an outstanding client experience.
"I think the service side has evolved and professionalized at a greater pace than any other positions in an organization," Derstein comments. "If you look at a typical account manager role today versus what it was twenty years ago, you can see how it has changed for the better. In the past, account managers waited to7 be told what to do and, in a sense, functioned more as order takers than as professionals.
"Today the attitude of leadership in our agency toward account managers is: 'You are a professional in your area. I want you to collaborate with me and tell me what you think.' There's much more of a peer-to-peer relationship between producers and account managers. We want our account managers to initiate actions on their own and make decisions," she asserts.
A word to young women
Derstein unquestionably has achieved notable success in her insurance career and is committed to mentoring members of her agency's team, as well as clients of InCite Performance Group. What advice would she offer to young women who may be considering a career in the industry?
"Let's face it: insurance isn't a career that most young people dream about pursuing," she says. "I certainly didn't. After twenty years in the business, I can say that my career in insurance is so rewarding. I love being able to partner with our clients and establish trusting relationships with them. I get to help them be successful and keep their team members safe. I get to help them achieve not only financial goals but also other important goals, whether they're personal or business related. I find it exciting to be part of the life cycle of a family, from the birth of their first child till the time they send their oldest off to college and beyond to retirement. I consider it a high honor to accompany them on their journey and provide them security and financial stability. I ask myself: How can I help our clients enjoy each step of their lives, both personal and business?
"If you think insurance isn't fun, you're mistaken," Derstein asserts. "It definitely is. It's a high calling with high purpose, and I'm privileged to enjoy the opportunity—and the fun—of interacting with good people every day."
By Elisabeth Boone, CPCU