CONSTRUCTION INSURANCE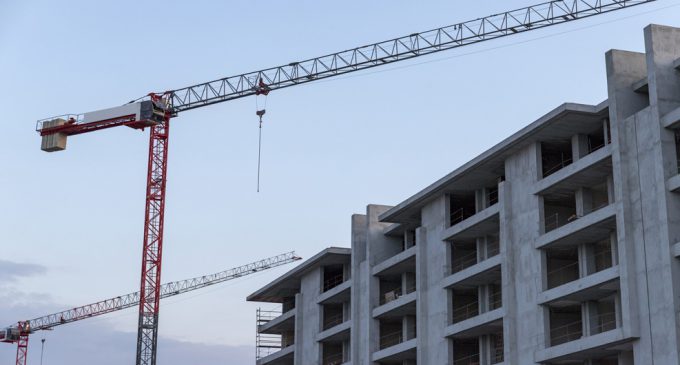 Specialty Lines Markets
CONSTRUCTION INSURANCE
The market hardens (a little) for a business eagerly seeking skilled workers
By Joseph S. Harrington, CPCU
The Commercial Construction Index is fairly new, but it reached a dubious milestone in the first quarter of 2019. For the first time since the index was inaugurated in 2017 by the USG Corporation and the U.S. Chamber of Commerce, the survey it is based on showed declines in all three of the measures it uses to determine confidence in the industry's immediate prospects. Those three measures are the backlog of existing projects, the level of confidence in new business, and anticipated revenue for the coming year.
By most measures, these should be booming times for construction firms and their insurers and, in some respects, they are. Buoyed by persistently low borrowing costs, we've seen private and public construction completely recover from the real estate recession of the last decade.
Yet there is a nagging sense that Americans are not seizing the possibilities of the moment, as population growth slows, home ownership lags behind levels reached in previous decades, and the widespread desire for federal infrastructure spending fails to bring about corresponding action.
Perhaps most of all, the construction industry is a victim of its current successes and past failures, as it struggles to replace hundreds of thousands of workers lost in the last recession.
Job openings
Nearly 80% of contractors are seeking to add staff, according to a survey by The Associated General Contractors of America (AGC); more than a third of them hoped to expand their staff bymore than 10%. Yet, a roughly equivalent percentage of respondents said they are struggling to find skilled workers.
An estimated 600,000 construction tradesmen lost their jobs or retired in the wake of the 2007-2008 real estate collapse. Many never returned.
Observers find that the labor shortage has a direct impact on jobsites, as contractors are forced to increase their bid rates (to support competitive wages), strain to meet deadlines, and address growing safety concerns related to worker fatigue.
"We are seeing the lowest construction unemployment rate in 20 years," says Scott Grieco, president, middle market for The Hanover Insurance Group, Inc. "Contractors are increasing employees' hourly pay, and employees are working longer hours to meet demands to complete projects in compressed schedules.
"This creates concerns about worker fatigue and raises the need for additional training and safety awareness," he says. "Contractors also need to be especially vigilant about the quality of workmanship."
The impact of the labor shortage extends to construction sureties, according to Gary Dunbar, divisional president of Great American Insurance Group Bond.
"The shortage of labor increases risk for surety companies if contractors pursue and commit to new work before finding adequate skilled labor," he says. "Prudent contractors will limit the amount of work they take based on whether skilled labor is available. They know that, without enough skilled labor, their risk of an unsuccessful project increases."
Technology support
In response to the labor shortage, construction firms are stepping up their efforts to incorporate labor-saving and value-adding technologies into their operations. These include drones, robots, 3-D printers, and autonomous equipment, plus increased utilization of building information modeling (BIM)applications that project detailed images of project designs and specifications.
Paired with the increased reliance on technology is a trend among building contractors to add more design capabilities. Some 43% of respondents to a subsequent AGC survey on risk management indicated that they plan to add in-house design capabilities.
"This year, survey respondents identified several new risks—most of which weren't even on a majority of contractors' radar screens three years ago," reads the AGC risk management report. Those risks included cyber security, software interoperability, artificial intelligence, and robotics.
"New technological tools and capabilities [have] enabled many organizations to make data-driven risk management decisions," the report reads. "Data collection and management software are now being used by 37% of respondents for everything from project management to jobsite connectivity to data analytics."
For insurers and their producers, this means that construction accounts are no longer simply aggregations of artisans and equipment but are highly automated and integrated organizations that increasingly require cyber, professional, and equipment breakdown coverage to supplement their traditional general liability, commercial auto, workers compensation, and inland marine coverages.
Indemnity and insurance
The labor shortage and technology challenges have pushed contractual issues regarding loss indemnification and insurance requirements further down the list of construction concerns, but the push and pull over who has liability continues to be an issue for project owners, contractors, and insurers.
According to the 2018 AGC/FMI Risk Management Study, for years, contractors have noted that project owners have been devising contracts to place more and more risk, including design and engineering risk, onto general contractors and their subcontractors. FMI Corporation provides management consulting and investment banking services to engineering and construction firms.
In a 2019 column in Views & Visions, a publication of law firm Bowles Rice LLP, Taylor Johnson, vice president of Mountain State Insurance Agency in Charleston, West Virginia, noted a shift away from "fault-based principles" to "party-based principles" in the language of risk indemnification agreements in construction contracts.
Under the party-based approach, a contractor is expected to indemnify and hold the project owner harmless for injury or damage to nearly all persons and property involved in the project, regardless of who owns the property or hires the persons, or the fault of others.
Johnson understands why contractors might balk at such provisions, but he adds that "the goal of party-based indemnity principles is to eliminate the difficulty of determining proportionate fault and the corresponding legal fees.
"When insurance programs are tailored to properly insure these indemnity obligations, party-based indemnity provisions work very well," Johnson explains.
"We are seeing a variety of trends with contractual arrangements," says Grieco. "Some project owners are requiring higher limits on the underlying auto and general liability, and they are not accepting umbrella/excess policies to satisfy those requirements out of concern for horizontal depletion."
Horizontal depletion refers to the depletion of liability limits by a range of different coverages on the primary level, such as cyber, environmental, professional, and employment practices liability insurance. Depending on how a contractor's insurance package is structured, payments under liability sub-limits could exhaust the primary coverage before it hits the umbrella/excess retention, potentially creating a coverage gap or a large, uninsured loss.
Softly hardening
Late in 2018, before it was acquired by Marsh & McLennan, the internationally known brokerage JLT Specialty predicted a hardening of the market for construction coverage in the United States.
"Soft market conditions are beginning to give way to a harder market characterized by limited capacity and reduced numbers of international carriers," JLT Specialty reported in its article "Trends in the Global Insurance Market." It pointed out that the sector has shown it is "not immune from billion-dollar events" and that builders risk, in particular, has experienced "sizable losses" from fires in wood-frame construction.
Yet, for all that, JLT Specialty concluded that "an ultra-competitive marketplace, combined with a push for growth from top line carriers, a modest improvement in capital gains and reduced tax liabilities, should continue to ensure that this class of insurance remains a buyers' market."
As a construction surety provider, Dunbar says the abundance of available work is inflating contractor backlogs and stretching their surety capacity. In turn, he finds that surety companies are stretching their underwriting standards to accommodate the surety needs of their clients.
"Much of the available construction work is for private commercial construction, which may not require surety bonds," he says. "But non-bonded work is still counted in a contractor's backlog when sureties determine the amount of credit they will extend to a contractor.
"With inflated contractors' backlogs and a shortage of skilled labor, now is a more treacherous time for owners of private commercial projects," Dunbar adds. "It's time for private project owners and lenders to seriously consider requiring surety bonds."
In light of these transformations, "independent agents can play an important role in guiding their construction clients to insurance solutions that address evolving exposures and requirements," Grieco says. "Working with carriers that are experienced and committed to this space can provide clients with critical risk prevention and mitigation resources, deep industry knowledge and good claims management services."
As for carriers, he concludes, "this trend creates opportunities for those who are investing in strong loss control and risk management services."
For more information:
Great American Insurance Group
www.greatamericaninsurancegroup.com
The Hanover Insurance Group
www.hanover.com
The author
Joseph S. Harrington, CPCU, is an independent business writer specializing in property and casualty insurance coverages and operations. For 21 years, Joe was the communications director for the American Association of Insurance Services (AAIS), a P-C advisory organization. Prior to that, Joe worked in journalism and as a reporter and editor in financial services.