EVERYTHING OLD IS NEW AGAIN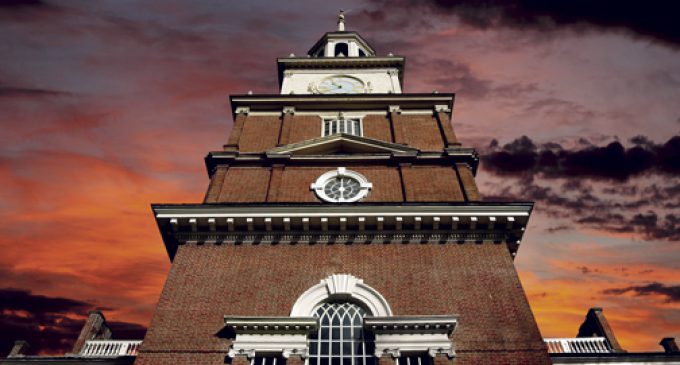 Against the backdrop of its rich history, The Philadelphia Contributionship rebrands itself while retaining core values
Decades ago, it was the fashion for insurers to shorten their formal names, presumably to make them appear to be more in step with the modern era. The Insurance Company of North America became INA … Government Employees Insurance Company became GEICO … the Hartford Fire Insurance Company became The Hartford … and the list goes on.
Still proudly bearing the name it was given when Benjamin Franklin and his firefighter colleagues established it in 1752 is The Philadelphia Contributionship for the Insurance of Houses from Loss by Fire, the oldest successful insurance company in the United States. The company is justifiably proud of its long and colorful history, and that history is a significant component of a rebranding initiative being undertaken as The Contributionship celebrates the 265th anniversary of its founding.
Among the firm's prominent early policyholders were three signers of the Declaration of Independence: John Morton, Robert Morris, and Benjamin Franklin. The company also insured the fourth U.S. president, James Madison.
"We operated throughout the colonies for 32 years with no competition," says Robert Whitlock, FCAS, MAA, president and chief executive officer. "In 1784 our first competitor was founded: the Mutual Assurance Company.
"One of The Contributionship's early underwriting guidelines was that it would not insure houses that had trees in front of the property," Whitlock continues. "The reason was that trees would hinder firefighters' efforts and make the loss more severe. The founders of the Mutual Assurance Company saw an opportunity, and they began to insure properties that had trees.
"From that time forward, it was known in the industry as The Green Tree. It operated around the corner from us for many years, and the competition it presented helped to change the products offered by The Contributionship.
"In the early days, The Contributionship issued policies for seven-year terms," Whitlock explains. "In the early 1800s, The Green Tree began to offer policies that did not expire, which allowed them to avoid the expenses associated with processing renewals every seven years. That proved to be attractive to consumers of the day; so in 1810, The Contributionship responded by offering perpetual fire policies that were issued with no expiration date and remained in force until they were canceled by the policyholder.
"To this day," he adds, "we still have about 3,500 perpetual policyholders who have been with us for many years. For example, located near our office is Carpenters' Hall, an historic building that hosted the first Continental Congress. We began insuring it in 1773, and we still have a policy covering the building."
Speaking of historic buildings, The Contributionship has occupied its current structure on 4th Street since 1836. In 1979, the building was named a national historic landmark.
Originally established as a fire insurer, in the late 1940s The Contributionship issued its first policy with extended perils coverage. A homeowners multi-peril policy was issued in the 1950s. And in 1986, the company acquired Germantown Insurance Company, which was licensed in several states, giving The Contributionship a platform for future expansion.
"Geographic expansion has been a key part of our strategy for some time," Whitlock says. "For 233 years, we were a single-state company, and in 1985 we became licensed in New Jersey. In 2011 we began writing business in Delaware; in 2014 we entered Maryland, and this year we began operating in Virginia."
In its five-state territory, the firm writes homeowners, dwelling fire, personal liability, and umbrella. In 2016, direct written premium was $137 million, assets totaled $446 million, and surplus was $252 million. The company is rated A (Excellent) by A.M. Best, with a stable outlook; it has been rated A or better for 95 consecutive years. Today, it insures 134,000 policyholders on a term basis and about 3,500 on a perpetual basis. It is represented by some 600 independent agents.
Agents as partners
In appointing agents, The Contributionship looks for several key qualities, says Christopher Oehrle, vice president of marketing and agency relations. "First is the character of the people in the agency. Do they understand and care about their clients' insurance needs as opposed to just making a sale? Does the agency have standards in place to ensure it provides the right coverages to meet clients' needs? Do they guide and educate clients about exposures and coverages? Do they take a professional approach to development of business, and is there a strategic need for us in their overall agency plan?
"It comes down to two key questions," Oehrle continues. "Before asking the first question, we educate the agent about who we are, what we do, our history, and the products we offer. Then we say: 'Now that you know about us, do you believe that an appointment with The Philadelphia Contributionship would help your agency satisfy a currently unsatisfied need, whether for your staff or your clients?' An affirmative response to that question is a positive for us. Our second question follows-up on the first: 'Would partnering with The Philadelphia Contributionship help you develop strategies to pursue new business that you otherwise would not be able to pursue?'"
As a former agent, Oehrle understands the elements of a successful agency-carrier partnership and uses his knowledge to enhance agency-company relationships. "I know what motivated me to maximize my relationships with carriers I represented, and I brought that understanding with me when I joined The Contributionship two years ago," he says.
"First, we need to find ways to improve ease of doing business with our company; this business is more complicated and fast-paced than ever, and a company that isn't easy to do business with doesn't do much business.
"Equally important," he says, "we must define what we'll do to help our agency partners grow and make money, and then find ways to maximize the value we bring their clients who place their insurance with us.
"We're constantly striving to be true innovators," Oehrle declares. "We introduce new products, as well as enhancements to existing products. We've made a significant investment in improving our client management system to make it as easy and intuitive as possible.
"What's more, our underwriting and marketing units are continually trying to make us the best we can be. We assign each agent to a specific underwriting team whose members are knowledgeable, experienced people with whom the agent can build relationships. Underwriting is not always a black-and-white scenario. As our agents and underwriters come to know, trust, and respect each other, that dynamic works to our mutual benefit.
"Finally," Oehrle notes, "we've found an agency model that works for us in terms of how agents source business that they place with us. Our territory sales managers live and work in the areas they serve. They regularly visit with our agents and share best practices as they develop close personal relationships. These discussions generate some of our best product ideas, and because we're not a $10 billion company, our size and focus let us turn an agent's idea into a product and get it launched in a relatively short period of time."
Competing in a tough market
As noted, The Contributionship doesn't offer personal auto insurance. How does that affect its ability to win business in today's highly competitive personal lines market?
"If you want to make a difference in this business, you need to be different," says Oehrle. "A lot of companies sell all lines of personal lines, but not many of them do what we do for our agents. As a property-focused company, we do a great job on the four-bedroom center hall Colonial suburban home in terms of coverage and price.
"We also do things that our competitors don't do," he adds. "For example, we provide unique endorsements. We will write multiple investment properties in the name of an LLC, whereas many insurers will tell agents to place that business in the commercial market. We insure homes in urban areas, and we're committed to the urban market. We write properties with flat roofs. These differentiators let our agents enjoy a competitive advantage in their local marketplace.
"In some cases, our agents don't control the auto," Oehrle continues. "Maybe the client wants to insure a home and has bought auto coverage from, say, State Farm. We're competitive in those situations, too. Those carriers usually pressure the insured to buy the package. They don't hear that from us, because we're a property-only company.
"Also, if the agent does write the auto with another carrier, we provide a discount off our policy to reflect that close agent-client relationship. This gives the client an agent bundle rather than a company bundle; agent bundles often offer a better price than another carrier's package.
"We're realistic about the importance of price in the purchase decision," Oehrle says. "Our products are very competitively priced to attract and retain good clients who show pride of ownership in their homes. Our philosophy of providing excellent coverage at a competitive price continues to drive our company's growth and success."
Christopher Strohl, CPCU, vice president of underwriting, says The Contributionship's underwriting philosophy focuses on discipline and consistency, which "allows us to be a stable and competitive market for our agents, from the risk-level decision-making we do to the products and rates we establish."
Like the marketing and agency relations department, Strohl says, his unit is strongly committed to building solid relationships with agents that can withstand situations where underwriters must decline a risk that doesn't meet established guidelines.
"I rely heavily on data and analytics to manage our daily operations," Strohl says. "On every property we insure, we collect a large amount of data. Like most companies, we engage in frequent re-underwriting initiatives. Data we amass lets us connect with producers in a way I believe other carriers don't. We share information with our agents, and whenever we notice a trend in the inspections we conduct or the quality of the business in a certain neighborhood, first we talk about it among ourselves, and the next conversation is with the agent. We have a vested interest in keeping those relationships positive, and one way we do that is by identifying problems early and getting things back on the right track.
"We know it's no easy task for our marketing team to appoint, train, and then earn a steady flow of business from a new producer, and underwriters have a big stake in making that process work. It's important that the good feelings that have been established during the appointment process be maintained throughout the producer's interactions with The Contributionship, and our underwriters strive to achieve that outcome. Our goal is to ensure that line underwriters are consistent in their decision making and that they're appropriately conveying our underwriting appetite to our producers, especially new appointees," Strohl says.
"Within our staff and in meetings with other managers, I've made a strong effort to establish a culture of awareness of the company's big-picture goals. We need to understand the rationale for our strategies and, in turn, provide that rationale to agents with each risk-level decision."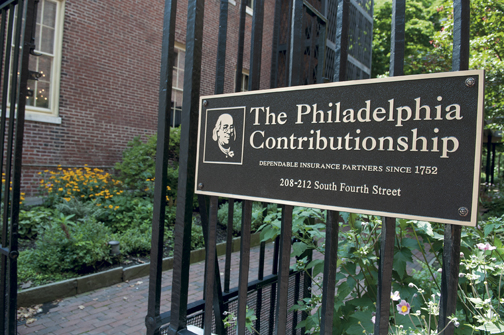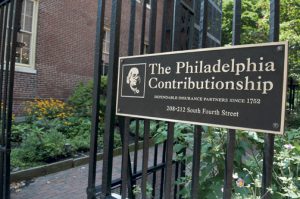 Heading up the claims unit is Brenda Peremes, vice president. "We work as a team to provide agents and policyholders personalized service and to make sure insureds are made whole after a loss," she says. "Our team consists of both home office and field staff that handle a claim from start to finish. We don't move files from one rep to another, depending on complexity; claims are assigned to one person up front after the level of complexity has been determined."
She adds, "We maintain partnerships with contractors, attorneys, and engineers, so we're able to conduct a thorough investigation of a claim. Our goal is to settle each claim as fairly as possible for the insured. We provide 24/7 on-call service, so an adjuster is always available in the event of an emergency."
Challenges and opportunities
Even organizations doing everything right are confronted with challenges. The Contributionship is no exception.
Whitlock identifies three challenges his company faces that he believes the industry also faces. "First, how do we deal with rapidly changing technology and continue to make prudent investments in new technology? That can be an opportunity for us because, thanks to our size, we can be more nimble than large companies in developing effective solutions and delivering them to our policyholders relatively quickly."
The next two challenges are people related. "The industry faces a major challenge to attract and retain new talent," he says. "We hear about Millennials and how they think and work. The insurance industry is mature and can be slow to change, so I think we need to reexamine how we approach the people part of our business so we can attract the best and the brightest to our company and our industry."
Tate agrees. "We need to attract and retain people in an insurance-related employment space that is very tight," he comments. "We approach this in a number of ways. We focus on creating a culture that not only encourages the kind of behavior that contributes to achieving our objectives, but also makes us an employer of choice.  This culture includes an expectation of excellence, continuous improvement, and staff empowerment.
"We offer competitive compensation, including a short-term incentive program for all employees based on achieving companywide financial goals and individual performance goals," he adds, "and we support employee development through tuition reimbursement, mentoring relationships, and experiential learning opportunities."
A third challenge, Whitlock continues, is figuring out how to meet the needs of a new generation of insurance buyers. "We need to think about what coverages are important to young people and how they want to buy those coverages."
Tate adds, "We are continually looking for ways to differentiate ourselves among our policyholder and independent agent customers. We believe the service quality we provide is an important differentiator, and commitment to outstanding service must remain a high priority for us and part of our cultural DNA."
Another key challenge, Oehrle explains, is establishing brand awareness among agents and prospective policyholders. "We're the oldest successful insurance company in the country, but we don't want to be the world's best-kept secret," he says. "After 265 years of being branded as The Philadelphia Contributionship and using that name in our logo, our tagline, and all components of our visual identity, we decided to jump into the brave new world of rebranding. We led the charge in the marketing department, but it was a total team effort, from the oldest to the newest employee. We launched our new brand internally last December and externally on our 265th anniversary earlier this year.
"We're still steeped in our history and connected to our roots, but we no longer look like a stodgy old insurance company," Oehrle says. "Through a variety of activities, we're working to communicate the new brand to our agents, policyholders, and community. We're involved in more charitable and community events than ever. Over the July 4th weekend, we were sponsors of the Welcome America festivities that lasted for about a week. We also incorporated the image of our founder, Ben Franklin, into our new brand."
He adds, "We're bringing the history and traditions we're so proud of into the present, with a modern look to make the company and the brand more appealing to today's consumer."
"We have a long, rich history that dates back 265 years, and we think our future looks extremely bright," Whitlock concludes.
By Elisabeth Boone, CPCU
For more information:
The Philadelphia Contributionship
www.1752.com