FLOOD INSURANCE CHANGES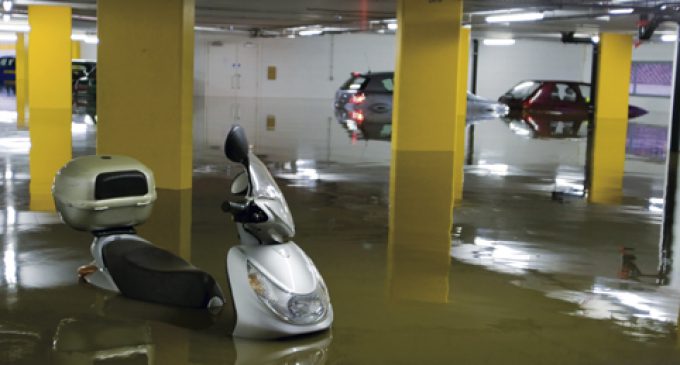 Is this the year that private coverage finally takes hold?
As summer 2017 got underway, congressional Republicans were struggling to enact major components of their agenda on trade, taxes, and healthcare.
Things appeared to be moving along fairly smoothly, however, on an issue of particular concern to property insurers: reform and reauthorization of the debt-plagued National Flood Insurance Program (NFIP), due to expire on September 30.
The House and Senate have been deliberating on proposals to, among other things:
Implement policy rating on a sounder actuarial basis
Utilize replacement cost rather than actual cash value as the basis for premium determination
Expand the premium credits available for implementing flood loss mitigation measures
Reduce losses for properties subject to repetitive claims
Repeal requirements that commercial and multi-family residential properties in flood plains be insured under the program
Votes on flood bills in each chamber were expected as early as July.
An overriding goal of NFIP reform measures is to promote private insurer participation in providing flood coverage. To that end, Congress in 2014 enacted legislation requiring mortgage lenders and federally sponsored secondary mortgage market agencies to accept private flood insurance policies as protection for their collateral, provided the coverage under those policies is at least as broad as that in NFIP policies.
"Offering flood insurance on every quote, whether personal or commercial, will begin to make more sense to insurance producers who will see it as an additional revenue stream as opposed to a complex, hassle-filled, often money-losing service."

—Craig Poulton
Chief Executive Officer
Poulton Associates
The measure was regarded as a good first step by most mortgage lenders, but the American Bankers Association and other trade groups have said it is still too burdensome and, as a result, impedes the development of a robust private flood market.
On the other hand, the nation's flood plain managers have expressed concern that allowing private flood insurance will lead thousands of communities to stop participating in the NFIP, thus weakening the program's risk identification and mitigation programs and potentially leaving consumers and taxpayers on the hook for insufficient coverage.
Ready to go
Private insurers accounted for about $376 million in flood premium in 2016, a little more than 10% of the NFIP's premium, according to the Insurance Information Institute. More than half of the private sector premium was attributable to one entity, FM Global, a leading player in the market for "difference in conditions" coverage, which essentially adds coverage for earthquake and flood losses to commercial property accounts.
Private insurers are expanding their role in residential and commercial flood insurance, however, and are prepared to do more.
"It appears that Congress will remove the last vestiges of barriers to the private flood insurance market during the next few months," says Craig Poulton, CEO of Poulton Associates, Inc., a firm based in Salt Lake City that provides specialty coverages on a wholesale and retail basis. "Once this process [of reform] takes hold, the NFIP should, by operation of the free market, become the insurer of last resort."
John Dickson, president of NFS Edge Insurance, a Montana-based provider of private flood coverage, agrees. "The U.S. private flood insurance market is growing at an incredible pace, but has a long way to go in reaching its full potential," he says. "The groundwork laid by [previous legislation] has set the stage for private flood insurance to insure an increased number of U.S. households against flood."
Of course, private insurers can increase their role in flood coverage only if they have the means to classify and select risks.
"The private flood market is largely based on risk selection, not a take-all-comers approach or a market of last resort," says Bob Ritchie, president and CEO of Tampa-based American Integrity Insurance Group. "We believe the flood peril [will become] a more insurable exposure, [with] premiums lower than those of the NFIP."
New tools
The growth of private flood insurance is driven, in part, by the development of new tools and techniques for identifying and underwriting flood risk.
"In recent years there has been a revolution in tools available to measure catastrophic risk in general and flood risk in particular," reads an April 2017 report on flood insurance by the American Academy of Actuaries (AAA).
According to the report, carriers now have access to flood risk models that incorporate data related to rainfall, wind speed, land cover, land use, surface roughness, geology and soil type, elevation, flood defense, flood control measures, construction, and more into at least three categories of modules:
"Hazard-event generation modules," which calculate the frequency risk of flood events, including their annual probability of occurrence
"Hazard-local intensity modules" that calculate the probable depth of inundation in each location
"Engineering modules," which estimate the severity of flood damage based on the age and characteristics of insured structures
The AAA report adds that new flood risk models facilitate placements of flood reinsurance, as the models establish a "common language for evaluating the expected loss," making it easier to" administer, standardize, and customize" flood reinsurance transactions.
"Recent advancements in technology give agents the ability to assess the risk of flood more easily," says Dickson. "As a result, new coverages are available, such as options for covering loss of use and cleaning out swimming pools." Private insurers are also introducing coverage for flood loss to basements, which is not covered under a standard NFIP policy.
The growing availability of at least limited loss of use coverage in private flood policies is a clear contrast with the NFIP, whose policies provide no coverage for the added costs incurred by residents displaced from flood-damaged homes.
"This is one more advantage of private flood offerings over the NFIP," says Dan Pringle, assistant vice president of product management at American Integrity, which recently announced a new homeowners flood endorsement in Florida that includes up to $5,000 in coverage for additional living expense following a covered loss.
"For more than 15 years, we've allowed flood insurance buyers to purchase additional living expense and business income coverage," says Poulton. "We think it is very likely that our competitors will find it necessary to begin offering loss of use coverage."
Opportunities and barriers
"Fully unleashing the private market will change everything," Poulton adds—for agents and brokers as well as carriers and insureds. "More and more producers will begin offering flood coverage, as the private market makes quoting and issuing flood insurance policies far less time-consuming.
"Offering flood insurance on every quote, whether personal or commercial, will begin to make more sense to insurance producers who will see it as an additional revenue stream, as opposed to a complex, hassle-filled, often money-losing service."
Getting to that state of affairs presumes, of course, that Congress follows through on action this year, and that continued action is undertaken to relax the administrative and compliance burdens of placing flood insurance.
"The U.S. private flood insurance market is growing at an incredible pace, but has a long way to go in reaching its full potential"

—John Dickson,
President of NFS Edge Insurance
"Agents are challenged by banks' continuing reluctance to accept private flood policies unless they meet certain conditions," says Pringle. "[Among other things], private flood insurance coverage must be at least as broad as that provided under a standard NFIP policy, with comparable deductibles, exclusions, and conditions."
Dickson adds that "if flood insur- ance continues to be characterized by complexity and high prices, agents are not equipped to deliver meaningful solutions that increase the population of homeowners protected against flood."
While private insurers are eager to see a reduced government presence in flood insurance, there remains an abiding need for legislative and regulatory action to sustain demand for the line.
"When it comes to flood insurance, the fact is, adequate spread of risk depends on governmental mandates," says Poulton, an enthusiastic proponent of the free market.
"If flood coverage is not mandated by government, it is not purchased by home owners," he adds. "So, it is unfortunate, but true, that we must continue creating demand by maintaining requirements that, for structures located in low-lying areas, home
owners must buy flood insurance."
For more information:
American Integrity
Insurance Group
www.aiicfl.com
NFS Edge Insurance
www.nfsedgeinsurance.com
Poulton Associates
www.poulton.com
By Joseph S. Harrington, CPCU