HOSPITAL INDEMNITY INSURANCE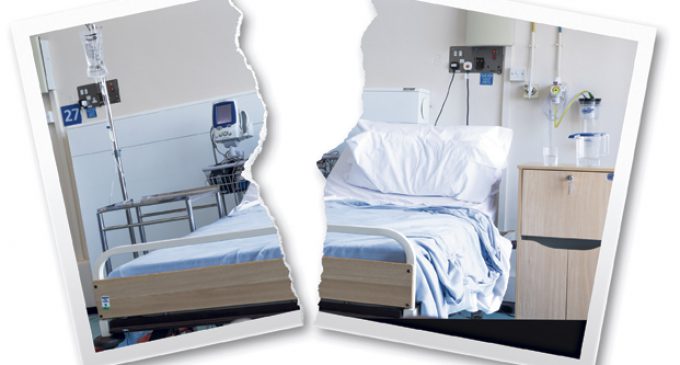 HOSPITAL INDEMNITY INSURANCE
Employer interest is growing and this voluntary benefit is becoming a valuable addition to benefit programs
By Len Strazewski
Once thought to be a luxury, supplemental health coverage that provided little return for the premium paid for most policyholders, hospital indemnity insurance plans are fast becoming valuable and important voluntary benefit additions to an employee benefit strategy.
Often coupled with other voluntary benefits such as critical illness insurance and accident insurance, hospital indemnity insurance helps employees fill in financial gaps created by newer high-deductible health plans, and shapes a safety net of resources that can match family demographics.
And employer interest is growing at a steady rate as employers realize how their employees need flexibility and support—up about 24% since 2016, according to a Society for Human Resource Management (SHRM) employee study. In 2018, about 26% of employers offered voluntary hospital indemnity insurance, up from 21% in 2016.
The growth is consistent with trends for other voluntary benefits. In 2018, about 40% of employers offered critical illness insurance, up from 31% in 2016 and 83% offered accidental death and dismemberment insurance, up slightly from previous years.
"Hospital indemnity plans have gained traction in the past few years," says Alan Hirschberg, vice president of supplemental health products at MetLife in New York. "More employers are looking at hospital indemnity plans as part of their benefit offering, especially as high-deductible health plans have become more and more common."
High-deductible health plans have grown dramatically in the past two years, provided by 29% of employers in 2018, up from only 19% in 2016, according to the SHRM study. The plans save employers money but increase the economic liability of plan participants. Old-style hospital plans paid benefits only when policyholders were hospitalized, but more recent plan designs are broader in scope.
Product features
Plan benefit amounts have increased, there are fewer limitations, and the focus on wellness has continued with new benefit features, says Hirschberg. The benefits now focus on needs resulting from hospitalization, but are no longer restricted to expenses occurring during hospitalization, he notes.
"Hospital indemnity plans have the greatest opportunity for utilization as employees can plan for some hospital stays, knowing their out-of-pocket costs can be high. A hospital indemnity plan can help employees cover those costs and can allow an employer to save by offering lower cost plan options," Hirschberg says.
Wendy Herndon, second vice president of product solutions at Aflac in Columbus, Georgia, agrees. "There has been some evolution in plan design and a shift in where the dollar benefits are going," she explains.
In the past, most emergency medical treatments resulted in an overnight stay followed by longer in-patient stays that would trigger hospital indemnity insurance payments. But not so much now, as new patient procedures and managed care result in faster recovery and shorter hospital stays, she notes.
To respond to patient needs, hospital indemnity plans have expanded to cover more out-of-pocket expenses that may or may not relate directly to a hospitalization. "Nobody's employer-paid health insurance pays 100% of all related medical expenses, especially in high-deductible health plans," Herndon says. "New hospital indemnity insurance and other supplemental benefits give employees the cash to pay out-of-pocket expenses such as child care, lawn care, travel and day-to-day bills."
One of the strongest selling points is simplicity, which Aflac promotes in its advertising. Benefits are paid directly to covered employees without the usual complicated major medical plan claims process.
New plans have also expanded their medical coverage to include diagnostic procedures that may fall below high deductibles, she says, as well as health screenings, health advocacy in and out of the hospital, and medical claims reviews.
Telemedicine—contacting physicians for immediate care using video-calling technology—is also a new addition to some coverages that provides lower-cost care that would not rise to deductible levels.
Employee need
Even though the U.S. economy is expanding and unemployment is at the lowest level in many years, employee need is growing. Herndon notes that despite the positive economy, many employees do not have cash available to pay for high-deductible health plan deductibles and out-of-pocket expenses.
The Aflac 2018 WorkForces Report found that more than half of respondents (58%) would not be able to cover unexpected out-of-pocket medical costs of $1,000 or more, making the cost of reaching a deductible very difficult. Likewise, more than half (52%) say they have been adversely affected by the high cost of medical treatment. Only about 20% of employees can afford to go one week without a paycheck.
While the economy appears strong, employees also have more diverse economic backgrounds, adds Matthew Montminy, head of group benefits product management at The Hartford in Hartford, Connecticut.
High and increasing student loan debt places a heavy burden on younger employees and their families, he notes, and expensive elder care can weigh heavily on middle-aged employees.
"HR leaders have a tough challenge," he explains. "They need to increase the deductibles and out-of-pocket costs for employees to offset steadily increasing healthcare costs, but they also realize that employees face greater costs that can be disruptive."
Telemedicine is also a new addition to some coverages that provides lower-cost care that would not rise to deductible levels.
Employees fretting about how they will pay medical or related bills are more anxious and less productive, undermining workplace success. This runs contrary to most benefit strategies that aim to improve employee peace of mind and help them focus on productive work.
"HR executives are looking for ways to help employees manage these increasing costs without adding to employer costs," he says, while providing more choices for a more diverse workforce.
"It's all about choice," Montminy notes. "Employees have diverse needs, and employers need to be responsive without adding to their costs."
But it is not all about costs. Hospital indemnity plans can also provide employees with greater flexibility. "Many consumers prefer helping to guide their own care, something known as consumer-directed care," Hirschberg says. "The potential savings makes a compelling case for hospital indemnity plans. Providing a high-deductible health plan along with tax-advantaged spending accounts for smaller-dollar spends works well for a diverse workforce who are less tied to the requirements of many plans such as Preferred Provider Organizations."
Producer role
Balancing the mix of voluntary benefit options and putting their use in the correct perspective is also a challenge, insurers say. Agents and brokers must often make the case for including voluntary plans in employee benefit strategies and highlighting the benefits in communications, even though they are not employer-paid.
"Hospital indemnity plans work well with both accident and critical illness plans," Hirschberg says. "They all complement each other and provide needed benefits to employees when an illness or accident occurs, but there is not one single approach, or optimum mix, that works for all employers. It absolutely depends on the healthcare plan as to which ancillary benefits will best complement it.
"The broker should consider in conjunction with his or her client what the employer is looking for in healthcare—such as cost, deductibles, and networks—and identify what gaps present themselves given the employee population," he adds. "The makeup of the employee base helps determine what voluntary plans may be the best fit.
"All that being said, in nearly every case where a true high-deductible health plan is in place, hospital indemnity should be considered," Hirschberg says.
Herndon says that agents and brokers need to advise their customers about the correct mix of voluntary benefits for their benefits strategy and be prepared to educate their customers on the relative strengths of voluntary benefit products within a comprehensive benefit strategy.
Agents and brokers also need to be able to allay employer concerns about administration. As voluntary plans evolve and offer more sophisticated benefits, administration and enrollment become more complicated. Most employers use benefits administration systems that can interact with insurer systems, but agents and brokers are often the advisors who can direct employers to the right technology.
"In this web-based world, employees are comfortable with tech tools and making decisions at home with online technology," she says.
Education and decision support tools are the keys to successful implementation and future growth, insurers say.
"It is really about education," says Montminy. "The agent's first sale is to the employer, demonstrating how the voluntary benefit fits into a benefits strategy. The second sale is to the employee, teaching them how the benefits fit into their family's financial strategy and well-being."
Insurers provide a wide range of education and decision support tools, including online enrollment systems, videos and print collateral, but often the agent must provide the personal touch that brings the sales message home.
"The challenge is to show employees that these benefits are not just about health and medical needs, but also about their overall financial wellness," he says.
For more information:
Aflac
www.aflac.com
MetLife
www.metlife.com
The Hartford
www.thehartford.com
The author
Len Strazewski is a Chicago-based writer, editor and educator specializing in marketing, management and technology topics. In addition to contributing to Rough Notes, he has written on insurance for Business Insurance, Risk & Insurance, the Chicago Tribune and Human Resource Executive, among other publications.