New Yorker is The National Alliance National Outstanding CSR of the Year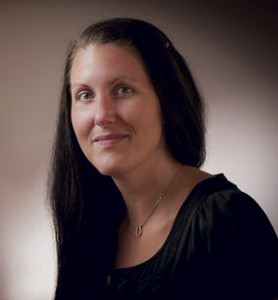 How many times have you heard someone in our industry say: "I had no intention or desire to enter the insurance business, but 15 years later, here I am"? That may be true of you—and it's definitely true for Kelly McGowan, CISR Elite, the 2016 winner of The National Alliance for Insurance Education & Research Outstanding CSR of the Year Award.
Born and brought up in a small town in upstate New York, Kelly earned an associate's degree in applied science with emphasis in marketing and sales at the State University of New York-Broome Community College. She received a Bachelor of Science degree in management from SUNY-Empire State College.
After graduation, Kelly wanted to pursue a career in law enforcement or the legal profession, both of which would have required more formal education. In the meantime, like most new graduates, she faced the reality of having to support herself and pay the bills. She accepted a position at a local State Farm agency and began to learn the insurance business by servicing personal lines clients. From there she moved to an independent agency, and she subsequently joined the Norwich, New York, corporate office of her current employer, NBT-Mang Insurance Agency, where she serves as a commercial lines account representative. Of her 15-year insurance career, 11 years have been with Mang. An all-lines agency, Mang has more than 20 offices throughout Central and Northern New York and in Burlington, Vermont. In the early days with Mang, Kelly experienced the usual anxieties: "What if I don't write this account properly?" "What if a client has a claim and it's not covered?" Today, she approaches her job with confidence, having served the agency's commercial clients since 2008.
What does Kelly find most rewarding about her job?
"I think the biggest thing is the interaction with clients, whether it's in person or on the telephone," she says. "I like creating relationships with them and being able to solve their problems. For individuals and businesses, insurance is a necessity, and they don't want to pay more than they have to for the product. Having that personal relationship with clients gives me the opportunity to talk with them about what's going on in their lives as well as about their insurance needs. It's really rewarding to have that personal connection, especially when a problem arises, because the client has confidence in my ability to solve it."
Kelly and others nominated for the Outstanding CSR of the Year award were asked to write an essay on the topic: "Many in our industry came into insurance by chance, but have built a career by choice. How did you come into the industry, and what are four reasons you stayed and built a career?"
Kelly wrote: "As college drew to a close, I still didn't know what I wanted to do and ended up being hired as an insurance CSR. I took the job so I could pay my bills … and here I am, 15 years later. The reasons I have turned insurance into a career are simple: challenge, people, opportunity, and necessity."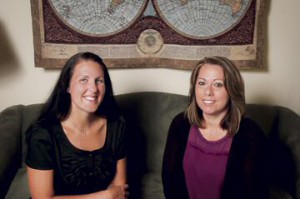 Rising to the challenge
"Loving a good challenge is the first reason I have made insurance a career," Kelly wrote. "If someone ever doubted me, I'd not only find a way to prove them wrong, but also exceed any expectations they had. … We encounter irate clients, the figurative fires that need water as we're walking out the door, and logistical nightmares that can leave us close to tears. I will do all of this and more with a smile on my face, knowing full well that this inevitably leads to satisfaction in a job well done at the end of the day."
Kelly's second reason for building an insurance career is people. "We are in the people business," she wrote. "We have to know our people, and we have to commit to them on every level. Their trust in and respect for me as their CSR is built not only on my knowledge, but also on my compassion for them as a person."
She identifies her third reason as opportunity. "Learning about our clients and their needs presents us with more than just a chance to hold a dialogue," she wrote. "Insurance is filled with opportunities to better oneself, to grow exponentially. … The first opportunity I had was to become a licensed insurance agent. In taking this step, I inadvertently stoked the fire for learning that I have deep inside, and I can keep that fire going every day through numerous opportunities." As proof, once Kelly had completed the six courses required for the Certified Insurance Service Representative (CISR) designation granted by The National Alliance, she went on to complete three additional courses, and last November received the prestigious CISR Elite designation.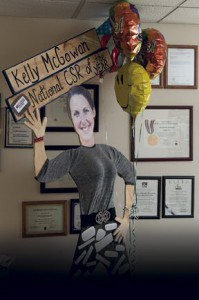 Kelly's fourth reason for making insurance her career, she wrote, is necessity. She was careful to qualify that statement. "Necessity is not about money, fancy clothes, or expensive cars," she wrote. "It's not even about putting food on the table. I can get those things working anywhere. Instead, it's about turning yourself into a necessity. It's a good feeling to know that you are needed, that your skill set is valued, and your above-and-beyond approach is invaluable."
Kelly was nominated for the National Outstanding CISR of the Year award by her boss, Angie Mattice, commercial lines service manager for the agency's southern region, who praised her for, "her commitment to provide and uphold only the highest standards in customer service and also to provide the same for her internal customers and coworkers. She leads, she cares, and she strives for excellence."
At a conferment ceremony for new CISRs and finalists in the essay competition, Kelly received the New York Outstanding CISR of the Year award. When she went up to receive the award, she was astonished to learn that she had also won the national award. "Dr. Hold (founder and president of The National Alliance) was there, and he said, 'I want you to know that you're not only looking at the Outstanding CISR of the Year winner for New York, you're also looking at the winner of the national award.' I get chills even now just thinking about it. I was crying; my boss was crying—it was extremely emotional. When I was nominated, I didn't think that this was not going to happen, because I know I do a good job, but it's such a tremendous honor and so many people aredeserving. When the award was announced, I was speechless."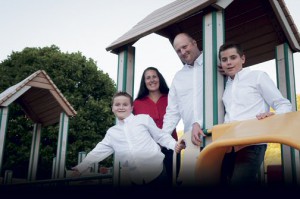 Family fun
Kelly and her husband are the parents of two boys, ages eight and 13. "We enjoy walking, hiking, and cycling as a family," she says. "We like to participate in fun 5K races, and we had fun taking part in a 5K called the Insane Inflatables, where inflatables were used as obstacles. We had to climb inflatable walls with ropes and really had a good time."
Old-fashioned Sunday drives are popular with Kelly's family, and they also enjoy traveling and going on cruises. At home, they like to play board games and play practical jokes on each other, she says. "My kids delight in jumping out of random places and scaring me," she says with a chuckle.
Going above and beyond is a daily routine for Kelly McGowan, this year's proud winner of the National Outstanding CISR of the Year award, who proves every day that she deserves the honor she was so surprised to receive.
For information about the Outstanding Customer Service Representative of the Year Award, go to www.TheNationalAlliance.com.
By Elisabeth Boone, CPCU
---
Every year since 1991, The National Alliance for Insurance Education & Research has presented to a qualified candidate the Outstanding Customer Service Representative Award. Entries from 36 states are narrowed down to five finalists, who must participate in an interview and write an essay on an assigned topic. The national winner receives $2,000 in cash and a gold and diamond lapel pin, and will have his or her name inscribed on a sculpture that is housed at The National Alliance headquarters in Austin, Texas. In addition, the winner's employer will receive a scholarship for attendance at any National Alliance program, and the nominator will receive $1,000.
This year's other finalists were:
Robyn S. Henslin, CIC, CISR, with Cobb Stecker Dunphy & Zimmerman, Inc., in Middleton, Wisconsin
Elizabeth Manley, CIC, CISR, CPIA, CWCC, PRIS, with Assured Partners in Lexington, Kentucky
Kelsey J. Purvis, CISR, with Ross & Yerger, Inc., in Jackson, Mississippi
Linda L. Wright, CIC, CRIS, with Rooney Insurance Agency, Inc., in Tulsa, Oklahoma