OVERLOOKED LIMITATIONS AND EXCLUSIONS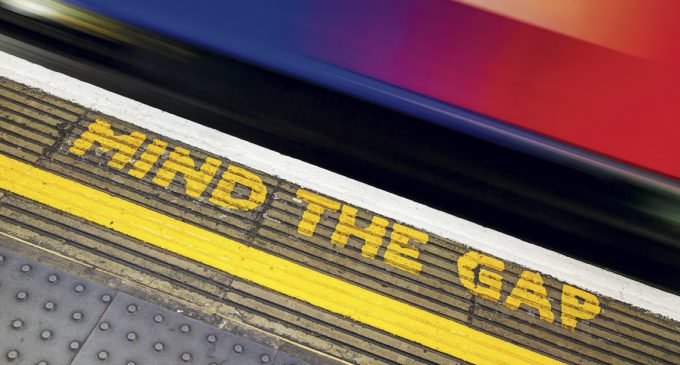 Mind the Gap
By Marc McNulty, CIC, CRM
OVERLOOKED LIMITATIONS AND EXCLUSIONS
Going "back to the basics" on policy provisions
I recently had a conversation with one of our insurance company claims adjusters regarding limitations and exclusions that may trip up new agents, and he had some interesting insights. Considering our last column went back to the basics on personal insurance, I thought it might be beneficial to keep the "back to the basics" theme going in the form of oft-overlooked policy provisions that can limit or exclude coverage.
Jewelry in vaults
The May 2021 "Mind the Gap" installment explored personal inland marine coverage and explained how agreed value coverage may be beneficial to your clients, so let's start there. We referred to the HO 04 60 form and mentioned that "as always, you most likely have insurance carriers that offer their own proprietary forms for scheduled personal property."
In many cases, carriers will take ISO language and slightly modify it, often to the advantage of your clients. However, there is a key provision in most proprietary personal inland marine endorsements that mimics the language found in the ISO PM 00 11 (12 02) Jewelry and Furs Form pertaining to jewelry stored in vaults.
While it's great that your clients may protect their valuables in this manner, as it adds an extra layer of security (as well as a discount to their inland marine premium), they need to be very diligent should they decide to remove any of the jewelry. The policy language in question is as follows:
We will not cover these articles if they are removed from the premises of that bank or security institution unless you:
(1) Notify us in advance of removal; and
(2) Pay an additional premium for the time they are away from such premises.
Since there is no wiggle room whatsoever, it is important that your clients notify you any time they plan on removing scheduled jewelry from a financial institution vault.
Hydrostatic pressure
If you write personal lines insurance, you most likely learned very quickly that water backup coverage can be a key endorsement that needs to be added to many of your homeowners, condo, and renters policies. Similarly, as with inland marine endorsements, insurance companies will often take the language found in the HO 04 95 (01 14) Limited Water Back-up and Sump Discharge or Overflow Coverage endorsement and then tweak it to create their own version of the form.
The exclusions are almost always the same: flood surface water, waves, overflow of any body of water, etc. There is also another exclusion that is found in these types of endorsements and I'm only aware of one insurance company in the marketplace that doesn't have this exclusion in its form. The exclusion reads as follows:
b. Water below the surface of the ground, including water which exerts pressure on, or seeps, leaks or flows through a building, sidewalk, driveway, patio, foundation, swimming pool or other structure;
This exclusion is known as the hydrostatic pressure exclusion and, depending on which area of the country you're located, it can be a real issue for your clients. For example, in southwest Ohio (where our agency is located), it is common to have heavy rain during the spring. In cases where we see a significant amount of rain in a short period of time, yards can become saturated with rainwater. That water needs a place to go and pressure from the underground water will cause it to seep out wherever it can, be it sidewalks, driveways, or basement walls.
While it is practically impossible to remember all policy limitations … one way to refresh your memory is to take continuing education courses that dive into policy language and claims situations … .
Unfortunately, when water enters a house through a basement wall in this fashion, any damage that results is usually not covered due to this exclusion. This is why it is extremely important for your clients to ensure their basements are properly waterproofed.
Spouses as insureds
At some point during your insurance career, you will most likely experience a messy divorce situation with a couple you have insured. Things become difficult when one person wants things set up one way on the insurance front and the soon-to-be ex-spouse wants them set up another way. You may even run into a situation where one person wants to completely remove the other from his or her policy, but you cannot do that without the other person's consent.
Something you probably learned in your pre-licensing classes, and which you will certainly need to keep in mind during a divorce situation, is that for both individuals to continue having proper coverage while the divorce takes place, one of two solutions needs to be implemented:
If they continue to live together in the same household, you can keep the insurance policies in place as-is.
If they live in separate residences, separate policies will most likely need to be put into place.
The reason for number two is due to the definitions of "you" and "your" in the PP 00 01 (09 18) Personal Auto Policy:
DEFINITIONS
A. Throughout this Policy, "you" and "your" refer to:
1. The named insured shown in the Declarations; and
2. The spouse if a resident of the same household.
If the spouse ceases to be a resident of the same household during the policy period or prior to the inception of this Policy, the spouse will be considered "you" and "your" under this Policy but only until the earlier of:
a. The end of 90 days following the spouse's change of residency;
b. The effective date of another policy listing the spouse as a named insured; or
c. The end of the policy period.
Similar language can be found in the definition of "you" and "your" in the HO 00 03 (05 11) and HO 00 05 (05 11) homeowners policy forms, although the forms do not spell out precisely when coverage ceases in the event that a spouse moves out of the house:
DEFINITIONS
A. In this policy, "you" and "your" refer to the "named insured" shown in the Declarations and the spouse if a resident of the same household.
Divorces can be tough on everyone involved—including the insurance agent who provides coverage for the couple splitting up. Don't give into pressure from one or both parties to do anything that is unethical or illegal, or that can put your agency into an E&O situation.
Duties after loss
Another situation that you will almost assuredly encounter pertains to homeowners insurance losses. For whatever reason, many people have been programmed to call their agent at the time of a loss and not do anything else until they are specifically instructed to do so or given permission to do so. Inaction by your clients in situations like this can have unintended consequences.
The two homeowners insurance forms we just referenced both have the following language in them:
C. Duties After Loss
In case of a loss to covered property, we have no duty to provide coverage under this policy if the failure to comply with the following duties is prejudicial to us. These duties must be performed either by you, or an "insured" seeking coverage, or a representative of either:
4. Protect the property from further damage. If repairs to the property are required, you must:
a. Make reasonable and necessary repairs to protect the property; and
b. Keep an accurate record of repair expenses.
In other words, if your client takes no action to prevent further damage from occurring to their home after a loss, coverage for the additional damage could be in jeopardy. Again, keep in mind that the term "reasonable" is included in this provision, so the insurance company can't expect an insured to climb up onto their roof during a thunderstorm and cover a hole that was caused by a tree crashing into it. However, if an insured has standing water in their basement, they should promptly contact a restoration contractor to extract the water and start the drying process as quickly as possible.
Interior damage to commercial building
The claims adjuster I spoke with mentioned this commercial provision to me, and honestly I had forgotten about it. He said he hasn't come across it very often, but there have been a few times where he had to use this limitation during a claim.
The language pertains to interior damage of a commercial building and can be found in the CP 10 30 (09 17) Causes of Loss – Special Form:
C. Limitations
The following limitations apply to all policy forms and endorsements, unless otherwise stated:
1. We will not pay for loss of or damage to property, as described and limited in this section. In addition, we will not pay for any loss that is a consequence of loss or damage as described and limited in this section.
c. The interior of any building or structure, or to personal property in the building or structure, caused by or resulting from rain, snow, sleet, ice, sand or dust, whether driven by wind or not, unless:
(1) The building or structure first sustains damage by a Covered Cause of Loss to its roof or walls through which the rain, snow, sleet, ice, sand or dust enters; or
(2) The loss or damage is caused by or results from thawing of snow, sleet or ice on the building or structure.
The example the adjuster gave me is that he's seen situations where windows were left open and rain blew into a commercial building, thereby causing damage to personal property inside the building. This limitation kept him from paying to replace the damaged business personal property.
While it is practically impossible to remember all policy limitations and exclusions as you write and renew business, one way to refresh your memory is to take continuing education courses that dive into policy language and claims situations (as opposed to taking classes offered by restoration contractors and auto body shops). The CIC and CISR programs offered by the National Alliance for Insurance Education & Research are great places to start, but there are certainly other options available to keep you up-to-speed on potential coverage pitfalls.
The author
Marc McNulty, CIC, CRM, is a principal at The Uhl Agency in Dayton, Ohio, and has been with the agency since 2001. He divides his time among sales, marketing, technology and operational duties. To reach Marc, email him at marcmcnulty@uhlagency.com