PROFESSIONAL LIABILITY INSURANCE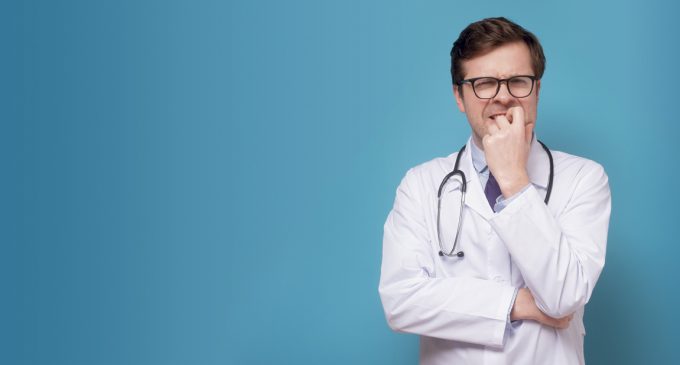 Specialty Lines Markets
PROFESSIONAL LIABILITY INSURANCE
A market already under stress faces the lingering impact of the pandemic
By Joseph S. Harrington, CPCU
As a result of the COVID-19 pandemic, things have gone from bad to worse for professionals seek-ing insurance for professional liability.
In a November 2020 report on a survey done in conjunction with the Professional Liability Underwriting Society (PLUS), The A.M. Best Company reported that "even before the pandemic, professional liability insurers were reporting varying degrees of market pressure, capacity limitations, changing risk profiles, and price increases."
While precise figures on recent claims are not yet available (among other things, court dockets are still restricted), Best's states that "many experts predict a sizable increase."
The darkest clouds of uncertainty hang over two classes of professionals:
Insurance agents and brokers, covered previously in Rough Notes, who may be sued by financially crippled clients for failing to address business interruption loss due to a pandemic
Medical professionals whose work was most directly impacted by the conditions created by the coronavirus
Regarding the latter, most states enacted some form of liability protection for healthcare facilities and practitioners for the duration of the pandemic "emergency." It remains to be seen how far those protections will extend both in time and in the scope of care.
Outside of those classes, the impact of the pandemic has been mostly indirect and may prove to be negligible on its own.
"Our survey reveals that [errors and omissions (E&O)] business has not been affected by the pandemic as significantly as other lines have," Best's reports. "More than 50% of the respondents characterized the COVID-19 impact on E&O as moderate." Nonetheless, Best's cautions that it is common to see an increase in long-tail liability claims in the wake of economic hardship.
"The professional liability market is experiencing a firming of rates, but the trend is driven by segments most affected by the pandemic, such as directors and officers, medical professional liability, and employment practices liability," says Joseph Lincks, vice president of programs and professional liability for Berkshire Hathaway GUARD Insurance Companies. "Traditional errors and omissions (E&O) coverage has been less pressured, but the line is not immune to trends in the economy, social norms, and new exposures."
Medical professional liability
Regarding medical professional liability (MPL) insurance, CEO Richard "Jay" Sullivan" of the CM&F Group expects already deteriorating loss conditions in the line to continue in the wake of COVID-19.
"While the frequency of paid claims has remained relatively steady, the severity has been consistently increasing," he says. "As losses continue to mount, we are seeing [insurers] struggle. This will result in insolvencies, runoffs and downgrades. The tailwind enjoyed by many in the market these past few years has shifted to a headwind."
For medical professionals, Sullivan predicts their MPL insurance rates to increase "almost across the board" and "for the foreseeable future."
Rising defense costs and larger awards are driving an increase in MPL claim severity, says Max Schloemann, founder and CEO of MEDPLI, a brokerage dedicated to MPL coverage. According to Schloemann, market conditions helped drive at least five MPL carriers into rehabilitation or insolvency over the past four years, and have driven consolidation in the business, as evidenced by several recent acquisitions by Berkshire Hathaway, Coverys, ProAssurance, and The Doctors Company.
Yet, with all that, "capacity still exists to insure physicians and surgeons in private practice, [although] rates are modestly increasing," says Schloemann. "Variables such as location, specialty, and individual loss experience make it difficult to put a precise estimate on rate increases, but rates may increase 10% on average in the next 12 months."
All this comes as no surprise to Gregory W. Leffard, president of professional and executive lines at The Hanover. "More than a decade of chronic underpricing was previously masked by favorable reserve releases, which have been exhausted," he says. As a result, "tightening terms, increasing rates, and decreasing capacity will be the norm within this class for the near term."
COVID's lingering impact
Add to these challenges the considerable uncertainty that MPL insurers and insureds face over the lingering effects of the COVID-19 pandemic. As stated earlier, states were quick to provide some level of civil immunity to the publicly acclaimed "frontline heroes" during the pandemic emergency.
Still to be seen is how far from the "front line" those protections extend. Facilities and practitioners postponed many elective procedures during the emergency; as a general rule, the longer treatment is postponed, the worse a condition becomes, the more costly it is to treat, and the more likely it is to leave permanent impairment.
When juries are once again seated, how will they regard care decisions made within the context of pandemic conditions, but not directly related to treatment of the coronavirus?
"The COVID-19 pandemic will certainly have a major impact on the medical malpractice market," says Sullivan. "Deaths resulting from the pandemic itself will result in thousands of suits for wrongful death. Millions of cases of untreated illness and disease are also certain to have occurred [over the course of the pandemic].
"On the other hand," he notes, "use of medical services were drastically [reduced during] the lockdowns in 2020, so fewer patients could potentially bring fewer claims."
"The medical professional liability market was already hardening before COVID," says James McNitt, area president of the healthcare practice for Risk Placement Services (RPS). "That transition has been accelerated and exacerbated by the uncertainty of the pandemic's impact on claims.
"We're still able to find coverage for the overwhelming majority of our clients, with or without pandemic exclusions," McNitt notes, "but premium levels, after several years of rate increases, are perceived by some to be borderline unaffordable."
Other classes
For professionals outside the medical field, the lingering effects of the pandemic are anyone's guess. Virtually all vocations found themselves disrupted by pandemic conditions and face further disruption as those conditions recede.
"Professionals of all sorts have had to adapt to a new working environment forged by quarantines and social distancing," says Lincks. "Interaction with clients has become largely virtual, and correspondence and document review is done via email.
"The lack of in-person service presents its own set of challenges and potential exposures; oversights and misunderstandings can occur easily under these conditions."
For example, "the pandemic made for an odd year for accountants," Leffard says. "It required some unique approaches to audits to accommodate social distancing, plus a shift in attention to assist clients with delayed tax filings and federal Paycheck Protection Program loans."
As for attorneys, Leffard believes many suffered a "lull" in billable hours at a time when courts across the country closed for all but the most critical cases; he anticipates that caseloads and billable hours—along with liability exposure—will return to "normalized" level in 2021.
Something similar may happen for architects and engineers (A&E), if talk about public infrastructure improvements leads to substantial investment. At least for now, however, design professionals must also anticipate rate increases for professional liability coverage, with or without an added volume of business. In the latest annual survey by Ames & Gough, a brokerage known for its focus on design professionals, nearly all carrier respondents indicated they plan to increase A&E rates up to 5% to more than 10%.
According to Leffard, all classes of risk face increased rate pressure, and some classes are seeing less favorable terms and conditions, designed to scale back the scope of coverage. That said, he finds the liability insurance market for smaller professional firms to be "extremely price-driven," with "ample capacity in both the admitted and surplus markets, with both competing for much of the same business."
Manny Cho, executive vice president of executive lines for Risk Placement Services, generally agrees with that assessment, saying that "overall, the market is still competitive in many of the miscellaneous professional sectors."
Nonetheless, Cho cites numerous professional classes as experiencing harder market conditions for coverage. These include most classes of real estate professionals (agents, developers, property managers, and title agents), plus accountants, architects and engineers, construction managers, lawyers, and insurance agents and brokers.
"In terms of capacity, most carriers do not want to offer more than $10 million in coverage," Cho says. "Many are not comfortable offering $5 million for some classes of business, and in the tougher classes, many don't want to offer more than $1 million to $2 million. So, if you have a large tower to build, it becomes more difficult.
"We are seeing rate increases of up to 30% for tougher classes of business," he adds. "For less hazardous classes, we're seeing flat 15% rate increases."
Opportunities and challenges
"The best opportunities will come from pockets of professionals where growth potential exists and barriers to entry are minimal," says Leffard. "This is likely to include several classes of miscellaneous professionals such as those related to events, planning, and consulting. Also [affinity] and association programs provide attractive opportunities for growth and book management.
"As always, there's opportunity for profitable growth in all segments," he adds. "Whenever market conditions do not allow the needed rate, terms and conditions become the overriding concern. Where there's the most opportunity for profitable returns there will also be the most competition, so delivering value propositions outside of pure insurance will be a key differentiator."
Cho at Risk Placement Services believes that "there are numerous classes of business that should provide opportunities for profitable growth as the economy recovers from pandemic conditions."
Cho says the vast majority of insureds will be able to find capacity, even if it requires using more carriers than in the past. He says many underwriting groups that focus on harder-to-place risks have experience in crafting specific terms and conditions to meet their insureds' needs. While insureds may pay more, they are purchasing a more tailored professional liability program.
Even the beleaguered MPL line offers an abundance of opportunity, according to Sullivan.
"Despite the headwinds, there is a tremendous amount of profitable growth opportunities," he says. "The healthcare market is expanding at one of its fastest rates in recent history.
"Healthcare will require insurance products to protect traditional care and new and innovative products to cover virtual and remote care, which have exploded in use," he says. "The blending of professional liability, cyber liability, and general liability in healthcare operations will require insurance products to protect practitioners from these new and ever-evolving risks."
For more information:
Berkshire Hathaway GUARD Insurance Companies
www.guard.com
CM&F Group
www.cmfgroup.com
MEDPLI
www.medpli.com
Risk Placement Services
www.rpsins.com
The Hanover
www.hanover.com
The author
Joseph S. Harrington, CPCU, is an inde-pendent business writer specializing inproperty and casualty insurance cover-ages and operations. For 21 years, Joe was the communications director for the American Association of Insurance Services (AAIS), a P-C advisory organ-ization. Prior to that, Joe worked in journalism and as a reporter and editor in financial services.