SECURITY SERVICES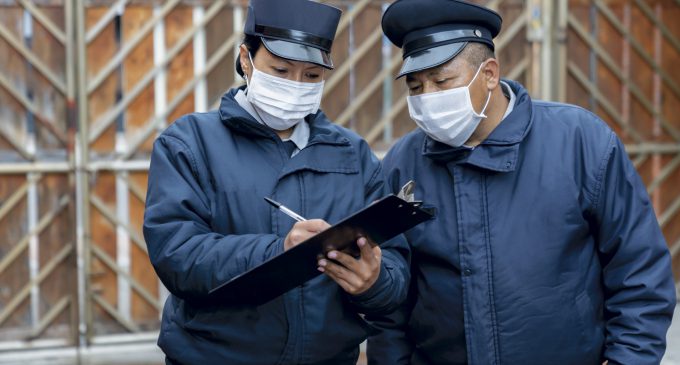 SECURITY SERVICES
Pandemic conditions disrupt a market experiencing a surge in demand
By Joseph S. Harrington, CPCU
In a bitter irony, the lockdown of our nation's economy provided a surge in demand for people in the business of keeping things locked down.
While countless enterprises were laying off workers in the spring of 2020, private security firms were hiring to meet growing demand for the protection of properties idled by shutdowns and "stay-at-home" orders issued to combat the spread of the COVID-19 coronavirus.
The need for added protection was underscored later in the year as unrest over police killings of African Americans led, in some cases, to rioting and looting of properties. Taken as a whole, the civil unrest of 2020 led to greater property losses than some of the best-known riots in recent American history (considered as separate events).
As this is written, the year is not done, and turmoil continues, with the added prospect of political unrest leading up to  and following the Nov. 3 national election.
Weighing against that, however, has been the cancellation of tens of thousands of events that would normally have required private security services.
"Some security companies have been badly hurt by the pandemic," says Kelly Hafkey, senior sales executive at Izzo Insurance Services. "Guard companies specializing in cruise ship work, conventions, special events, and production security for film and television suddenly saw their work come to an unforeseen halt."
Expanded exposure
The remaining demand for security services is wide-ranging, encompassing electronic surveillance (both fixed installation and by aerial drone) and cybersecurity (especially access control), as well as traditional human surveillance and monitoring of locations.
As reported in previous editions of Rough Notes, the growing range of security services also expands the degree of exposure to general liability claims for invasions of privacy and unauthorized release of personal information, in addition to allegations of false arrest and bodily injury resulting from a security guard's use of force.
On top of all that, Hafkey says, security guards are now asked to serve as "gatekeepers" with respect to people wearing face masks. "This is creating all kinds of issues," she says, "including liability claims resulting from altercations and workers comp claims by guards injured trying to enforce mask mandates."
In light of all that, and in a hardening market in general, security firms are facing increased challenges in securing the level of coverage they may have been accustomed to, according to Hafkey.
"The market for security services is changing," she says. "General liability rates, after being stable for several years, are now increasing among all carriers writing this class of business.
"Umbrella carriers are not offering limits as high as were available in prior years, as they are concerned with the impact social inflation has played in creating jury awards. By restricting the limits available to each insured, they are minimizing their potential risk for any one claim."
The risk of infection by COVID-19adds a new level of complication, Hafkey adds, noting that "carriers are concerned about 'third-party over' claims filed under primary and umbrella policies for COVID-19 infection."
Safeguarding the safeguards
Nowhere is that concern more apparent than in workers compensation coverage for security personnel.
Whatever the expansion of other exposures, Hafkey says that "we would have expected workers compensation rates to remain low due to increased use of automation in security, which has resulted in favorable workers comp loss experience." A "new influx" of on-the-job COVID-19 claims is changing that calculus, however.
For example, Hafkey notes that Florida's workers comp rates for 2021 were expected to decrease until recent legislation established a presumption that COVID-19 claims were contracted at the workplace. In response, some workers comp carriers are instituting rate surcharges in anticipation of an influx of claims. Something similar happened in California, and Hafkey expects other states to follow suit.
In response, Hafkey finds that security companies are moving away from loss-sensitive workers comp plans to guaranteed cost programs. "Since no one knows how many COVID-19 claims their employees will file and the cost of these claims," she says, "companies are unable to accurately forecast the impact to their bottom line [under a loss-sensitive program]."
Carriers respond
For their part, Hafkey finds that workers comp carriers are responding quickly to the challenges presented by the pandemic.
As examples, she says, two of the four companies Izzo Insurance uses for its proprietary workers comp program are now providing human resource services and telemedicine to policyholders free of additional charge.
"The human resource services help employers address questions about keeping their employees safe on the job," she says. "Telemedicine allows for claimants to be seen and treated immediately, and it provides an option for injured workers to seek care if they are fearful of going to a doctor's office during a pandemic."
Given the novelty of COVID-19 and the fact that any type of business can be hit with pandemic-related claims, Hafkey recommends that agents and brokers place workers comp coverage for their security firm clients with carriers that handle claims in-house rather than through third-party administrators.
"It's important to have the best response possible as early as possible to reduce the impact to a company's workers comp experience modification," she says. "We have found that carrier responses to the pandemic differ significantly with respect to the exposure and resulting premium."
For more information:
Izzo Insurance Services
www.izzoinsurance.com
The author
Joseph S. Harrington, CPCU, is an independent business writer specializing in property and casualty insurance coverages and operations. For 21 years, Joe was the communications director for the American Association of Insurance Services (AAIS), a P-C advisory organization. Prior to that, Joe worked in journalism and as a reporter and editor in financial services.