FRESH FROM THE FARM TO … INSURANCE
Wisconsin account manager named The National Alliance's 2022 Outstanding CSR of the Year
By Alice Ashby Roettger
---
You may have heard the old saying "you can take the girl out of the farm but you can't take the farm out of the girl." In the case of Tiffanie Courtney, CIC, CISR, CRIS, senior account manager at M3 Insurance Solutions in De Pere, Wisconsin, that's a very good thing.
Reared on a dairy farm about 30 miles west of Green Bay, Tiffanie absorbed the values that have permeated her "big-girl" life through marriage, child-rearing, career changes and, ultimately, paying tribute to those home-grown values in her reply to The National Alliance's prompt as a candidate for its Outstanding CSR of the Year competition.
That prompt read:
"Transferable skills are learned from experience, which includes prior careers, education, volunteer work, or personal encounters. What are the top three skills you transferred from outside the insurance industry to your current job role? Discuss how you leverage your skills, continue to develop and evolve them, and how you transfer your expertise to others to ensure perpetually exceptional customer service."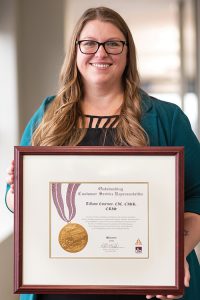 "I am my own painting. Every brush stroke is a conversation, a touch, an opportunity to share, learn, guide, and reflect. … The masterpiece I want to leave behind in this industry is that I cared enough to take the time to make someone feel heard and important … ."
—Tiffanie Courtney, CIC, CISR, CRIS
Senior Account Manager
M3 Insurance Solutions
Written with clarity and, at times, a lean toward the literary, Tiffanie's response named three qualities: service orientation, cognitive flexibility and communication.
"My entire life has been devoted to service," Tiffanie says. "My parents set the example. After all, when you live on a farm, you must serve. There were early mornings, late nights, calves that needed to be fed, and chores to be done so we could get back to the house to do our homework." Attending a Lutheran church and school "provided a faith-filled background" that grounded her approach to life: "God first, then family, then work."
She adds, "All these years later, we come home for the holidays and the first thing we say is, 'What can I do to help?'
"Extracurricular activities have elevated every aspect of my career," Tiffanie declares. The list of some of her lifetime service activities (both business-wise and privately) reveals varied interests.
"What can I do to help … has follow-ed me into my career. I have volunteered to be part of committees or review processes and procedures; tested new pieces of IT software to see if it has value to the agency; stepped up as a service team lead to work with our practice group, sales, and leadership teams to work as the conduit to share information, solve problems, and assist in improving clients experience and team experience." Service on the Professional Insurance Agents of Wisconsin (PIAW) Education Committee reflects her appreciation for those who mentored her, as well as her desire to mentor others.
According to nominator Pete Paulsen, partner and senior account executive atM3 Insurance, "When Tiffanie is not engaging clients she is applying her skills to help develop M3 colleagues. She serves as a mentor to new hires; along with individuals participating in the M3 internship program. Tiffanie can quickly assess a need and how to best support a colleague."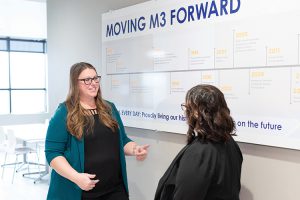 Nominator Shannon Wiegman, M3 P&C client services manager, concurs. "Tiffanie leads with an effective communication style, making herself available at all times and transferring her know-ledge to others. Along with a personal passion for growth, she truly enjoys watching others grow, and has contributed to the success of individuals on their own personal insurance journey."
M3 Account Specialist Nick Anderson also lauds his co-worker's sense of service: "Tiffanie possesses a high amount of knowledge and wants to share it with others to help them perform better. … [She] has spent countless hours with me, building my skills and mentoring me and others. She constantly sets me up for success and I think this illustrates the best kind of leadership and service.
Where else has she been involved? "In 4-H, I volunteered to work with Cloverbuds (five- to seven-year-olds), managing activities, showing them how to present their exhibits to judges and how to answer questions. Volunteering with Habitat for Humanity was a wonderful service opportunity to learn new skills and work closely as a team to build a home for a family."
Sandi Paws Rescue delivers similar benefits—and fostering a dog was some-thing that Tiffanie did "just for myself. Our family loves animals and taking in a special needs pup, and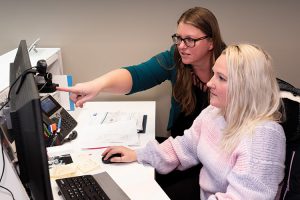 watching her grow and become more confident was heartwarming. Adopting her out to her forever family was rewarding and emotional! These animals become part of our hearts."
On her way
After graduating from high school and moving into a young marriage, Tiffanie impulsively took a course in surgical technology at the suggestion of a girlfriend who was in the same program. "I had no plan, so I said okay," she says ruefully.
Six or seven months pregnant when she finished, and with no opportunities for employment within the local hospitals, Tiffanie decided to do something different and went to her father for advice. "He knew someone at church and I took a job helping service that person's commercial lines business." With that, Tiffanie was off and running toward her eventual career at M3. She is quick to give "my thanks for [that employer] taking a chance with a kid who knew nothing about insurance. We're still in touch." She points out that the employer taught her the right approach to finding resources, a mentorship that she now employs in her own work.
As for the other two skills, cognitive flexibility and communication go hand in hand, with the first segueing into the latter. The American Psychological Association defines cognitive flexibility as "the capacity for objective appraisal and appropriately flexible action. Cognitive flexibility also implies adaptability and fairmindedness."
The farm looms large again
Once again, her childhood experiences caused Tiffanie to unconsciously employ some of the elements of that definition. She chuckles, "I was to be the last child. That is until my mother had triplets." Tiffanie had to adjust and, over the years, was called on to help. Being able to communicate effectively with three little ones and three older ones, one of whom was the lone lorn boy in the suddenly seven sibling group, provided opportunity to practice adaptability.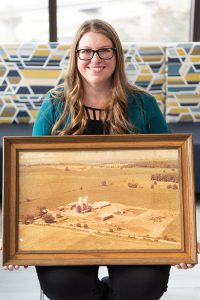 So did life on the farm—including in the milking parlor. "We had to be quick on our feet and make fast prioritizing decisions," Tiffanie recalls. "The cow is out, the other one kicked off the milk machine, and my sister is calling for help in the barn. It was important to just react, pivot, keep everyone safe, then clean up the mess after. Funny how insurance can be the very same way!"
And so it is. "During my days," she points out, "I wear many hats that require a quick transition. Daughter, sister, mom, friend, colleague, volunteer, insurance advisor. Each version of Tiffanie has different demands. It has been critical to be able to pivot from one position to another, sometimes before the prior task has ended. After many years of practice, it has become a fluid process that I no longer realize even happens. The interactions with underwriters, peers, clients, account executives, often in short order, require me to be adaptable, quick thinking, and able to solve problems swiftly."
Tiffanie then asks, "How do we get it all done and not lose important details in translation? Effective communication! It is important to take the time to listen and understand the needs of others." Implicit in that statement is the acknowledgement that reactions must be tailored to a variety of ages, education, experience, socioeconomic status, beliefs, gender and ethnicity, etc. One must know how to target messages to one's audience. "If the person you're speaking to doesn't understand what you're saying, you've simply wasted their time. Who hasn't left a conversation frustrated thinking 'I have no idea what he/she just said.'"
Nominator Paulsen lauds these qualities: "She possesses the unique ability to articulate a complex matter in a fashion that our client will understand; therefore, this helps our clients feel comfortable to make informed business decisions. The combination of Tiffanie's product knowledge and effective communication skills proved to be instrumental in helping M3 recently earn the business of a large Midwest commercial contractor."
In addition, nominator Wiegman observes that "[h]er colleagues lovingly refer to [this self-proclaimed insurance nerd] as a 'walking insurance encyclopedia' and she is a go-to resource for new hires and tenured team members alike."
Co-worker Anderson adds, "[S]he seems to know exactly how they prefer to be communicated with, how to deliver good news, bad news, and which items are important to illustrate within the respective clients' insurance program."
All seem to imply in their statements that Tiffanie Courtney presents her authentic self no matter where she is. As nominator Wiegman puts it, she is "the best version of herself for her team, her clients, and simply everyone she comes in contact with."
And that is exactly what Tiffanie wants to be and has wanted to be since her "what can I do to help" days on her parents' Wisconsin farm. She sums it up like this: "It isn't the large experiences that make you who you are. It's the small ones. I am my own painting. Every brush stroke is a conversation, a touch, an opportunity to share, learn, guide, and reflect. … The masterpiece I want to leave behind in this industry is that I cared enough to take the time to make some-one feel heard and important, to share my knowledge in a usable capacity, and to exceed expectations. Paving a path for others to see the potential in the industry and have a passion for service."
The author
Alice Ashby Roettger is a freelance writer based in Indianapolis, Indiana. She also serves as an editorial assist-ant at Rough Notes magazine.
THE OUTSTANDING CSR OF THE YEAR
For more than 20 years, The National Alliance for Insurance Education &Research has presented the Outstanding CSR of the Year Award, which is based on the candidate's contributions to the insurance industry, community involvement, and the submission of an essay that responds to a "prompt" suggested by The National Alliance.
The winner receives $2,000 in cash and a gold and diamond lapel pin, and has his or her name inscribed on a sculpture that is housed at National Alliance headquarters in Austin, Texas. In addition, the winner receives recognition in a feature article in Rough Notes magazine.
The winner's employer receives a scholarship for attendance at any National Alliance program.
Four runners-up, chosen from among state candidates, each receive $500 in cash, national recognition, and a gold and garnet pin.
Nominators receive a $1,000 cash award if their nominee wins.
This year's runners-up are:
Suzanne Sanders Durante, CIC, CISR, CRIS, of Durante Insurance &Financial Services, Las Vegas, Nevada
Amber Patterson, CISR, of Howard Hanna Insurance Services, Pittsburgh, Pennsylvania
Amy Jo Ratcliff, CIC, CISR, of HUB International Mountain States Limited, Casper, Wyoming
Brittany Ratke, of Christensen Group Insurance, Eden Prairie, Minnesota
For more information regarding the Outstanding CSR of the Year Award, contact The National Alliance by visiting www.scic.com/outstanding-csr-of-the-year.