Good citizenship helps this Illinois agency's growth and retention
Flipping hamburgers at an outdoor barbecue may not seem like a strong marketing tool for establishing an agency as the trusted advisor for people and businesses in the Frankfort, Illinois area, but it was. It was yet another way that the people at Gnade Insurance showed their support for the community they serve. In this instance, the barbecue was the brainchild of the agency's leading producer, Jim Smith, president of commercial lines, who, along with his wife, Gayla, started the effort in their backyard. In 2012, Jim and Gayla hosted a BBQ in their backyard to raise money for the Stephen Siller Tunnel to Towers Foundation. The foundation, through Building for America's Bravest, builds "smart" homes for the most severely injured service members. In that first year, the BBQ raised $2,000 and was adopted by the Gnade Agency, which became one of its principal sponsors. Now in its fifth year, it has morphed into the Midwest BBQ for the Brave and has increased the money raised more than tenfold.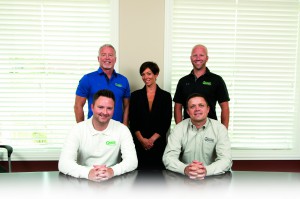 The Gnade Agency opened its doors in 1989 after Gary Gnade realized his dream of "going on my own. I had been working as a life agent with Prudential. My biggest problem was getting a property/casualty contract," Gary remembers "Finally, in 1993, I convinced John Deere to give me a chance and was able to offer property/casualty coverages to my clients. In 1996, Safeco offered me a contract and I could really expand into the P-C field. Several other companies followed.
"We started out as a three-person agency, with my wife, Kimberly, and I and one other staff member doing all the jobs. Because we had four children, Kimberly decided to divide her time between the agency and raising our children, which allowed me to focus on growing the agency into a strong presence in the community," Gary notes.
The agency began adding to its staff as the opportunities grew and, in 2000, Gary made a propitious decision when he brought Jim Smith, another life agent who had worked with Prudential, on board. Like Gary, Jim was able to shed his life insurance background to become a successful property/casualty insurance agent, emerging as the agency's leading commercial lines producer.
Today, Gnade Insurance has some $2.4 million in revenue and 20 employees. Life and health insurance account for about $400,000 of the revenue, with the balance divided 60/40 between commercial lines and personal lines, respectively.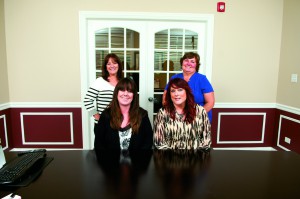 The power of niching
"Jim really helped us build our commercial business by knocking on doors and developing new accounts," Gary says. "We already had a good reputation in the community that helped his efforts, but we quickly learned that the better way to develop business was through referrals so that cold calls became warm recommendations.
"Jim had a very good relationship with the owner of a car wash who was happy to recommend us to his friends in the business," Gary continues. Jim seized on that opportunity and asked his clients what he should be doing to increase awareness of the agency in that niche. They recommended the Chicagoland Car Wash Association. "We joined that association and remain a proud member," Gary says, pointing out that Gnade Insurance has become the "premier car wash insurance agency in the Chicago area, insuring more than 100 car washes in Illinois, Indiana and Wisconsin.
"Our success in that arena made it clear that we should look at ways to develop niche expertise in other areas. Our vice president of commercial lines, Christina Hrebic, who originally started out in personal lines some 12 years ago, joined us in 2010 and immediately began making inroads in commercial lines by networking with a number of professional associations, including the Frankfort Chamber of Commerce, the Associated General Contractors of Illinois, and the South/Southwest Home Builders Association," Gary says, adding that she also has developed a niche centered around her love of animals, veterinary clinics and animal hospitals. She works closely with the Chicago Veterinary Medical Association, providing professional seminars to the members. "In addition to developing an extensive knowledge base about the coverages needed by animal hospitals," Gary continues, "Christina has also established strong relationships with the insurance company underwriters
that specialize in this area so she can get the best coverage and price for her clients."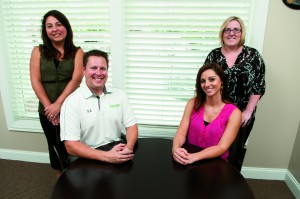 IT knowledge added
In 2009, the second generation joined the agency and brought with it a skill set that has helped the agency get the word out about its expertise in the digital universe. Gerard Gnade joined the agency after spending 10 years in the information technology business.
Gerard, who heads up marketing and IT at the agency, points out that "retention depends on continual touches with clients. We've been using technology to make certain that we reach out to all our clients on a regular basis. We send out a regular newsletter and also automatically send emails on birthdays and other occasions. We use Zywave and offer that to our clients, as well as offering them the ability to print certificates and other documents. Basically, we have everything Applied Systems offers, creating a paperless environment where everyone on the service staff is able to help a client who calls in or drops in with a question or problem."
"And drop-ins do occur often," Gary adds. "We've encouraged that. Our building is in the heart of the town's historic district and was built to match the other buildings around it. People appreciate that we have shown respect for the town's history." He goes on to point out proudly that the agency's revenue has more than doubled since Gerard joined, thanks in part to "our ability to reach our clients in the manner in which they want to be reached. Gerard's IT expertise also has been a good value-added service that we have offered to clients. He'll go out and help them access Zywave and other services that we offer digitally. After all, a value-added service is only appreciated if it's used, and Gerard makes certain that people know how to use it."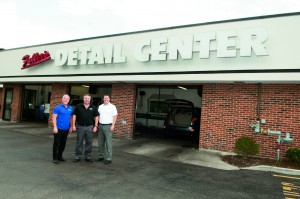 Youth movement part two
"We've prided ourselves on having a young, enthusiastic staff that likes working here," Gary continues. "But maintaining that youthfulness is problematic because people do tend to stay here. The majority of our people are in the 30 to 40 age range, but we recognize that there's a whole generation coming up that isn't represented. So we are looking to bring in people in their 20s to try and keep us on our toes. We recently hired a 22-year-old who's working out very well.
"Of course, we recognize that we need to continue to grow if we want to add more staff," Gary continues. "I'm very proud of the fact that all our growth has been organic, and I like to believe that we can continue to grow but still maintain the family atmosphere that having one office and a strong commitment to the community has allowed. We are a team where everyone is a salesperson. Everyone is commissioned, and they all understand that our livelihood depends on the next policy we write."
"The atmosphere here is unique," Gerard says. "I really like coming to work every day and feeling the energy. And I can see that our clients feel the same thing when they drop by our office. We do have a lot of customers come in to see us and just talk. That does help us keep in touch with their needs, even when the conversations don't have anything to do with insurance. We find out what is going on with their families and their business, without it being a 'business' conversation. And it certainly contributes to our high retention rate."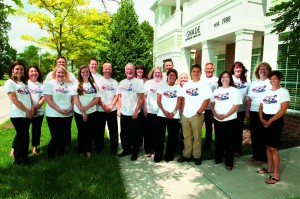 In addition to supporting the BBQ for the Brave, Gnade Insurance people are involved in helping with staffing for summer concerts and other community-sponsored events, including "the fifth largest craft show in the country, where a couple of hundred thousand people come through our village during the Labor Day weekend," Gary points out. "We also help out at an antique car event every Thursday.
"We purposely moved downtown seven years ago so we could become a bigger part of the community. Naturally, we're involved in the Chamber of Commerce and other civic groups. And we provide insurance to many of their members, including our mayor."
Rough Notes is proud to recognize Gnade Insurance as our Agency of the Month. Gnade has shown that small town agencies don't have to abandon their roots in order to grow and succeed, but can continue to adhere to the values of good corporate citizenship that have been one of the hallmarks of the independent agency system and one of the reasons it remains the most successful marketing system in the insurance business.
By Dennis H. Pillsbury