Online source helps agencies, specialty providers market together
 Whenever George Nordhaus completes a new project, he doesn't settle back into his easy chair and rest a bit. In fact, more than likely, he already has been "birthing" in his mind a new project that will support independent agents.
George's drive and determination to succeed were apparent early in his career. An Indiana All-State and then All-American high school basketball player, he was high scorer in the annual All-American game (at that time called "the North-South" game.) At Vanderbilt University, his achievement as top scorer in the first game ever played in the Vanderbilt Memorial Gym was just part of his successful athletic career, both on the court and as a pitcher for the Vandy baseball team. Upon his graduation, he became an officer in the U.S. Navy.
After his Navy stint, he returned to Nashville and was introduced to the independent insurance agency system when he signed on in 1959 as executive director of Insurors of Tennessee, the state's Big "I" affiliate. While there, he hosted his own Saturday afternoon television sports show, supported by Insuror agencies. After that, he returned to his home state of Indiana and took the helm of the Indiana Big "I."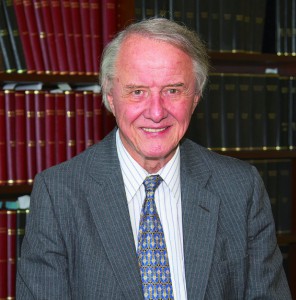 Publishing and more
While there, George founded Insurors Press, which for years was the major publisher for the national Big "I," offering agent licensing exam manuals in more than two dozen states. Over time, the Insurors Press product mix was diversified to include insurance newsletters for insurance agencies, and the firm grew to become the largest agency newsletter provider nationwide.
From Insurors Press came Insurance Marketing Services, which later was rebranded as Insurance Marketing & Management Services. The venture expanded into a broader range of agency-focused marketing and management activities, while continuing to publish videos, books and manuals on marketing. The organization remains the largest repository of marketing and management information on the Web for insurance agencies.
Over the years, Nordhaus has written a number of books on insurance sales and marketing, and has spoken at insurance conferences and conventions around the world. In 2011, he became an insurance blogger for LendingTree, Inc. Add to that numerous awards and recognition that Nordhaus has received, and it is quite evident that supporting independent agents and brokers is dear to his heart.
Most recently, agents and brokers have become familiar with Nordhaus's AgenciesOnline, which he describes as a total marketing service for independent agents, and his Monday Morning Webinars, the largest online library of recorded "mini-webinars" of insurance marketing and management information.


New venture
His new "baby"? Monday Morning Markets (MMM)—a resource that will provide agencies the opportunity to place on their websites and market specialty coverages via a growing number of videos created to educate consumers about specialty coverages and programs.
According to Nordhaus, "Over the last few years, I have watched many agencies flounder because of the commoditization of our business, primarily caused by the cost-cutting direct writers of the world." Many agencies cannot compete and, sadly, their customers often suffer from cookie-cutter coverages that do not accommodate their special needs.
"Somehow, I reasoned, agencies needed a real 'differentiator,'" he says, "something that would show the insurance-buying public that our business model is a lot more than merely selling the lower-priced product." When he read a Conning & Company report that showed more than half of all insurance premium is generated by nonstandard products, "the light dawned," he says.
He recognized that's the area where independent agencies could establish the fact that they are much more than "order-takers", that they can offer literally hundreds of coverages for any insurance need.
The result: Monday Morning Markets, a system where retail agencies and specialty market providers, such as managing general agents, wholesalers and program managers, can work together to actively market those specialty products.
Nordhaus serves as chairman of MMM. His partner and president of the firm, Al Diamond, says, "I'm excited to participate in Monday Morning Markets to help evolve yet another means of differentiation of cutting-edge insurance agencies from their commoditized competitors." David Diamond serves as director of marketing and Colleen Osendowski is operations manager.
How it works
Specialty market providers (SMPs) will provide a series of short product knowledge videos—or PKVs, as they're called—that explain individual specialty coverages to agency website visitors. If the SMP wishes, George will do a "voice-over" presentation with the selected SMP presenter. The videos are relatively short, but long enough so that the prospect will better understand the coverage.
As Nordhaus points out, "Many of these coverages and programs are over and above the 'regular' coverages provided by retail insurers—things the commoditizers can't offer." Agencies, their clients and prospects can access the videos on a member agency website. The selection of videos is fluid; more are added as more coverages become available.
Only one SMP will be approved to offer each coverage. Coverage descriptions are available from Rough Notes' The Insurance Marketplace® (IMP) specialty markets directory. Specialty coverages or programs offered by SMPs or insurers that are not listed in IMP also will be available.
Monday Morning Markets provides ongoing marketing education and training, as well as monthly webinars, to make sure specialty market providers best use their exclusive listings with the growing number of agencies.
The MMM system is free for agencies. Monday Morning Markets has created 1600 territories in the United States. Agents registering for their home territory—an area with a population of 200,000—will have exclusivity. Once a territory is full or taken, no other agency will be approved for it.
A member agency is not limited to marketing and writing only in its territory; it can market the specialty programs found on the Monday Morning Markets site anywhere. But only registered agencies can offer Monday Morning Markets resources on their websites.
When the approved agency places the MMM "section" on its website, visitors can access content directly from the agency home page via a "Specialty coverages and programs" link. As new SMPs are chosen and as they develop PKVs for their specific coverages, videos are automatically added to the agencies' sites.
If a specific coverage is not yet featured by a SMP on the Monday Morning Markets section of the agency's site, there is a link to a special edition of the The Insurance Marketplace, which provides information on more than 750 specialty coverages by category and by state.
If a visitor uses the IMP on the agency site, and is interested in any particular coverage, he or she clicks on "More Information" and a pre-addressed email is sent directly to the agency. The agency can then access the regular IMP to immediately determine which SMP offers that particular coverage, and then can contact the provider directly simply by clicking on the
chosen SMP.
Just like SMPs, Monday Morning Markets member agencies will have an ever-expanding library of marketing tools and advertising copy, and a system for sharing successful marketing activities with other MMM agencies.
What's next?
With the launch of Monday Morning Markets, one question comes up: Will George Nordhaus's "baby" have a sister or brother? If he is true to his past, it would surprise few if he's not looking soon for a new way to "birth" even more support for independent agencies.
For more information:
Monday Morning Markets
Web: www.mondaymorningmarkets.com
Phone: (844) 307-9755
The author
Alice Ashby Roettger is a freelance writer based in Indianapolis, Indiana. She currently serves as an editorial assistant for The Rough Notes Company.