SUCCEEDING WITH TALENTED WOMEN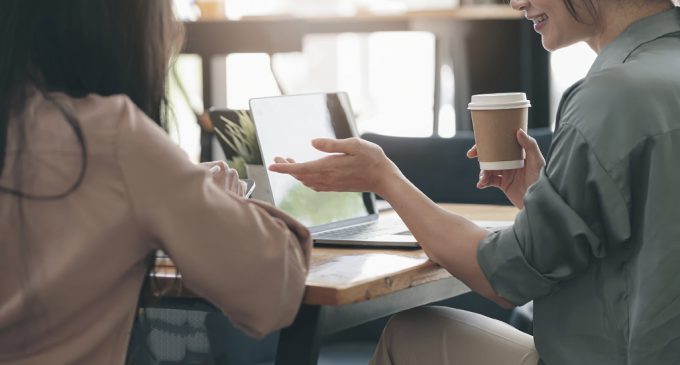 BROKEN GLASS
SUCCEEDING WITH TALENTED WOMEN
Industry veteran takes the helm at Encharter and expands its commercial team
By Elisabeth Boone, CPCU
When industry veteran Lisa Johnson was offered the opportunity to join Amherst, Massachusetts-based Encharter Insurance as chief operating officer, she hastened to accept the invitation. Her 30 years of experience include leadership, marketing expertise, customer focus, and team building, all of which will further strengthen the service mission at the 140-year-old independent insurance agency.
Johnson, who like many of us had no intention to pursue an insurance career, began hers with Aetna in the then insurance giant's underwriting training program. "I also spent time in excess-surplus lines, served as a producer for a national brokerage firm, and then joined a startup, Lynch & Ryan, a workers compensation consulting firm," she explains. "We ultimately sold the business to Travelers, where I stayed on in the national accounts department."
She spent the last 17 years at Renaissance Alliance, an agency network headquartered in Wellesley, Massachusetts. "While at Renaissance, I worked with Encharter for 12 years before joining it, so I had a good feel for my ability to lead the operation," Johnson notes.
Heading up the operation at Encharter is Johnson's passion; she fields a team of more than 20 licensed insurance professionals, all of whom are women. "I'm delighted to lead this strong, seasoned team," she declares. "I've been impressed by how committed everyone is to delivering superior client service. The team is really dedicated to earning the trust and respect of the people and communities that Encharter serves.
"We have an excellent field of talent," Johnson continues. "Team members range from our insurance techies to up-and-comers we're grooming for future management positions, four of whom started as receptionists. We also have some less experienced people, and we're investing in training to help them advance in their careers."
Encharter operates two offices: The main one is in Amherst, and a branch is located in Lexington. "We serve over 11,000 clients throughout the state, focusing on personal and commercial property/casualty lines," Johnson explains. "We're a large Main Street agency that is deeply involved in the communities we serve, and we offer personal auto, homeowners, and umbrella coverage in addition to commercial products."
Johnson's journey to a career in the insurance business was, like many fellow professionals, indirect. "Several members of my family were involved in the industry, and I thought that was the dullest career choice anyone could make," she recounts.
"I spent a year out of college working in a large retailer's management training program, and I soon realized that I didn't want to work seven days a week while my friends went to the beach," she says with a laugh. "I began to search for another job, and I found Aetna. As I became involved in their training program, I started to become invested in the insurance business. I've explored several different aspects of it, and my exposure is proving useful as I build our team."
Then and now
What were attitudes like toward women in leadership positions when Johnson began her career, and how have they changed over the years?
"Women have dominated the industry in numbers for years, but they have been outside the power structure," she says. "When I started, women were referred to as 'girls,' and what we now consider sexual harassment was just brushed off as 'boys will be boys.'
"I remember hiding my pregnancy as long as I could because I was concerned that there would be an expectation that I either wouldn't be up to the demands of a higher-level position or that I wasn't going to return to the workforce," Johnson recalls.
"When a woman was promoted, you knew there wouldn't be another opportunity for a long time because the quota had been filled."
Returning to the present, "The business has come a long way," Johnson asserts. "There's a lot of good news. As I observe the younger generation of women, I see that gender equality is part of their experience at a much younger age.
"They're seeing their working mothers or aunts, and they come into the workforce with much higher expectations," she adds. "They anticipate that they'll be treated equally, and they push for it. I admire that and am really happy to see it.
"Women deserve a shot at the best jobs, and they deserve equal pay," Johnson notes. "Today there clearly are more women in middle management positions, but at the highest levels of leadership we still have a lot of work to do."
Early in her career, Johnson says, "Another woman was my competition because there would be opportunities for only a few. Women were not necessarily helping each other, whereas now they are colleagues.
"It's incumbent on those of us in leadership positions to recognize that women require mentorship," she adds. "They require encouragement and leadership. We need to be stretching a hand back to help them."
What qualities does Johnson say women bring to leadership roles in the insurance business?
"Women are more collaborative and less hierarchical; we do more listening and less pontificating," Johnson responds. "Women are more about facilitating thoughts and ideas. I don't expect to be the single source for everything we need to do in our agency.
"Ultimately, I will make those decisions," she explains, "but I need everybody around me. I'm focused on listening to them and bringing our collective ideas together as the strategy to go forward."
Men have played a key role in Johnson's success, she asserts, and she acknowledges their contributions. "When it comes to choosing a mentor, women need to look not just at other women but also at men," she says.
Opportunities abound
"Opportunities in our industry are virtually limitless," Johnson asserts. "I don't know why it has a reputation for being dull and stodgy. Being involved in an independent agency requires you to be entrepreneurial in spirit. The business is constantly evolving and changing.
"The career path is less defined, so you need to carve one out for yourself," she adds. "You need to strive to be the best both technically and in terms of sales skills. A great salesperson will always have a job.
"At the end of the day, insurance is always going to be a people business," Johnson says. "You need to have a staff with a strong service ethic and impeccable business values. Your customer always has to come first. If you make the customer the priority, the commission will follow.
"I suggest getting an advisor's license in addition to a broker's license," she continues. "Independent agencies can separate themselves from direct writers and other competitors by being a trusted advisor who understands how best to meet all of their clients' protection needs and deliver flawless service. That trumps getting a quote for 15% less in 15 minutes."
Asked what advice she would give a young woman who is considering a career in the independent agency system, Johnson responds, "Your career is your independence and your power. Never forget it. It allows you to acquire the things you want and go after the life you want.
"Set your sights on where you want to be, then go for it," she adds. "With millions of Baby Boomers retiring, there couldn't be a better time than now to be in the insurance industry, so prepare yourself to step into those leadership roles."
The author
Elisabeth Boone, CPCU, is a freelance journalist based in St. Louis, Missouri.
Do you know a female independent agency leader we should feature? If so, please email details about her as well as contact information to Elisabeth Boone, CPCU (elis.boone@icloud.com). We'll take it from there.