THE FUTURE OF RISK
Emergence and adaptation of technology drive changes in the industry
By Dave Willis, CPIA
Much is taking place in terms of the future of risk. That's the scenario David Sherwood laid out in a session he led at the Target Markets Program Administrators Association mid-year meeting in Baltimore earlier this year. "There's a lot of change going on," he added, encouraging industry professionals who attended the session to consider how this change mightimpact their jobs and lives, "and whatmight be done differently going forward."
Sherwood, a managing director in Deloitte's Financial Services Advisory Practice specializing in risk management, discussed three broad types of risks: those that program administrators, carriers and other insurance-related businesses face in their own operations; various business risks faced by clients that insurance providers help them insure against; and then risks everyone faces in an increasingly interconnected society.
None should be viewed as being independent of the others. "As companies increasingly rely on each other, we're all in it together," he asserted.
He sees much change being driven by "emerging technology and adaptation of technology." Sherwood acknowledged that many program administration professionals already are involved with some projects that involve emerging technologies and how to leverage those. "Others may not be as involved," he observed, "and I would encourage them to get engaged, because it will give them a clearer picture of where the industry is moving.
"There clearly is a race to innovate," he noted, citing a number of elements associated with the evolving future of risk.
Data plus
One area is cognitive technology. "This could involve taking large amounts of data, applying some form of artificial intelligence to it, and then trying to provide an overlay of machine-based decision-making," he explained. "We see this in a number of areas: I think about personal insurance, where artificial intelligence predicts weather patterns and then all of a sudden my home insurance provider is sending emails about locking down or otherwise preparing for a storm."
This plays out in claims, too. Given the speed with which claims are being paid, he noted, "background programs are checking whether there's fraud involved." Immediate human intervention is not necessarily part of the mix.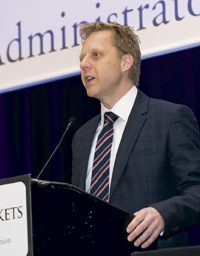 Monitor and control
Real-time risk monitoring and control also are becoming much more pervasive. "Think about wearables and their linkage to health insurance," he said. "It's possible to see whether we have gone to the gym, whether we've gotten our steps in, what our heart rate and other vitals are, and more."
Telematics also is having more of an impact. "Auto insurers have more and more data coming in about driving habits and vehicle performance, and that is starting to influence how automobiles and drivers are being insured," Sherwood observed. "Real-time monitoring of the insured's activity is coming to the fore."
Perhaps most important, the industry is using technology to get ahead of risk. "Even within Deloitte," he explained, "we have a tool that will help monitor social media activity and understand the chatter about your carrier or the business that you're in—what people are talking about." The tools can provide companies a good perspective on public discussions taking place and where control breakdowns may be occurring.
"What you can do at that point is think about how to get ahead of it and actually become more resilient as an organization," Sherwood counseled. "Do we need to fix something within our processes? Or do we need to get some form of media posts out there to explain to customers that our systems might be down?"
Behavioral science
Much work is being done to improve understanding of the human psyche in terms of what drives behavior, how that plays into technology, and then how that relates to policy pricing, he noted. Think about an online life insurance policy application. As you go through the application, "perhaps you get to a question about whether you drink or are a smoker," Sherwood said. "Maybe your cursor just hovers over the button" because you're an occasional smoker. "Technology now can sense if you're hovering over a button and trying to make a decision … and then translate that into an underwriting decision" factor.
Technology similarly is starting to make decisions, both from the underwriting and the claim sides of the business, on the types of fraud-related behaviors humans naturally lean towards.
Regulatory factors
Addressing the relationship between innovation and regulation, Sherwood observed that "regulation tends to lag rather than lead." For instance, cyber events have been taking place for some time. "But the state-based insurance system has only just passed model laws (about cyber regulation) … and certain states have adopted them," he explained.
He pointed out that innovation tends to lead. Himself a former regulator, Sherwood said, "Innovation, as it pushes forward, does help shape regulation. I would encourage innovation. Don't let it be stifled by regulatory change but work with regulators."
Performance enabler
When Sherwood started in the risk industry, it was, he said, "almost like being in compliance. The company thought of risk as a no-no. They were always trying to prevent risks from happening." Over time, however, he's seen a cultural shift. "Now risk managers are working much more closely with the businesses," he added, "and they are being challenged to answer the question: What is on the flip side of the risk? What is the opportunity coming to the fore? And how do we start to take advantage of those risks to drive performance?
"Those are very good question to be asked," he said. "Culturally, as a business, we are starting to get there—to really understand the key risks being faced and how to get opportunities from the back end of those."
Better together
There's no doubt we—as individuals and as professionals—are networking more and more. "Within an economy that presents us both challenges and opportunities, we definitely need to work together," Sherwood asserted. "There are opportunities to partner with other organizations and there are opportunities to innovate with others as they try new things." The goal: to get the best solution for both parties.
Disruption will continue to dominate the agenda at the executive level. "We're being challenged in all areas—both in the back and front offices of our business; it's the new norm," he noted. "There are new risks we will insure, and different ways of providing insurance and managing the back office and claims.
"Get involved," Sherwood advised. "Don't fear the agendas. Embrace it and understand how it will impact you in your role."
To listen to a recording of the full panel session where Sherwood shared these remarks, visit bit.ly/RNFutureRisk.