Indianapolis chapter NAAIA Young Professional Award winner is always looking for opportunities to pay it forward
As we wrap up our series on  "giving back," we conclude with a young lady whose passion for volunteering benefits many individuals and organizations in her community. When her "to-do" list increases, the opportunity to do things for others keeps her balanced.
"Anybody can get caught up in the day-to-day—the transactions, the goals, and the numbers," says Victoria Learned-Fenty, AINS, AIS, AU, a professional liability broker at the Indianapolis office of Burns & Wilcox. "Volunteering helps keep me more grounded and see the bigger purpose. Helping other people keeps me motivated and gives me that 'feel good' feeling. I'm always wanting to pay it forward."
Learned-Fenty graduated from Indiana University's Bloomington campus in 2010 with a degree in Spanish and a certificate in business from IU Kelley School of Business. Like many young professionals in the insurance industry, this was not her original plan.
"My sister graduated with a degree in risk management from Ball State, but oddly enough she didn't get involved with insurance and I did; it's kind of a joke we share," Learned-Fenty laughs. "The job market wasn't awesome when I graduated, but I attended a few career fairs and found some good opportunities in the insurance industry.
"I never saw myself going into insurance because my background was more focused on nonprofit organizations and supporting the Latino community. I eventually found Burns & Wilcox, and I've been here the past five years."
With the Baby Boomer generation reaching retirement age, now more than ever is a good time for young professionals to pursue careers in insurance. "I think it's important that we have new talent and resources available; there's a lot of opportunity within the insurance industry, especially with so many people retiring," explains Learned-Fenty.
"I started out as an assistant underwriter in our commercial lines division and after two years was promoted to commercial underwriter, where I was responsible for my own book of business. Last May, I was provided the opportunity to apply for a broker position that was available in our office. Professional lines is one of our fastest growing segments, and our vision for our company is to have someone who is specialized in professional lines in each of our branch offices. I was promoted to become our professional lines broker to help grow that segment in our Indianapolis office."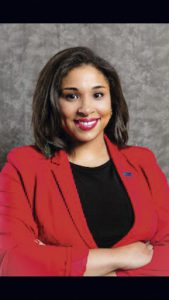 Helping the community
A former Girl Scout and a Brownie before that, Learned-Fenty spends time volunteering with the organization. "I'm a registered mentor for the Girl Scouts," she says. "With their mentorship program, I'm a guest speaker for troops. I speak to these girls about self-esteem, why education is important and how it leads to having a successful career.
"You never know when you're going to influence someone or change their experience and get them thinking differently about their future. I'm passionate about that organization. When I was a member growing up, I loved the camaraderie and having a group of girls who weren't only in my troop, but also at my school and in my grade."
Another organization she volunteers with is Dress for Success, which helps women get back into the work force. "There's a boutique where women can get donated suits, shoes, jewelry, and accessories," says Learned-Fenty. "The look is not the most important thing; there are also volunteers who offer career coaching, resume reviews, mock interviews, anything that will help support these women.
"Many are coming back into society from homelessness or troubled life situations, or they may be single mothers who want to get back into a career field. They may have been out of work or were stay-at-home moms for a decade or so. Dress for Success really helps women prepare for career success."
Learned-Fenty also volunteers with Habitat for Humanity. "I used to just be a donor, giving money when I was in college," she explains. "This year I joined a women's build team in the greater Indianapolis area, and I've been fundraising since November. There were 12 women on my build team, and collectively the Women Build Indianapolis teams raised over $121,000 for a new home."
On May 19, the build team got down and dirty, assisting with the construction of a new home for a local single mother with two small children. "We were responsible for completing the siding and roofing support," Learned-Fenty says. "I had never helped build a house before, so it was empowering to do something out of my comfort zone. It was great to see right away how our efforts were helping someone reach her goal of owning a home.
"The best part of the experience was working with the Tiger Team members, who work with Habitat for Humanity year-round and help coach others about construction and safety on the build sites. Most of these individuals are retirees who have volunteered with the organization for decades. I enjoyed learning from them and listening to their testimonies on how Habitat has made a difference in the community over the years."
NAAIA
In 2016 Victoria earned the National African American Insurance Association (NAAIA) Young Professional Award for the Indianapolis chapter. "I started my insurance career in 2012, and had connected with the NAAIA through the Indiana Big 'I' chapter," Learned-Fenty says. "It wasn't until 2015 that I became heavily involved, getting hands on and learning more about the organization.
"That year I became—and still serve as—the secretary chair for the local NAAIA chapter. NAAIA is a nonprofit organization whose mission is to help bring diversity to and support minority communities within the insurance industry. In doing so, our biggest footprint is scholarship endowment. Each of our chapters has its own scholarship fund, and all year we do fundraising to give money to someone currently enrolled in an undergraduate program for risk management, accounting, or finance.
"As a board member, I help with organization and correspondence, in addition to fundraising and finding scholarship opportunities. The national NAAIA organization also has a seat on
the national InVEST program, which goes into high schools and attends career fairs to help students understand the insurance industry. I'm an advocate for getting young people into our industry."
On top of her duties for the NAAIA, Learned-Fenty also is a member of the young professionals' organizations of the Big "I" Indiana chapter and the Professional Insurance Agents (PIA)
of Indiana.
In conclusion
While volunteering with insurance-related and community organizations is a great way to give back, having the opportunity to volunteer with one's company is a great way to improve company culture. "Our office at Burns & Wilcox does quarterly philanthropic activities," says Learned-Fenty. "We vote on a local nonprofit organization to support, and our managing director sets up a time when we can all go during lunch, or go as a group at the end of the day or in the morning."
During the past two holiday seasons, the company was busy providing meals for the less fortunate in the area, while having friendly in-office competitions in the process. In 2015 the office participated in the annual "Canstruction" project for Gleaners Food Bank of Indianapolis. Departments competed to see which could construct the most creative structure using canned and dry goods, which were donated to the food bank at the competition's conclusion. A pasta drive in 2016 saw over 1,200 pounds of pasta donated to Second Helpings, an Indianapolis nonprofit that "transforms lives through the power of food."
Learned-Fenty points out that Jodie Kaufman Davis, corporate vice president and managing director of Burns & Wilcox Canada, recently established internal policies for a "time off to volunteer" program.
At the end of the day, it's all about helping others and the positive impact it has on them and oneself.
"We have a young office, and it's cool seeing other young professionals as passionate as I am about giving back," Learned-Fenty says. "I think seeing beyond yourself is important for young individuals, and volunteering helps with this.
"In addition to volunteering with the organizations your company supports, do something that's important to you, not just what your manager tells you to do, or something that will make you money or give you referrals. Do something you're passionate about; otherwise it's just another item on the to-do list."
By Christopher W. Cook