A STRONG NETWORK
Chicagoland young pro finds value in building and maintaining business relationships
By Christopher W. Cook
---
I always hear about how insurance is a people business, which is one of the reasons why I would find it difficult to work in insurance—I have the tendency to be an introvert among introverts. Sometimes I have to psyche myself up before I mingle and connect when I do find myself in networking situations. Ultimately, I prefer to stick to writing.
Don't get me wrong; the connections I make when networking are truly valuable. I rely on my networks to help keep me in the loop with the current happenings in the insurance industry and provide expertise regarding a job that I've never worked myself but report on monthly.
"The networking, professional development and friends made participating in … organizations are unmatched and cannot be acquired strictly through the job."
—Bri Allen
Casualty Broker
McGill and Partners
For Bri Allen, a casualty broker with McGill and Partners in Chicago, Illinois, insurance was her chosen career path after studying risk management and insurance in college. But the networking opportunities she experienced early on that gave her career a push in the right direction were the icing on the cake.
"I've had the opportunity to attend RIMS [now RISKWORLD] four times—twice as a student at Illinois State and twice as a professional," she says, claiming that the conferences gave her an opportunity to make "invaluable connections very early in my career."
Allen graduated from the Katie School of Insurance at Illinois State University in 2017 with a degree in Risk Management and Insurance, but prior to receiving her degree, she took advantage of a plethora of internships.
"I first interned at Country Financial in 2015 as a claims analyst," she explains. "I then interned at Lloyd's of London through the international internship program at the Katie School of Insurance in 2016, before traveling to Dallas, Texas, to intern at Markel and Amwins through the WSIA [formerly NAPSLO and AAMGA] internship.
"I started my career in 2017 at WTW via the Graduate Development Program," Allen adds. "I spent a year in trade credit and political risks before settling into the Large and Complex Casualty team, where I worked my way up to team leader before making a move to McGill and Partners in January 2023."
Involvement
Serving several insurance and non-insurance organizations, Allen keeps busy outside of the office.
"I serve as the director of outreach in the Chicago Chapter of Young Risk Professionals and also as the emerging leader chair in the Chicago Chapter of the National African American Insurance Association (NAAIA)," she says. "I'm also a member of the Alumni Council for Gamma Iota Sigma's Chicago Chapter and served as its regional director in 2018-2019.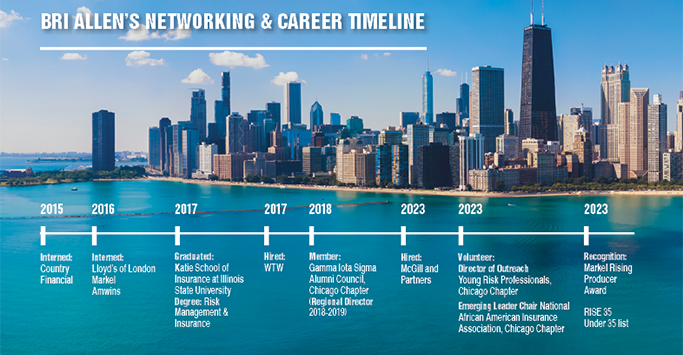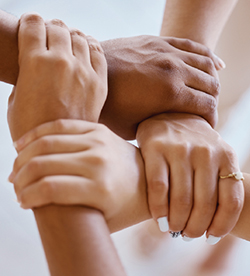 "I also make it a point to attend events hosted by many other groups, such as RIMS, Insurance Associates, and others," Allen adds. "The networking, professional development and friends made participating in these organizations are unmatched and cannot be acquired strictly through the job."
Allen spends additional time partnering with organizations and schools in the Chicagoland area to teach financial literacy to underserved youths. "As someone who grew up in a similar position, I have struggled with the topic of financial literacy, and I look to help kids not have the same issues in adulthood," she says.
Throughout her career, Allen has been "so lucky to have so many individuals over the past 10 years shape my life both professionally and personally, ranging from professors, advisors, managers, co-workers and senior leadership," she says. "They have helped me look at a bigger picture and guide me in the right direction.
"I do not believe I would have ever received the opportunities I have or progressed in such a way without their guidance," Allen adds. "I believe having a strong network is one of the most important things to have professionally, but you have to work diligently to build and maintain those relationships."
In her seven-year professional career, Allen lists winning the 2023 Markel Rising Producer Award as well as being named to the 2023 RISE 35 Under 35 list as career highlights.
For young professionals—and newer professionals—beginning their insurance careers, Allen advises, "Always be open to new things, whether that be an opportunity outside of your current job role, a position with a local organization or an opportunity to meet new people. You must be willing to take calculated risks in order to be successful.
"Additionally, be willing to do the work to learn. Your reputation is everything and credibility makes up a big percentage of that," she says. While Allen hasn't earned any professional designations, she advises to get them early to establish that credibility.
When she isn't doing "insurance stuff," Allen enjoys traveling around the United States and to new countries. "I've been to six this year," she says.
Allen also enjoys attending concerts—having gone to 11 this calendar year at the time of this article—and spending time with her two cats, the mother and daughter duo of Sandi and Stormi.