CAPITALIZING ON BENEFITS
Whatever the changes in the ACA, Meyers Glaros Group anticipates continued benefits growth
The Affordable Care Act, with all of its regulations and requirements, hangs like a thread in the Republican Congress; but regardless of its future, the employee benefits business at Meyers Glaros Group in Schererville, Indiana, is likely to grow.
With the original passage of the Obamacare law in 2010, employee benefits sales and consulting boomed, says Will Glaros, RHU, CACAP, managing partner of employee benefits at the Meyers Glaros Group. "The Affordable Care Act was the best thing that ever happened to the benefits business," he explains. "The new law made us more important to our customers than ever before."
Before the ACA, the health benefits business was almost totally market-driven for small to medium-sized employers, he says. Agents and brokers would prepare bids based on an employee census and a list of benefits specifications and submit health plans to them. Most benefit plans for these employers were fully insured, with only the larger employers dabbling in self-funding.
Glaros observes, "Compliance with the ACA had a dramatic effect. Suddenly employee benefits went from simple to complex. Compliance became one of the biggest employer concerns, and suddenly employers were coming to us—asking us about whether or not they were in compliance and how they could better manage their benefits within the structure of the new law. Our business became more focused on consulting and compliance management."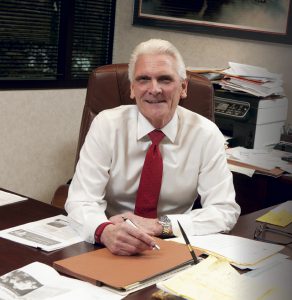 Even as the Trump Administration and a Republican Congress seek to repeal and replace the ACA, Glaros says the more consultative role will not change. Says Glaros, "I don't see how they can unravel the law; there are too many people now covered by health reform benefits for legislators to completely ignore."
No matter how Congress reorganizes the law, employers will continue to need informed agents and brokers and their resources in order to navigate their future, he says.
Glaros has had long experience observing the employee benefits scene. He started in life and disability insurance in 1972, working for a large life insurer. He left the carrier in 1975 and, by 1978, began his own employee benefits brokerage, Employer Benefit Systems.
The Meyers Glaros Group continues to evolve as a family affair. In 2014, HIA Insurance, a local property/casualty insurance agency founded in 1931 and owned by managing partner Larry Meyers and his son Jeff, merged with Employer Benefit Systems, operated by Glaros and his son Matt.
"Together we are more than 100 years of industry knowledge and tradition that we put to work for our clients every day," said Larry Meyers in the merger announcement.
The agency now has 17 employees, with nine in the employee benefits practice.
Group health insurance drives the employee benefits practice, but the firm also provides group life, disability, dental, and vision care insurance, as well as voluntary benefits paid by employees through payroll deduction.
The firm has about 600 clients, about 200 in employee benefits programs. Clients range in size from a few employees to more than 4,500, but the firm's niche is small to medium-sized employers of 50 to 300 employees, who are best positioned to use level funding arrangements and various levels of self-funding with stop-loss protection.
Will Glaros says he believes the firm's growth will continue. Reasons for his optimism are the planning efforts that Matt and Jeff have led. This includes expanded staff and training. "The most dynamic aspect of the organization's growth and future is our blend of a seasoned staff with the energy and excitement of the next generation," he says. "There are no limitations. We continue to learn and grow, and we continue to serve our clients and keep them happy. As we do that, our business grows dramatically."
Matt Glaros agrees that the ACA was the cornerstone of the firm's employee benefits growth. With the beginning of the Recession, employers began to rethink their employee benefits designs and, in 2010, with the passage of the ACA, the direction of the industry changed completely.
"Price is still important," Matt Glaros says, "but the most important concern is compliance, and what we bring to the client relationship is creativity in meeting business goals and maintaining compliance. We connect the dots for employers. We have to be the advisers and bring the solutions, even if it involves some out-of-the-box thinking. If they are just looking for the lowest price, we are not the adviser for them."
Analyze, consult, and engage, describes the firm's approach to employee benefits consulting. According to the firm's website, the process begins with a broad business overview of an employer's business and its employee benefit goals. The broker also reviews how the employer complies with relevant government regulations and what it might need to do as it develops a new benefits program.
As part of the consultation step in the process, the firm reviews how the employer compared with its competition and whether or not there are gaps in compliance. With that information, Meyers Glaros can prepare a series of employee benefit options, along with a list of potential vendors and educational resources.
Finally, the firm engages in the implementation of a new benefits program and processes and procedures tailored to client needs. The agency serves as a partner, coordinating insurance activities, assisting with claims, and maintaining a regular schedule of meetings with the human resource or executive team of the employer.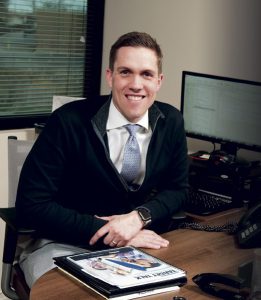 Many clients have changed their health insurance plan designs to high-deductible health plans, often coupled with Health Savings Accounts (HSAs). More employers are choosing level-funded or partially self-funded structures that comply with ACA but also provide more flexibility, Matt says.  These plan designs require a much higher level of service from agents and brokers, he notes, and effective implementation demands the latest in benefits technology. "Education is also huge," he says. "The employers rely on their advisers for the training they need to communicate these programs."
Teresa Boatwright is a benefits account manager, handling a broad range of service needs at Meyers Glaros. "Service is very important to the way we work with our clients," she says. "Many of our clients are small employers who don't have time to update benefits files and manage claims issues. So those become tasks we take on in-house."
Claims continue to be a problem for employees, Boatwright says. "Employees get their Explanation of Benefits forms and they are loaded with confusing information. They don't know what they are paying for or how. They don't understand deductibles, or why, when the documents say they have paid the deductible, they still owe coinsurance. I have to be one-stop shopping for all that information. Our account managers have to be problem-solvers for all issues related to employee benefits."
The ACA has made the task even more complicated, she says. All benefits brokers need to be experts in ACA compliance, and account managers are the day-to-day resource for compliance questions and implementation.
The most recent development in the employee benefits practice had been the introduction of an online benefits and human resources services portal, The BerniePortal, developed by Bernard Health in Nashville, Tennessee. The firm also uses the Zywave broker support system from Zywave in Milwaukee, Wisconsin.
Lauren Gephart, human resource adviser, joined the agency last August to oversee the implementation of online enrollment using the new portal and provide human resource consulting for clients. Gephart says the agency has been moving away from paper enrollment and will have soon completely automated open enrollment for clients.
"My first day at the agency was training on the online portal," she recalls. "And since then, we have been adding clients to the system. By next year, all of our clients will be on the system and open enrollment will be a breeze."
The BerniePortal, however, isn't limited to benefits sign-up and census. "The portal is really very similar to an HRIS. The system can handle onboarding and offboarding of employees and management of human resource records, among other human resource needs," she says.
Gephart also serves as the agency's human resources adviser to clients, providing strategic consulting as well as tactical functions that enhance employee relations. She says many of the firm's clients lack professional human resource management. "In many small employers, the human resources functions rest in the hands of the president or owner, and their focus is on running their business. They don't want to be sitting at a desk dealing with compliance details."
Gephart takes the place of an internal administrator, preparing job descriptions, interviewing candidates, and providing general HR support. One of her favorite tasks is preparing
"culture" books for clients. "They are sort of a fun employee handbook, designed to communicate what it's like in the workplace and how the employer functions as an organization," she says.
"With our assistance, the leaders can focus on their successes and building what they want to build," Gephart concludes.
For more information:
Meyers Glaros Group
www.meyersglaros.com
The author
Len Strazewski is a Chicago-based writer, editor and educator specializing in marketing, management and technology topics. In addition to contributing to Rough Notes, he has written on insurance for Business Insurance, Risk & Insurance, the Chicago Tribune and Human Resource Executive, among other publications.