A veteran marine broker brings skill and savvy to her demanding field
Our Broken Glass series continues with the profile of another woman who has achieved success in the independent agency and brokerage business. This month we learn about the challenges and rewards experienced by veteran marine broker Jacquelyn Neal, who in February of this year joined Integro Insurance Brokers as a principal in the marine practice and is based in the San Francisco office.
Almost everyone in the insurance business has a great story about how he or she came into the industry, and many of those stories focus on chance or happenstance.
So it is with marine broker Jacquelyn Neal, who says she had no plans to pursue an insurance career.
"I fell into the insurance industry by accident, like everyone else," Neal says with a chuckle. "When I was at San Francisco State, my roommate was being pressured by her parents to help with college expenses. She decided to go downtown and find a part-time job in an office. An interviewer at a small marine agency called Talbot Bird said she had no business in anyone's office, so she told him that her roommate was serious and might be a good fit for the job. I interviewed for the position and got it, and that was the beginning of my career in marine insurance."
That career, which spans more than 30 years, has seen Neal assuming increasing responsibilities while becoming a respected expert in the demanding field of marine brokering. After three years with Talbot Bird she joined Marsh Risk & Insurance Services, where she worked for 25 years and had responsibilities that included serving as professional standards officer for the marine and energy department. She eventually rose to the rank of vice president. She left Marsh to join Lockton Insurance Brokers, where she worked for 10 years, and then went to Woodruff Sawyer for two years and served as a senior account manager. In February of this year Neal joined Integro Insurance Brokers, an international broker and risk management firm, in the position of principal in the marine practice at the San Francisco office. She manages an existing book of marine clients and is developing new cargo and marine liability business.
Launched in 2005, Integro is a global insurance brokerage and risk management firm with offices across the United States, United Kingdom, and Bermuda. It offers solutions to help manage risk across a wide variety of industries. In addition to the marine industry, Integro serves clients in the aviation, entertainment, healthcare, real estate, transportation, and waste industries. Integro's solutions and services include accident and health, alternative risk financing and captives, analytics, casualty, claims management and consulting, contingency, employee benefits, energy, environmental, global programs, hedge funds, loss control, management risk, mergers and acquisitions, private client and professional services, professional liability, property, reinsurance, risk control, ski program,surety, terrorism, and workers compensation.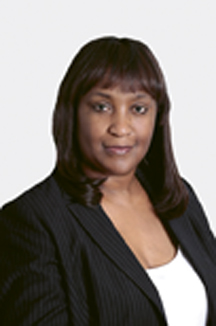 A challenging specialty
We asked Neal what she likes about marine insurance. "I like it because it's specialized; it's not the first thing you think about when you think of insurance," she responds. "Marine underwriting and brokering involve interacting with people from many different industries and learning about those industries. Recently while we were on a cruise, my husband asked me why I was watching workers load boxes of supplies onto the ship. I have several accounts that load cargo onto vessels, and to me it's fascinating to watch the employees at work."
Much has changed in the insurance business since Neal began her career, but it's still a field that's dominated by white men. Entering the marine sector, she faced a daunting challenge because, as a woman, she had never worked on a vessel in any capacity and wasn't always taken seriously by male clients who knew she lacked that experience.
"Rising to that challenge was part of the appeal of marine insurance for me," Neal declares. "I'd go to marine events attended by 250 or so people where there might be eight or nine women. On top of that, being a person of color made me want to strive harder and move up through the ranks."
For a woman, achieving respect in the field of marine insurance sometimes presented obstacles for Neal. "I was dealing with vessel owners, mariners, tug operators, salvors, and so on, and they tended to assume that as a woman, I didn't know anything about their operations. Women held very few positions in the marine industry, and it took considerable time and effort on my part to gain acceptance in this male-dominated space."
As she was building her career as a marine broker, Neal encountered some obstacles to progress. "I often felt as if I had to work longer and harder than others, especially men, to achieve positions of greater responsibility," she recalls. "At one employer it took me 17 years to become an assistant vice president and 20 years to become a vice president. I approached my boss and pointed out that I had been with the company and in the industry longer than a male colleague who had been promoted to vice president. I asked my boss to explain why this had happened, and he couldn't really give me an answer. I was promoted the next week," she says. "Meanwhile, some colleagues were being promoted to AVP in six or seven years, and some even sooner than that."
Changes for the better
Over recent years, Neal remarks, women have been moving into positions of responsibility in many specialty fields, including marine insurance. "A lot more women are in this field now, especially on the underwriting side. I think attitudes toward women have changed, and on the client side, many women are now serving as risk managers. I think that helps women in the industry and creates a more open path for them to earn positions in leadership."
We asked Neal what unique qualities she believes women bring to the insurance industry. "I think women view and observe things differently from men," she says. "I tend to listen attentively to what clients say they need before I present solutions to their issues. Overall, I believe women have had a humanizing influence on insurance. Brokers emphasize the quality of the service they deliver to clients, and that service often is provided by women, who tend to bring empathy to each interaction."
As women increasingly achieve respect and responsibility in the marine insurance field, Neal sees a wealth of opportunities for young women to pursue it as a career path. "While I was at Marsh I worked with some graduate programs, and a lot of students wouldn't even approach our booth at career events," she recalls. "They tended to think of insurance as being just about homeowners and auto, and I would explain that insurance is something that all businesses need. I pointed out that marine insurance is needed for ships, cargo, crew, dock workers, and freight companies as well as the buildings that are constructed with materials that are transported on container ships.
"[W]hile on a cruise, my husband asked me why I was watching workers load boxes of supplies onto the ship. I have several accounts that load cargo onto vessels, and to me it's fascinating to watch the employees at work."

—Jacquelyn Neal
"I also explained that insurance is a secure field, somewhat like the medical field," Neal adds. "Just as people will always need healthcare, businesses will always require several different kinds of insurance to protect themselves, their employees, their products, and their reputations."
In addition to job security, she notes, "Insurance also offers young people a great deal of opportunity to learn and advance. Students can prepare by taking business classes in college, especially courses that focus on insurance and risk management. Internship opportunities are available and should be explored."
Hard work, self-discipline, determination, and a strong drive to achieve have powered the highly successful career of Jacquelyn Neal, and she is eager to welcome young people into the insurance business, especially in her challenging specialty of marine.
Do you know a female agency owner, principal, or executive who might make a good subject for a future Broken Glass profile? If so, please contact Elisabeth Boone, CPCU, senior features editor of Rough Notes (elis.boone@icloud.com), and provide some details about the woman as well as contact information. We'll take it from there.
By Elisabeth Boone, CPCU