THIRTY–FOURTH ANNUAL
2022 ROUGH NOTES
AGENCY OF THE YEAR CANDIDATE
One of the agencies featured in a Rough Notes cover story during 2022 will be named Agency of the Year. The winner will be selected from votes by previous Rough Notes cover agents. The principals of the winning firm will be presented with the award at a dinner held in their honor this spring. The nominees for this year's award are described on the following pages. The winning agency will be announced in the February 2023 issue of Rough Notes.
---
February
Shaw Insurance Agency
---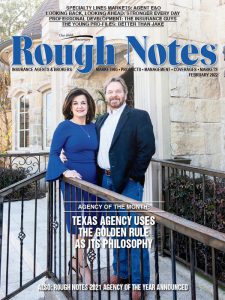 Shaw Insurance Agency, Hurst, Texas, traces its origins to a nuclear
physicist who turned to real estate to control his own destiny. Yes, you read that right. Physicist G. E. Irby opened the real estate/captive insurance agency in 1981; when he became ill, his wife Jean took the helm. In 2000, she sold to her daughter and son-in-law, Susan and Howard Shaw.
The Shaws turned the agency into a full-service shop, relying entirely on personal relationships to grow the business. "We deliberately set out to be the agency we would want for our own needs," Susan says. That affected customer and carrier relationships.
The duo brought with them a real estate background that included experience inspecting properties for potential risk—a benefit when the black mold contamination issue hit Texas just after they bought the agency. "We were writing 70 to 90 home policies a month," Howard recalls, "and did inspections on every one. … It was a baptism of fire."
The financial freedom the agency enjoys today lets the Shaws give back to their community—and beyond. Susan serves on eight local nonprofit boards and is the local Chamber of Commerce chair. The giving-back tradition inspired the Shaws' daughter, Sarah, to start a family-based charity that provides soccer balls, meals, Bibles, and clean water systems overseas.
Such involvement betters the community, of course, but also delivers
recruitment and prospecting benefits. Assessing the business, Susan observes, "People outside the industry assume insurance is boring; it's not. We are constantly finding new areas of risk simply through listening to clients. It's a never-ending learning experience, like a giant jigsaw puzzle that challenges us every day."
March
Connell Insurance
---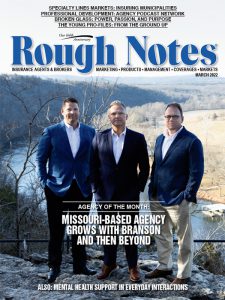 Connell Insurance was an integral part of the Branson, Missouri, community before Branson became "Branson." In those early years, the firm's focus was primarily on hospitality and personal lines. However, as the area began to become a center for live music entertainment, Connell was inspired to grow, too, primarily through an expansion of niches. As a result, revenue increased from $2.1 million 10 years ago to $9.8 million last year, partly due to the firm's largest growth in new business—to the tune of $1.48 million.
Currently, Connell focuses on six commercial areas: transportation, public entities, manufacturing, construction, social services, and hospitality, as well as personal lines and benefits.
Education is key, not only with clients but internally as well. The rationale is that a staff that is well-educated in all areas of knowledge—not just insurance—is more self-confident and thus performs better in both sales and service. In addition to industry designations, employees are encouraged to pursue undergrad and master's degrees.
Mentoring is another facet of the educational process at Connell. At weekly meetings, partners or sales trainers emphasize progress, and couple praise with suggestions for needed changes.
This educational process segues into the needs of clients and prospects. Niche-specific subject matter experts point out clients' exposures and explain how to deal with those risks. The entire process becomes more of an educational dialogue than a sales pitch.
Connell's razor-like focus on education also extends into local universities. Industry speakers provided by Connell appeal to students' desires to serve their communities by pointing out the numerous opportunities that an insurance career offers.
April
Strategic Insurance Services
---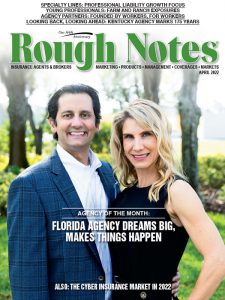 With little idea what all was involved in starting an independent agency, Doug Levi, chief encouragement officer of Florida-based Strategic Insurance Services, approached it with AWE—(positive) attitude and work ethic. "If I can make the phone ring for new business and I can take good care of people, I'll figure everything else out," he explains. "And it worked."
To create clients for life (CFL), "we have a monthly CFL service meeting where we suggest ways that we can improve our service to clients and discuss successes and challenges as well as best practices to improve as a team," says Phyllis Pirko, commercial lines manager.
Shelby Lamb, director of marketing and team fun, joined the agency to help focus on recruiting and growing InsuranceSideHustling.com, an agency project that helps people sell home and auto insurance part time, remotely, anywhere in the country.
"The agency provides the training, the carriers, the service and marketing support to help people get up and running quickly," she says.
Focusing on its team members, the agency hosts bi-weekly lunches, quarterly outings and a closed Facebook group for the agency and side- hustle team to share sales ideas, network, and ask questions online.
"We are constantly looking for new ways to show the team how much we care and how much we appreciate the tremendous job they do for the agency," Doug says.
Giving back to its community is another priority. "Once a month, we volunteer as a team. Everyone at the agency is encouraged to volunteer, and we pay for them to have three hours each month to volunteer for a cause they believe in," Shelby says.
May
Insurance Management Group
---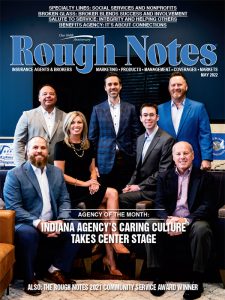 insurance Management Group (IMG) in Marion, Indiana, has come a long way from its beginnings as a small farm agency in 1875. Its current owner, Trent Dailey, joined IMG in 2007 and purchased the agency in 2015.
"I realized early on that I needed to stop serving my own needs and start serving others if I wanted to create an agency culture that allowed everyone to succeed," says Trent, who serves as CEO.
This strategy led to the agency more than doubling its revenue in the last five years.
"I started by creating a more data-driven environment that would allow us to better measure our performance," says agency COO Todd Dailey. The agency implemented a Net Promoter Score and an analytics platform to monitor overall agency metrics.
"It is always a challenge to blend data and culture, but we were ruthlessly committed to find the right way to recognize and use each person's unique talents in a way that was productive for them and for the agency as well as allow them to have a rewarding work-life and personal-life balance," Todd explains.
"And when we take care of our people, they take care of clients. It creates a cycle of caring that feeds on itself, making each day rewarding and providing increased chances to create a WOW moment for our clients."
In addition to "We WOW," the agency's other three principles include: We Serve, We Grow, and We Team.
Todd summarizes, "People don't care how much you know until they know how much you care."
June
Fusco Orsini & Associates
---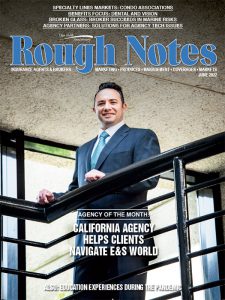 Fusco Orsini & Associates, in San Diego, California, has focused on making navigation of the E&S market easier and quicker for the businesses in that choose to use them as their risk management partner.
Founded in 2010 by Michael Fusco, chief executive officer, and Valeri Orsini, chief operating officer, the agency now has 20 employees handling some $3 million in revenue—mostly in commercial lines and employee benefits.
To start, the agency developed previous relationships, got involved with local groups, and developed its digital footprint. "We have a strong, consistent blog that always includes video content and that's been an important ingredient in our success," Michael says.
The agency has also developed "strong processes and workflows … thanks to technology that we have developed …," he adds.
Valeri points out that its automation systems keep up to date with the E&S marketplace. "[W]e keep clients informed almost instantly … . This transparency allows us to act quickly in concert with our clients whenever they need to make an adjustment in coverage or risk management mitigation.
"I like to see us as the Nordstrom of insurance," she adds, "and I'm pleased that many of our customers see us that way, as well."
The agency's also not afraid to change when it comes to technology. Its communication system shows how busy each producer is and what they are working on. "[It] lets me assign the lead to a producer who has the time to handle it quickly," says Dan Morton, small business sales manager. "It also lets me pair the request with a producer who has expertise in the particular business segment that is represented by the requester."
July
Moody Insurance Agency
---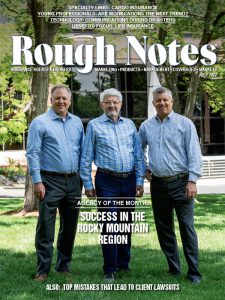 Moody Insurance attributes its 50 years of existence to a tradition of "trusted relationships" with its clients, which was conceived of by its founder and continues with the company's descendants to this day.
Personal relationships prevail both with Moody's clients and in its offices, with, first, a better than 97% client retention rate and, second,
20 years of staff employment being nothing unusual. That speaks to a level
of "continuity and consistency" that contributes to revenues of more than $30 million and employment of 140 associates in three locations.
The evolution of technology hasn't been ignored. However, advisors are careful not to allow it to distance them from clients. Rather they find that it enables them to monitor each account on a daily basis and communicate with them if necessary.
Add to this a strategic organic growth. Two "big" acquisitions by the Denver-based agency have contributed to increased revenues: the purchase
of a Grand Junction agency (the first branch office), and Smallwood Financial (which brought in 20 employees and increased the firm's product offerings to its commercial lines customers). These acquisitions complement Moody's reputation for attracting employees whose market knowledge allows them to serve as trusted advisors. In addition, the acquisition of talented people from various areas of the insurance industry has enabled Moody to create an in-house loss control and safety department, a full claims department that includes a claims advocate for clients, and an in-house counsel.
Last but not least, in terms of perpetuation, Moody celebrates that its future owners will come from its diverse group of associates, among whom will be the women who in recent years have assumed more leadership roles than men.
August
Cox Insurance
---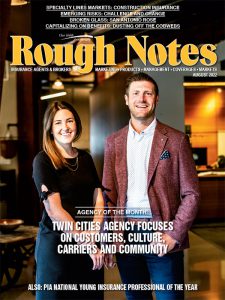 Cox Insurance, St. Paul, Minnesota, is an entrepreneurial start-up founded by Frank Cox in 1950. Now represented by third-generation leadership, the agency is young in spirit, passion and age. The average employee is just under 40 years old.
"Our goal is to remain fiercely independent," says Taylor Cox, CIC, president, "and to accomplish that, we focus on what we do best without being distracted by areas that might offer short-term profit." The agency focuses on four C's: customers, culture, carriers and community.
The P-C-only shop's personal lines target is high-net-worth families who need strong risk-management counseling. In commercial lines, defined niches benefit from a focus on coverage, risk management and mitigation services. The agency aligns with attorneys, CPAs and other strategic partners and is involved in business associations where clients and prospects belong. "We lead with education," says Derek Gruber, CIC, director of business insurance.
A key ingredient in what the agency does is "caring. That's our secret sauce and we practice it every day," Taylor says. Supporting community is in the agency's DNA; the firm commits at least 1% of revenues to local charities. Its nonprofit foundation has raised $1 million-plus for organizations and scholarship funds that provide education, mentorship, and wellness to Twin Cities youth. Team members organize quarterly volunteer efforts and mentorship programs through a "Culture Committee."
The agency also is revamping its headquarters building. "The building is very creative and different and that ties into our creative approach to insurance," Taylor notes. Within the office is Gallery 1639, a not-for-profit art gallery that provides local and emerging artists the opportunity to show their work and create connections with a new audience.
September
Martin & Zerfoss
---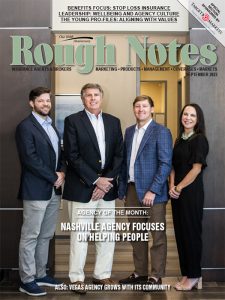 According to the "family" of Martin & Zerfoss, "We all wake up every
morning with a servant's heart. Our goal inside the four walls of the agency is to take care of everyone [there] so they can take care of our customers."
Through the years, internal perpetuation that assures security of employment and top-notch continuity of client service became the Nashville, Tennessee, agency's watchword. This carefully created office culture has obviously worked during its 44 years of existence and growth. In 1983, five agency members wrote mostly personal lines. Today, 40 team members write all lines of property/casualty lines.
Procedural changes always are focused both on employee comfort and client service—even in the field of technology. For example, various upgrades of software pinpoint and correct possible workload difficulties, thus ultimately improving client relationships and communication.
In addition, the recent pandemic revealed that improved technology could allow flexibility of workplace, with work-at-home becoming a new policy. The current standard is two days in the office and three at home. It is interesting that the new system also has allowed the firm to hire a fully remote worker—in another city—the VoIP phone system allows staff to answer phones remotely and maintain a personal touch.
The internal perpetuation policy is based on the premise that clients will remain with Martin & Zerfoss because it always will be there for them. Again, the "proof is in the pudding." In a year of confusion and insecurity, Martin & Zerfoss experienced its largest year of revenue growth in 2021, much of it based on referrals.
October
Granger Financial
---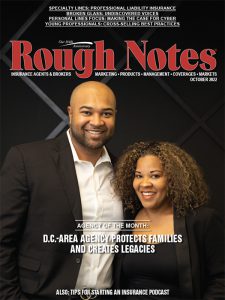 Three days after his executive position relationship with a direct writer had been severed, Jeff Granger, along with his wife, Eboné, opened Granger Financial in Sterling, Virginia—and wrote his first client.
Jeff pays tribute to the direct-writing principle of offering all types of coverage, while obtaining them from a variety of companies—thus being able to seamlessly provide new coverage if a company discontinues one.
If the agency's aim was to help people in its community, being generalists would enhance its goal of "putting our arms" around that community through education regarding possible risk exposures, family protection gaps and financial "quicksand." (Jeff had witnessed the effects of financial illiteracy among young professional athletes during his days of playing pro ball himself.) He also hopes to expand those financial literacy efforts by increasing the agency's footprint throughout the country.
Ironically, the pandemic made it possible for Granger to continue putting its arms around clients through social media. Their Facebook series, Financial Fridays, features insurance industry professionals, as well as professional athletes who share conversations regarding asset protection.
The agency also has chosen to be forward looking in terms of innovation and philanthropy. In the Grangers' minds, bringing young minority professionals into the industry can contribute to making protection available to all walks of life. Two first-generation Americans have already opened a branch office in Columbia, Maryland.
Philanthropically, Granger helped a local civic group create what is now an annual march and rally in honor of Breonna Taylor. Some $40,000 in scholarship money has been awarded to minority females who plan to enter the healthcare field.
December
Hertvik Insurance Group
---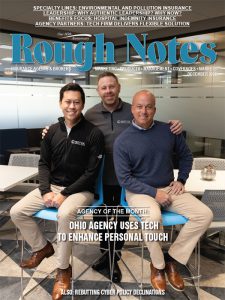 With an average employee age of around 32, Hertvik Insurance Group began creating a "digital experience designed to remove as much friction from the customer experience as possible," says President Jack Hertvik.
Spearheaded by Vice President Andrew Ryan, the process "started with two main objectives: improve our company's client experience and create efficiency within our organization."
"Our commitment to partnering with technology was never meant to replace human interaction or decrease the amount of communication we have with our customers," adds Jack. "It was meant to provide efficiencies to our staff to free them up to have more high-level conversations centered around guidance and expertise while at the same time improving the experience for our clients."
On top of its digital presence, the agency has also "doubled down" on being a good neighbor with its "Hertvik Cares" initiative, which raised over $30,000 for the JCH Foundation in 2022.
"Every quarter, the staff gets together and picks a charity for donation. … [T]he agency donates $20 for each new policy that we write," says Jack.
Andrew notes that, in addition to monetary contributions, "[when] we have a volunteer event, at least half the staff is there," he says.
"Our relationship with our community is just one of many important partnerships," Jack points out. The partnership between SIAA and SIA of Northern Ohio has made Hertvik "one of the premier agencies in our region," says Scott Ewers, president of SIA of Northern Ohio and past Hertvik Insurance Group president, who notes that the agency is seen as an $11 billion entity by its carrier partners by being a part of SIAA.