The Young Pro-Files
AN AID FOR THE HARD OF HEARING
Indiana young pro advocates for families affected by hearing loss
By Christopher W. Cook
---
In the insurance industry, certain dedicated young professionals stand out among their peers and are members of an elite squad of individuals. These are their stories. "Dun dun."
It only makes sense that parents dream of their child following in their footsteps when it comes to a career. My grandfather was a math teacher and even served as a principal for four years in between stints of teaching. My father taught industrial technology, spending his entire career at the same high school. And then there's me. But I can't take all the blame for ending my family's tradition of teaching at high schools; my older brother didn't become one either.
Perhaps it will return as a profession in the family with my son. While he could also follow in my footsteps, as a parent I have my own dreams for him. With the name Will Cook, I'm thinking Master Chef champion.
For whatever reason, the idea of traditional classroom teaching didn't seem attractive to me, similar to how the insurance industry isn't necessarily desirable to some whose parents or other family members work in it. But, as Dr. Ian Malcolm, portrayed by Jeff Goldblum, said in Jurassic Park, "Life finds a way." I still won't switch careers and teach in a classroom, but for one young professional, the idea of working in insurance eventually became favorable.
"I grew up in an insurance family but had absolutely no plans to follow suit," says Jennie Carr, CIC, AU, vice president of brokerage at Arlington/Roe, a family-owned MGA and wholesale broker headquartered in Indianapolis, Indiana. "However, I learned that an insurance career is far more interesting, creative, and fun than it sounds, and I have no plans to change industries."
Even with the family background in the industry, Carr needed a nudge. While studying communications at Indiana University in Bloomington, Indiana, she received that push.
"As I approached my senior year, I knew that it was prudent for me to work and save for a few years before deciding on a law or grad school," she says. "I met with as many professionals as I could to learn more about job opportunities. One of those companies was Arlington/Roe, and after a three-hour informational interview, I was impressed and intrigued.
"After graduating with a bachelor of arts in communication and culture, I took a position in IT and Development there. Initially, I planned for it to be temporary, but started to really enjoy it and wanted to do more. I took an interest in sales, marketing and underwriting.
"Nearly 18 years later, I am still going strong at Arlington/Roe and appreciate the challenges and the opportunities, as well as the incredible people I get to work with," Carr adds.
In Carr's first five years with the firm, she went from IT support to marketing and communications to being a commercial insurance assistant underwriter. This led to a commercial underwriter position for nearly five years before becoming a senior underwriter and broker. In 2019, she began her current position.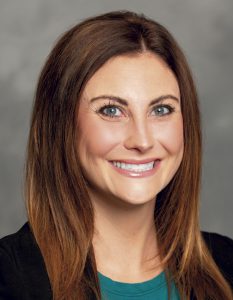 Along the way, she earned her Associate in Commercial Underwriting (AU) and Certified Insurance Counselor (CIC) designations and was guided throughout her career by numerous mentors.
"I now mentor others and continue to truly value the relationships of those who mentored me; I attribute much of my professional growth to them," Carr says.
When it comes to incoming young insurance professionals, Carr offers the following advice:
" Build a strong foundation
" Work hard and be patient
" Become a student of the business
" Volunteer to help others at work and in the community
" Have a growth mindset
" Build and value personal relationships
"While my career was developing, in my free time, I built strong relationships and studied the business," Carr says. "I worked long hours and made efforts to volunteer as much as possible."
Involvement
A life-long learner, Carr joined the Independent Insurance Agents of Indiana (Big "I").
"Being a member of the Big 'I' has been such a wonderful opportunity to build relationships and knowledge within so many facets of the industry," she says. "I was able to join the Young Agents of IN (now Emerging Leaders) and spent many years on sub-committees and special projects."
Carr also is an active member of the Wholesale & Specialty Insurance Association (WSIA) and serves on its Education Committee, as well as the Webinar subcommittee.
"The WSIA Education Committee is committed to providing high quality excess and surplus lines educational offerings that meet the professional development needs of WSIA members and associated industry constituents, while also meeting its education curriculum mission," Carr says. "We formed a small subcommittee in 2020 to develop new webinar content and other affordable and all-access paths to reach more members, which has been even more important over the past 18 months.
"I also recently taught the WSIA University course-Intermediate Environmental, my first time teaching a class. We did it all online due to the pandemic, and it worked out well."
Outside the industry, Carr finds herself just as active with volunteering and serving on various organizations' boards and committees.
"In June of this year, I was elected to the Board of Directors of the Jewish Community Center of Indianapolis (JCC)," she says. "Prior to being elected to the board, I also volunteered at the JCC and have been a passionate supporter. I coached soccer there for many years and supported a number of other programs as well.
"I am proud to be a volunteer and to now sit on the board. Our family really values what JCC Indy brings to our community-diversity and inclusion, health and wellness services, education, arts and so much more."
Carr also serves on the Public Policy & Advocacy Committee for Hear Indiana. "Hear Indiana is a nonprofit organization dedicated to supporting and empowering families of children who are Deaf or Hard of Hearing. We believe that all children deserve the opportunity to hear through listening and spoken language services. We celebrated our fiftieth anniversary in October!"
The state of Indiana has children who are either Deaf or Hard of Hearing in all 81 of its counties.
"All of those children deserve access to the latest therapies, technologies and programs," Carr says. Every 36 hours, she notes, a baby is born in Indiana with hearing loss.
Carr experienced the issue first-hand after both of her sons were diagnosed with hearing issues.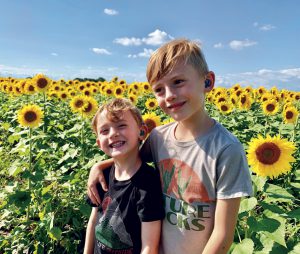 "They both failed the newborn hearing screening, and then had a confirmed loss at the three-month mark," she says. "I knew next to nothing about hearing loss until my first son, who is now in third grade, was diagnosed. Three years later, our second son was also diagnosed with the same type of loss.
"They both wear hearing aids and due to the early intervention services and technology, they have very normal lives. Hear Indiana's programs and people helped our family through so much uncertainty, and I wanted to give back by spreading the word and raising funds to truly make a difference in the lives of Indiana's children.
"This is a cause very close to my heart," she continues. "I attribute so much of this to the hard work, education and lobbying at the Statehouse to provide equal access to the latest and greatest therapies, advocates and technologies that give thousands of children like mine the ability to hear and use spoken language to engage with the world. The Hearing Aid Assistance Program of Indiana (HAAPI) is also administered by Hear Indiana-something that I can't speak highly enough about!"
When she's not doing "insurance stuff," Carr enjoys spending time with her family. "Our boys play soccer, so that keeps us busy," she says. "We love the outdoors, so we hike, camp and get out on the water whenever we can.
"We are also quite the do-it-yourself family and always have projects going on at the house. We purchased an old home about 12 years ago in need of a lot of attention. We have since done 95% of the renovations ourselves-rewiring, replumbing and everything in between.
"It has been a lot of work but something we take a lot of pride in. We have a few acres and are currently focused on carving out a new outdoor patio and fire pit area."
During the pandemic, a newcomer joined the Carr family. "We got a Boston Terrier puppy last September. Our kids named him Leo Lightning, and we absolutely adore him," she concludes.