Cross-ocean group continues to help U.S.-based specialists navigate the London market
Two years ago, a couple of dozen or so insurance professionals from the United States and London gathered in Wilmington, Delaware, to gauge interest in forming a group to drive greater interaction between decision makers on both sides of the pond. From that meeting came CHART (Cover Holders and Risk Takers) Exchange, which was designed to engage U.K.-based risk takers—Lloyd's of London Syndicates—and current and potential U.S.-based coverholders—those who write business on behalf of those risk takers.
The group held its first event—dubbed the "Declaration of Inter-dependence"—in Philadelphia, the birthplace of the nation, in October 2015. Building on the success of that event, and following a subsequent planning meeting in January of 2016, CHART Exchange held its second annual summit in Baltimore a year later.
The 2016 event, themed "Constitutional Convention," brought together nearly 300 professionals with the sole focus of strengthening and building new relationships between the two groups: U.S-based insurance professionals with a strong niche market presence, and underwriters or risk takers from London who could provide a stable insurance market for those programs.
"We couldn't have been more pleased with the participation last year by folks from both the U.S. and London," says Glenn Clark, CPCU, the driving force behind the formation of CHART Exchange. "And 'participation'—not simply 'attendance'—is the key word. Over the course of the three-day get-together, more than 400 pre-arranged meetings took place between London-based syndicates and insurance agency professionals from The States."
It's that engagement that Clark believes sets CHART Exchange apart from other groups. "People know, or quickly learn, that our approach is quite simple: Let's help people get business done," explains Clark, who describes himself as the "Earliest Adopter" of the CHART Exchange concept. "That's true for our London risk takers, domestic coverholders and potential coverholders, and the hand-selected vendor partners that are part of the event."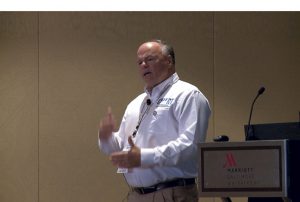 Exchange
The meeting looked different from other meetings right from the start—or pre-start, if you will. The day before the official opening session took place was, perhaps, the busiest of the three-day program. It was
on this day that organizers blocked out 18 back-to-back 30-minute slots for one-on-one sessions.
"We set aside an entire day, from eight in the morning until five in the evening, for agents to connect with risk takers who could help them move their ideas forward," Clark explains. "To get so much business done before the first official agenda item took place is pretty much unheard of in conferences like this."
And it's a big part of the value CHART Exchange delivers. "The 400-plus face-to-face meetings we set up have surfaced more than 20 immediate programs that hold strong potential," Clark explains. "Plus, they've helped build a solid pipeline for the future, and that's on top of all the new relationships that were formed."  That first day ended with an evening welcome reception.
The next day, Jim Masiello, founder, chairman and CEO of Strategic Insurance Agency Alliance (SIAA), provided an overview of his organization's genesis and subsequent growth. SIAA is the nation's largest independent insurance agency alliance. In introducing Masiello as keynote speaker, Clark drew parallels between SIAA and CHART Exchange. "Our business is about people," he explained. "You don't have success without helping other people."
Clark added, "SIAA's philosophy is, 'We want our agencies to prosper. If they prosper, we prosper.' That's the same philosophy as CHART. We won't get anywhere unless we give up something to get more. It's that exchange mentality—give up something of value to get something of greater value. We have a brother in SIAA."
Masiello, whom Rough Notes honored in 2016 with the Henry C. Martin Industry Achievement Award, explained that SIAA has 49 master agencies that support a network of 6,000 or so small independent agencies around the country. "We're a niche operator," he explained. "We focus on small commercial lines and personal lines." More than half of SIAA agencies were captive or exclusive agencies that wanted to join the independent agency channel.
SIAA, Masiello notes, has consistently averaged north of 14% annual premium growth. How do they do it? "We focus on what we do best—namely, helping our member agencies succeed," he said. "We don't get focused on competition. We are our own competition."
He added, "And we want success at all levels. That's what a partnership is. And our master agency partners understand that."
According to Masiello, effective use of automation helps drive success. "Agencies have to embrace technology and efficiency," he explained. "Get into this century. We're in an era where companies are starting to reduce commissions. It's a matter of staying focused and understanding how to drive growth."
Following Masiello's talk, Clark offered a CHART "State of the Union" update and then opened the floor to individuals who would be presenting sessions during the event to share one-minute "elevator" speeches about their topic. He then hosted a brief "Match.com" minute, for agencies to talk about programs they're building and shopping.
The bulk of the day's agenda revolved around a series of 18 workshops, organized into three tracks: London; agency services; and agency models. Session topics included: agency integrator and network presentations; syndicate approaches; coverholderprocesses; mergers and acquisitions; advanced cyber technology and security; risk management services; social engineering and its impact on insurance; human capital and staff development; systems and controls; process automation; claims issues; and more. The event concluded with a half-day session that explored broker, vendor and other partner capabilities and offerings.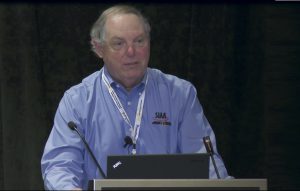 Value
The CHART team solicited feedback from attendees following the event. According to Clark, "The responses were overwhelmingly positive, but there were some constructive criticisms received as well."
Attendees shared their impressions of the event and the value it and the organization bring to market. "The attraction of CHART is twofold," said Nick Leighton, class underwriter for E&O for AEGIS London, a Lloyd's syndicate. "It's a chance for syndicates to engage with new prospects eager to do business, and it's also a vehicle to explain to potential agents how Lloyd's works." He acknowledged that the unique structure of the Lloyd's market can be a barrier in itself, "and its advantages are not easily recognized," he added.
"Being immersed in the subject for two days with Lloyd's practitioners is an unrivalled opportunity for prospective coverholders to learn and appreciate the benefits of trading at Lloyd's," Leighton added. "The intimate but relaxed nature of that event means people are accessible; corporate styles are easily compared, thereby improving the likelihood of finding the mostsuitable partner."
Fritz Seifert, founder of Insurance-Industry Aimed Marketing (Ins-IAM), LLC, an advisory firm focused on program business, said CHART changed both his awareness and perception of doing business with London. "And that's had a positive impact on how I advise my clients," he explained. "Many meetings I have been to left me with poor quality impressions, doing nothing to change awareness and perception on doing business with London. CHART helped me better understand how to get, develop and grow relationships with London partners. And the CHART vendor partners rose to the occasion, demonstrating how they can support the process."
Mike Shannon, founder of TriFit Business Development, a nationally known sales force development company, was impressed by the attendees' perspectives on growth. "The people who attended CHART seem to be visionary, entrepreneurial-type folks," he said. "They're not stuck in old ways of doing things. They're looking for new ways to do business, new ways to grow, new opportunities for success. So if you're looking for change agents, if you're looking to create new opportunities to grow your business organically, CHART is a good place to look."
"One of the best industry events I've attended in my 39 years in the business" is how Bill Fahy, CPCU, ARM, president of Alliance Program Services, which created SIAA MarketFinder to help SIAA member agencies access specialty markets, described the event. "Doing business with Lloyd's has been a mystery for most of my career," he said. "CHART not only helped me understand the process, but allowed interaction with Lloyd's syndicates and brokers I could never achieve on my own."
Attendees have found business success as a result of taking part. "By including CHART's benefits with current skills, knowledge, and beliefs of the program business space, Ins-IAM has been able to engage clients with a better understanding of their strengths and limitations," said Seifert. "My 'meaningful' client list has increased as a result of my association with CHART."
Leighton said, "An agent I met from Atlanta, a professional liability specialist, was interested in obtaining a binding authority. Our initial 30-minute discussion at the first CHART event led to further talks and dinner to establish firm intent on both sides. Following CHART, the broker, agent, and syndicate honed the business plan for submission to the Lloyd's regulatory mechanism, and they became the first fully-fledged Lloyd's coverholder introduced by CHART in June 2016."
He added, "Meeting several times at CHART helped shortcut the whole process, creating confidence and understanding that typically takes much longer to achieve."
Shannon had similarly rapid success. "I made a connection at the first CHART event and picked up a customer," he recalled. "It was the fastest sales cycle I've ever had. I sat in on a breakout session, we had lunch, and we shook hands on an agreement for me to do an evaluation on his staff. That led to a year-long training contract, as well as recruiting work."
Fahy added, "The contacts we made at CHART have allowed us to begin the process of doing business with Lloyd's. We have several opportunities in both the P&C and A&H world that should come to fruition in 2017 as a result of CHART. Plus, we now have numerous contacts in London!"
Future
Clark wants to continue to find ways to expand access to the London market for U.S. producers who may not currently be making the most of its potential. Plans already are underway for a third annual event, to be held October 8-10, 2017, at the Four Seasons Hotel in Baltimore.
"One of the changes we expect to make is we'll replicate the lounge concept for vendor partners and existing coverholders," he explains. "The Risk Taker Lounge was a successful element of our previous CHART meetings.
"We'll help coverholders by providing them with qualified leads, pre-set appointments, and a dedicated workspace to conduct business," Clark says. "This will help them augment existing distribution by meeting with untapped production sources. We'll also provide more opportunities for vendor partners to engage with potential new business clients.
"We also are looking at the possibility of offering fewer, yet more topical, workshops," he adds. "And we expect a number of these workshops to have more Lloyd's-centric themes."
Clark spoke to the important role that organizations have played in advancing the CHART concept. "We're most thankful for core partners like Wilson Elser, NetRate Sytems, York, NSM, C J Coleman, Prospect Insurance Brokers, and M&A Services for helping us with the advance funding that helped us build the event and, ultimately, the organization."
He also pointed to a new membership model for the organization that he says "will facilitate more information flow, easier collaborations, and less dependence on the annual meeting to advance commerce."
For more information:
CHART Exchange
www.chart-exchange.com