CONGRATULATIONS GRANGER FINANCIAL
2022 Agency of the Year
By Dave Willis, CPIA
---
If it's February, it must be time for the big reveal. Yes, just as we've done for 30-plus years, we at Rough Notes magazine again proudly announce our Agency of the Year.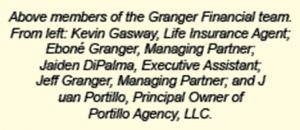 Since the late 1980s, we've been honored to have the nation's most remarkable independent insurance agencies grace our covers. We are continually impressed with the creativity and determination agencies exhibit as they find ways to better serve and build up their communities. The most fun part of our jobs here is to showcase some of the very best firms in the independent agency channel.
Each year, one agency is selected to become the Rough Notes Agency of the Year. The choice is not made by magazine staff, but rather by votes from their peers—previous Agency of the Month honorees—who carefully review information on each of the nominees and select which they believe deserves top honor.
Candidates in this most recent class of agencies represent the broad cross section of the industry—from smaller and newer agencies to larger ones with established operations, perhaps in multiple states. One past Agency of the Year principal summed up this year's candidates as follows: "As always, the profiles of each monthly cover agency are so inspiring!  Despite their diverse operations, I always find nuggets of wisdom that can be repurposed to work in our own operation."
This year's Agency of the Year winner is a small firm in terms of number of employees, but it's one that, as a sign in its office shouts, knows how to THINK BIG! The agency—our October 2022 cover agency—is Granger Financial, a Sterling, Virginia-based firm run by Jeff and Eboné Granger.
One past winner, when casting a vote for Granger, offered this rationale: "Great, non-traditional insurance success story! Bringing younger agents into the industry, leveraging their background in sports, and embracing the community—all great things by themselves. Doing it with a small operation and making an impact, very impressive."
Another put it this way: "Not the biggest, but the best messaging. Returning to the community."
And yet another had this to say: "Granger Financial was born out of adversity, when Jeff abruptly lost his job with the direct writer but immediately went to work to build something meaningful not only for himself, but others as well. Their mission to educate clients and make an impact within their community is awesome.
"Granger is an example of how this industry is legacy-building for people of all backgrounds," he continued, "and we need to recognize and celebrate that fact. I think the final paragraph of the article says it all: 'They should be com-mended for their commitment to bringing more minorities into the independent agency system and for showing us yet another way that the system has the resilience and opportunity to serve diverse clients and interests.' Mic drop."
We couldn't agree more.
A recap
The October 2022 Rough Notes cover feature on Granger Financial explains that, three days after his executive position relationship with a direct writer had been severed, Jeff along with his wife, Eboné, opened Granger Financial in Sterling, Virginia, and wrote their first client. Jeff pays tribute to the direct writing principle of offering all types of coverage, while obtaining them from a variety of companies—thus being able to seamlessly provide new coverage if a company discontinues one.
If Granger Financial's aim was to help people in its community, being generalists would enhance its goal of "putting our arms" around that community through education regarding possible risk exposures, family protection gaps and financial "quick sands." (Jeff had witnessed the effects of financial illiteracy among young professional athletes during his days of playing pro ball himself.)
Ironically, the pandemic made it possible for Granger to continue putting its arms around clients through social media. Their Facebook series, Financial Fridays, features insurance industry professionals, as well as professional athletes who share conversations regarding asset protection.
Jeff and Eboné are working to expand those financial literacy efforts by increasing the agency's footprint through-out the country. In their minds, bringing young minority professionals into the industry can contribute to making protection available to people from all walks of life. Two first-generation Americans have already opened a branch office in Columbia, Maryland.
The agency also has chosen to be forward looking in terms of innovation and philanthropy. For instance, Granger Financial helped a local civic group create what is now an annual march and rally in honor of Breonna Taylor. Some $40,000 in scholarships has been awarded to minority females who plan to enter the healthcare field.
Think big. Non-traditional. Making an impact. Best messaging. Born out of adversity. All great descriptors of this year's winner. And all part of why Rough Notes is so proud to honor Granger Financial as our Agency of the Year.