CoBiz Insurance uses analytics and automation to service clients of all company sizes
Big or small, employers can benefit from a scientific, analytical approach to building an employee benefits strategy. In Colorado, small to medium-sized employers dominate the economic landscape, but CoBiz Insurance treats them all with the same sophistication as the giants, says Reed Smith, senior vice president and employee benefits practice leader.
"Our company is dedicated to improving the health of people and their businesses," he says, "and a disciplined approach to benefits administration and well-being does both. The national insurance brokers bring a lot of resources to multinational companies, but we have learned to bring the same resources and sophistication to the small to medium-sized employers in our market."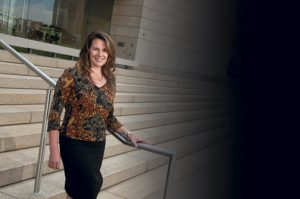 CoBiz Insurance is a division of CoBiz Financial, a Denver based financial services company. The parent firm has about 550 employees; the insurance agency has about 70, with 35 working in benefits. CoBiz Insurance has been in the property/casualty business for 18 years, adding benefits services 15 years ago after the acquisition of a benefits specialty agency that had been in business for about 40 years. The company has offices in Denver and Phoenix.
The firm provides a wide range of benefits, including group health insurance, ancillary benefits such as vision care and dental insurance, and voluntary supplemental life, health and disability. The parent company provides commercial banking and investment advisory services.
Smith says benefits has been the agency's fastest-growing business. He joined the firm in 2010, when benefits generated about $2 million, or about 40% of total revenue. By 2016, benefits had increased to $7 million and accounted for 60% of revenue.
Clients range in size from small businesses to those with more than 1,000 employees, but Smith says the firm targets employers with 100 to 1,000 employees, noting that they respond best to contemporary self-funding and wellness tactics.
Smith attributes his operation's rapid growth to several service factors, including a 21st century scientific approach to benefits strategy.
"Through the years, we could see the benefits landscape changing," he explains. "It quickly became clear to us that the key to effective benefits management was no longer a case of increasing deductibles or employee premium contributions. The business was evolving and so did our services.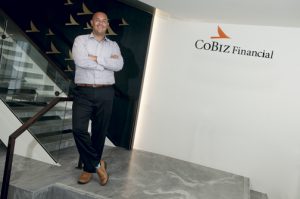 "We became more than a broker shopping insurance companies for the lowest price. We became a consulting and advisory company, helping our clients create a benefits strategy aligned with their business strategy. Our job is about adding value."
The firm's strategic approach is built on data analysis and the application of various health and wellness tools that can change or moderate statistical trends.
"Know your numbers," Smith says. "That's critical to developing an employee benefits strategy. We believe that well-being is not an option—it is a mission-critical business priority. That's why we teach employees to use their company's health plan proactively for prevention and early detection."
However, Smith admits that not every health claim or condition can be eliminated, even with carefully targeted wellness. "Part of our plan is to help make sure employees don't get worse," he says. "A longer high-claim list correlates consistently to poorer plan performance, translating into challenging renewals. While we cannot eliminate high claims altogether, we can make a meaningful impact by changing unhealthy behavior through education and engagement."
Culture of health
Smith says the overarching goal is to create a culture of health. By investing in health, prevention, and early detection, CoBiz Insurance "can help a company achieve sustainable pricing and optimal employee health," he notes.
Education begins even before an employer becomes a client. The firm hosts an annual benefits forum and seminar for clients and prospects, designed to alert them to regulatory issues and benefits challenges. Reed says the annual forum provides important and timely information on industry trends, regulatory updates, and disruptive innovation that clients and prospects can embrace to disrupt the status quo.
"This year's event was all about healthcare transformation; we delivered a series of "TED-style" talks by key partners who are helping employers and employees improve their overall physical and financial well-being," he says.
The event drew 150 or so business leaders; topics included employee benefit personalization, consumer decision support, cost and quality transparency, and the convergence of personal health and financial well-being.
Senior Account Executive Risa Sayles, who works closely with the company's largest clients, says employers are excited about being offered opportunities to take control of their employee benefits future.
"The largest employers have had the greatest problems in controlling their healthcare costs, but they also have the best opportunities for developing a strong benefits strategy," she says. "They have access to a lot more markets and strategic initiatives."
CoBiz's greatest strength is its ability to deliver those initiatives, she says. "Our service is what makes us stand out. Large employers have access to more data about their claims history, so we can help them understand their long-term costs and can help them engage self-funding options and health initiatives that can directly affect their claims trends."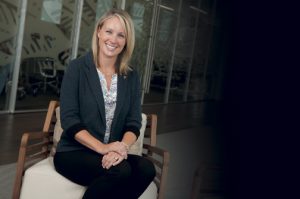 For example, CoBiz assists employers with wellness practices, including health incentives for prevention, health challenges and competitions, and other traditional approaches. But Sayles says employer and employee commitment varies. The agency has started introducing more direct approaches with more immediate return on investment.
CoBiz has introduced annual physicals as a benefit for some clients, replacing the annual biometric screenings that have become common among medium- to large-sized employers. "Biometric screenings provide useful information that helps employees understand their levels of risk and alerts them to potential health conditions, but over the years, we have seen that not enough employees act on the results of their screenings," says Sayles.
Annual physicals conducted by the employees' own doctors, with no co-pay for employees, put the data in the hands of the medical practitioners, who are most likely to direct immediate treatment, she explains. "We are starting to see some real return on investment for this approach and others, as employees move more quickly into prevention and treatment."
CoBiz also has introduced telemedicine programs, which allow employees to contact medical practitioners by telephone or Internet for quick diagnosis and treatment prescriptions. Provided with no co-pay, the service gets employees treated faster with less bureaucracy and generally with lower cost to both the employer and the employee.
As these services demonstrate effectiveness for large employers, CoBiz is introducing them to the next segment of employers—those with between 100 and 500 employees, she adds.
Aaron Salas, CBC, VBS, an account executive and select business lead, specializes in helping small businesses. Colorado state regulations require that employers with 100 employees or fewer conform to community ratings by insurers, so while there's not much the firm can do to influence premiums for these businesses, he improves employee productivity and reduces turnover by providing innovative benefit strategies.
Organizations with more than 100 employees can now introduce more cost controls and wellness programs than ever before. CoBiz assists these employers in retrieving claims data from their insurers and using it to make decisions about plan design and funding techniques. Salas says insurers can provide level-funding plan designs that allow small employers to self-fund levels of claims costs consistent with their history and use insurer resources to respond to claims trends with wellness programs.
"Know your numbers. That's critical to developing an employee benefits strategy. We believe that well-being is not an option—it is a mission-critical business priority. That's why we teach employees to use their company's health plan proactively for prevention and early detection."

—Reed Smith

Senior Vice President and Employee Benefits Practice Leader
As small businesses apply contemporary plan-design techniques, such as high-deductible health plans and Health Savings Accounts (HSAs), they are recognizing that their employees need more information to better manage their benefits and become more effective healthcare consumers.
"Employers are willing to spend the dollars needed to develop a healthier workforce. They have come to realize the value of educating their employees on benefits and health issues," Salas says.
Data drives the development of benefits strategy, notes Katie Patterson, manager of analytics and technology, a 17-year veteran of the benefits industry.
"The days of collecting just a little information and asking the markets to quote are over," she says. "We take a more holistic approach, looking at claims and utilization, benefits technology, and funding to develop a benefits strategy that will influence their trends."
Employers also are involving leadership at the highest levels, she adds. Chief executive officers, chief financial officers, and human resources leaders often meet with CoBiz executives to better understand their options and to work on developing an approach that meets their business strategies.
This reflects both the importance of benefits as an expense, and also the employers' commitment to building a healthy workforce, she says.
Automation is the logical partner to data analysis, she says, and CoBiz offers branded benefits automation to both its large and small clients. Co-branded as CoBizConnect, the program features customized benefits automation and enrollment systems that provide benefits billing and reporting, Affordable Care Act compliance, compensation statements and decision support tools.
CoBizConnect can also manage the use of private exchanges and defined contribution programs for ACA-compliant health plans and voluntary benefits enrollment.
For large clients, the firm provides services from Chicago-based bswift, a comprehensive benefits administration and enrollment management system primarily for self-funded employers. For small companies, the firm provides services from Maestro Health, also based in Chicago, which provides human resources and benefits management including health and wellness support tools.
CoBiz also provides human resources consulting to its clients, partnering with ThinkHR in Pleasanton, California; ThinkHR provides 24-hour access to technical benefits information and training support.
The author
Len Strazewski is a Chicago-based writer, editor and educator specializing in marketing, management and technology topics. In addition to contributing to Rough Notes, he has written on insurance for Business Insurance, Risk & Insurance, the Chicago Tribune and Human Resource Executive, among other publications.