Increase loyalty, performance, and job satisfaction
When we found Luke at our Walk to Emmaus church camp, he was clearly a dog who had been loved but lost. He had been on his own long enough that he was scared to death, but not long enough that he was emaciated.
As he was lying on the doormat outside the conference room, he and I made eye contact. He watched me, but did not get up. I knelt down to his level and called, and he very, very cautiously approached and let me pet him.
Others at the camp had been feeding him that April weekend, but couldn't catch him. We figured that someone who had been in the RV park next door had lost him and simply couldn't find him before they left.
Luke let me hug him and pet him a while, then went back to his doormat.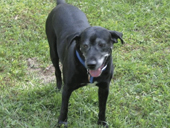 I asked my husband to please bring him home the next day if no one claimed him. Luke had enough trust to getinto Paul's truck, but it wasn't trust in him. Interestingly, Luke would follow directions from a young woman at the camp, but not Paul.
It took him a long time to trust men, and we may never know why.
Luke did not have a microchip. We put up signs, trying to find who he belonged to, but no one called. And, after we had him checked out at the vet, we cured him of a very serious case of heartworms.
Trust is one of those long-term strategies that will build people up slowly. It builds teams an inch at a time. And it's a solution that doesn't have to break the bank.
Once we gained his trust, we never lost it. But we had to be patient. When that bond of trust developed, loyalty followed. Luke would fiercely protect us against other dogs—even into his old age. We always felt safe when he was around.
All of our animals are rescues and, like Luke, I think they know we saved them.
Trust as leaders
Trusting is tough—whether you have four legs or two. Managers, even great ones, sometimes are challenged to trust their people enough to let go of the reins. Too often, in difficult times, the inclination is to hold tighter, get stricter, and allow less freedom.
This is backward from how things should take place. In hard times, people want security, not a tighter collar. In fact, the freedoms and flexibility that most crave, and which the newer generations will value even more than money, are based on the trust that management can show to employees.
Best of all, there's no direct cost to the company for this.
Long-term results require long-term strategies. We measure the return on our investments in many ways. Often, we try to measure it in dollars and cents. That doesn't always work. Some long-term methods cause change to come in millimeters or in degrees, if you will.
Trust is one of those long-term strategies that will build people up slowly. It builds teams an inch at a time. And it's a solution that doesn't have to break the bank. For example, you could allow some remote work, an extra day off, or flexibility in how employees get the job done.
Remember, most employees want to do a good job. It's tough to let go if we've been burned by a small percentage of people who have taken advantage of us. It can feel personal when that happens. And we want tight reins to avoid that pain again.
In the end, though, tightening the reins can pull us in the wrong direction. To get the horse to move left, you push with your right foot. It is not instinctive, but it works.
When you show trust, you earn it. Take the chance.
Satisfaction driver
Luke taught us something else—a bonus management lesson for this column, I suppose. He taught us the value of authenticity and what I'll call right-tasking. Let me explain.
Above all else, Luke knew that he was a dog. He was okay with that. And unlike any of our other rescue pups (a term we use regardless of their age), Luke was always okay with being a dog. By and large, he slept on the floor, ate his own food, and carried himself like a dog. He never tried to be human, as so many canines are prone to do.
On the other hand, Angel, another of our rescues, was indignant at the thought of being a dog. So was Copper, my aunt's adopted beagle. My aunt used to joke about how long it took her family to break him of all of the bad habits he brought with him. "He won't come in the kitchen, or sleep in our bed, or cuddle on the couch," she'd say.
Luke was like that. He was unabashedly joyful about being a dog. He literally leapt with joy. He'd bounce and jump. And sometimes he would quiver with the sheer joy of life.
Now, he didn't do that at first. The heartworms weren't discovered right away, and while he was sick, he was fairly quiet. But once he was healed, he was determined to make the most of his newfound energy. Luke was nine when we found him, past middle age, and he lived to be 14.
And right up to the end, he bounced with joy every day.
One of the best ways to discover joy in the workplace is to use the best of your talent every day. This applies to us as leaders and to our staff. And it's something we can help our team with as we lead.
Unfortunately, more than half of the U.S. population is in a job that never utilizes their best talent. In fact, some studies have shown that most Americans can't even name their best talents!
Two Marcus Buckingham books—First, Break All the Rules and Now, Discover Your Strengths—are among the best management texts on the planet,and they speak very directly to this point. To gain the most productivityfrom an employee means putting themon the right tasks, tasks that are suited to their own hard-wired best abilities.
The books explain carefully that experience and training are essential, but that is not the issue here. Proper placement based on natural talent will garner the best results. And more to my point is that, once properly assigned and working in an area of real talents, where the results can only get better over time, employees can find joy in their work day.
Volunteer involvement proves this. Many people—some 30 million of us in the U.S. alone— volunteer, and get more joy from that experience than we do from work.
Why? Well, of course, part of it is the philanthropic nature of the work. Giving back provides its own reward. But the other part is that people naturally gravitate to that which they do well. The singers sing, the chefs bake, the math lovers do the books, and the gardeners till.
Look at any well-organized charity and you'll find joyful volunteers doing for free what they should probably be doing (or wish they were doing) to earn their living. They would be much more successful and probably happier if they did.
Here's something to try: Ask your team members what they do as hobbies and charity work outside the office, and you'll get a real insight into what they should be doing for you in the office.
This isn't conjecture. The books Ireferenced are based in part on findings from a Gallup poll and on scientific research. You can look around you and see it every day. Just take the time to observe your own office or workplace.
The author
Lisa Harrington is executive vice president and chief marketing officer at IRMI. She is the author of "Taking in Strays: Leadership Lessons from Unexpected Places," a book from which this article was adapted. Connect with Lisa on LinkedIn or email her at lisa.h@IRMI.com