Broken Glass
Wyoming agency owner brings passion and pride to her job
It's our pleasure to present another article in our Broken Glass series, in which we talk with a woman in the independent agency business about the challenges and rewards she has experienced throughout her career. This month we profile Elizabeth Luce, ARM, AAI, owner of Rocky Mountain Capital Agency in Cheyenne, Wyoming.
Let's face it: Few of us grew up nurturing the aspiration to become an insurance agent. That's certainly true for Liz Luce, owner of Rocky Mountain Capital Agency in Cheyenne, Wyoming, whose cherished ambition was to become a reporter at the Omaha World-Herald. "My uncle was a photographer for the paper, and I thought it would be easy for him to get me a job there," Luce recalls. "While I was waiting for a position to open up, my uncle introduced me to a friend who needed a receptionist at his agency. I took the job, and the next years were stepping stones to gaining the knowledge and confidence to buy Rocky Mountain Capital Agency."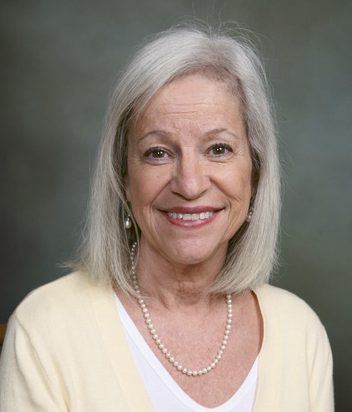 The agency was established in 1935 and Luce bought it in 1994, after having been employed there since 1986. "We have a small office with four employees and primarily serve the Cheyenne area, and we have licenses in about ten other states to meet the needs of our contractor clients, who make up the largest segment of our business," Luce explains. "We also write religious institutions, nonprofits, habitational risks, pawnbrokers, and retail business, and we have a good-sized book of personal lines, most of which is preferred."
Luce's son Adam is commercial lines manager of the agency and Sharon Stettner is in charge of personal lines. Amanda Hunter serves as the friendly face at the front desk.
Luce thrives in her role as agency owner and president and eagerly embraces the multiple responsibilities her job entails.
"I don't think you can truly understand 'the buck stops here' until you find yourself praying that there is a 'buck' to stop," she declares. "Preparing for Y2K meant installing a new agency management system and figuring out how to pay for it while still paying off the loan I took out to buy the agency. There's no aspect of our office operation that I don't consider my responsibility: hiring employees, reading carrier contracts, purchasing supplies, making the decision to join the regional office of the Strategic Insurance Agency Alliance. You name it; I figure I'm responsible for the decision."
Luce is strongly committed to continuing insurance education for herself and her staff. She believes that pursuing CE has helped her grow her agency and improve service to its clients.
"In 1979 I worked for a man who spent half the year in Arizona," she says. "The vast majority of his accounts were contractors who renewed in the summer, which meant things were pretty quiet in the winter. To stay busy, I started reading policies and became hooked. I've been fortunate to have worked for people who always encouraged me to pursue professional designations. In 1989 I was one of the first people in Wyoming to earn the Associate in Risk Management.
"The classroom setting allows the members of my staff to network and share experiences," she adds. "They always come back energized and full of new ideas. Our designations are on our business cards, and our certificates are displayed on our office walls.
"Often a client or prospect will ask what a certain designation means, and they really respect us when they know that we care enough to spend our time and resources so we can serve them more effectively," Luce says.
"My gal Friday"
What were attitudes toward women like when Luce began her insurance career?
"In my first job," Luce responds, "I thought of myself as a 'Girl Friday.' We made the coffee. We worked up the quotes and gave them to the boss. We did the filing and took dictation, correcting the boss's grammar. We handled claims.
"It was an unspoken rule that we wear dresses, heels, and makeup," she adds. "Men were the salespeople who gave us scraps of paper with the most rudimentary information. Behind the scenes, it was our job to help them land the account."
Luce encountered somewhat of a rocky road in her journey toward acquiring Rocky Mountain Capital Agency, but she was determined to persist in advancing her career. "It wasn't until I was in my forties that I ran into obstacles, other than some male businessmen expressing the belief that a woman's place was in the home," she remembers. "I was beginning to develop a serious book of loyal clients, and my male supervisors felt threatened.
"The truth is, I didn't want their jobs; I just loved working with clients and companies and helping the support staffers in our office become confident in their abilities," she explains." There was a period of time when I had panic attacks as I drove to work. I refused to back down, and eventually my stubbornness won out. Two years before buying Rocky Mountain Capital Agency, I was named the manager."
Although the insurance business continues to be dominated by white men, Luce sees increasing acceptance of women in leadership roles.
"In the 1970s and '80s it was unusual for a woman to be anything other than a support staffer, even at the company level," she says. "I remember being so impressed when I met my first female commercial lines underwriter. When I moved to Wyoming in the early 1980s, the time was ripe for employment opportunities, and all you needed to be successful was an above-average work ethic. While the state is known for being full of 'good old boys,' I never felt like the atmosphere was sexist. Women in insurance just needed to be knowledgeable and demonstrate finesse when competing against the traditional male agent.
"When I was first appointed to be Wyoming's national director for PIA (National Association of Professional Insurance Agents), there was less than a handful of women on the board, and it's still that way," Luce continues. "But I was never treated like a 'woman'; I was always treated like a person and a professional. One of my favorite memories is of sitting at a table with fellow executive committee members when one man asked if any women would be attending the convention, meaning the other members' wives. I said, 'Hey, what do you think I am?' and he responded, 'Liz, you're just one of the guys.' My fellow PIA board members have never made me feel like an outsider."
What unique qualities does Luce think women bring to leadership roles in the insurance business?
"The vast majority of my clients are male," she says. "More than one contractor has told me that he can ask me questions that he'd never feel comfortable asking another man because he might be made to feel foolish. Some clients have told me that they prefer to do business with women in insurance, real estate, investments, and banking because the women work harder and listen more attentively. Because I started at the bottom, I know exactly what it's like to hold every position in my agency. Men rarely start as the receptionist."
Luce sees a wealth of opportunities for young women who may be considering a career in insurance. "I've always thought that insurance is the most important industry. Insurance protects people's assets. It helps people feel secure. Without insurance, you don't get a home mortgage and a contractor is passed over for a project. There's no area that insurance doesn't touch. And we have the opportunity to build long-term relationships with our clients."
The future is bright
You'd have to look long and hard to find a happier and more optimistic agency owner than Liz Luce.
Having started at the bottom and worked her way up through the ranks to become the owner of her own agency, Luce takes justifiable pride in her position. "I love being the boss; I mean I really love it," she asserts. "One of the first things I did after buying the agency in 1994 was to close the office at 4:00 on Fridays. It gives everyone a head start on the weekend and is a real morale booster."
The future looks promising for Rocky Mountain Capital Agency. "My son joined the agency when I acquired it, and his sixteen-year-old daughter thinks that someday she'd like to work here too. One of our employees had her third baby last October. The baby has her crib by her mother's desk and is never fussy because her mama's right there. Everyone who comes into our office, male and female, oohs and ahhs over the baby. My decision allowed my employee to come back to work much earlier than she would have otherwise."
In this and myriad other situations, Luce says, "I get to think outside the box and then implement my ideas." She's quick to credit her father for much of her success. "He was a farmer and county supervisor for most of my life. As the eldest of six children, it fell to me to help out at home. Dad was tough but caring. He never suggested that any roadblocks would prevent me from doing what I wanted. Although my husband was fully supportive of my decision to use our life savings to buy the agency, I think it's my dad who is proudest of me."
By Elisabeth Boone, CPCU
---
Do you know a female agency owner, principal, or executive who might make a good subject for a future Broken Glass profile? If so, please contact Elisabeth Boone, CPCU, senior features editor of Rough Notes (elis.boone@icloud.com) and provide some details about the woman as well as contact information. We'll take it from there.