DOING THE RIGHT THING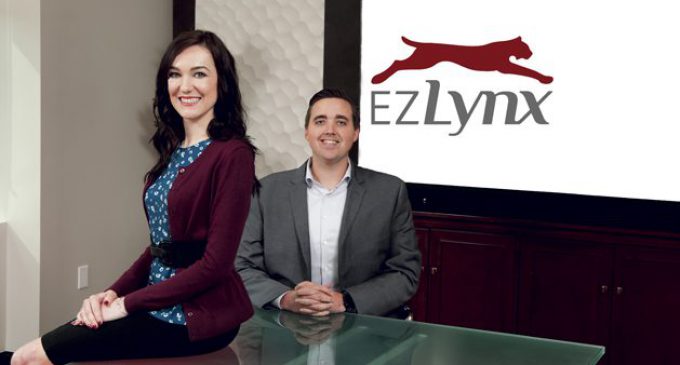 Automation vendor listens to agents, delivers rating and management solutions
Perhaps you remember the 1980s, when the agency automation landscape was chock-a-block with vendors, systems, and user groups. The years since then have witnessed a dramatic shift in that landscape, with some vendors consolidating and others exiting the scene. (What ever happened to Redshaw and its Wang-based system? For that matter, what ever happened to Wang?)
Vendors that failed to grasp the import of evolving technology and changing agent priorities were left by the wayside while the survivors grew stronger.
Today's agents are savvy consumers of automation technology and demand cutting-edge functionality, high reliability, and outstanding support from their vendors. Instead of fearing automation or regarding it with skepticism, they eagerly embrace it and are astute judges of features, functions, and vendors' promises.
Keenly aware of this reality is EZLynx, a Dallas-based designer and distributor of a rating engine and an agency management system, both of which are being used by a growing number of independent agents and brokers. Established in 2003, the company prides itself on listening to agents and crafting solutions that meet their needs.
"According to the Big I's Future One Agency Universe Study, the EZLynx Rating Engine ranks first in terms of number of users," says Brenna Johnson, product manager. "With respect to agency management systems, ours is solidly in third place, behind AMS 360 and Applied's TAM. Our system is used by agencies of all kinds and sizes and is in place in many branch offices of the world's largest brokers."
In creating the agency management system, explains Brady Polansky, CPCU, vice president of relationships, "We approached building the system differently from the way other vendors structured theirs. The first systems were developed in response to agencies' need to automate their accounting operations. Back then, all business was agency billed and everything revolved around the ability to issue policies out of the agency and track the billing and accounts payable. Fast forward to today when most agents' business is direct billed by the carriers, and the premium trust accounting portion of their business is no longer a driver for what they need an agency management system to do."
In listening to agents, says Brett Burchett, product manager, his company hears three common themes. "The first issue is the need to grow and be able to track that growth. Second, while an agency is growing, it wants to make sure it's not letting business go out the back door, so retention is a key concern. Third is the need to ensure that growth is profitable and is achieved efficiently. If we can make it as efficient as possible for agents to acquire new business and maintain the business already on the books, the result ultimately should be a solidly profitable book of business."
Working in tandem
The EZLynx Agency Management System and the EZLynx Rating Engine work in tandem to synchronize data into a single platform and provide business insight to agency owners. At renewal, the agent can update the client's application in the rating engine with the most current policy data. The PolicyCompare feature allows for a side-by-side comparison of applications and policy information that facilitates requoting the account. Aggregate data from the rating engine and agency management system is delivered in an automated email report called AgencyPulse.
Available on a standalone basis or as part of the agency management system, the EZLynx Rating Engine allows users to obtain fast quotes from 169 carriers in 48 states. The engine integrates with more than 20 agency management systems and compatible lead generation systems. The rater generates pricing for up to four sets of coverages from each carrier, including homeowners and auto packages. Clients can update risk information securely online before the policy is requoted at renewal.
Driver and vehicle data can be pulled from LexisNexis® Data Prefill. Reports can be generated and analyzed by agent, carrier, agency, activity, date, and other criteria. They can be exported to Microsoft Excel® for use with other applications. EZLynx Mobile is a cloud-based system that gives users access to their EZLynx account from any Internet-enabled device.
According to Burchett, nine out of the top 10 Insurtech firms use the EZLynx Rating Engine.
"Rather than simply creating a system where the agency can document what's already happened between it and its client, our paradigm is to build a system that helps agents understand what they should be doing next," Johnson explains. "The agent can run a list of expiration dates and identify which clients to pursue. Our aim is to build a system that tells the agent: 'You went after this client a year ago; do you want to go after them again?' That may be a subtle difference between our system and those of other vendors, but it's a significant difference."
Turning to the topic of retention, Johnson says, "Twenty years ago customers stayed with their carrier much longer than they do today. The general population today seems to be a great deal more price sensitive, and thanks to the Internet they shop for coverage much more often than they used to.
"We want to change that trend so that the agent controls that conversation," she explains. "The agent takes the conversation to the customer instead of the other way around. Historically the independent agent would write the policy and then put it on autopilot. In today's market that strategy doesn't work, so in our Retention Center we provide the tools an agent can use to communicate with the customer effectively and efficiently on a regular basis. That way there's no surprise when the renewal comes in; the agent can say with confidence: 'I've got this.'
"At the end of the day, especially in personal and small commercial lines, it's unacceptable to treat this business the way we've always treated it," Johnson asserts. "We're under extreme pressure from the State Farms, the Nationwides, and the Progressives, because those companies are driving for efficiencies in routine customer communication, so they're benefiting from much higher retention rates even though they may have only one product to sell. We can learn from those organizations and try to help agents understand when customers need extra attention, and then make it easy for them to communicate with those customers."
Differentiators
What features does Burchett think differentiate the EZLynx Agency Management System from the systems offered by other vendors? "Three factors make us different from everyone else," he says. "First is our predictive analytics of customer defection and renewal, which are generated in our Retention Center. We use patented technology that makes it easy for a user to recognize which clients are at the greatest risk of wanting to shop their insurance. As noted earlier, we position the agent to take the conversation to the customer as opposed to the customer calling and complaining that their premium went up.
"Second," he explains, "our system has an integrated sales pipeline that allows our users to track new business production without the expense and difficulty of using Salesforce or another CRM program.
"The third thing that sets us apart from competitors is our Workspace, a collaboration tool with notes, activities, follow-ups, and reminders that thread together to allow the agent to view all the activity that relates to a single item," Burchett says. "Can you imagine if every text you sent and received came in without the context of the previous texts? We've created a process that lets the agent see one activity on a policy in the context of other activities."
"Our users tell us that we really are helping them with retention," Johnson observes. "Most agency principals think of technology and management systems as an expense. If they use best practices, a percentage of their revenue typically goes toward expenses. Historically, an agent loses one in five policies at renewal, for a retention rate of 80%. When we can show the agent that he or she now is losing only one policy out of 10, the agent realizes that this is a huge improvement in the bottom line. That changes the game. Now we're talking about an investment in a management system instead of an expense."
High fives from users
Considering that the EZLynx Agency Management System has been on the market for only four years, it has achieved impressive growth among agents and brokers around the country. Here's what some users say about EZLynx:
Philip Klein, principal at Phil Klein Insurance in Bloomfield, Michigan, says: "I feel that the strength of the system is that it's all-encompassing, allowing me to run all aspects of my agency from rating, policy management, prospect and sales management to email marketing and renewal management. The technology is second to none, and I couldn't be more satisfied. Having all aspects of our agency run by one system has made a world of difference in time management and productivity."
Bill Sturkie, corporate director of personal lines at J. Smith Lanier & Company, a multi-site regional Marsh & McLennan Agency LLC company based in Columbus, Georgia, says his favorite feature is the Retention Center. He adds that the system streamlines quoting and customer retention activities and describes the vendor's customer service as "excellent." EZLynx, he says, provides "great products and great support at a reasonable price" and is "very innovative."
Carlo Ferrara, chief operations officer of StreetSmart Insurance in Freehold, New Jersey, likes the text messaging and accounting features, and looks forward to the launch of the Automation Center. "EZLynx has fundamentally changed our agency's productivity in terms of segmenting our data. This lets us curate an experience around the life cycle of our client's journey with our agency." On customer service, he says: "EZLynx has a great team, all of whom are well trained and can answer our questions quickly. This is possibly the best part of EZLynx compared to other agency management systems."
Liz Redman, business operations manager for Hogans Agency Inc. in Chestertown, Maryland, says: "EZLynx is very willing to work with us in developing their system to meet our day-to-day needs. They are ahead of the curve with their technological capabilities, and their features aren't developed as apps that we need to add and pay for through a third party. My favorite feature is the discussion thread. I can receive notifications on my CSR's notes and activities on any discussion I follow. I can easily see when something has been done and the task is complete."
Zachary Navo, president and chief executive officer of Navo Financial Inc., Insurance and Financial Solutions, in Visalia, California, says the system lets him and his employees organize and manage tasks and to create workflows and organizational processes and procedures. Asked how EZLynx improves his agency's productivity, Navo says: "EZLynx has been vital to the growth and success of my agency. All our workflows and organizational processes and procedures are centered on our ability to use EZLynx to help us organize and manage our work. It's a great system for the forward-looking agent."
Navo speaks enthusiastically of the firm's service: "Working with EZLynx is a great experience. The staff does a great job of taking in feedback from agents and using it to improve the product."
By Elisabeth Boone, CPCU
---
For more information:
www.ezlynx.com