DOING WHAT'S RIGHT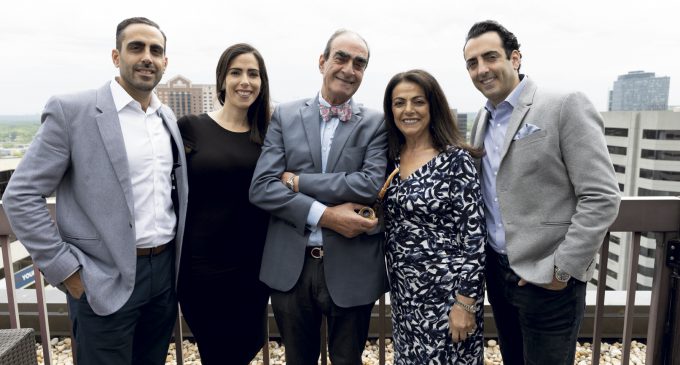 AGENCY OF THE MONTH
DOING WHAT'S RIGHT
Advocating for clients and carriers, Northern Virginia agency embodies founders' principles
By Dennis H. Pillsbury
"What is unique about our approach is that we look at each client holistically," says Michael Sahouri, chief executive officer of Sahouri Insurance, based in McLean, Virginia, just outside Washington, D.C. "We build frameworks of protection for each individual client that respond to their pain points and close any protection gaps that we identify."
And that includes integrating personal insurance needs with commercial insurance needs. "For example," Michael notes, "we always make sure that a business client's commercial and personal liability coverage are aligned, and that we are offering medical benefits in-house through our integrated advocacy teams for a one-stop-shop solution.
"We consider the human life value when determining what coverages and other risk management tools are needed to fully answer all the concerns of a client," he continues. "We had noticed that many clients would come to us with their various insurance coverages fragmented or siloed between different brokers who do not communicate with each other."
Sahouri takes a different approach. "We start by identifying their pain points, those things that keep them awake at night, and create an initial package of coverages that will provide them with a better night's sleep," he explains. "Then we move on to all the risks that they face in both their personal and business lives, working with them to build a risk management framework that responds to their unique risk profile.
"That is what we are required to do in order to live up to our mission of always doing what is right for our clients and for our insurance companies," Michael explains, noting that the approach often ends up saving customers money in the process.
Serving people
The firm's mission comes from its founder, Michael's father, Fuad. "He told us stories about his childhood in Palestine when he would use a cardboard box to create a sign for his imaginary business, Sahouri, Inc. He always had an entrepreneurial bent, even when he was 10 years old. And he also had a much more grown-up desire, to have a business where he could serve people," Michael says.
"When he came to America on his own, he spent time in Chicago and was successful in another business," he explains, "but it didn't satisfy his wish to serve people. He moved to the D.C. area and went to work for a life insurance company, and then left that firm and opened his agency in 1970, where he could best serve people by really delving into their needs and addressing their various risks and exposures.
"Insurance turned out to be the perfect field for him," Michael continues. "It allowed him to help people and also to venture into areas of interest, as he started what would become our first niche focus—international diplomacy, and that drew him in that direction.
"Out of this passion, he talked to anyone he met that worked at an embassy or consulate," he adds, "and what he found was that the people in the embassies really did not understand the American system of insurance; because of that, they often were grossly underinsured—and overpaying."
Fuad was determined to correct the market, so he studied the risks and needs and talked to his insurance company partners about the niche and, as Michael says, "Over time, he developed an expertise that has made us a leading provider of insurance cover-ages for embassies and consulates nationwide, one customer at a time." Many of those clients from the 70s are still with the firm today.
Most of the business the agency wrote during its first 30-plus years— from its genesis in 1970 into the early 2000s—involved serving local people and businesses in their marketing area. "We grew, some years more than others," Michael says with a laugh, "by taking care of local people. We were a typical community-based agency that depended on our reputation for doing the right thing. In essence, our foundation was the founders' principles of putting empathy, morals, and integrity first.
"Much of our business in those early days came from clients recommending us to family, friends, and other colleagues because of that foundation," he adds. "That's still true today."
Growing commercial lines
About 10 years ago, Sahouri Insurance determined that it needed to diversify and begin growing in the greater D.C.-metro area. "We had developed a strong focus on embassies, but our region was quickly becoming a GovCon (government contractor), tech and financial hub," Michael explains, "and we needed to evolve to meet the growing market."
Most of the agency's business, outside of the embassies, was in personal lines or BOPs for small businesses that the agency's clients owned. But, despite having opportunities to get into larger commercial accounts thanks to the agency's reputation, Sahouri leadership took a strategic approach to expansion, and focused on developing expertise in the commercial side of the business before making serious inroads into that marketplace.
"The Sahouris are amazing," says Director of Sales Allen Hudson, CIC, CRM, who came on board 10 years ago to head up what now is a significant real estate division for the firm. "They are flexible and humble." Michael, his siblings Sophia and Fuad Jr., and their mom, Mary, also known as 'Boss Lady,' are involved in the agency and the elder Fuad continues to be very active.
"The traditional big egos that you often run into in this business are not part of their makeup," Allen adds. "And they have no interest in selling just to achieve growth. They really are in the insurance business to help others.
"It was refreshing, and I continue to be delighted that, thanks to my wife, I found this job," Allen says. "She had gotten tired of listening to me gripe about the brokerage where I was working—which had been acquired by a bigger broker and turned into something I didn't like—and actually went out and found me this position.
"I remember that I interviewed with Michael at 5:15 p.m. and an hour later met with other staff," he adds. "They were all still there and they were smiling about it. These people clearly loved the place, and the opportunity was enormous.
"The agency already was a force for foreign operations in the United States," Allen recalls. "It seemed like we had connections everywhere, but weren't using them to branch out into the commercial arena, so it became my job to capitalize on those relationships. It was the proverbial blank slate."
A real estate opportunity
"The day I started," Allen continues, "I walked into my office and found two stacks of paper three or four feet high next to my desk. It was the last two months of commercial communications or, in reality, about seven to eight feet of opportunities.
"We began to grow exponentially in commercial lines, reaching $600,000 in the first year and then into the millions," he says. "And this was just from harvesting the low-hanging fruit from current clients who had pre-sold our services to their friends; we just had to seal the deal."
The agency wound up with clients ranging from a contractor building Black Hawks to hair stylists and ice cream shops. "But we were scrambling to develop expertise in such diverse areas, and we recognized that, like Fuad had done with embassies and consulates, we needed to develop niche areas where we could focus our efforts," Allen explains.
"Then one of the first big opportunities to develop a niche came from one of Michael's cousins, who served on his condo association board," he recalls. "He wasn't happy with either the coverage that the association had or the cost." Allen was able to review the existing policy and identify coverage shortfalls as well as higher-than-needed costs.
Taking the same strategic approach with real estate as it did with embassies, the agency worked to deliver the best available coverage for the niche. "Just as we did with embassies, we found and met a need in the market," he explains. For the cousin's board, Allen says, "I was able to come in with a shocking proposal that saved the association money and also increased their coverage. We built on that and other early successes to grow into a major player in the commercial real estate market and really build expertise in the field.
"From that point on," Allen explains, "we focused on developing niche markets, realizing that the days of the generalist with the slick appearance were on the way out. In order to be successful in the future, an agency must have an expertise in a client's business so it can operate as an integral part of their business. In short, we need to know their business nearly as well as they do and be able to provide for their risk management needs in a cost-effective manner, with a focus on improving their bottom line."
Today, Sahouri serves an ever-growing commercial client base and has expanded its niche focus to include technology firms, government contractors and several other segments. The firm also is looking to expand its geographic reach as part of its goal of helping missions around the world.
The journey into the future
Once again, recognizing the need to bring in expertise to help the agency succeed in the future, the agency hired Dr. Malikah Alturki as chief operating officer. With her doctorate in organizational change and development, she has been tasked with bringing organizational effectiveness and efficiency to the firm and ensuring that all facets of the operation—things like processes, human capital, meeting customer needs, products and services, leadership, technology, and more—are aligned with the organization's long-term strategy and vision.
"I'm working to ensure that all aspects of the agency work together to address the needs of our customers, who we also refer to as 'guests,'" Malikah explains, pointing out that customers or guests are not just clients, but also carriers.
"[O]ur foundation was the founders' principles of putting empathy, morals, and integrity first. Much of our new business in (our) early days came from clients recommending us … because of that foundation. That's still true today."
In terms of human capital, she explains that the agency needs to be staffed with "people who understand the unique needs of each of our client segments and possess the empathy required to develop trust and rapport with each client. After all, we are driven by relationships, not profit.
"Our job is to not be an agency or broker, but a consultant to our clients and our companies, helping to align their needs to the betterment of both," Malikah says. "Our unique, integrated consulting process was designed to ensure we address the clients' need holistically. We aim to align processes, human capital, technology, products, and services … to enhance the clients' experience and improve their bottom line."
She likens the consulting process to how a physician operates, "where we listen carefully to the client/patient so we can make an accurate diagnosis and recommend the correct solution that will solve their problem, and then find the insurance partner that both offers that solution and specializes in that client's business.
"The consulting philosophy begins with empathy," she explains, "where we greet the client with a smile and then it moves to a holistic analysis of the client's needs achieved through active listening and asking the right questions. Once we have a solution, it is incumbent on us to educate the client about the solutions we are providing and confirm that this is what they need. Then, we have to deliver those solutions with hospitality, quality, and confidence."
Malikah is convinced that educated clients make the best and most loyal customers, because "they understand what we are doing for them." At the same time, she notes, "We have to be certain that our technology enhances our ability to serve our clients and our companies. New technology should never be considered just because it makes our job easier; it first must enhance the client experience."
Rough Notes is pleased to recognize Sahouri Insurance as our Agency of the Month. Its commitment to the founder's goal of being a business that provides service to people is commendable and worthy of honor.
The author
Dennis Pillsbury is a Virginia-based freelance insurance writer.
Cover Photo: Family members of the Sahouri Insurance leadership team.
From left: Fuad J. Sahouri, Director; Sophia Sahouri, Vice President; Fuad M. Sahouri, President and Founder; Mary Sahouri, Co-Founder; and Michael Sahouri, Chief Executive Officer.